I'm freezing.
No really, I can't feel my fingers on the keyboard. Outside the window I can sometimes see blue sky and sunshine, but it's just refusing to warm up and admit that it's May on Sunday.
Frequently the weather has fooled me into thinking it will be warm. There was briefly some pleasant sunshine last Sunday afternoon which led to the appearance of a sun dress, but also lulled me into a false sense of security which has meant that I've spent much of the second half of this week shivering in hailstorms wearing a cardigan when I would have been much better off digging my winter coat back out.
Anyway, all this terribly British wittering about the weather is leading me into another outfit post. Because I bought a beautiful bright, sunshiney vintage skirt, and if the weather won't play ball, sometimes you just have to find a way to brighten up grey April days.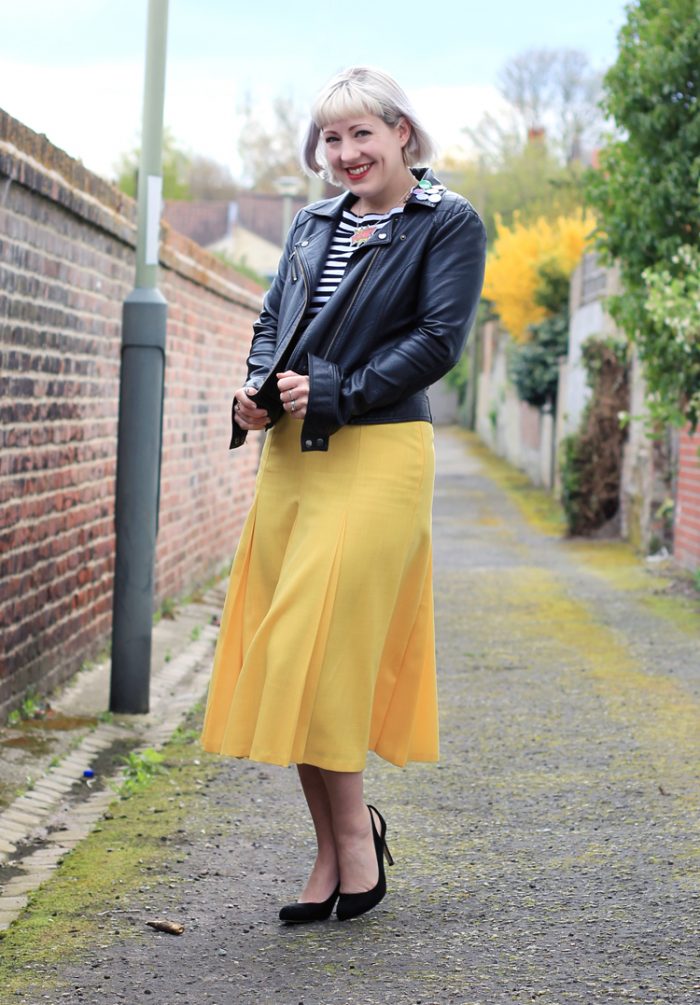 I teamed it with my leather jacket, but I can tell you the weather is only *just* warm enough for such a light coat.
This outfit is also a little inspired by a combination of things I've been pinning recently. Bright skirts and leather jackets, but also striped tops worn with brightly coloured separates. Separates that AREN'T red.
I realised that I had a bit of a weird thing in my head where I felt like a breton striped top could only be worn with navy, red or black. It's weird because I'm perfectly happy to team a striped dress with any number of different colours and looks. I think it's because tops have more of a nautical connection in my head, but seeing some amazing outfits where they're teamed with bright pink or neon yellow has made me a little more adventurous.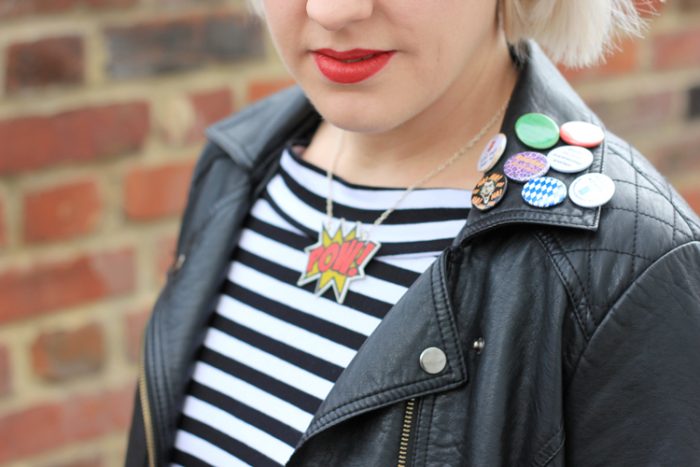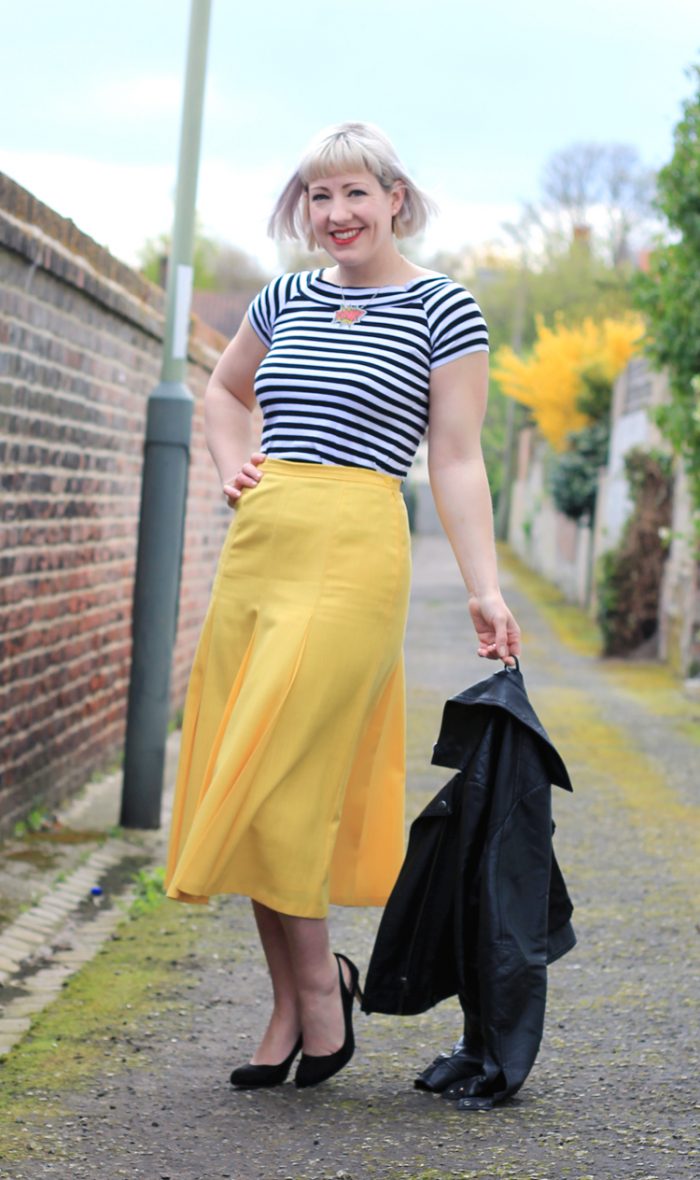 The yellow skirt came from a charity shop and I think it's 70s or possibly early 80s. It's quite a long midi length, falling to just below my calf and I'm 5'4″. Sometimes that's a difficult length to pull off, but because this is a slimmer fit it works as long as I stick with heels, this is not a skirt that's ever going to work on me with flats.
Working longer skirts when you're short (ish) is all about the proportions. You don't want your skirt to be almost as wide as you are tall or you're probably going to look swamped, the slimmer the fit of the skirt, the longer you can go!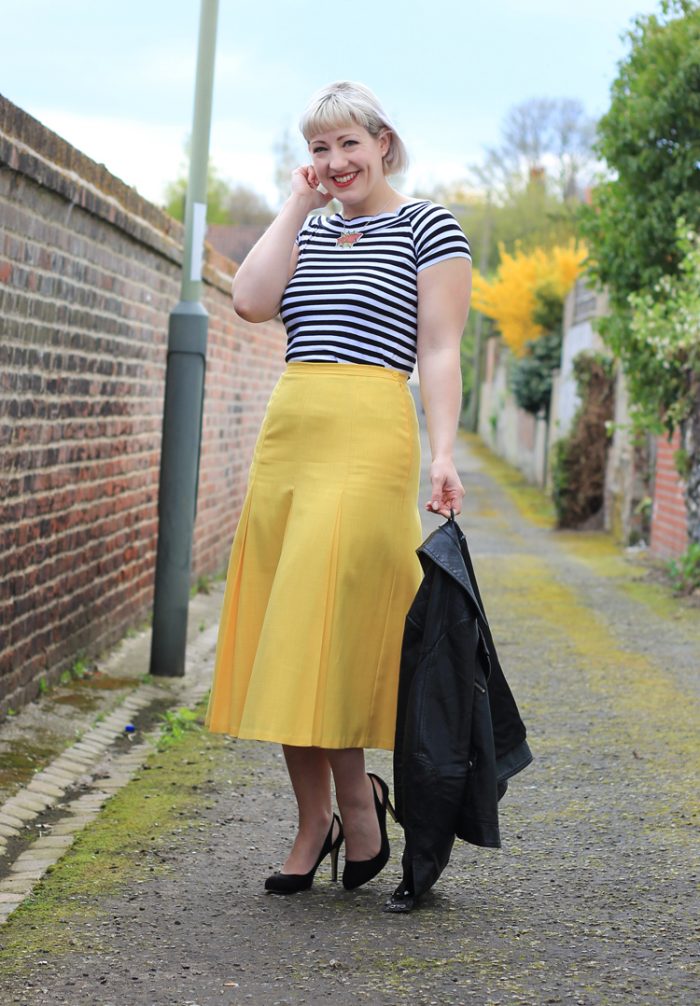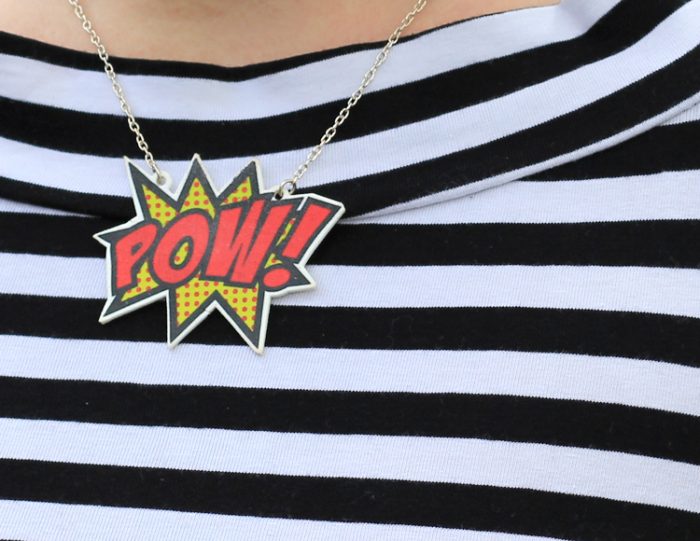 I just loved the black and white stripes with the bright skirt, so I'm so glad I tried it out. The contrast made me feel like a comic book super hero which is what prompted the addition of the red and yellow POW necklace that I bought from a Roller Derby game a couple of years ago. I think the extra colour at the neck ties it all together nicely.
Now, if you don't mind I need to go turn my heating on before my fingers fall off with the cold.
♥ Top – Primark ♥ Skirt – Vintage from a Charity Shop ♥
♥ Necklace – Can't remember! ♥ Shoes – Miss KG ♥