This week I found myself in Preston, Lancashire for a couple of days.
I mean, I didn't just "find" myself there. I didn't wake up and go "Wow, how did I get here?" in fact I sat in a car for nearly 7 1/2 hours to get to Preston. 1 and a half of which were completely static on the M6 because a coach had caught fire.
(Blogging these days is all about quality photography. Look very closely and you can see the remains of a coach in this iPhone photo snapped from a moving car.)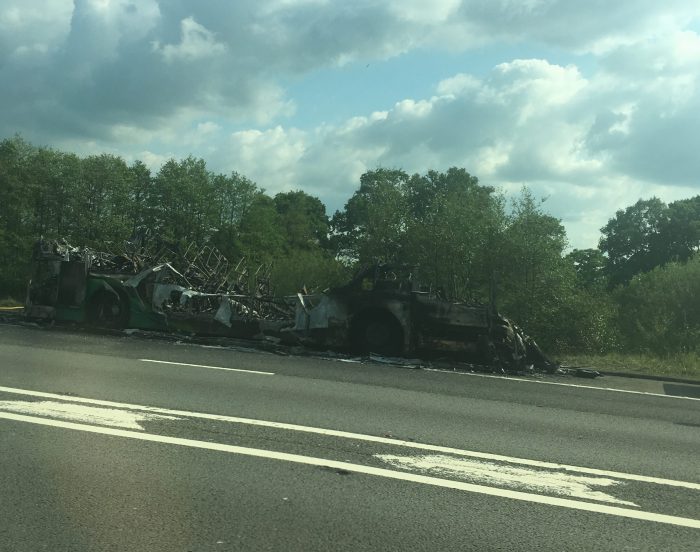 There was no particular reason for my visit. Mr Chick was working there, and being self-employed and Roller Derby practice having been cancelled this week, I decided a change of scenery would be nice.
So, on Tuesday, I found myself at large in Preston City Centre with nothing particular to do, and I decided to head out and explore. Preston might not seem like the kind of place you would choose to go and spend a day exploring. If you look it up on Wikipedia it has a long history, but in the 20th Century its achievements include economic decline, bulldozing gorgeous old buildings to replace them with 60s ones and being the first place to be bypassed by a Motorway. I, however, am a firm believer that most places have wonderful things to do and see if you just look for them.
There are a lot of beautiful old buildings still standing in Preston City Centre, especially if you wander off down the side streets. A lot of them are sadly neglected, with broken windows and badly in need of a lick of paint, but I think this makes them all the more beautiful. Make sure you look up if you're walking around and take in some of the mouldings and old advertising.
I didn't have a great deal of time, but if you ever find yourself at large in Preston with nothing particular to do I thought I'd share a couple of the places I discovered on my wanderings. This should see you through where to eat in Preston for breakfast, lunch, cocktails and dinner.
Brucciani, Fishergate
Brucciani is a 1930s coffee shop on the main road. Nestled unpromisingly next to a KFC it has a yellow striped awning, pavement seating and a vintage gold script sign that I had walked past several times on previous trips to Preston and never gone in.
On this sunny day, however, I did.
Inside it has original features and is a proper old school cafe. There is a marble-topped counter and they sell ice creams and milkshakes. At the marble-topped tables were lots of old men drinking tea at 10:30am on a Tuesday, they looked like they might have been coming here for breakfast since it first opened in 1932.
Anywhere else this place might have been transformed into a hip wine bar with a vintage theme. Here the staff are very slightly grumpy and it closes anywhere between 3 and 5pm, depending on what mood they are in, as far as I can work out!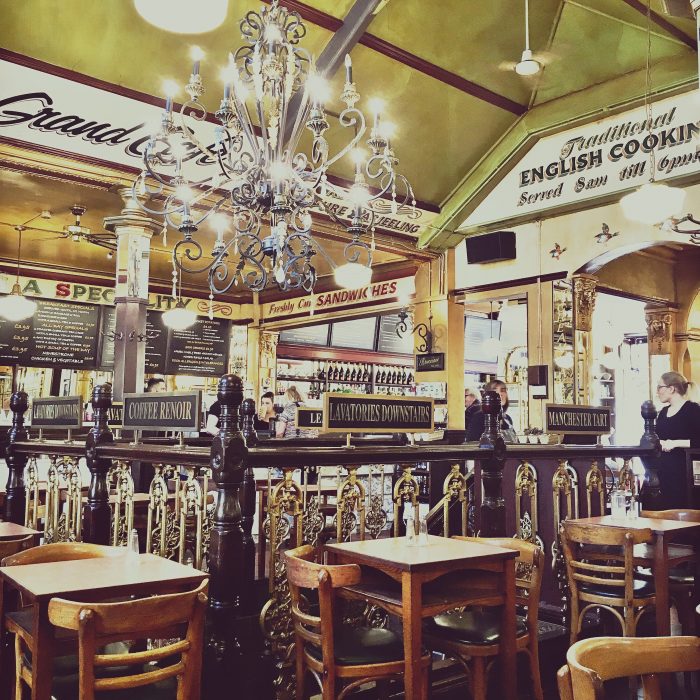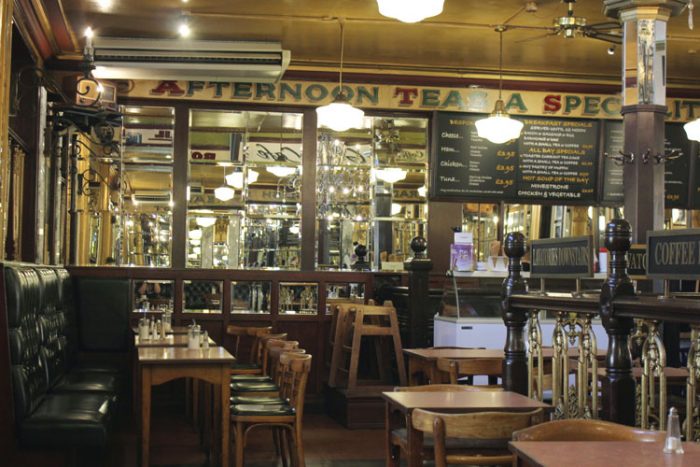 It's also super cheap. I paid £5 for a latte and poached egg on toast. The food wasn't fancy, it was a poached egg on toast and a coffee. But I didn't go in there for fancy food, I went to look at the pretty.
Apparently the milkshakes and ice creams are great, so I'll have to go back and try those one day!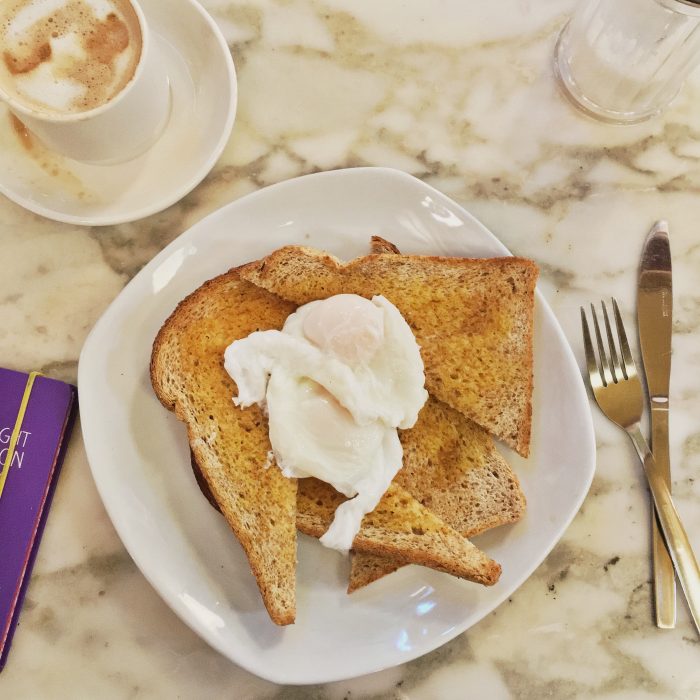 Brucciani does not seem to have a Facebook page, website, or any other internet presence as far as I can make out. But if you fancy a morning coffee and breakfast in Preston it's worth a look!
Winckley Square
This is kind of cheating, but if you're in Preston City Centre and fancy lunch in the sunshine then grab yourself a sandwich, duck down Winckley Street and head into Winckley Square.
A board proclaims that Winckley Square was considered the finest square in the North West of England. Which is a little sad as it has a bit of an unloved air about it now. The square itself is surrounded by iron railings and is mostly grass and gently rolling hills. The paths are poorly tended and it's dotted with benches, weeping willows and wild bushes with pretty flowers.
I loved it because it felt like a forgotten glory and I sat on a bench for a while enjoying the sunshine and the greenery right in the middle of the City.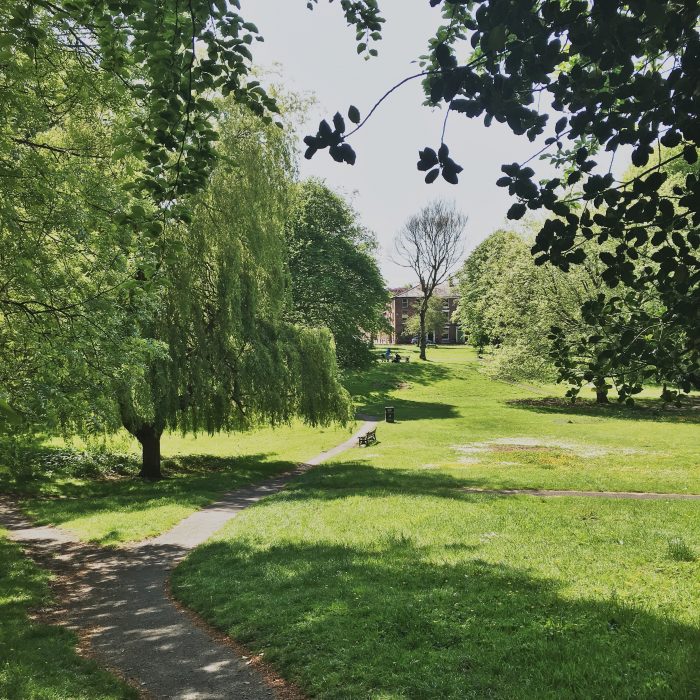 Outside the square it is bordered on a couple of the sides by old Georgian buildings. Some inhabited by businesses, and others sadly very rundown. Many of the other lovely buildings mentioned on the boards, such as an Italian Villa and the Grammar School appear to have been victims of the 1960s urge to demolish everything and replace them with modern buildings.
There is a blue plaque marking the residence of Suffragette Edith Rigby, and some old sash windows with writing on them. Now abandoned and broken.
Kuckoo, Fox Street
I was a little wary of Kuckoo. I looked up its Facebook page and the promise of Indie Rock and Cocktails sounded right up my street, however there were also lots of reviews from a party that seemed to have had an altercation with a bouncer.
I figured 6pm on a Tuesday for early evening Cocktails was probably pretty safe for avoiding altercations with bouncers. So I went and looked it up anyway. It's a black painted building, down a side road off of the main shopping street.
Inside was VERY dark, and coming from outside and super bright sunshine it took me a while to adjust my eyes. It's all black walls, red velvet and pleather booths with chandeliers. A bit dark and boudoir like. On the outside it describes itself as a "boutique bar". The walls are decorated with Indie band posters, and the music was great, Indie style rock stuff from the 90s up to present day Radio One fodder.
The cocktail list was HUGE, but the bar tender was super knowledgeable, came over to our table and guided us through the menu. Most of the drinks looked quite sweet, but being asked to make a Manhattan posed no problem, and it was a very good Manahattan as well.
(Note, this is not my Manhattan, it's a Porn Star Martini and a Wrecking Ball, yes, we had 2 cocktails before 7pm on a Tuesday. No regrets.)
Drinks aren't cheap, they're around £7.50 each. That's not too bad for a Cocktail that is well made using Premium spirits, but having been surprised by low prices elsewhere in the City it suddenly felt more expensive!
I can't vouch for a late night Saturday night atmosphere. But if you fancy a pre dinner week night Cocktail in Preston City centre you may well have the place to yourself like we did.
Angelo's, Avenham Street
I actually first went to Angelos for dinner 2 or 3 years ago. It's an Italian restaurant that opened in 1980, and when I went it looked like they hadn't updated the decor since then. Which I kind of liked.
This week, however, I arrived to find that they'd made it all contemporary chrome and glass and refurbished the interior. Though there is some very satisfying glowing orange neon.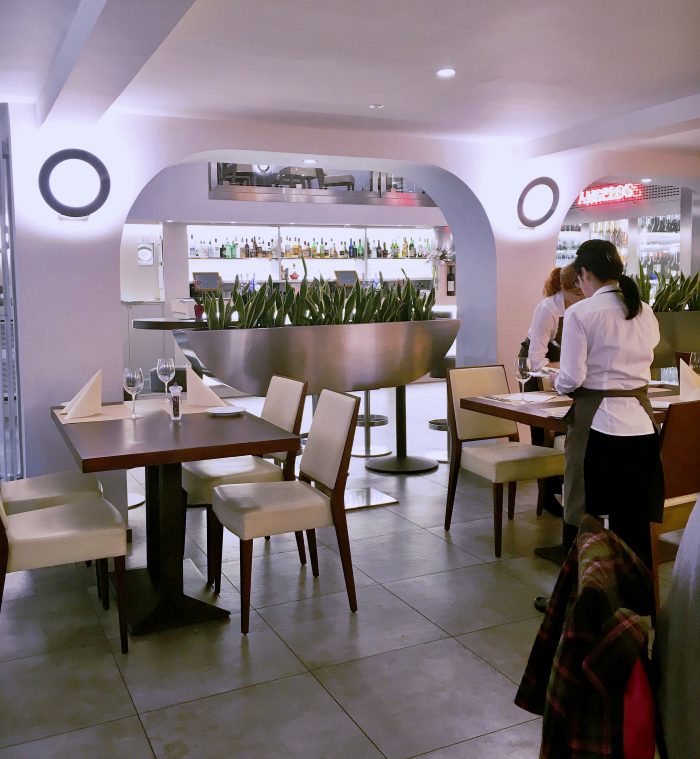 There is a lot of choice in the menu, which as well as the sort of thing you would expect in an Italian restaurant, also includes stir fries with ginger and other slightly off message items.
3 courses are £16.90 so I tucked into a goats cheese and mushroom stack, seared pheasant and tiramisu all washed down with wine.
I then tottered round the corner, past the drunk fighty people, the kebab shops and the bus station, to the hotel. Which was the Holiday Inn Preston City Centre, which, might I say in true Travel Agent style, is very handily located for the city centre and all travel links, and also has a reasonable restaurant all of its very own. (They didn't pay for my stay, I just stay in Holiday Inns a lot!)
So there you go, an unlikely location for a City Break, but I had a lovely few days, and if you ever find yourself wondering where to eat in Preston, I hope this will be of some help!
Related