We're definitely having a classic British Summer right now.
By that I mean it's raining a lot, but it's still pretty warm and sweaty.
A while ago now a friend of mine shared her friends new business, Lady B Loves, on Facebook. She sells some pretty lace edged anti chafe shorts. The design of the shorties stops your thighs rubbing together, and doesn't show under clothes, without being restrictive. I thought they looked cool, and shared them on my Retro Chick Facebook page.
Lady B then got in touch and offered me a pair of shorties as a thank you for sharing. Now I've got them and actually worn them I thought it was a good chance to share my thoughts!
I love Summer, but I actually hate this weather when it's so sweaty. I swear I am just never comfortable. I have big thighs. I was a size 8 (once, over 20 years ago) and my thighs still glued themselves together in the Summer. I, like most women, am not built with a thigh gap, so these shorties sounded like the most perfect thing ever.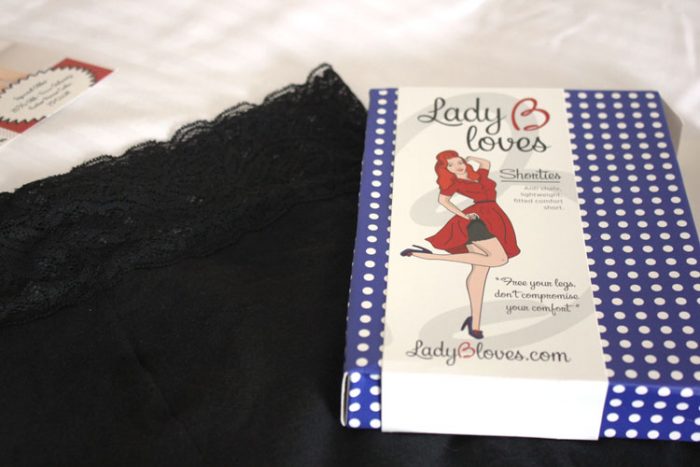 The shorties come in nude and black and are basically cycling short style underwear with a soft, wide lace trim at the waist and legs. They come in the cutest polka dot box that fastens with a magnet, so it's not just packaging, you can store your shorties in them later on.
The big advantage of these over shapewear that comes in a similar style are that these aren't restrictive. The fabric is super soft and comfortable, including the lace. I wore them on a pretty warm day for the UK, it was around 23 degrees, and I didn't feel hot or restricted at all. In fact they felt even less restrictive than regular underwear. Imagine wearing tights with no underwear, it was that kind of feeling.
On a warm day when your legs get all sweaty and start to do that sticking together thing that makes you want to walk like you've just got off a horse, these are awesome.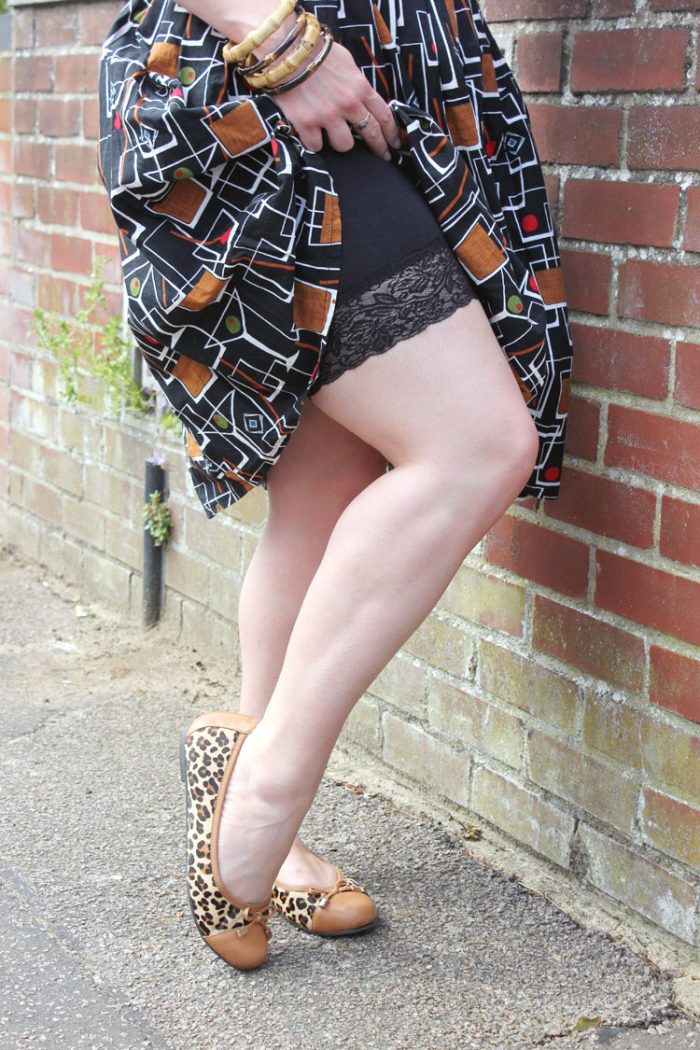 I actually walked around 6 sweaty miles in them in warm weather, and suffered no chafing at all. They didn't ride up or shift around, or do anything irritating. A wonder!
The only downside was that because the fabric is soft and matte I did find that my skirt clung to the shorts and bunched up a little while I was walking. I only noticed this while I was power walking 3 miles to a friend's house, in a full skirt made of stiff cotton, not while I was just having a gentle wander round the shops, so it might be very circumstance specific!
The shorties also claim not to show any VPL. I'll be honest, I eyed that lace with distrust. there's nothing like lace for randomly showing through tight dresses! I tried the shorties on under a body con dress to test out their claims, and actually, I couldn't see any VPL at all. I think the lace is fine and smooth enough to leave a flat line. There weren't even any lines visible where the lace meets the body of the shorts.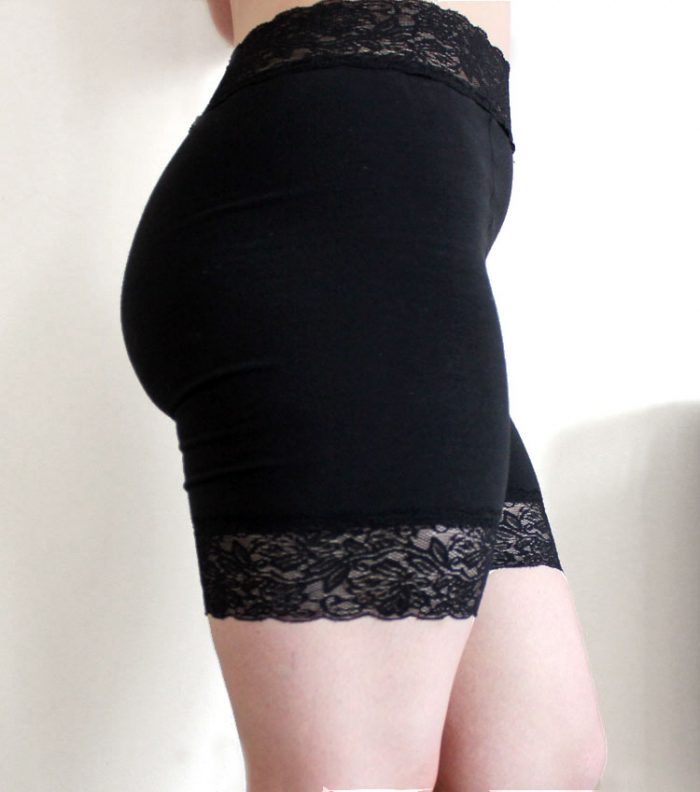 I was actually super impressed. I'd never thought of buying something like this before, thinking they'd be too restrictive for hot days, but they weren't at all.
I am a small size 12, and I opted for the size 12-14. They fit well, but are definitely loose enough to also fit a size 14. I could maybe have gone for the small, so if you're between sizes it might be best to try the smaller one first.
The website suggests wearing them for exercise. I don't think I'll be doing that as the fabric doesn't feel like it would be great for sweaty sports, but for hot days and activities like walking or cycling they're ideal.
These aren't shape wear, so aren't going to hold your stomach in. If you're looking for something to wear under body con dresses or full 50s skirts then they are fabulous. No VPL, stop your thighs rubbing together, and the lace edge still looks pretty should a sudden gust of wind decide to waft your skirt over your head!
Lady B Loves Shorties cost £20 and are available here. You can get 25% discount, and free shipping using the code 2DCUJN.