I do like a good museum.
And the Time & Tide Museum in Great Yarmouth is a very good museum! It's a great general museum about the history of Great Yarmouth, but it also plays host to some excellent exhibitions.
I first went there back in 2011 to see the saucy seaside postcards. This year I'm on my third visit.
In August I went to see their Birth of British Rock exhibition, in September I went back and wrote about the Great Yarmouth Rows, then this week I was invited back to see their latest exhibition "Never Had it so Good: Britain in the 50s."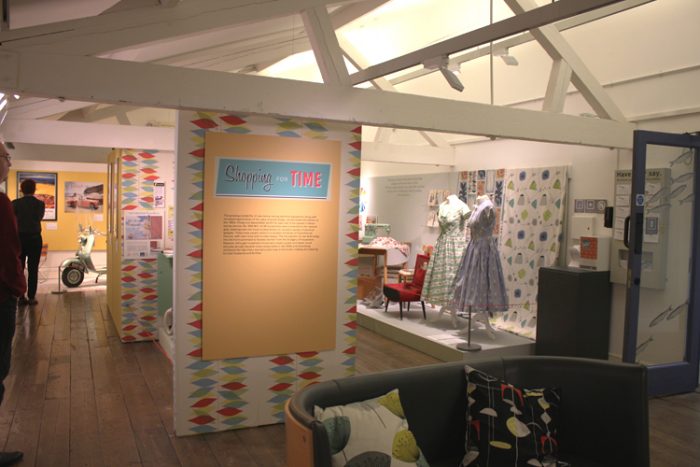 The exhibition is over 2 rooms, and covers the post war years when Britain led the world in the quality and innovation of its decorative and applied arts, and when good design became affordable by all.
Britain in the 50s is sponsored by Sanderson, so there are lots of pretty prints to lust over. It starts with some information about the Coronation, and a set up of a 1950s sitting room. It's all iconic atomic style design, tiny televisions, huge radios and flying ducks on the wall.
In the next room it covers everything from 1950s fashion, with a good selection of Horrockses dresses thanks to Liz Tregenza, to holidays and kitchen appliances.
There is a great display of household gadgets, including a Hoover that floats on air, I could totally do one of those.Mr Chick informs me that this fancy Hoover is the same one his Nan had when he was little and she used to "do" for people. We suspect it may be one that she acquired when one of her clients upgraded their own Hoover in the 60s or 70s.
I also particularly enjoyed a short film on 50s design, which is a good chance to rest your feet after wandering around!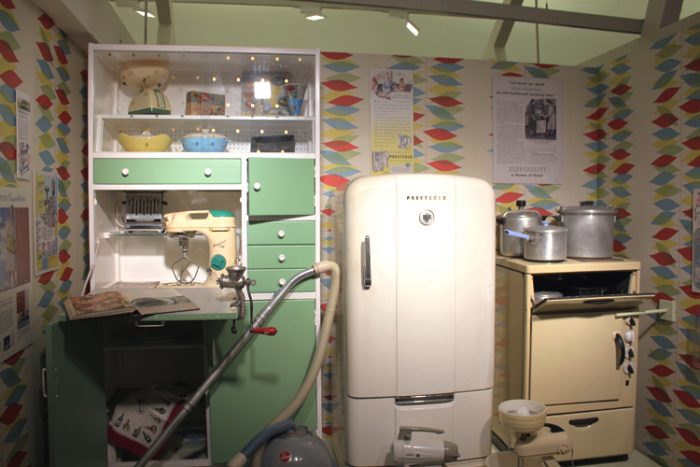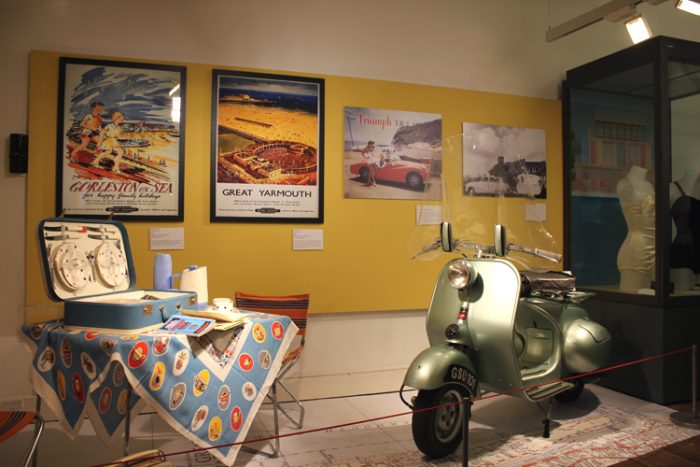 I found the exhibition fascinating. I love the style and design of the 50s, but from a social history perspective all these gadgets and the way they were marketed show a concerted effort to persuade Women back into their traditional roles after WWII. Behind the smiling, full-skirted women making lustful faces over fridge freezers there is certainly a dark side. The vintage adverts, and the films are a little different if you look at them from this perspective. Equally, though, it's interesting to see the increasing leisure time and freedoms that ordinary people in general had in the 1950s with holidays and mass consumerism really arriving in the UK. Especially if you take a little tour of the rest of the museum and see how hard people were worked in the past!
I got in early this time, and the Britain in the 50s exhibition will be showing at the Time & Tide Museum right up until March 2017. If you fancy a little off-season trip to the seaside I really recommend it!
Also, they make really good sausage rolls.
Find out more at the Time & Tide Museum website.