OMG! This Week I…. is back!
I last wrote one of these at the end of August, then my weekends went all crazy and I was away a lot and then it was Cocktail Week, and I was busy, and I just got out of the habit of doing them.
But I missed them, and actually some other people actually missed them too (and don't think THAT wasn't a surprise) so I'm reviving my weekly diaries of my incredibly exciting life. I might even try to remember to take photos of things. I'd take more if my phone memory wasn't permanently full, but that's another story.
This week I….
Came third in a pub quiz
Well, technically WE came third in a pub quiz as we were a team of 4. The quiz was a fundraiser for Norfolk Roller Derby. Last time we did one we came 4th and there were prizes for 1st, 2nd and 3rd. This time there were only 6 teams, so there were only prizes for 1st and 2nd, so, after a disastrous performance on the Geography round, we missed out on a prize AGAIN.
I plan to spend the next month studying my Geography so we can win next time. I PLAN to, but I probably (definitely) won't. Big thanks to the Dog House for hosting us!
Went to the Beer Festival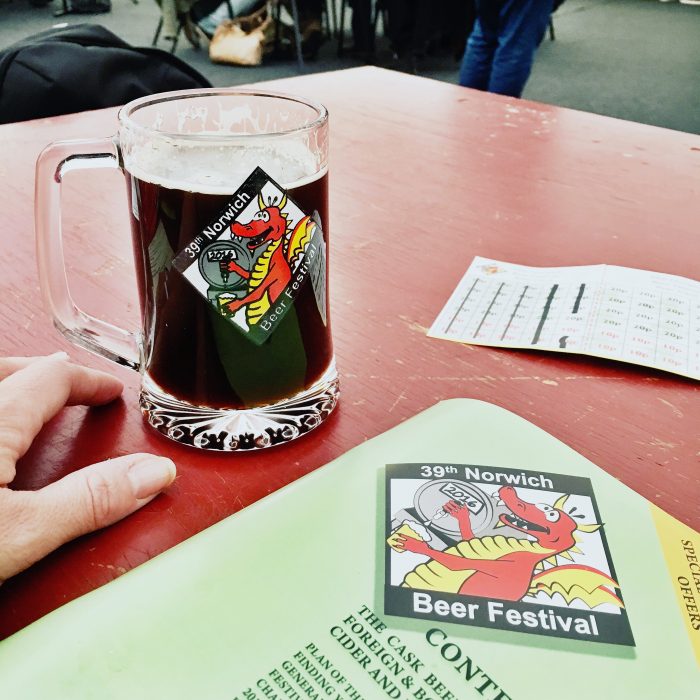 Yep, October is a month that starts with Cocktails and finishes with Beer (and possibly a liver transplant). We like to go to a lunch time session at the Norwich Beer Festival every year, and this time Wednesday was the day. I even got up early so I could go to the gym before the Beer Festival, which made me feel very virtuous, even while I was drinking beer before midday.
Ate Poutine
I felt less virtuous eating this later on, but damn it was good. I'd never even heard of Poutine. In Norwich there is a bar called Gonzos. They sell amazing burgers, and the biggest variety of chicken wings I've ever seen (peanut butter and jelly anyone?). The owner is Canadian and they have now added the Canadian dish Poutine to their menu. It's basically chips and gravy with cheese curds. It's amazing.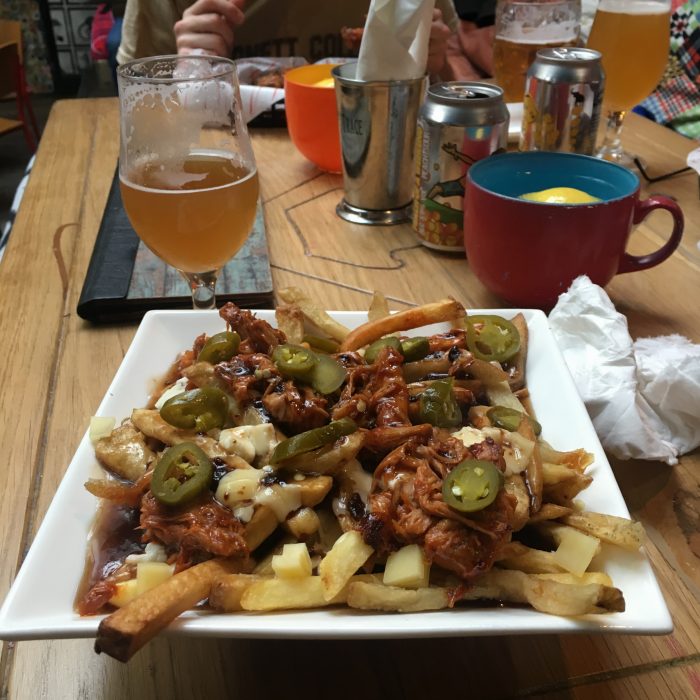 Spilled stew all over my oven
Now Mr Chick is at home all the time it makes it much easier to plan meals. I am attempting to do the sort of thing that smug organised people do and make batches of chilli and stew that I can then freeze and eat at a later date, instead of ordering a Chinese takeaway.
So, this week I made a batch of delicious beef and ale stew. It smelt amazing. Then I opened the oven and pulled out the wire shelf a bit so I could check on it and the heavy cast iron stew pot managed to tip the whole shelf over backwards, spilling my delicious and carefully prepared stew all over the bottom of the oven.
I actually cried.
Fortunately I managed to save enough for dinner that night, but my attempt to be a smug and organised person with food in the freezer failed epically. Some things just aren't meant to be.
Plus I had to clean a hot oven by scraping stew off the bottom of it with a spatula and bathroom towels. That was pretty gross.
Bought a Car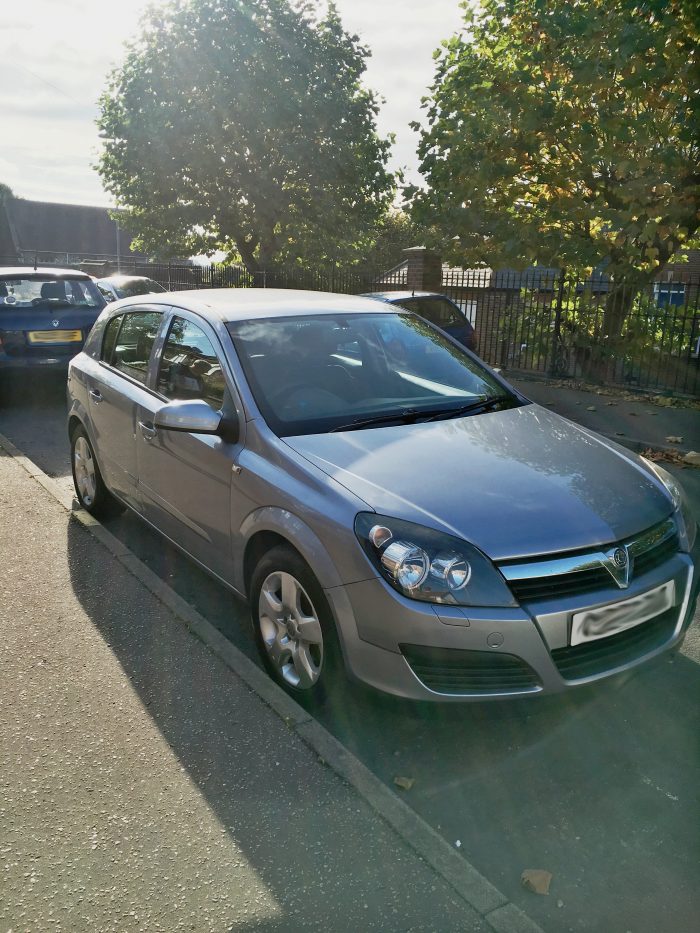 I've never bought a car before. Technically I still haven't as I can't drive, but Mr Chick is now the proud owner of a light blue Vauxhall Astra, and what's his is mine, right? I was there when it got bought and I looked interestedly under the bonnet even though I had no idea what I was looking at.
Our previous car was a company car that parked itself. This isn't quite as hi-tech, but it is all ours.
Bit the end off my whistle
On Saturday I was a referee at an open door Roller Derby game for the first time ever. There were actual people there watching my terrible reffing. That, of course, isn't true. They were watching the people hitting each other on track, but I was still hella nervous.
So nervous I managed to bite the end off my nice green plastic whistle 3 jams in and had to borrow one from someone else to finish the game.
Skating at speed around the outside of a track and suddenly finding yourself with a mouth full of plastic shards isn't the most pleasant experience. Other than that it went well though. I even managed to call one penalty before someone else beat me to it, and borrow some funky ref stripes off my Derby wife Wild Honey. Winning.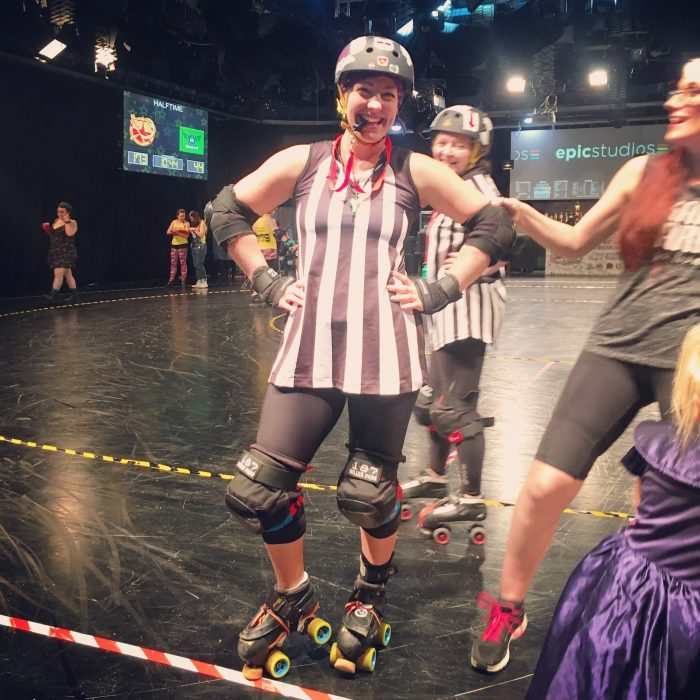 Danced until my feet hurt
And my hips, and my knees, and my back. I'm far too old for this lark.
Saturday night was definitely Halloween party night, judging by the amount of dressed up people we passed on our way out.
As of 5:30 on Saturday night I had NO Halloween costume planned. Cutting all my hair off kind of ruined a lot of my fall back costumes, and in the end I went for one of last years "Halloween in my Wardrobe" options, and went as a Mime.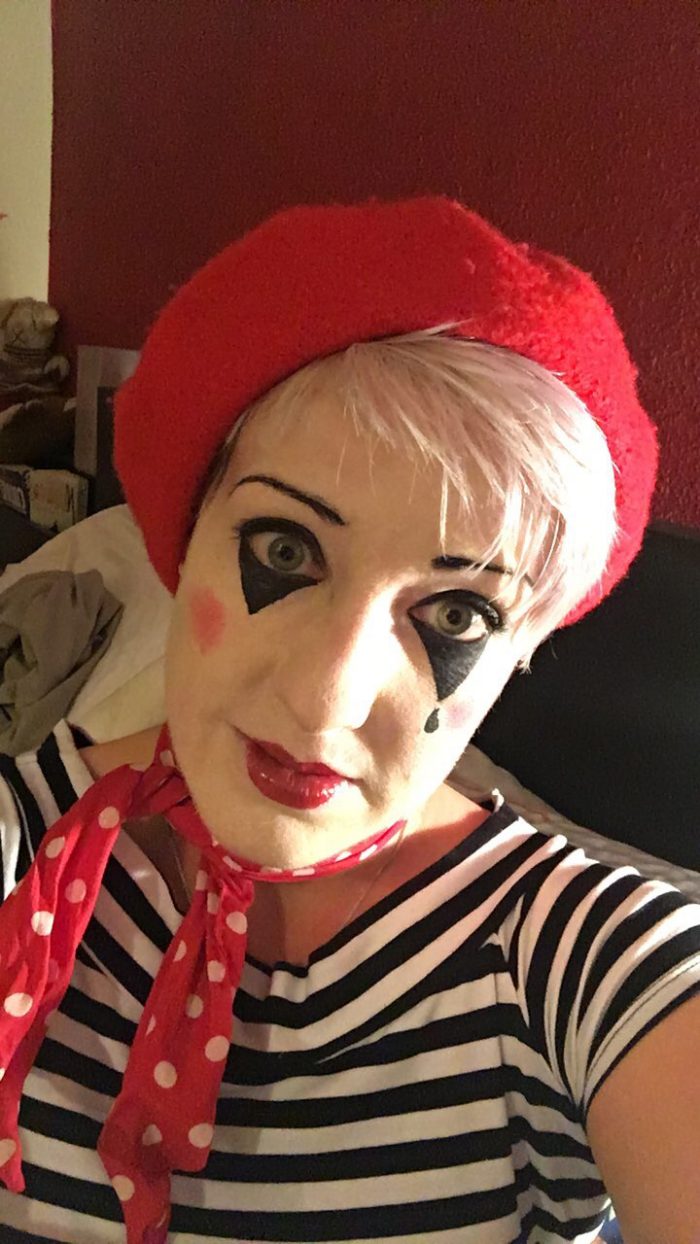 Have you noticed that Halloween costumes invariably involve being uncomfortable? The amount of times I've spent Halloween strapped into corsets and 6 inch platforms.
Well not this time. This time I basically wore my pyjamas. I even swapped the leggings from my original costume for a pair of baggy black track suit trousers. It wasn't particularly flattering, but it was comfortable enough to enable me to dance like a loon for 2 hours. Which is why this morning I can hardly walk.
That's cardio, right?
Anyway, just writing all that has made me tired, so I figure I've DEFINITELY earned an afternoon in front of the TV catching up with Drag Race All Stars and American Horror Story.
Have a lovely Sunday!
Related