I told you I wasn't going to give up on this recipe lark!
After Octobers nicely seasonal Pumpkin Pasta recipe I'm back, with another seasonal recipe!
This recipe for Cranberry and Maple Syrup Sweet Potatos is actually a side dish. I had mine with meatballs in a cream sauce, but it's also a perfect dish to have as part of your Christmas dinner.
I actually came up with it after Indigo Herbs sent me some ingredients. I was supposed to use them for a recipe on Lipstick, Lettuce & Lycra, but I decided this particular recipe would sit nicely here. I'm planning to come up with something else with some of the other ingredients later on!
This particular recipe uses their dark organic Maple Syrup. It has a strong flavour that is sweet, but not sugary sweet, which makes it perfect for this savoury dish. The sweet potatos and maple syrup are balanced out by the tanginess of the fresh cranberries and walnuts.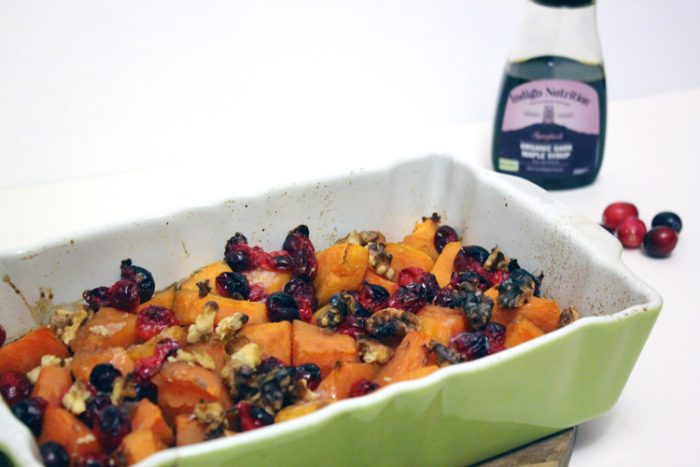 It is, as with anything I cook. Very, very easy to make. I give specific measurements below to give you an idea, but my normal cooking style is just to throw everything on, so if you think it looks like it needs more walnuts, or that's too many cranberries for you then just make the changes.
I am a devotee of the "throw it all in and hope it works" school of cooking, and in this instance, it did!
Cranberry & Maple Syrup Sweet Potatoes 
2 large Sweet Potatoes
100g Fresh Cranberries (You can freeze these and use them straight from the freezer)
30g Walnut Pieces
Maple Syrup
Preheat the oven to 180 degrees
Peel and chop the sweet potatoes into bite sized chunks and pop into boiling water for 5-10 minutes until tender.
Drain the potatos and add to a baking dish. Drizzle over the maple syrup and give them a stir to make sure they're all covered.
Sprinkle fresh cranberries and walnuts over the top and bake in the oven for 30 minutes.