Well, tomorrow is the very last day of what has been a very odd year.
For me personally I've certainly had worse years, but it's been a tricky one. Things haven't gone as well as I'd have liked in some areas, and it's finished with a lot of upheaval and change that will make the start of 2017, erm, interesting. For the world at large 2016 seems to have been utterly terrible.
All the more reason, I say, to see it out in style! This year I have very low key plans for New Years Eve. There will definitely be Champagne, Party food and a bit of glamour, but I don't have special plans. That's ok, however, because last night I was lucky enough to be invited along to the preview of a spectacular 1920s Prohibition themed event that's taking place in Norwich on New Years Eve.
I was invited along last minute, but thankfully my wardrobe lends itself to creating 1920s outfits at a drop of a hat, so I teamed a lace dress with a vintage kimono and a turban. I finished it off with dangly earrings and lots and lots of eyeshadow and lipstick.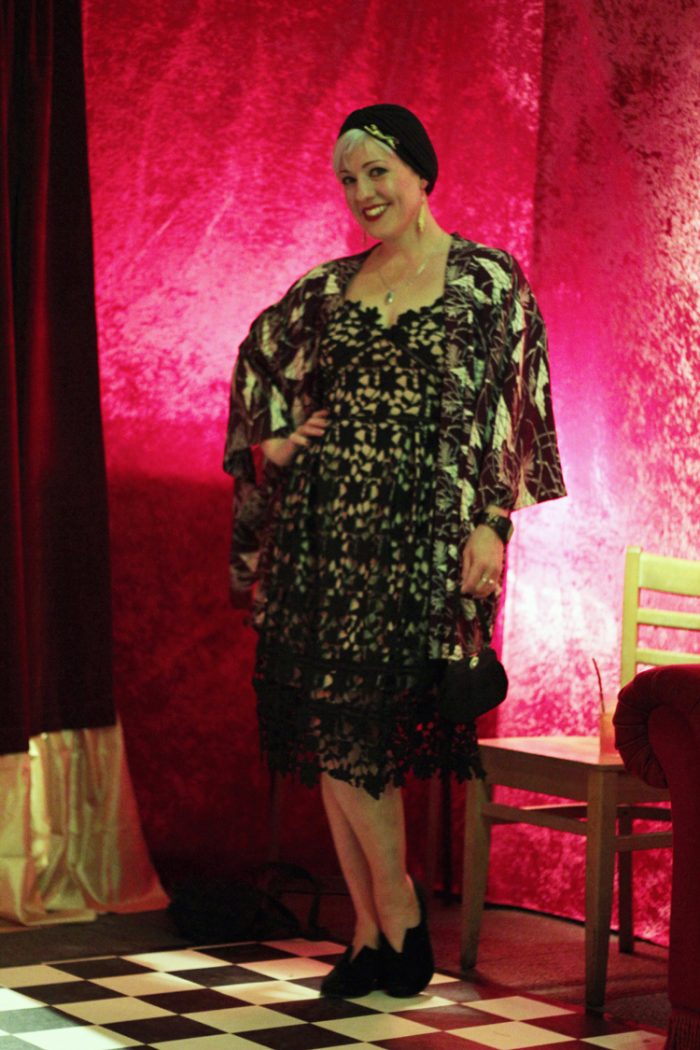 Sorry for the blurry photo, it was dark and there wasn't time for lots of adjustments!
♦ Dress – rock my vintage *♦ Kimono – Vintage ♦ Turban – eBay ♦
♦Earrings – Eclectic Eccentricity ♦ Shoes – Hotter* ♦ Brooch & Bag – Vintage ♦
Guilty Party is an immersive theatre spectacular. Think Secret Cinema with burlesque and cabaret. It has a 1920s Prohibition theme and there is a chance to see it at a Cocktail Night tonight, followed by the big event on New Years Eve itself.
It was a wonderful evening, and so much effort and attention to detail had gone into transforming the Arts Centre into a seedy den of iniquity with sequins and sparkles. There were secret rooms and sideshows to explore, side missions to take on and games to play. All on top of some of the best cabaret and burlesque. Oh, and a free gin from Norfolk Gin on arrival, which was a definite plus!
My words won't do it justice, so I'll leave you with some photos of the night, and urge you to get tickets for tonight or tomorrow if you're short of things to do!
Tickets are available through the Norwich Arts Centre website.