Hey there sunshine!
No, not you, the actual sunshine. After days of grey gloom today the sun came out, just in time for me to take some photos of my new varsity jacket.
In the US there's a High School and College tradition of Letter Jackets or Varsity Jackets being awarded to high level sports participants. You'll often see reference in vintage High School dramas to teenage girls wearing their boyfriends letter jackets.
Well sod that, I want my own.
Of course I am not a 1950s American Teenager. I am woman in her late 30s living in the UK. I was also not technically awarded this varsity jacket for my participation in sports. I asked for it for a Christmas present the last time our league did a custom merch order. But still, I earnt the right to order it for myself, with my name and number, not some stoopid boyfriends, yesiree.
This year I'm going into my third season skating with the Norfolk Brawds, who are Norfolk Roller Derby's A Team. It still feels like such a privilege every time I get to put my uniform on and skate in a game. It also feels like everything I ever wanted to do. Skating for a competitive team with a drive to succeed and be the best we can. I can't imagine not doing it. So I keep training, and I keep working hard at the gym so I can be the best I can be.
I am super proud every time I get to wear our new athletic team logo (designed by As One Arts). Getting it on a jacket that works so well with my every day wardrobe, not just sports wear, is awesome.
It helps, of course, that this is also the snuggliest jacket ever. It coped admirably well with a day that whie sunny, was still only 5 degrees. Brrr!
Whilst we're here I am going to declare my concern for the imminent death of this checked Collectif Pencil Skirt. It has become a proper wardrobe staple. A high-waisted fit, just the right amount of stretch and a really good just below the knee-length means it has become an essential piece of clothing. After many years of wear it has been stitched up multiple times around the zip. It's starting to look a little shabby and lose its shape a bit. I am yet to source an alternative that is just the right print and cut. All suggestions welcome!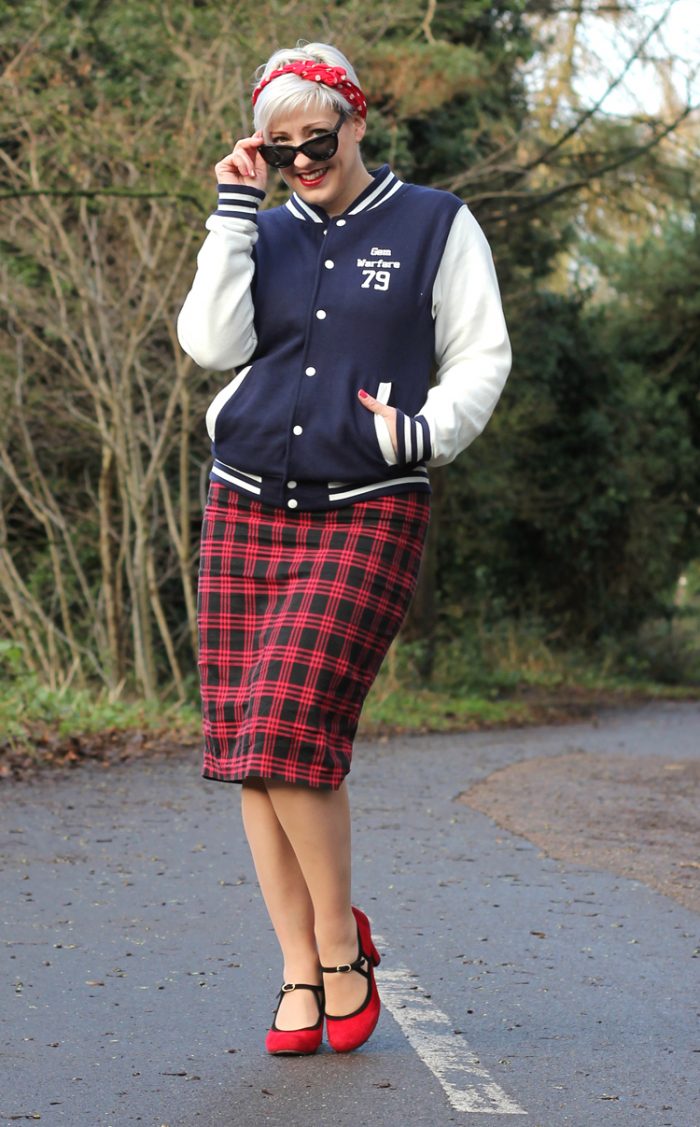 One last thing before I scoot off to tackle my tax return (shudder). If you've ever wondered how I deal with the kind of idiots that like to hang out of the windows of their van and peer at me while we're taking outfit photos. A nice cheery wave is the way forward….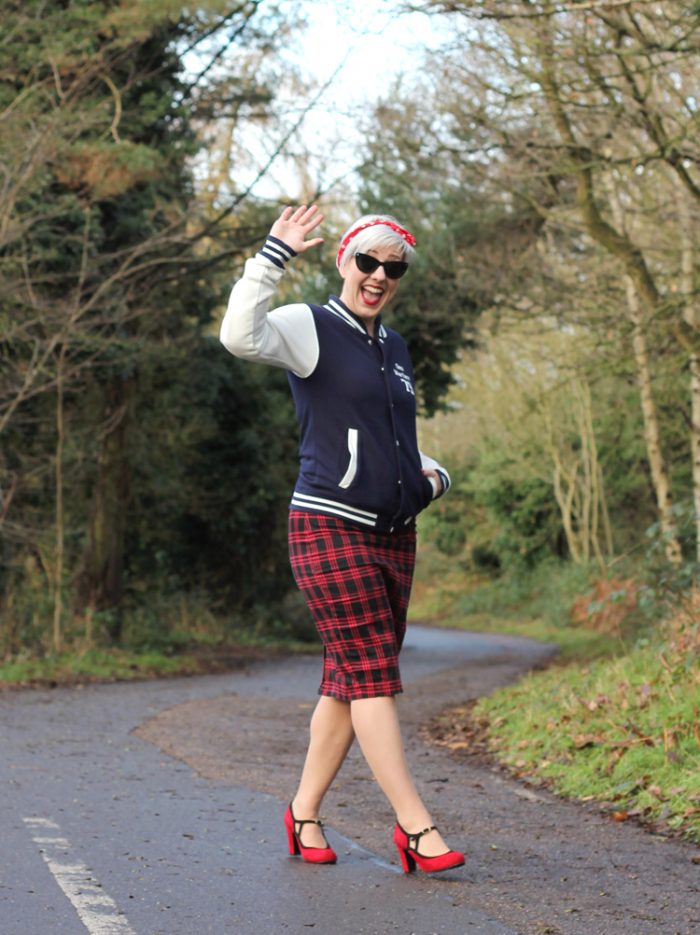 ♥ Roller Derby Varsity Jacket – Roller Derby City ♥ Pencil Skirt – Collectif* ♥
♥ Hairband – Seamstress of Bloomsbury ♥ Shoes – Chie Mihara ♥
♥ Sunglasses – Derek Cardigan * ♥
Related