Well, how about that weather, huh?
I hate to be so terribly British (no I don't, not really) but I can't start writing this blog post without mentioning that it was TWENTY TWO FRICKING DEGREES yesterday.
If I didn't mention it then this outfit might seem a little out of place in early April. A time of year that in the past has seen actual snow. That's one of the beautiful things about living in the UK. There is no appropriate dressing for the time of year because you never know from one day to the next whether it will be 25 degrees or minus 4 and snowing.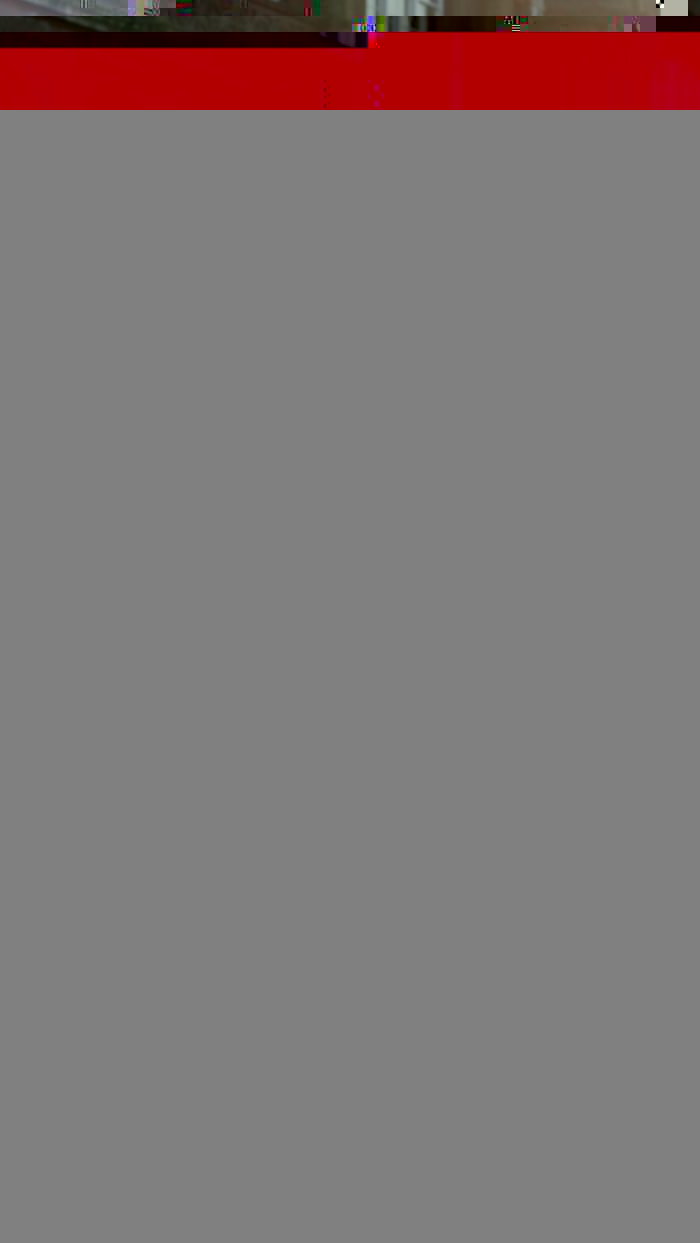 Then I'm going to confess that I nearly decided not to post these photos at all.
It's not because there was a breeze behind me that's making my hair stick up like Mr Majeika, or because I've caught the sun on my chest.
Ever since these Hotter shoes arrived I've really wanted to style them with this mini prom dress on a hot sunny day. Then one conveniently arrived and I put it on and even matched my lipstick to my shoes.
It's a perfect sunny day outfit, the shoes are so comfortable they're like slippers, which is what you want on a hot day (and they're called Gem shoes, it was destined to be.). The dress is mini prom dress style, with little metallic threads running through it and sheer organza stripes that make it see through in a kind of subtle way.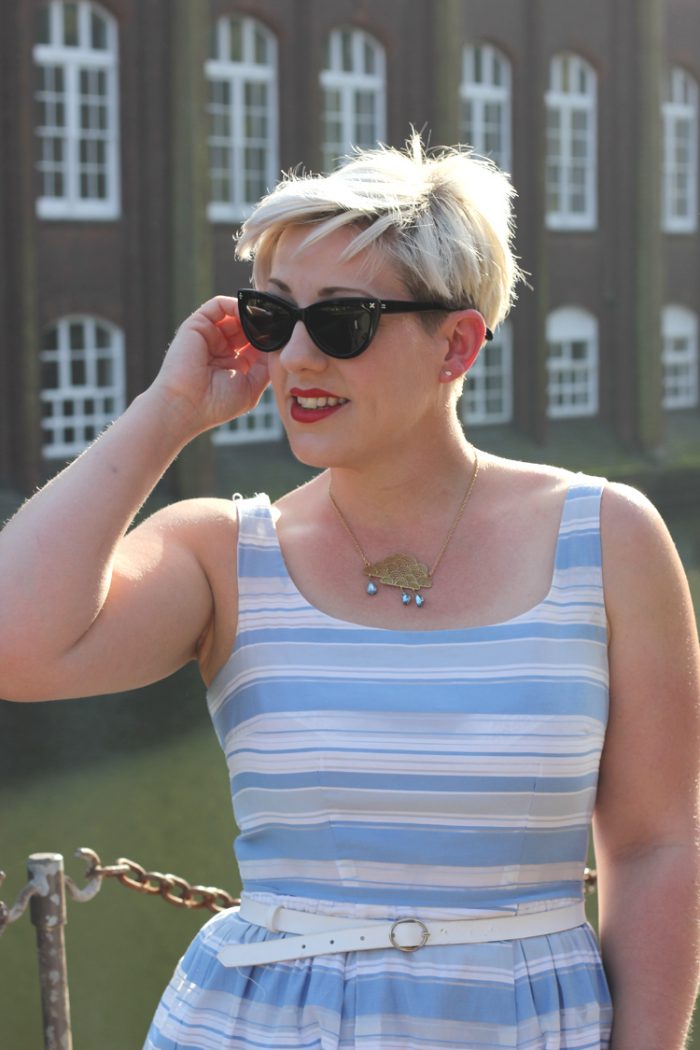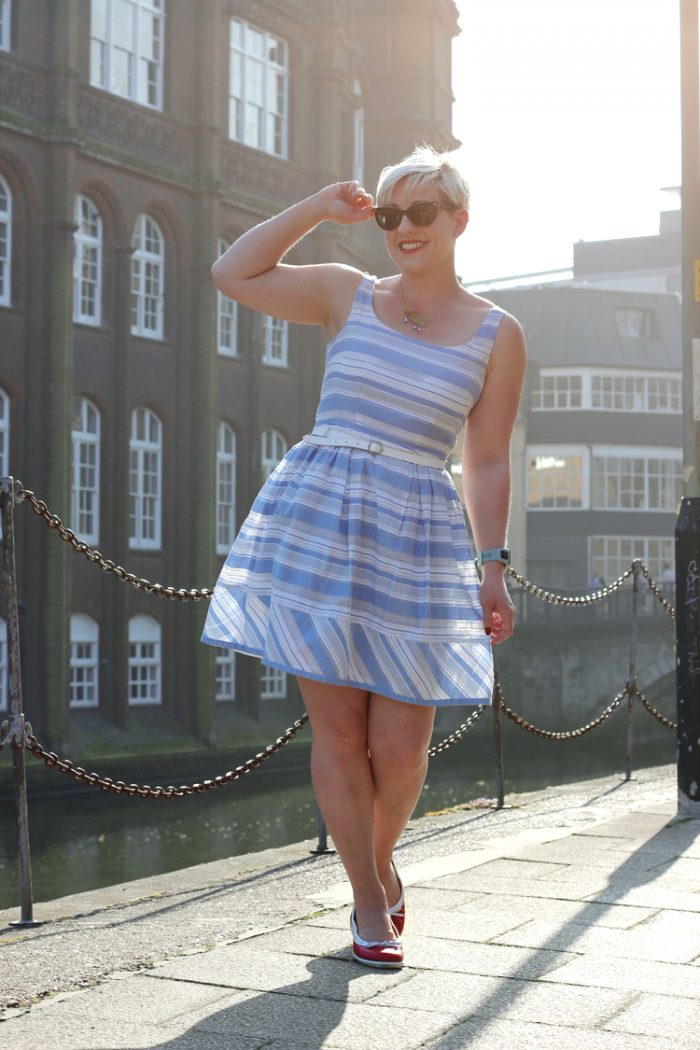 The reason I nearly didn't post them is because I don't look in the pictures like I looked in my head.
I've always been curvy, but over the last couple of years I have worked REALLY hard at the gym. I wasn't trying to lose weight (though I actually did, then I regained some, most of it deliberately!). I'm not competing in a bikini competition, I play a sport and I train hard for it. When I see photos and video of myself in my gym kit or Roller Derby kit I see a woman who's athletic and strong.
When I see photos of myself in a nice dress I see chunky.
In my head I think I somehow thought that when I put this outfit on I would somehow be transformed into a cute Pinterest girl with willowy limbs. Obviously I wasn't, I was still me, with my muscular calves and wide shoulders (plus the obvious genetic disadvantage of having legs that technically belong to someone about 4″ shorter).
So I nearly didn't post them.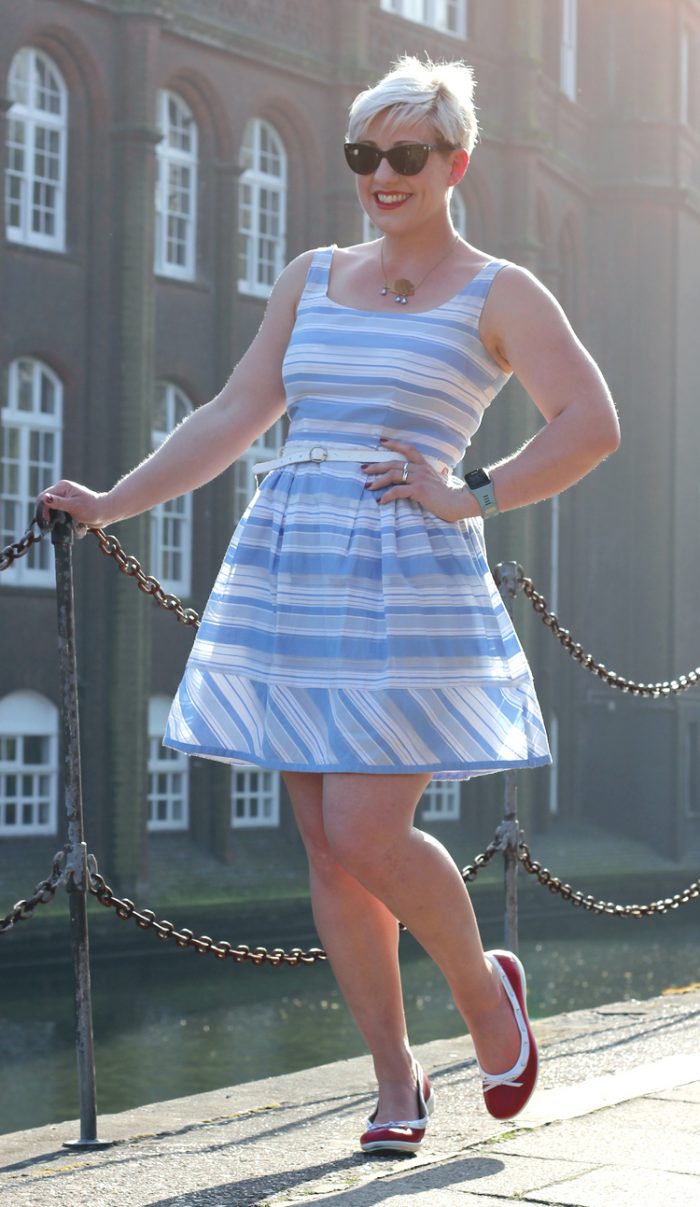 I wondered whether I should try the shoes with a different outfit for photos. One with a longer skirt, maybe, or sleeves.
But then I got a grip and told myself not to be an idiot.
I like this outfit, even if I don't look like a cute Pinterest girl in it.
So here I am, in my mini prom dress and cute and comfy shoes that share my name. In an outfit that's a little bit nautical and perfect for a lovely sunny Sunday afternoon drinking cocktails. Chunky limbs and all.
♥ Dress – Can't remember ♥ Belt – Vintage ♥ Necklace – Eclectic Eccentricity* ♥
♥ Sunglasses – Derek Cardigan ♥ Gem Shoes c/o Hotter ♥