Is there anything that says British Summer more than an Ice Cream Cone?
Strawberries and cream, tennis in the rain, fish and chips by the sea, flying ant day and Cricket all have their place in the British Summer, but an ice cream cone has got to be up there with the iconic Symbols of a British Summer.
I have a vintage 1980s ice cream cone print blouse that I've been in love with for years, and a couple of little hair slides with ice creams on. Then, recently, I spotted an ice cream bag, and then the hunt was on, for ALL the ice cream accessories.
I found iPhone covers, necklaces, rings, shoes and sippy cups, and I want them all.
Today I have just a few of my absolute favourite ice cream accessories I found on my hunt.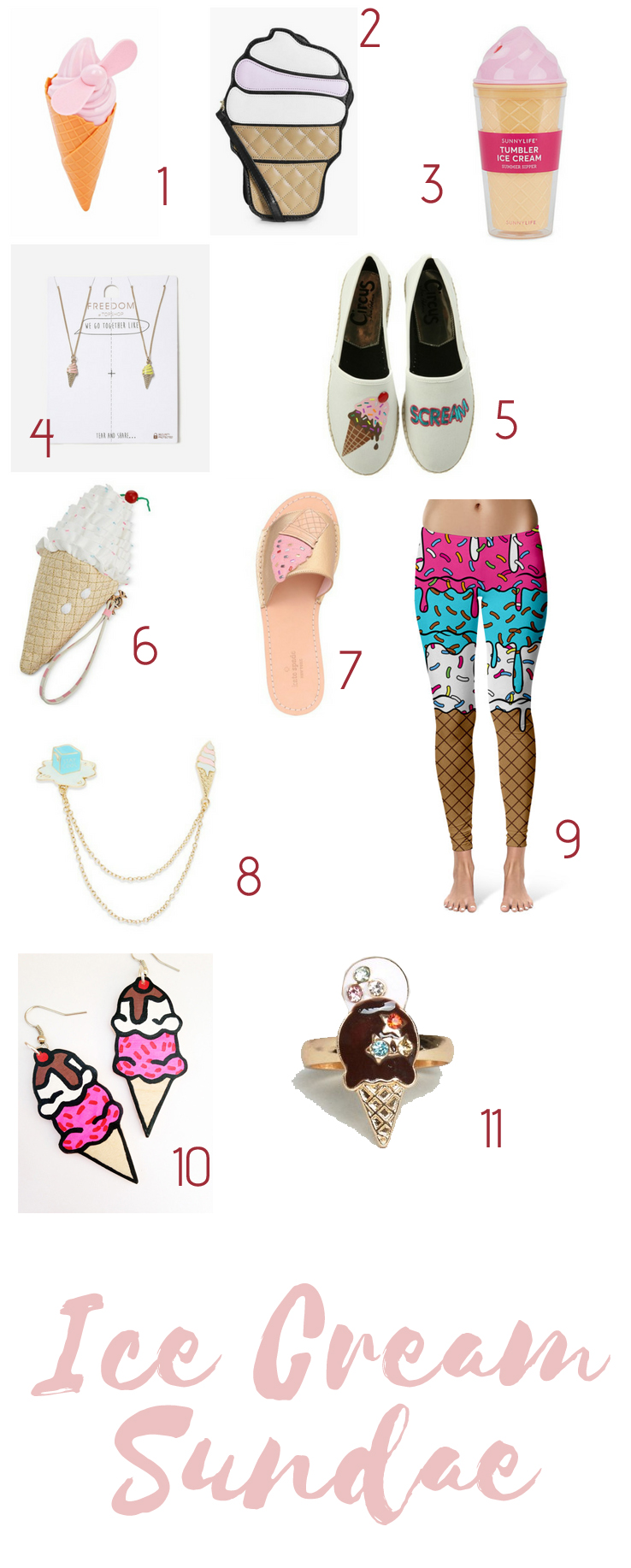 Waaah! It's an ice cream fan! It comes in pink or white, and is pretty darn cool. I'm sure you'll agree!
This is the bag that started my obsession. It's in the sale reduced to just £7. I haven't bought it yet, but it's looking likely.
I am pretty sure I had cups exactly like this when I was little in the 1980s. Now I'm a grown up I might put my boozey chocolate milkshake in it. I found these in several places, but linked to this one at New Look because it was reduced to £3. Must have!
Also in the sale for just £5, these necklaces are the cutest! They have a perforated tear off down the centre so you are your BFF can have matching necklaces. I'm nearly 40 but I still think it's cute to have matching necklaces with your BFF. If you don't have anyone who would appreciate an ice cream necklace, then hey, it's 2 necklaces for £5.
We all scream for ice cream (shoes). Especially in the sale.
6. Kiss Me Till Ice Cream Wristlet
In the sale at Macy's. How adorable is this wrist bag?
7. Kate Spade Ice Cream Sliders
I'm not normally a huge fan of sliders, but I'll make an exception for these Kate Spade ones. They are gold, have ice creams on them, and are in the sale. What's not to like?
This is advertised as a handbag chain. Personally I would wear it as a cardigan chain, with one pin each side. Also in the sale, only £3. Just saying.
Because leggings shouldn't be boring. These are from an Etsy seller. Who doesn't want legs made of ice cream? Er, me actually, that sounds gross.
More ice cream jewellery. This time for your ears. These are hand painted wood.
11. Ice Cream Ring
This ones from ASOS and only £2.50. I'm getting really hungry for ice cream now…..