Hi there, seeing as I haven't done a Friday Frock Love since JULY I thought it was probably time for some fantasy dress shopping.
Basically it's freezing here at the moment. This time last year I was wearing crop tops and going to the beach. This year I am hiding in Tesco while a hail storm rages outside. This, is one of the absolute JOYS of living in the UK, of course.
It has made me start eyeing up my wardrobe and looking for dresses with sleeves. I love a sun dress and a cardigan for early Autumn, but at the moment the weather is more like sleeves and a cardigan, so that's been the subject of a lot of my fantasy shopping recently.
So today I have my top 10 dresses with sleeves that'll keep you warm this Autumn. Click the pictures to be whisked off to buy your new Autumn favourite!
Sadly when I write shopping posts I don't actually get to buy all the things I share. I would, but apparently mortgages and gas bills are the things grown ups pay for. Pfft.
Then sometimes there are things that I write about that start to haunt my dreams. This dress may be one of them. I am already imagining myself wearing it with sensible lace ups and a beret.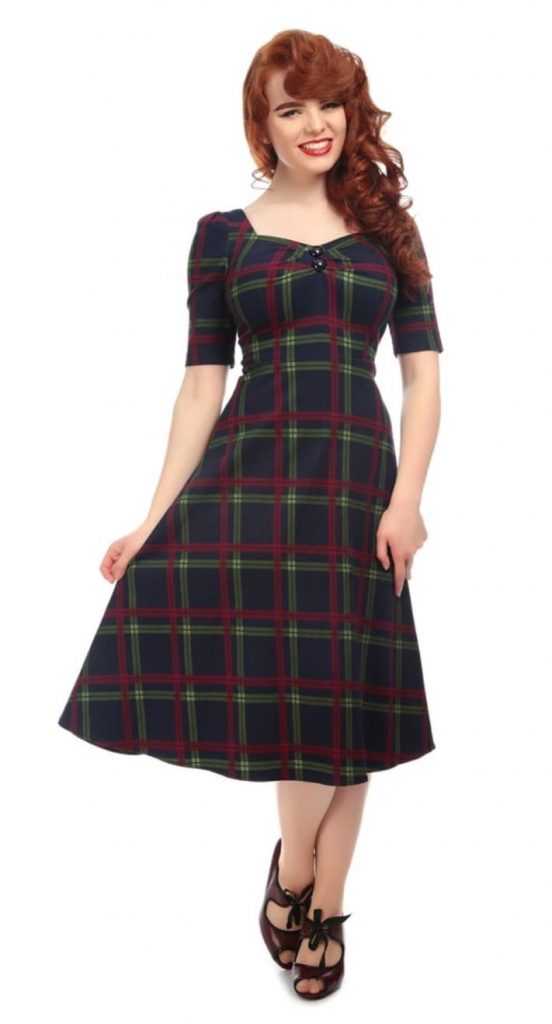 Then I found this one. So the 2 dresses can dance through my dreams together.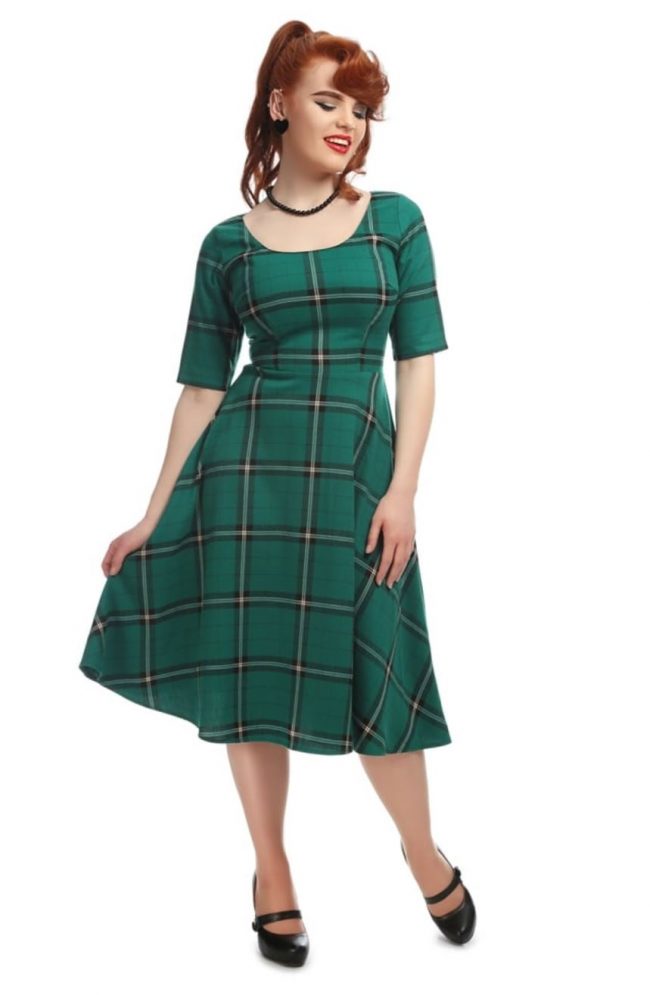 This is like the perfect Autumn dress, and it's in the sale! I love the little floral details that bring a basic black dress to life. Plus I really have thing for fluted sleeves, even if they are hard to get under a cardigan.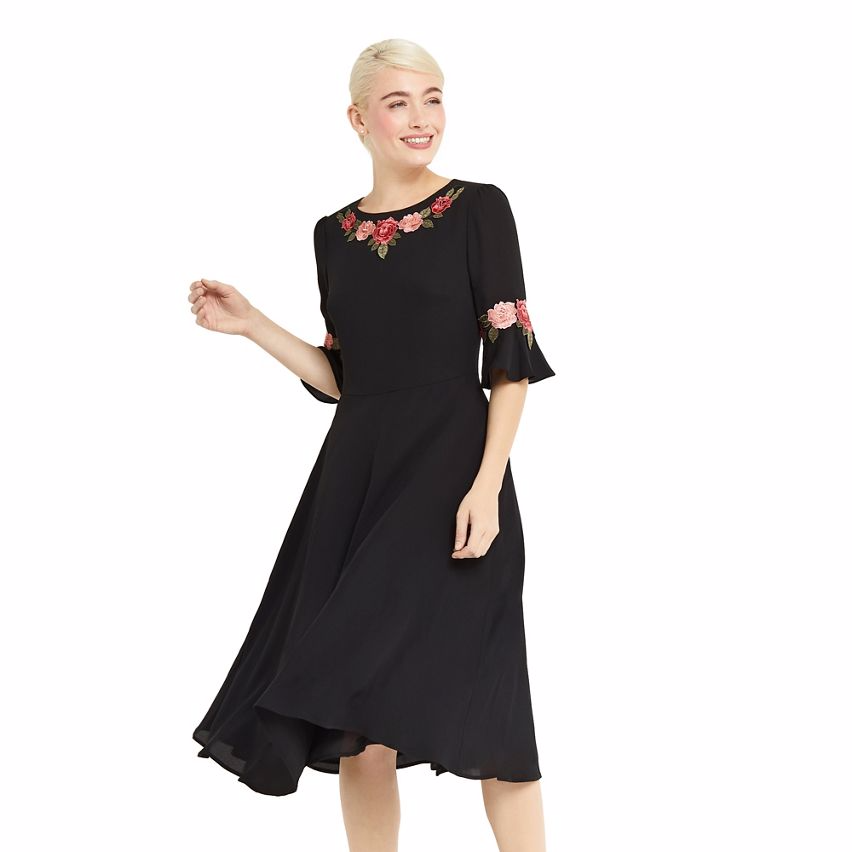 Speaking of fluted sleeves. Look, here's some more. Get ready, because there's some even bigger ones coming in a minute.
I think this would look lovely with a chunky scarf and boots.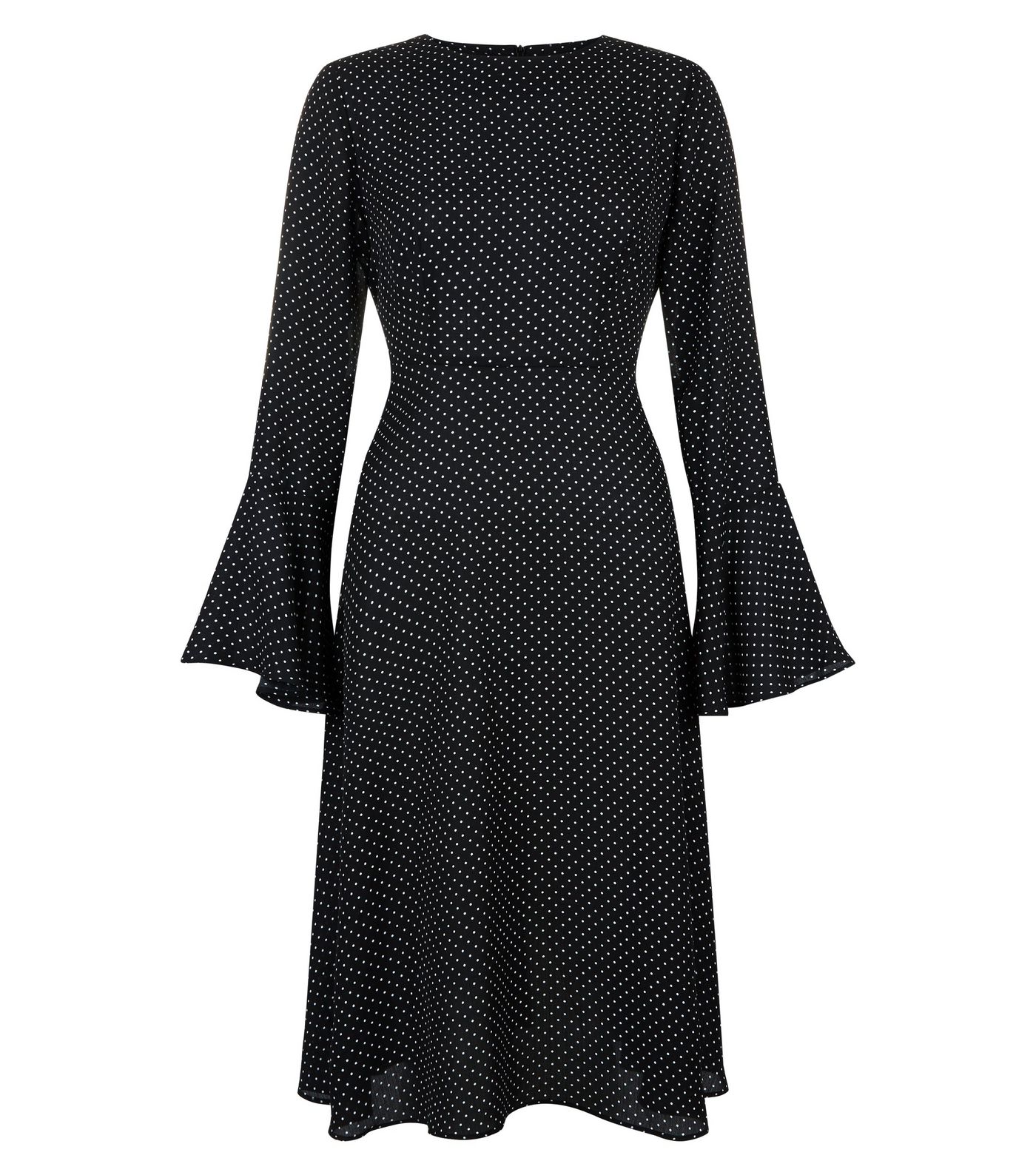 Ok, I completely promise that this one ends my obsession with big sleeves.
Whether you think this is a day time dress or not depends on your style I think! Personally it's the kind of thing I imagine super high powered business women to wear to work. Probably people high-powered enough not to have to do their own typing.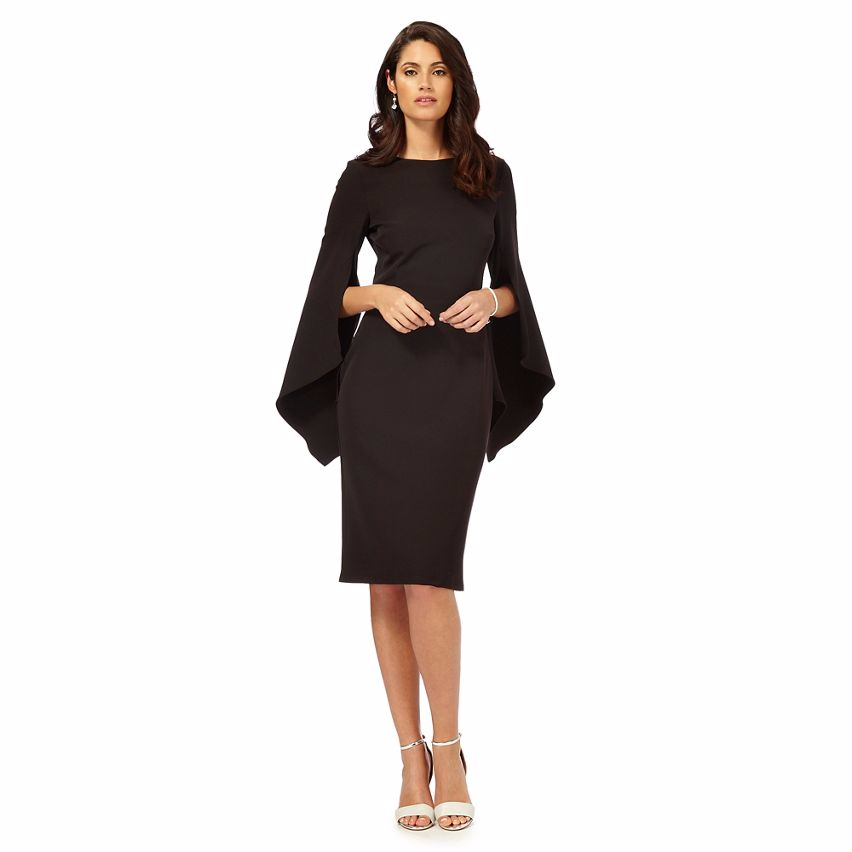 Whenever I head to the Very website, my first stop is always the Myleene Klass collection. It just seems very much my style!
This little knitted dress is just about knee length and I think would look great with bright tights and shoe boots.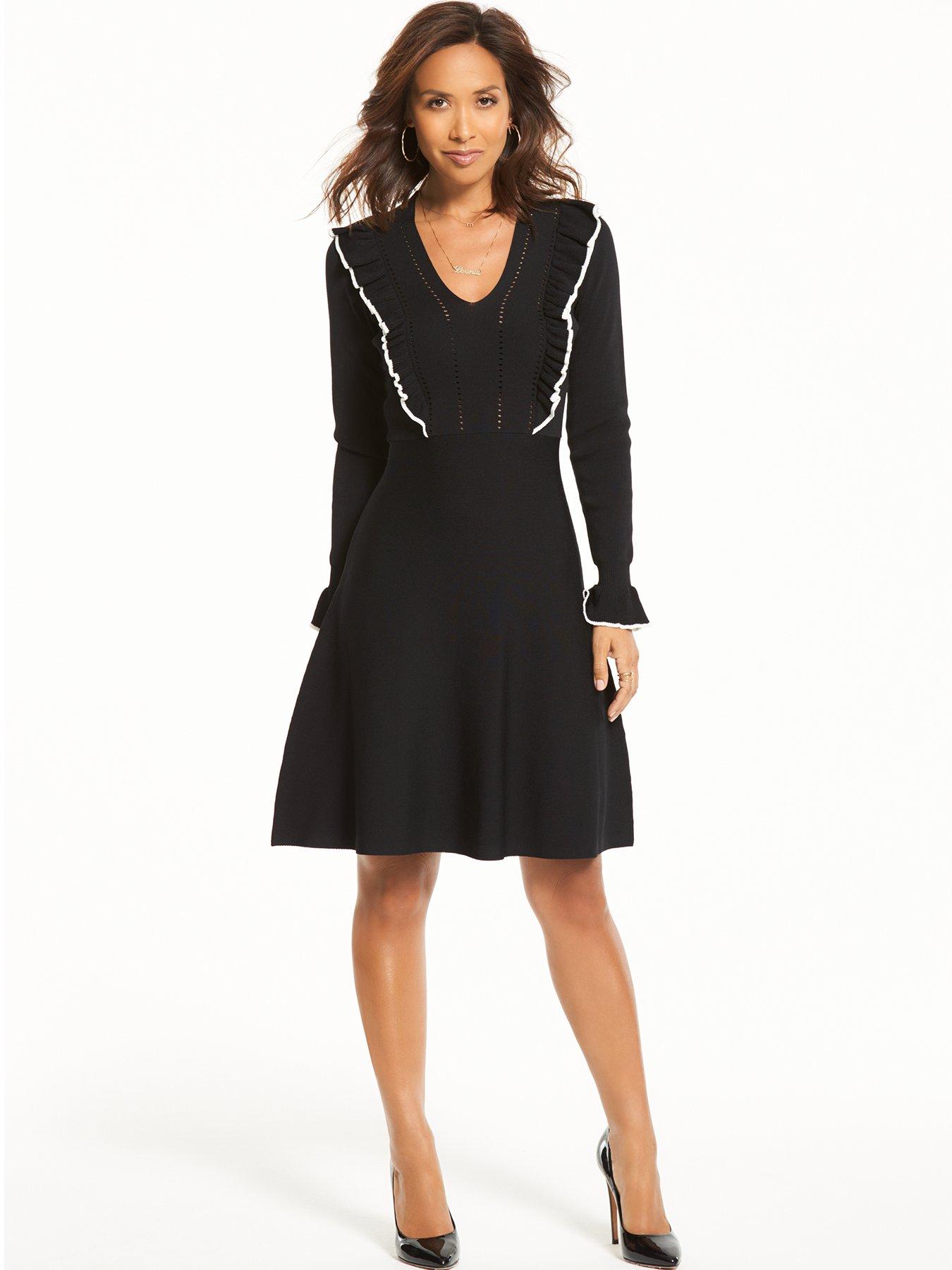 Y'know, I didn't even notice this one had fluted sleeves because I was so busy being distracted by that AMAZING PRINT! IT HAS DEER!
Again, a perfect autumn dress, I'd wear it with brown tights and chunky boots.
You can always rely on Boden for proper grown up dresses of the sort you can wear to work and be totes profesh, and then fling on some mega jewellery and fancy shoes and take out for drinks.
This one comes in navy, a navy multi-bloom print, and this green, which is my favourite.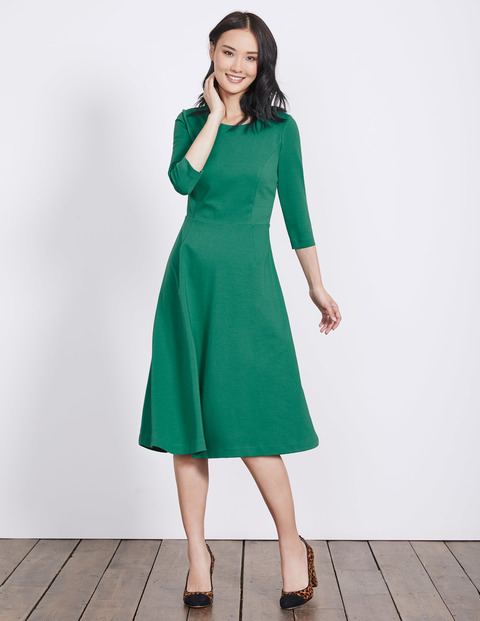 I like the ruching detail on this and it has nice vintagey vibe. The sort of thing that becomes a wardrobe staple and is easy to throw on and look smart. Plus, super cheap.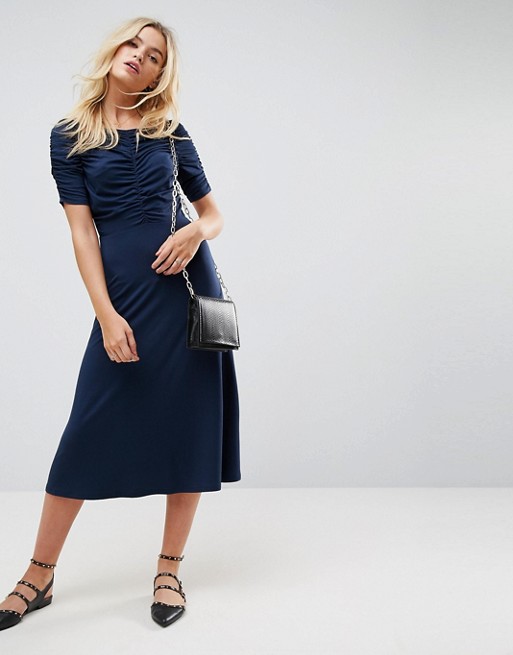 Phase Eight is where my dream grown up wardrobe comes from. This is another great dress in autumnal colours, perfect for drinking Pumpkin Spice lattes and kicking through leaves and otherwise doing autumn things in.
It's also in the sale, bonus.