I'll be completely honest with you. I could absolutely not be bothered to take these photos.
If you think you can detect a faint aura of irritation and general grumpiness in my facial expressions, you are not wrong.
The fact that these photos exist should earn me some kind of Fashion Blogger doing stuff she can't be bothered to do medal.
They were taken on Monday.
We needed to take the car out to a mechanic to tell us whether it was worth fixing. The mechanic is out near Wroxham and despite a slight post Wedding Anniversary hangover I thought what a great opportunity to take some photos in a picturesque place.
So I made a bit of effort to cover up my hangover eye bags and put this breton stripe dress on. It came in the selection of goodies Joanie Clothing sent me, but I hadn't managed to photograph it yet. It has pockets and sleeves and is stretchy and comfy and just the right length to be an easy to wear every day dress. In fact, the perfect dress to wear when you're feeling a bit grotty.
I also added those rose gold geometric hoops I bought from Lisa Angel, because fancy earrings are the next step down from red lipstick to perk you up, and I could't face red lipstick, it was too close a match for my eyes.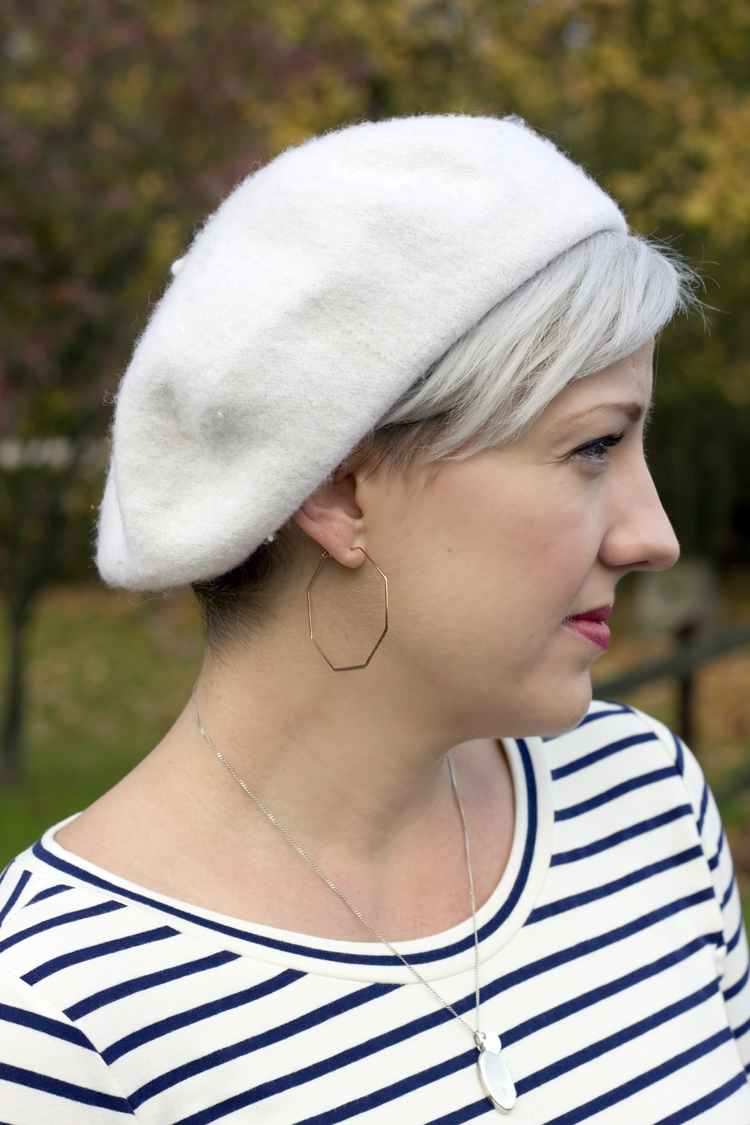 We expected to have to hang around in Wroxham for about half a day. We'd taken our laptops and planned to stop for lunch.

But in the end it took the mechanic all of 5 minutes to break the bad news that our car was, to all extents and purposes, a dead car. It had ceased to be.

By now not only am I slightly hungover and cold. I am also stressed about our dead car we only bought a year ago and the fact that buying a new one could essentially leave us without savings, a scary prospect when you're self employed.

I am also not getting a nice wander by a picturesque river, or by picturesque buildings, or a nice lunch out. Instead we go to Tesco where I buy my first Christmas sandwich of the year (but not the last I'd wager) and we eat it in the basically dead car.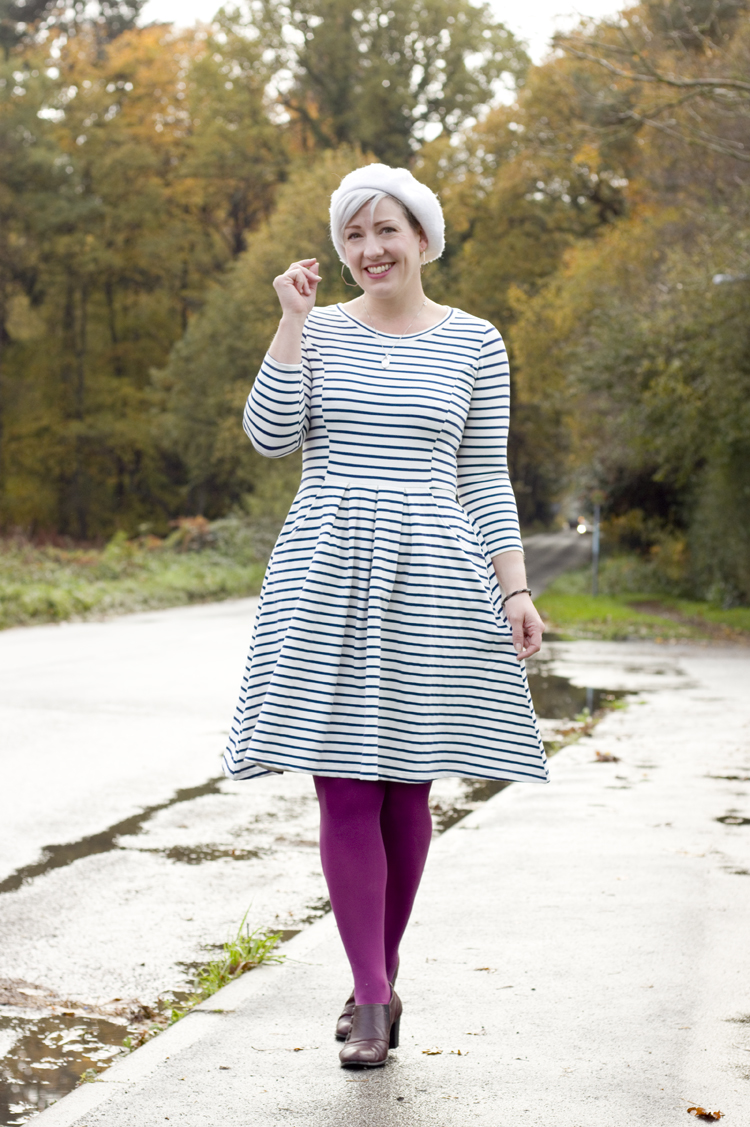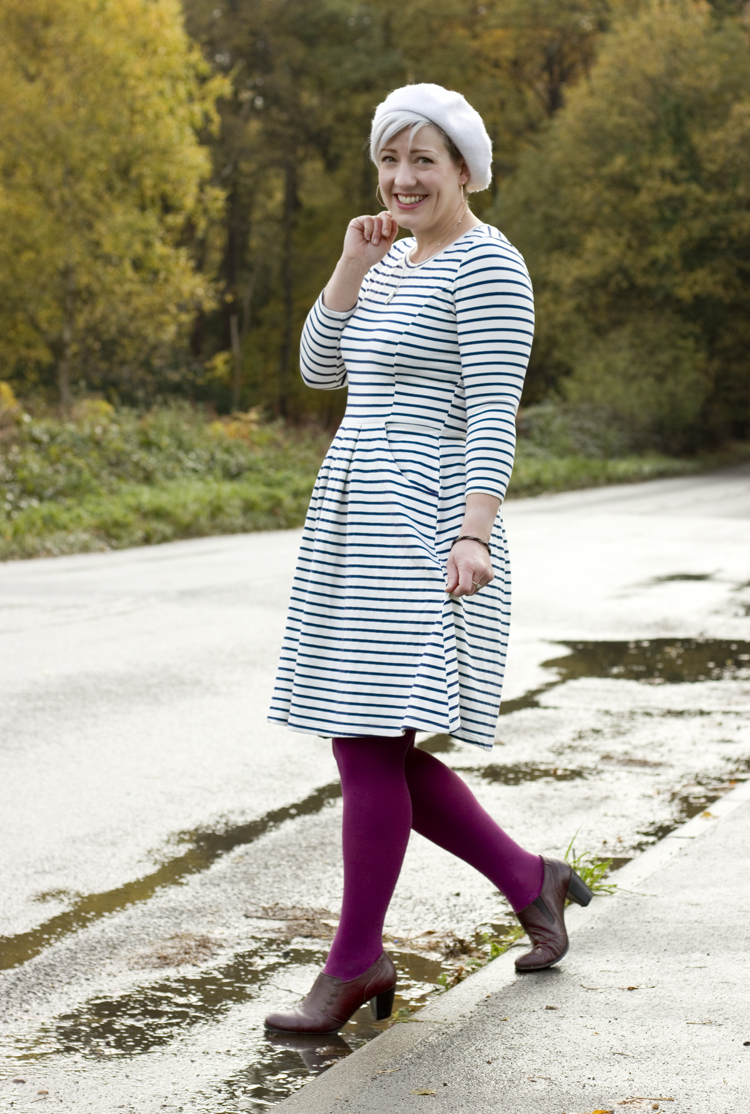 I do not want to take outfit photos as I am cold and grumpy. I want to go home and snuggle Pugs and drink tea.
But, dammit, I made the effort to put on concealer and earrings and this is a really nice dress that deserves outfit photos. So, with a significant lack of picturesque rivers, I manage to pin a smile on my grumpy face for long enough to stand by the side of a busy road and take photos.
What you see here are the ones that didn't contain cars, lorries, or me with my eyes shut.
It really is a nice dress. So I hope my grumps were worth it.
♥ Gigi Dress c/o Joanie Clothing ♥ Beret – eBay ♥
♥ Rose Gold Geometric Hoops – Lisa Angel ♥
♥ Tights – New Look (similar) ♥ Shoes – Moshulu* ♥