Hi there! Welcome to a slightly less stormy weekend. Though I was stopped in my tracks by a gust of wind on the way to work this morning, so only fractionally less stormy.
This week I have been fairly lazy and enjoying it very much, a theme I plan to continue this afternoon by watching rugby and eating crisps.
Tomorrow I shall be back on the wagon with a vengeance, but first, this week I….
Got very, very wet
My race report for last weekend is already up, so we don't need to go through all the rainy, stressful details.
It is worth reiterating just how wet I was. And also how bad a decision it was to take dry leggings with me to change into, and then try and get changed in the car.
Dry leggings and wet skin do not get on well.
Had a spa day
My reward for getting very, very wet, was a spa day that my Dad treated me, my Mum and my sister too.
It was blissful. We floated around in lovely warm water and had a bit of a swim. My sister and I had a back massage, followed by a delicious lunch then spent some time in the sauna and steam room.
A particular highlight was the relaxation room where my sister and I enjoyed an hour of peace and a 10 minute Headspace meditation while my Mum had a facial.
Bliss.
Annoyed a cat
There is nothing funnier than a cat failing at something. They're so self assured and confident, right up to the point they realise the branch is too thin to hold their weight, or they totally underestimated that jump.
This weeks cat hilarity came while I was walking home. A cat shot out of a side street and launched itself with confidence at a telegraph pole. It made it about 2 feet up before it slowly slid back to the ground and sat there, all 4 feet still wrapped around the pole.
"It's ok", I whispered "I don't think anyone saw".
It then tried to climb again, made it the same 2 feet up, slid back to the bottom, shot me the kind of dirty look that made me sure it was heading off to find all its catty friends to beat me up, then ran off down the alley way.
I laughed all the way home.
Found a small dinosaur
Where did it come from? Who knows?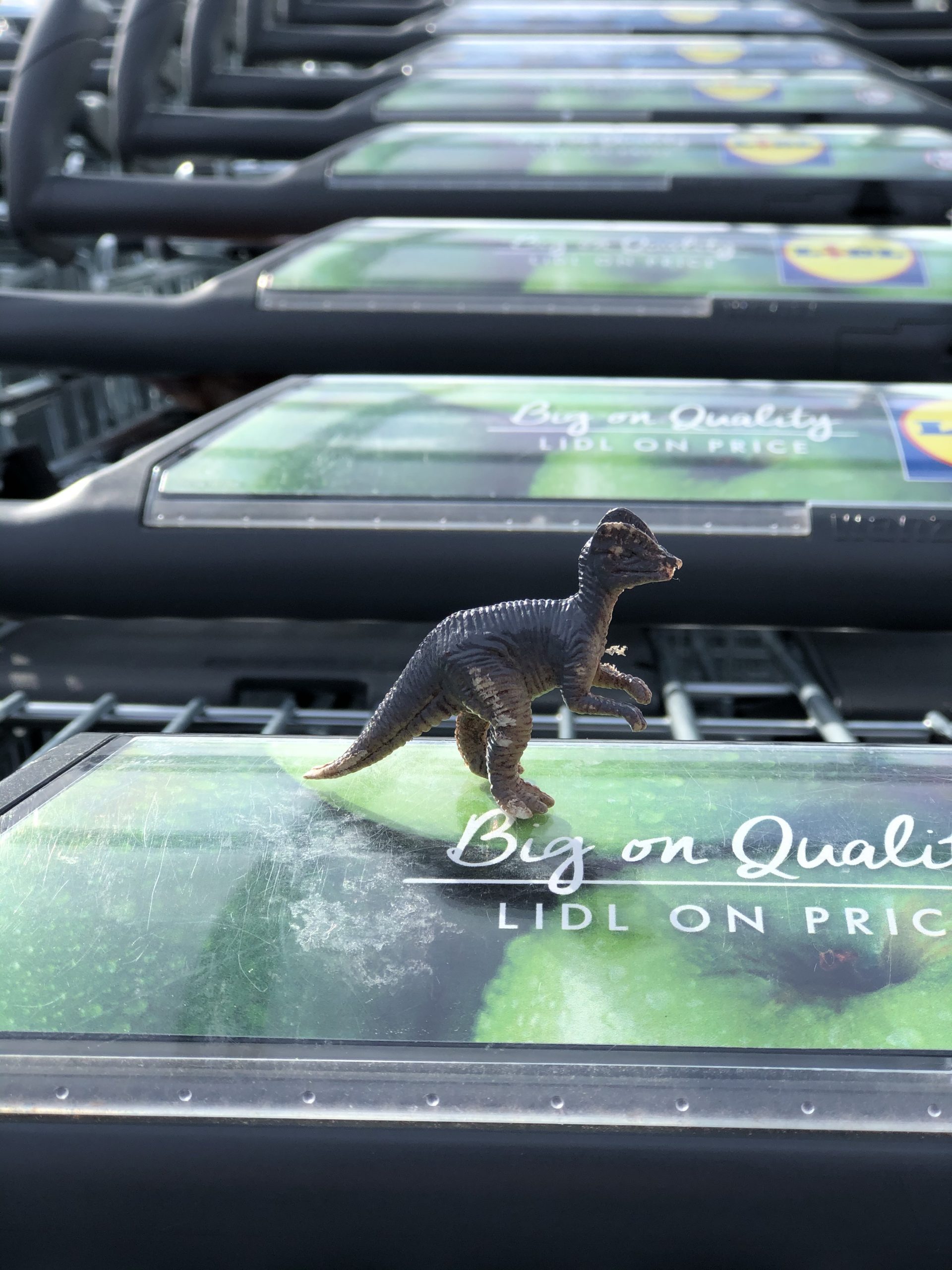 Went to a launch
Going to launches makes me feel very fancy.
Especially when some of the free fizzy wine actually came from a bottle with Champagne written on it.
On Thursday I went to the launch event for the Norfolk and Norwich Festival, one of the things that makes me so proud of my adopted city.
This years festival program sounds amazing, and I'm hoping to be get chance to take in some of the shows and especially make the most of the free events that really make it special.
I think tickets go on sale this week, so you should check it out.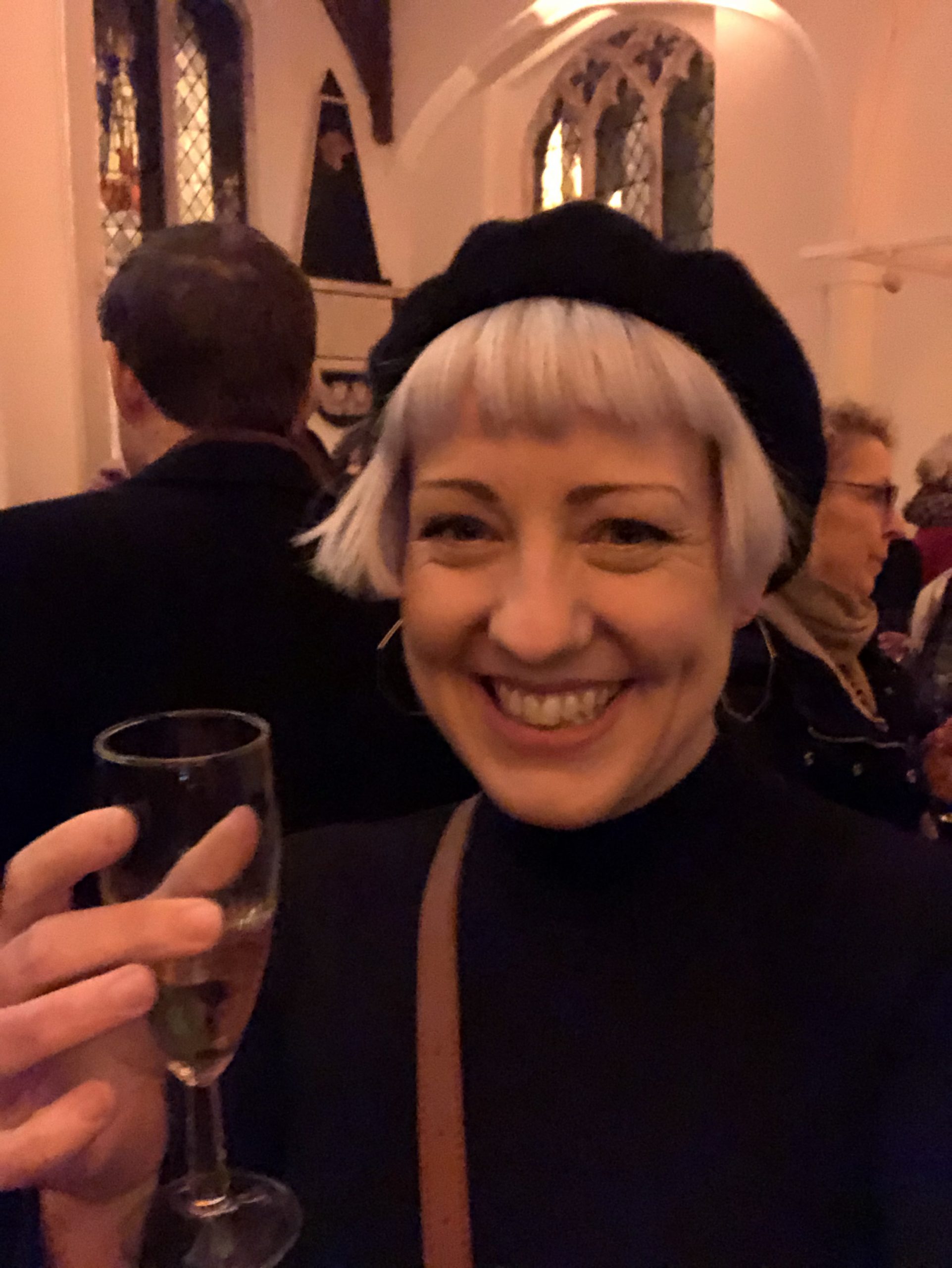 Had a night out
Nights out are like buses, you don't see one for ages and then 2 come along at once.
Which is how I found myself gatecrashing a Norfolk Brawds team night out on Friday. I had a lovely evening, drank far too much beer, some of which tasted like Peanut Butter and Cake, and earned most of Saturdays 10,000 steps walking home drunk after midnight. Which makes it a struggle to pat myself on the back for my healthy lifestyle.
At some point there was a high kicking competition, and I definitely engaged in an awesome rendition of Gangtas Paradise.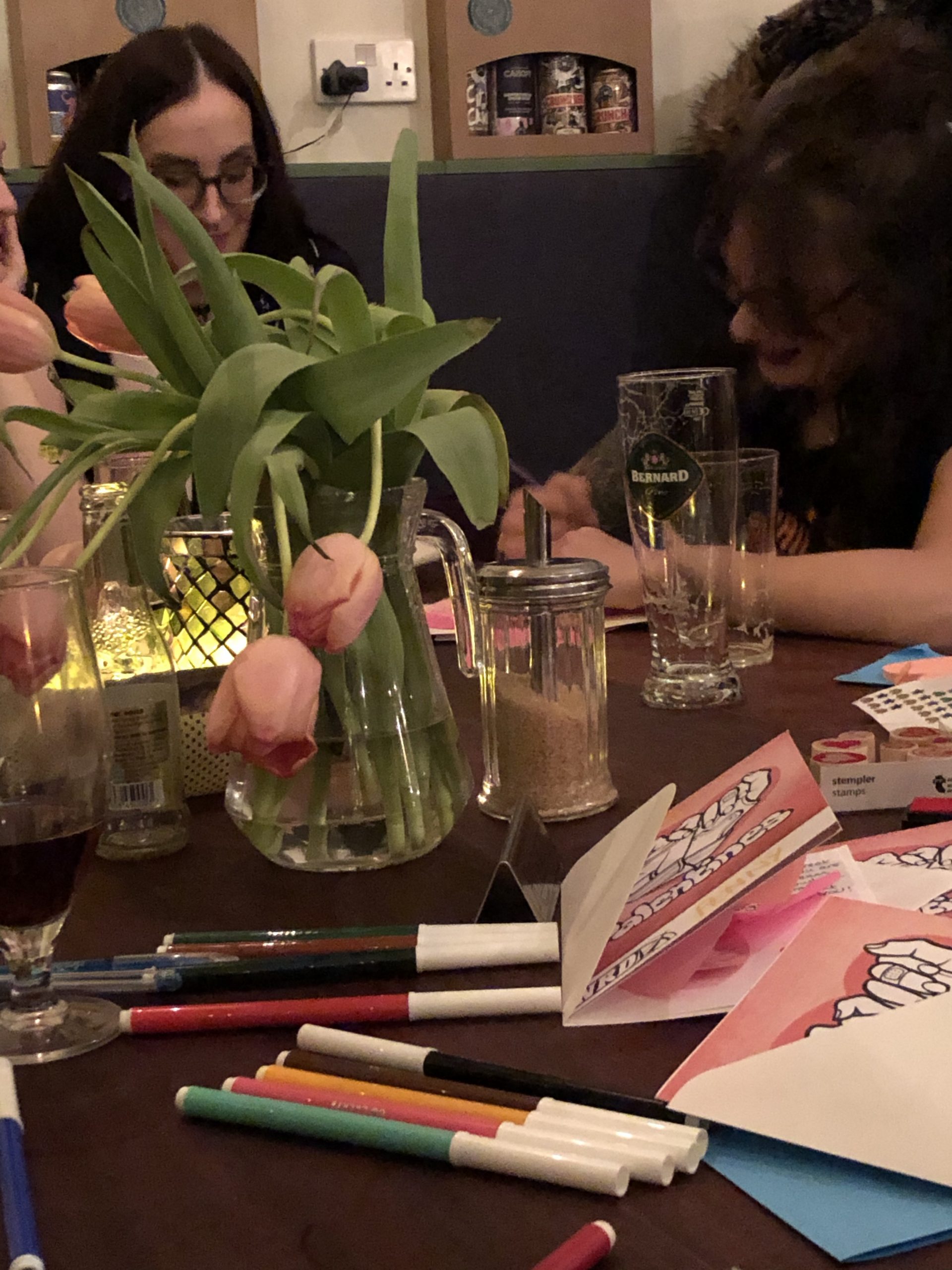 Had Breakfast. Eventually.
Mr LLL and I had planned a brunch date for Saturday. So, feeling slightly (epically) hungover, we took the Pugs to the park, before heading to the nearby pub that has been advertising its weekend brunches for ages. The A board outside says they serve from 9:30, the website says 9:30. It was just before 10 when we arrived and it was resolutely shut and bolted with all the curtains drawn. I found some old social media posts that said 10:30, but the chalk board by the door says 11am.
Basically I have no idea when they actually open for brunch, but it wasn't at 10am on a Saturday. It's not the first time this pub has disappointed me on the food front, the kitchen was closed at 5:30 on a Sunday when they said they served till 6pm. So they are basically dead to me food wise now, but I did, at least, have a back up plan.
The Plasterers, another only fractionally less local pub, does an awesome brunch and opens at 10. So we arrived at about 10:05 and ordered our food, which finally arrived about 10:40. I guess they had only just opened the kitchen when we go there so I forgive them the wait as fully loaded veggie breakfast roll I had was amazing.
So the story has a happy breakfasty ending. But srsly, how hard is it to publish an opening time and then actually stick to it?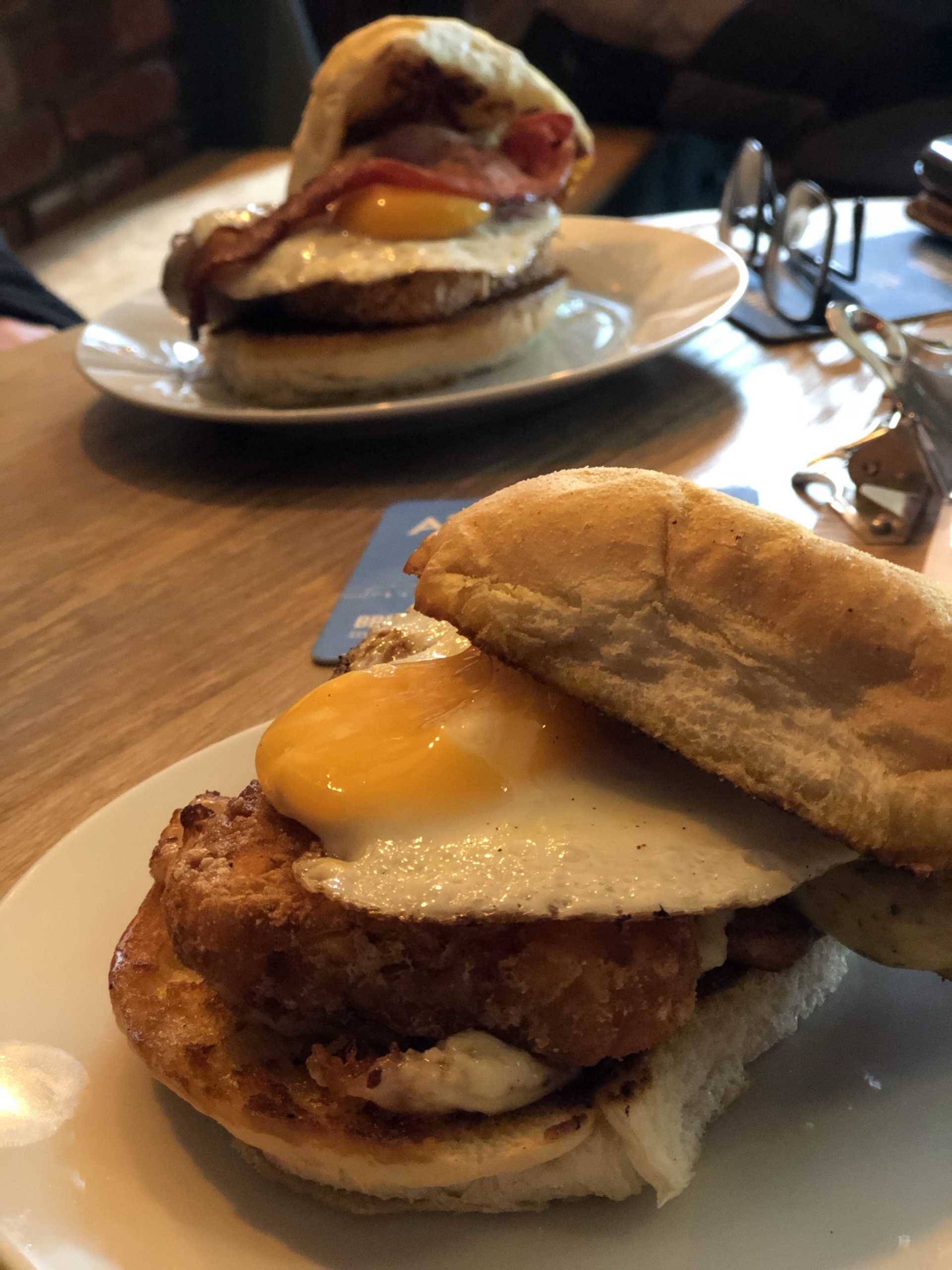 Had a nap
And, to finish my week on a happy note rather than bitching about pub opening hours, I thought I'd share with you my epic Saturday afternoon.
I made many exciting and dynamic plans, and then cancelled them all to spend the afternoon snoozing on the sofa with the Pugs.
I was very comfy and happy. Happy enough to ask Mr LLL to take a photo of us just so I could put it in my This Week I….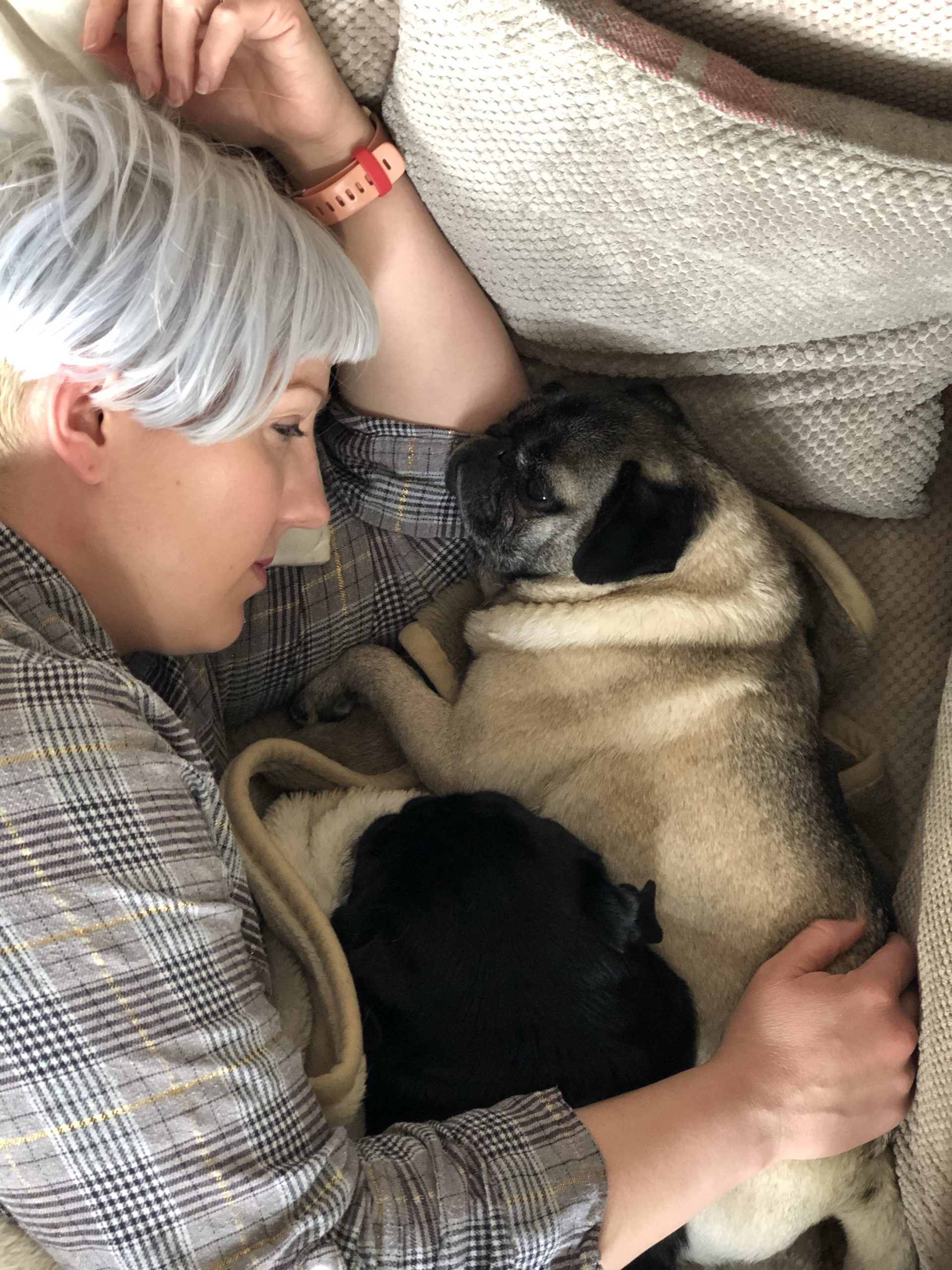 And that was another week in my life.
How was your week?