Oh wow, back for a second week!
I had lots of very lovely people say they were pleased to see me back last week:Which warmed my icy heart and made me smile in a week that has been quite heavy. So I do want to say a big thank you to everyone who took the time to tell me they actually *liked* reading about what I ate and what I watched on TV this week.
With the murder of Sarah Everard this has been a heavy week for many of us and a stark reminder that violence against women is still an issue. Although statistically most violence against women is by someone they know, it doesn't change the fact that what happened to Sarah is a fear for most women that men just don't have to deal with.
So I'm going to start this weeks this week I, with a little screen grab of a message sent after my last night out with my Roller Derby team before lockdown last year because this week I realised, possibly for the first time, that men don't leave their friends at the pub with the words "text me when you get home"

But then, onwards, because this week I….
Had a back setback
The week didn't start great as I was with a client first thing Monday morning and had another spasm in my back. I could tell it didn't feel right as I carried my kit round, then I took a sudden step and made a big screech like I haven't made since January.
I was very down about it. I felt like I was right back where I started after months of trying so hard to do the right things.
Fortunately it went back to "normal" in a couple of days. I'm hoping it's just a bump in the recovery road. It's 2 steps forward and 1 step back, but I'll get there in the end.
Had cake
It was spiced plum and pistachio cake from the fabulous coffee shop that opened round the corner last year. Lockdown dog walks wouldn't have been as exciting without it.
It was not for Pugs.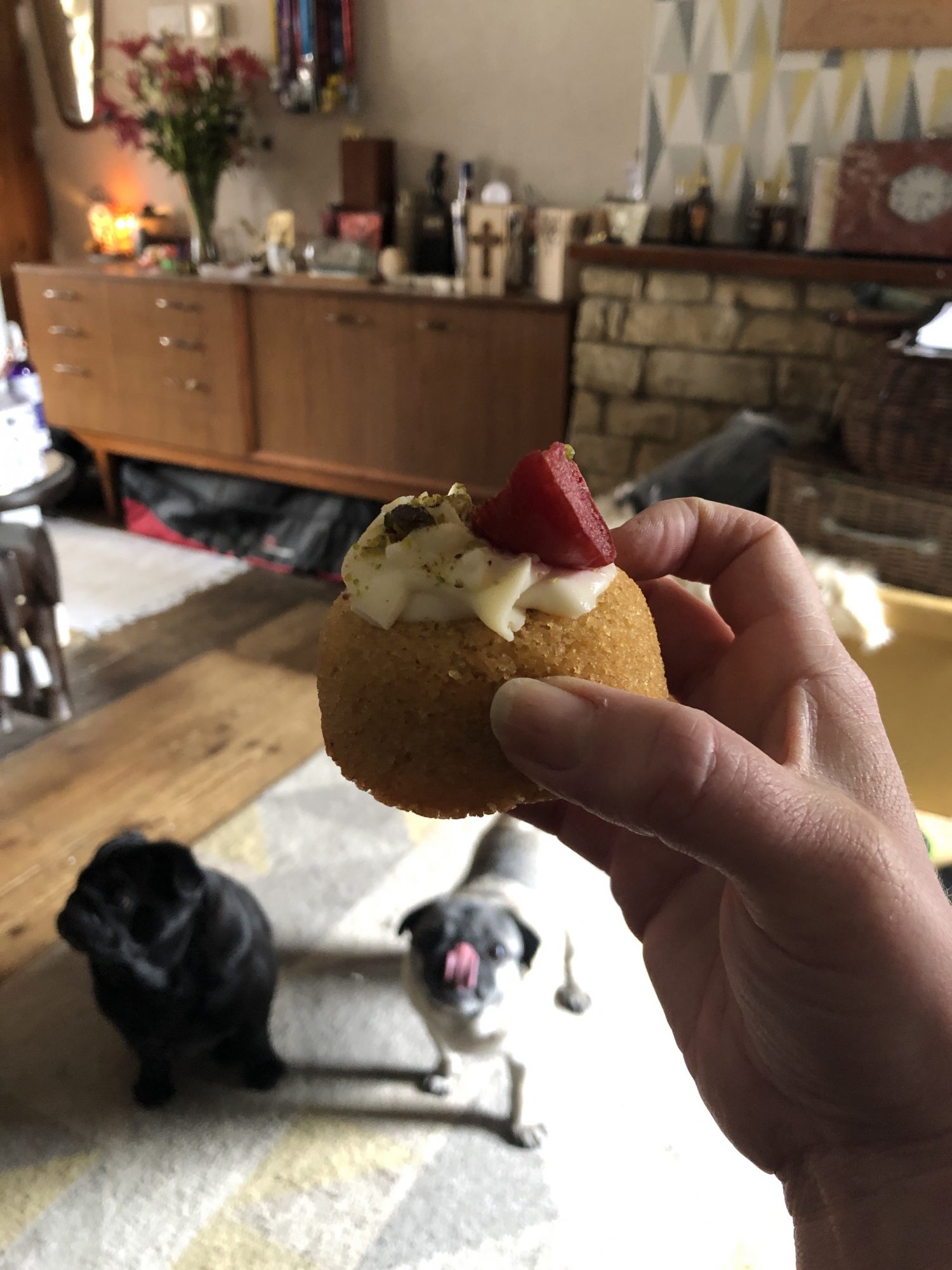 Was disturbed by my mail
I get my prescriptions delivered and this week it was time to top up on my asthma inhaler.
The inhaler contains steroids, I knew this, and I've been on it for many years. This time it turned up with a little card in the package that FREAKED ME OUT.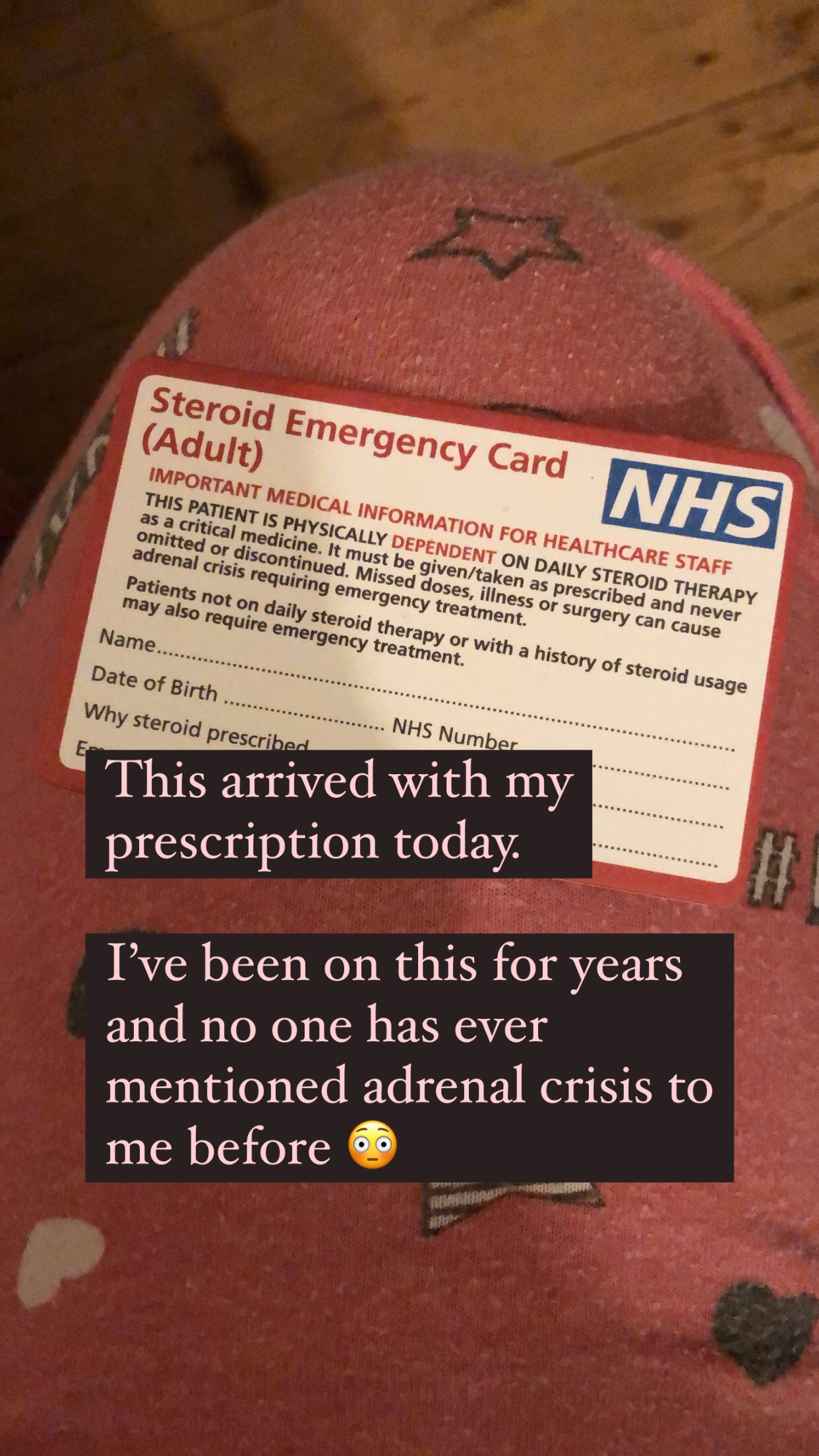 WHAT IS ADRENAL CRISIS? WHY HAS NO ONE EVER MENTIONED THIS BEFORE?
Thankfully Social Media came to my rescue and someone kindly advised me that these cards are normally only given out to someone on oral steroids, not inhaled steroids. So that's a relief and it sounds like someone just got a bit over zealous packing up my inhaler.
Had rain
Peppa does not like rain.
She did not want to go for a walk, even round the block.
She sulked a lot.
So this happened.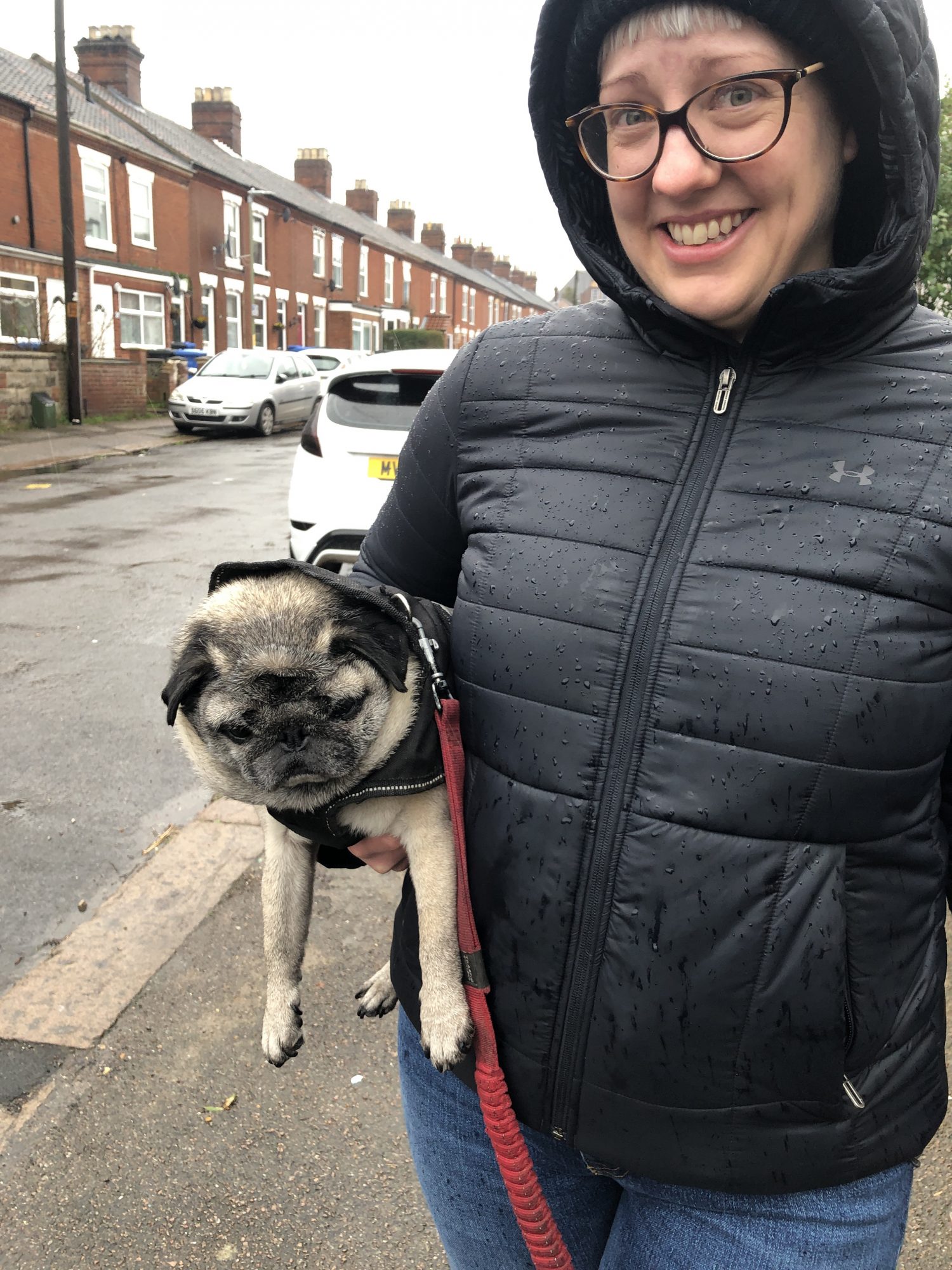 Made sushi
Wednesday night this week was sushi night.
Sainsbury's failed to bring me any sushi rice, but Morrison's came to the rescue and gave me an excuse to try out their same day delivery through Amazon.
So we made sushi, filled with teriyaki tofu, shiitake mushrooms, cucumber and avocado. I don't think a career as a sushi chef is in my future but it was fun.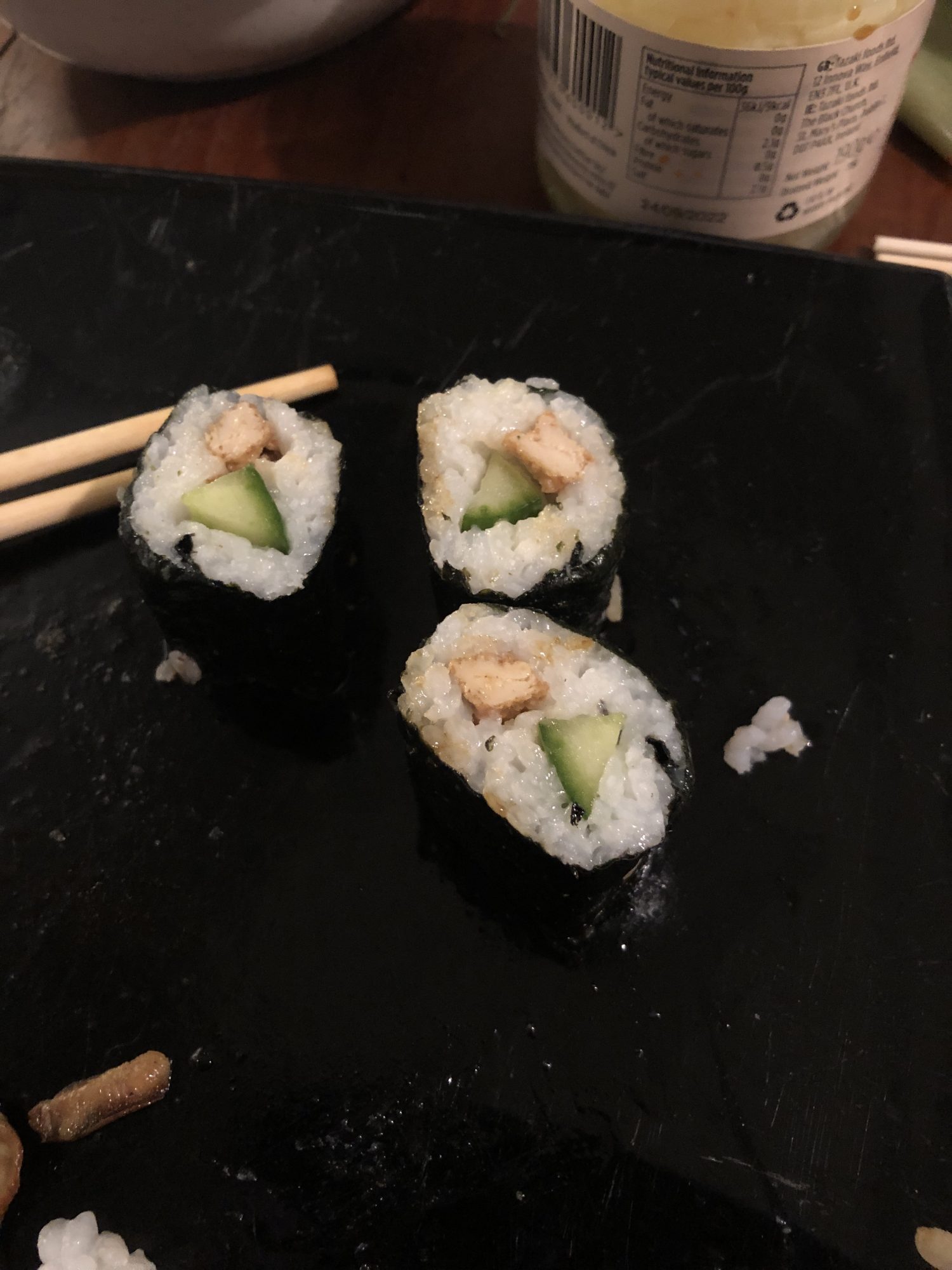 Got a letter from God
I am assuming that with door knocking being contraindicated by the global pandemic the Jehovah's Witnesses have taken to sending handwritten letters to spread the word as I have seen quite a few of these on social media.
This week it was our turn and we found it mildly amusing that the postmark was for British Science Week.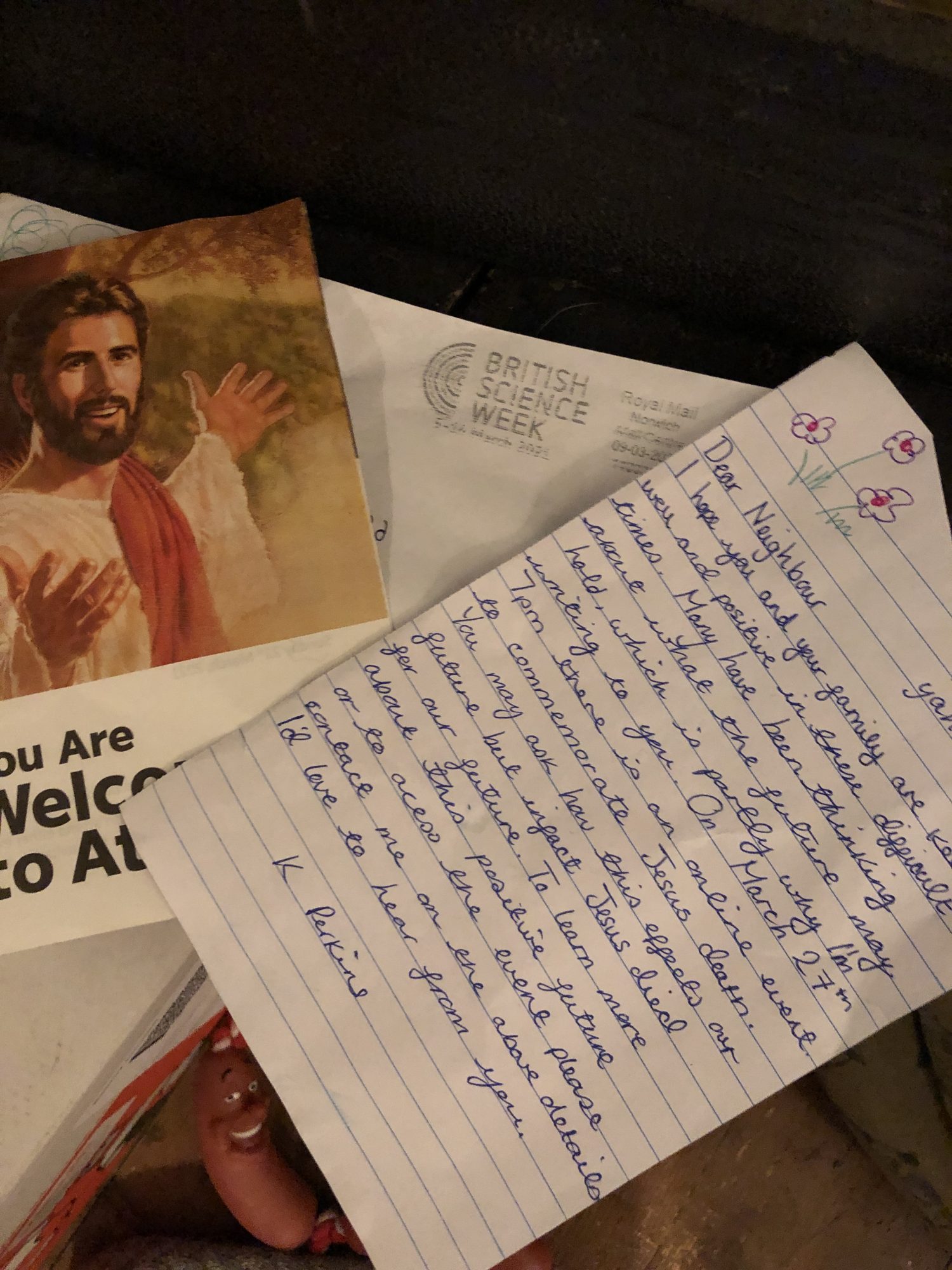 Had a household vaccination
Not me, sadly, but Mr LLL got invited for his Covid vaccination. So this morning he had his first dose of the Oxford AstraZeneca and now feels "a bit woozy".
I am just hugely jealous. But it won't be long now I'm sure.
And that was another hugely exciting week in my lockdown life. I have yet to take advantage of the new "sitting on a bench" freedom we have been granted this week, but maybe soon.
How was your week?