I'm so sorry, but it had to be done.
It's mid November, and Christmas is creeping inexorably closer. It might be slightly too early for decorations just yet (though when I spot my first domestic outdoor lights it's always a momentous moment) but the Starbucks Red Cups are here *dribbles slightly thinking about Egg Nog Lattes* and Boots has it's 3 for 2 offer on, so we know it must be the Festive Season.
The one thing it's fine to think about in mid November is Advent Calendars. Out of last years picks only the Fortnum & Mason Chocolate Box and the V&A vintage calendar are still on sale. Never fear though, as I have 6 whole new calendars for you to choose from, none of which feature cheap chocolate or pictures of Disney characters.
THE RETRO ONE
Roger La Borde Cool Yule Advent Calendar – Notorious Kitsch £7.50
With a fabulous retro festive illustration by Roger la Borde this will look great on your wall.
Doesn't contain any chocolate, sadly, but it's not like there's not enough of that around at Christmas!
THE CHOCOLATE ONE
Ultimate Dark Chocolate Advent Calendar – Hotel Chocolate £17
I wasn't allowed a chocolate advent calendar when I was a child, instead having to share a calendar with my sister that featured pictures of kings, stars, the baby jesus, and, because December is a long month, various live stock that may or may not have been present at the birth of Christ.
Now I can have what I want as I'm apparently a grown up, and this dark chocolate calendar from Hotel Chocolat will do very nicely if anyones listening *hint*hint*
THE EVERLASTING ONE
Vintage style cream wooden advent calendar – Vintage Pink Online £27.95
A cream wooden advent calendar with vintage style Christmas illustrations on each drawer. It's a bit pricey, but you only need to buy it once and each year your nearest and dearest can fill the drawers with Tiffany jewellery and small sparkly objet d'art. Or, more likely, foil wrapped chocolate coins.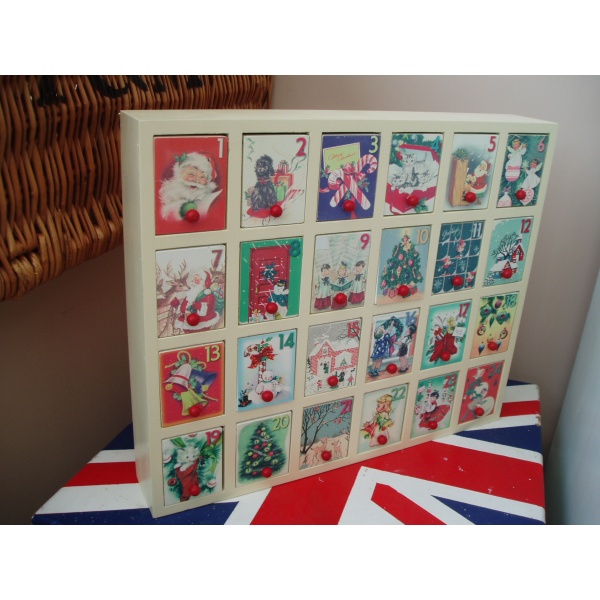 THE TRADITIONAL ONE
Advent Pillar Candle – Laura Ashley £10
Advent candles are a calming way to countdown to Christmas, spending a few minutes each evening watching the candle burn down to the next line.
They also never fail to remind me of the advent crowns they used to make on Blue Peter back in the days when it was ok to teach kids to play with fire.
It's also apparently on 3 for 2 at Laura Ashley.
THE 3D ONE
3D Christmas Tree – Advents Direct £5.25
3D is all the rage now, right? Well, you don't need silly glasses for this advent calendar as the real world is permanently in 3D, amazing huh?
In this case 3D means it stands on your table rather than hanging on your wall.
and finally….
THE RIDICULOUSLY EXPENSIVE ONE
Fortnums Advent Calendar – Fortnum & Mason £95
I'm sorry, but NINETY FIVE POUNDS? And that's UNFILLED! They want another £35 off you to fill it up with jelly beans and chocolate coins.
It's kinda pretty and it looks like it might be made of wood, but it's still NINETY FIVE POUNDS for a wooden model of a shop. That's an advert in my book. I love Fortnum & Mason, it's a great British Institution, but that's a hell of a lot of money for an advent calendar. If you would like to spend £95 on me then please do email me and I'll send you a list of other things I'd rather have first. Ta!
On an almost entirely unrelated note I have just listed lots of beautiful handmade Christmas tree decorations in the Retro Chick shop.
They are padded hearts made from fabric with a pretty vintage feel and I have 17 different designs. For Retro Chick readers I'm also offering free postage if you buy more than 1 (everyone else has to pay an extra 50p!) just buy them, message me, and I'll invoice you less the postage.