Is Christmas Shopping panic setting in yet?
Mine isn't yet, but that's because I know I won't be seeing my family to dish out their presents for nearly 2 weeks. I give it about 7 days till panic sets in.
I ALWAYS leave Christmas Shopping till last minute, but I start my research in early December. So, for those of you like me who won't read Christmas gift guides in November, today I bring you some handy ideas for the Chap in your life.
Stocking Fillers- Under £10
Flying Scotsman Enamel Mug – £7.50 Notorious Kitsch
Use as a shaving mug, to take camping or just to drink hot chocolate out of at bed time while secretly pretending to be a cowboy with a battered old enamel mug.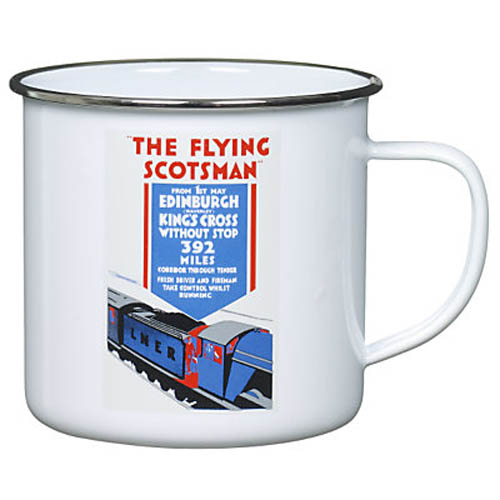 Moustache Comb – £8 The Chap Shop
Whether he's a dedicated moustache convert, or just grew one for Movember. A moustache comb is essential to keep it in check
Proper Presents – Under £30
Old Pulteney 12 year old Single Malt Scotch Whisky – £26.99 The Whisky Shop
For the record, this is a pretty darn good present for me too, as it happens that I'm the whisky drinker in our house and Mr Chick is happy with a nice G&T.
Vintage Silk Cravat – £30 Lalita
Every chap needs a cravat, ideal for filling in the open neck of a shirt in Summer.
Feeling Flush – Under £60
Christys Hats Bogart Fedora – £56 Village Hats
A classic hat style, from a good quality maker in fur felt. You might have to measure his head while he's asleep though. Also comes in grey and brown.
Vicuna Tassled Scarf – £40 Lalita
Made in Argentina under strict conditions as the Vicuna is a protected species.
Made of Money – Under £100
Croc Round Leather Hip Flask – £65 Fortnum & Mason
Perfect for gentlemanly country pursuits like hunting, fishing and getting drunk in the park.
Harrods Herringbone Pyjama Set – £99.95 Harrods
Traditional cotton pyjamas, only really expensive because they have a Harrods label.