I'm not feeling particularly inspired or glamorous right now.
This isn't my place for wallowing or whining (well, not always) but with everything that's going on in my life at the moment I'm finding it difficult to keep up with replying to my emails, let alone feeling inspired to write about lovely glamorous things every day.
So on Monday, when I was at home wallowing in a cricket jumper and pyjama bottoms I posted on my Facebook page.
I am not feeling glamorous. How do you all feel about blog posts featuring pyjamas and whisky?
And weirdly the idea seemed strangely popular.
Don't worry, I'm not going to inflict photos of me in my dog print PJs under a blanket on anyone. It did, however, get me back to thinking about vintage lounge and sleepwear. I've thought about it before as it's nigh on impossible to find vintage style pyjamas. Even if all you want is a nice, bog standard, pair of ladies cotton pyjamas it seems that everywhere has fallen prey to the illusion that women's waists live somewhere around their hip bones. It IS possible to buy some very pretty night shirts and night dresses, but pyjamas are a struggle.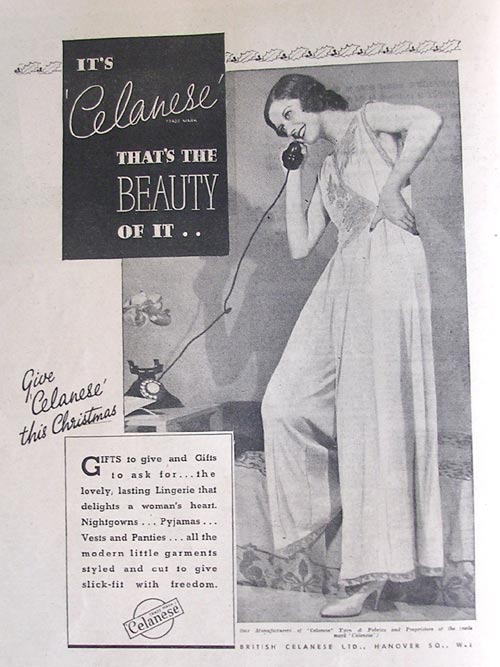 There was a time, in the 20s and 30s when the wearing of "pyjamas" was very nearly an art form. An article from 1931 republished on The Painted Woman details the types of pyjamas to be worn for every hour of the day including beach pyjamas, lounging pyjamas, cocktail pyjamas and evening pyjamas. Pyjamas seems to be a word used much as we would use the word trousers today. Much of what we would refer to as Palazzo pants, wide leg trousers, or even jumpsuits, appears to be referred to under the catch all term of pyjamas.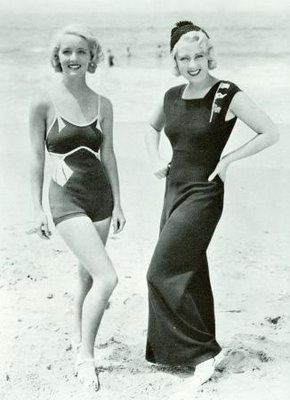 What I'm really looking for, I guess, is something *different* from the normal hipster floral or novelty printed drawstring trousers teamed with a vest. Something comfortable I can wear to curl up on the sofa, but still feel presentable should I need to pop outside and put something in the bin.
Maybe it's because people are less smart in general? Maybe answering the door and greeting guests in jersey, hipster pyjamas and a vest isn't really an issue in a world where jeans with sparkly writing on the bum are considered suitable evening wear and velour tracksuits are smart day wear? Personally I would LOVE something I could sit around the house in and answer the door to the post man without having to hide behind it.
Extensive searching has revealed very limited options, but I present them here for your pleasure.
First off, on the High Street, all I really found were these "Luxury" pyjamas from La Senza in Polyester satin. She looks like she's wearing them on her hips, but judging by the amount of spare fabric hanging around they can be worn higher!
Short Sleeve Luxury PJ £30 La Senza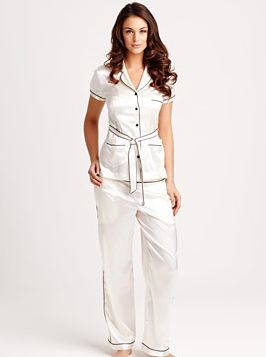 On Etsy, however, I finally found someone who makes reproduction Pyjamas from Vintage patterns. Time Machine Vintage has 2 styles.
These cute 1940s pyjamas are made in cotton, and pretty reasonably priced.
Taylor 1940's Vintage Style Pyjamas £34.93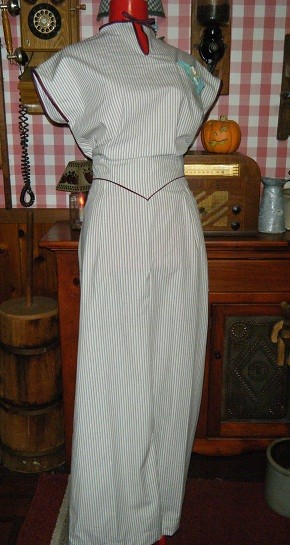 If you want a little more glamour, and are prepared to pay for it, then she also makes a pair of satin 1930s lounging pyjamas.
Anita 1930s Vintage Style Lounging Pyjamas £73.04