I know, another lipstick review so soon after the last.
I don't want you to get sick of them, but I've been waiting to review this particular lipstick for some time, and now I've got my mitts on a tube I couldn't wait! Today I shall be reviewing Rockalily Lipstick in Roulette Red, priced at £14 (+p&p)
Rockalily Lipsticks are the brainchild of Ree Ree Rockette. Her blog used to be called Alternatively Lovely, now re branded with the Rockalily logo. I've been following her journey creating and getting the lipsticks to market for some time, and I couldn't wait to try them out and add them to the red lipstick reviews.
So, the chart…..

As you can see it comes out equal top with current winner Besame, the packaging isn't quite as fancy, but a slightly less drying texture and an easier tip shape for application make it a winner.
The Blurb
The blurb for this is fairly simple. No fancy claims about plump lips, moisturising or anything else. It's all about the shade, texture and lasting.
ReeRee Rockette was tired of trying to find her perfect red lipstick. She was overwhelmed with lipstick choices, but disappointed with their colours. Some were too dry, some too dull, some yellowed her teeth whilst others bled beyond her lip line. So she decided to create her own!
ReeRee knew that sometimes less really is more. She wanted to create a range that could be worn every day and that were the right shade and quality of product. She wanted Rockalily Ladies to be able to quickly choose which shade would be right, and be confident that they wouldn't be disappointed when they got them home.
So I was expecting long lasting, moisturising colour, in a texture and shade that appeals to vintage loving ladies. The lipstick is also paraben free and not tested on animals.

The Pros
The lipsticks texture is a lovely creamy, semi matte finish and I loved the Roulette Red shade. It's a darker blue red, which is generally my favourite shade and the descriptions on the website made it easy to pick out what exact shade I wanted. It's easy to apply, giving good coverage with just one application.
For a small batch production lipstick it is reasonably priced. The packaging is a sturdy matte black square that won't be easy to break, plus it arrives in a pretty box. The pointed tip is also easy to apply around the upper lip line if you don't have a lipbrush.
It's lasting power is also very good. The first time I wore it for a good 4 hours without reapplying, including eating and drinking. When I looked in the mirror when I got home I found it had just faded, rather than gone lumpy and worn away. There was the faintest of visble lines around the outside of my lips, but nothing noticeable to the casual observer and no bleeding at all, which was pretty impressive.
Being paraben free it is also ideal for those ladies who are allergic to them.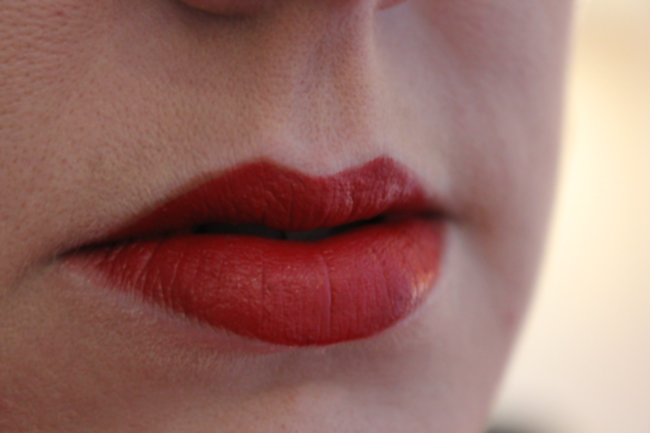 The Cons
I actually struggle to be negative about this lipstick, but there are a few things worth mentioning.
Firstly the lipstick isn't cheap, at £14 it's not the most expensive lipstick I've reviewed, but certainly not the cheapest. It's great for wearing every day as it's reliable, but depending on your financial situation you might find it expensive to replace and you'll really miss it when it's gone!
I mentioned that on first wear I had no bleeding or uneven wear, on a couple of subsequent occasions I did experience some minor bleeding, and cracking, but I think that might be because I'd applied it in a hurry and had dry lips anyway as it was by no means a regular occurrence. Suffice to say it's not impossible for this lipstick to bleed, just not common! I would recommend using a lip liner, though there isn't currently a matching one available from the brand.
Finally the packaging. I do like the matte black, but it's nothing to write home about, and, if I'm being *really* picky, the square shape doesn't fit in my mirrored Stratton lipstick holder!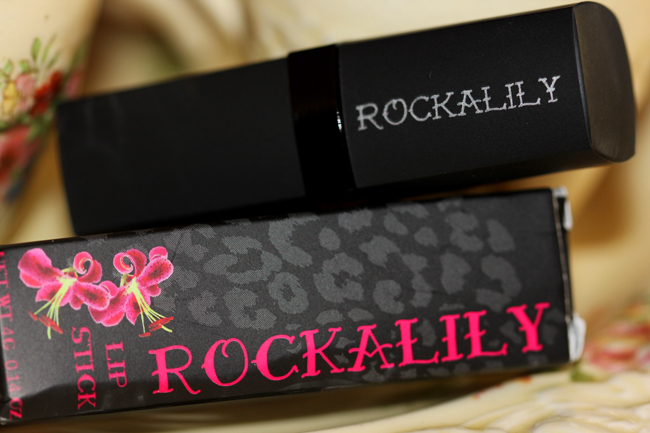 The Verdict
Comparing it to the Besame I would say it works out as better value for money. The staying power is fractionally less good, but it has a more moisturising texture and is easier to apply, it's also £6 cheaper once p&p is added as Rockalily isn't yet stocked in a physical shop so that's an unavoidable addition to the cost.
I still love the Besame packaging though, so I'd be tempted to save that one for fancy occasions where I'm applying lipstick in public and wear the Rockalily the rest of the time!
I'm a bargain hunting gal, but there are some things I will spend money on. Years of hunting and many painful experiences mean I can't be prised away from my L'Oreal mineral foundation, I don't buy cheap nail files and I always buy the best moisturiser I can afford. An everyday lipstick, however, has generally been a maximum of £5 thing for me. I genuinely think the Rockalily has converted me though. I paid for this one myself so I could review it, and when it runs out I'll replace it. I even think I might try the brighter Rockette Red Shade.
Anyway, I'm done gushing now. Here's the full face photo…..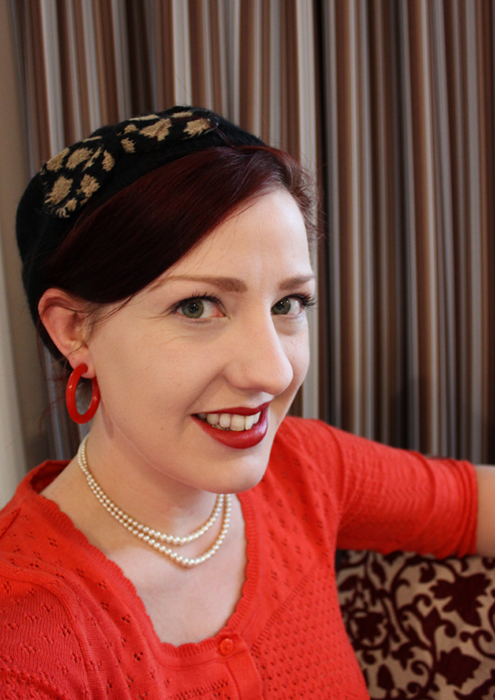 Rockalily Lipsticks are available from Rockalily.com priced at £14 + £2.50 p&p