Getting Dressed in Spring can be astonishingly complicated.
It might *look* sunny out of that window, but for all you know it's actually freezing cold, and just because it's warm at lunch time doesn't mean that 5pm won't greet you with torrential downpours.
Well, this is more or less my archetypal spring outfit. A lightweight skirt and a top with sleeves that won't be too cold or too warm. The only thing I'm not wearing in this photo that I would normally are stockings, and that's because I'm away and have neglected to pack any. My legs are therefore a little nippy and corned beef like, oops. I do have my cape though, so at least I can cover up when it's chilly in the evenings, or at lunch time like it is today.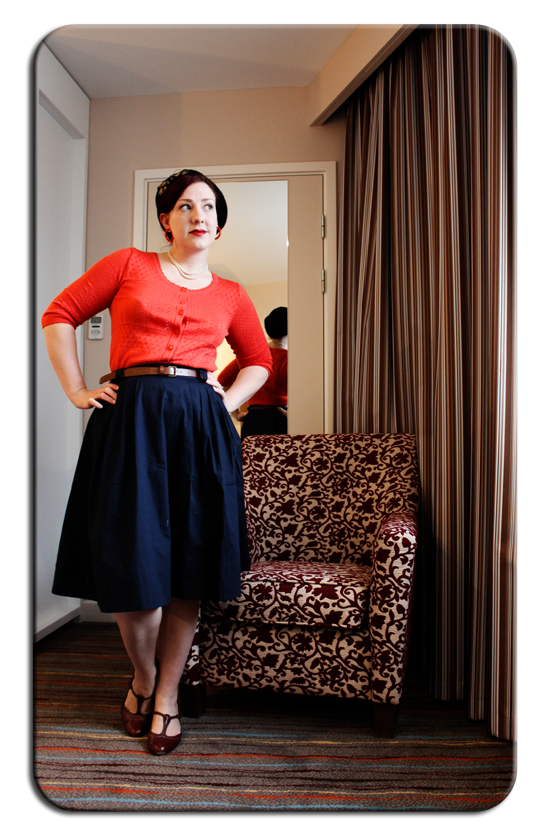 ❤ Hat - Topshop ❤ Earrings - Notorious Kitsch ❤ Pearls - Vintage ❤
❤ Cardigan & Skirt - H&M ❤ Shoes - Clarks ❤
This outfit is actually mostly brand new AND from the High Street. Probably the last time I went into a High Street shop to go shopping was about a year ago. It was the experience that sparked the post on Vanity Sizing and ever since I've done most of my shopping online by checking measurements or by trawling Charity Shops.
That is until a week ago when I wandered into Topshop to look at their sale rail and came home with 2 hats and a cape. It appears to have bump started my dormant high street shopping gene, or maybe it's just that this seasons styles appeal to me more than seasons past. On Tuesday I was walking through a shopping centre, on my way to Starbucks to use the Wi Fi, when some kind of vortex sucked me through the doors of H&M, no really! I took a risk buying this skirt and cardigan without trying them on (still can't face those overheated changing rooms) but fortunately they fit, hurrah!
(excuse the weird face I'm pulling in this photo!)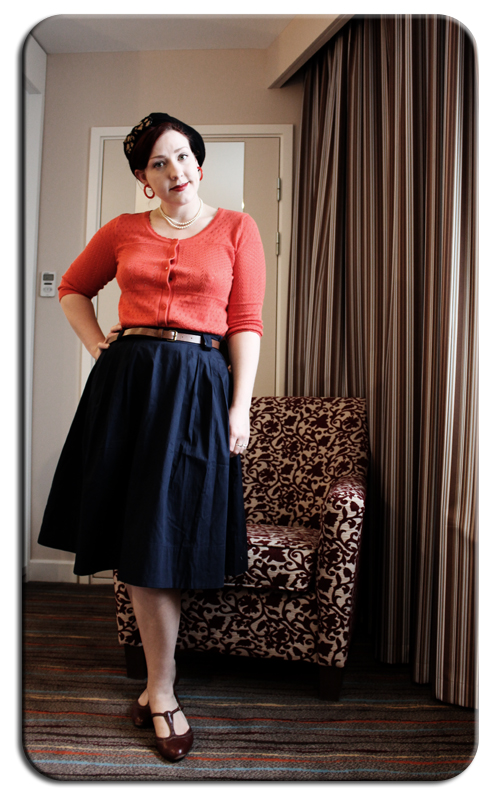 It was stylist Zoe Lem at My Sugarland that convinced me orange would work with my hair, and I'm glad she did because otherwise I've never have looked at this cute picot cardigan.
It also makes a change to find a skirt on the High Street that's not too short! This one sits just below my knee, which is really as short as I normally like to wear my skirts, not being over keen on my legs!
So Hurrah for the High Street for topping up my Spring wardrobe with minimal stress and providing skirts of a sensible length!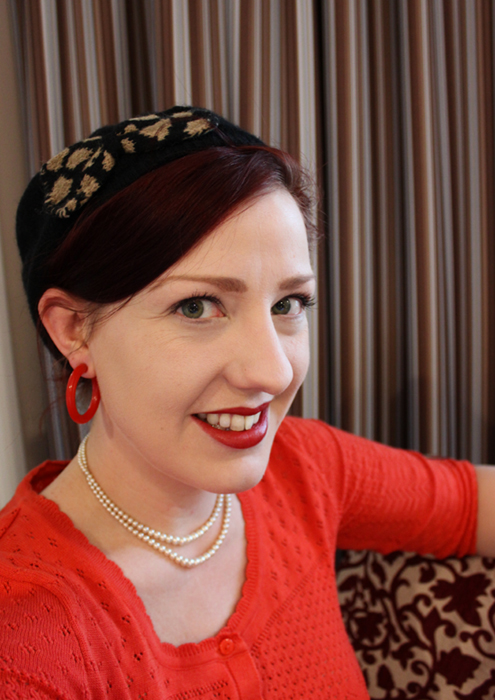 I also have *gasp* straight hair! I'm giving my hair a bit of a break from setting lotion as it was getting a bit dry and needed and intensive moisturising session. I HATE my hair straight, especially now I don't have a fringe, so it's hidden under this snazzy leopard print hat.
It's technically not at all vintage, but there's actually something about this outfit that makes me feel a bit 60s. I'm not sure what it is, maybe it's the straight hair, earrings and hat, maybe it's the navy and orange colours, or maybe it's just that I've been watching too much Mad Men, who knows,  but I kind of like it for a bit of a change!