Here at Retro Chick I've talked about clothes sizing a LOT!
If you don't believe me check here, here and here, not to mention my press page.
When I think back to shopping in my teenage years I had no idea of the measurements of my waist, hips and bust. All I knew was that I was often reduced to tears by my inability to buy trousers that didn't gape at my waist, that dresses that fit my bust wouldn't even go over my hips and that therefore I must be an utter freak. I wore a size 8-10, but because in some shops I still had difficulty fitting my hips I was convinced I was fat. I dieted, starved and binged. I ran up and down stairs to work off the calories if I ate an apple. In short, I had a pretty distorted body image.
Of course, I'm a grown up now. Research has proved to me that the reason they don't fit my hips is because of my waist to hip ratio. So obviously it doesn't upset me, right? Wrong. Even now I feel like a freak sometimes when shopping. Tight arm holes, narrow shoulders and high waists can all leave it a pretty dispiriting experience.
A quick and immensely unscientific Twitter survey shows that a lot of women feel the same.
Fashion_Dreamer I have anything from a size 6-14 in the wardrobe, majority are 8-10 but agree that sizing is all over the place
ColorForward Yeah, but it feels so awesome to say "Um, can you please get me a smaller size?"
Richendajones me always, it varies from shop to shop. I actually hate all the clothes size vanity.
Aldm it confuses me terribly that in one store (*cough* H&M) I can buy size 12 top that fits perfect but have to buy skirt in a 20
Helenhighwater_ I only ever shop at M&S on the high st! ;D But a lot of their stuff comes up massive.
Lozi90210 I wear about four different sizes depending on which shop I buy from. I now accept it depends on the shop but it did get 2 me
A fractionally more scientific survey by Which? last year revealed that a massive 91% of women take different sizes into the changing room as they are unsure which will fit.
It's clearly unreasonable to expect retailers to conform to the exact same measurements for each garment. That would only lead to a lack of variety and people like me, who don't conform to the "normal" body shape, finding it even harder to find clothes that fit. But I believe stores should be clearer about the measurements they use to construct their garments.
The Which? survey also revealed the difference in sizes between High Street stores. In the interests of Science I am now going to reveal my current measurements, as measured this morning with a tape measure!
They are 37.5″ – 29″ – 40.5″ (in cm 95.3 – 73.7 – 102.9)
*note, because I am terribly vain I am also going to say that I am on Weight Watchers and that a year and a half ago you could knock about 1.5″ off all of these 😉
According to the size charts on the Which? website I would need a size 16 in Topshop to fit my hips, but the waist would be a full 10cm too big, and corresponds to a size 12 on their chart. My bust, however, is a size 14. How do I know this when shopping in store? If I want to buy a top I should pick up a 14, a full skirt I should buy a 12 and a pencil skirt? Forget it!
Here I've taken a sample size 12 chart from the Which? survey (converted the cm to inches because that's what most of us use!) and I've also, for my own interest, added a column showing the inches difference between the waist and hip measurement.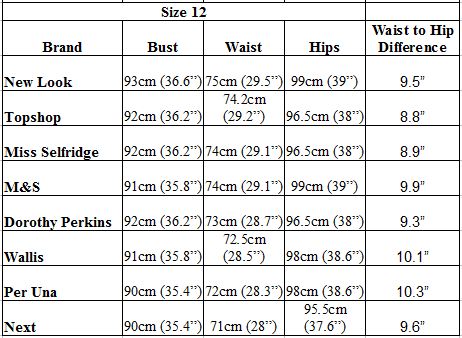 Obviously Per Una is my shop of choice for Pencil Skirts!
But why isn't that information on the label? Why do we rely on these mysterious numbers that tell us NOTHING about a garments potential to fit us? I have seen vintage skirts and dresses with those measurements in them, why don't we see them often now? (Of course vintage sizing was larger, as well. It's a bit outside the scope of what I'm discussing here but this post on Vintage Bulletin has a vintage pattern size chart that would make the above measurements around a size 18)
So that's my campaign.
I think clothes stores should be made to put the measurements they use to cut their patterns on the labels of their clothes. They should be made to publish their size charts online in a clearly marked location (not hidden in the customer service section) and have a link to it from every garment they sell. Unhappy, frustrated customers don't buy clothes. Customers that never go in your store because they don't know that actually you cut clothes that would fit their non average bodies are a customer lost. So it's in shops interest to be clearer about their procedures.
Teenage me might not have been so depressed if she could have seen on the label that the hips on that Miss Selfridge skirt were actually nearly 2″ smaller than the one from Per Una, and grown up me would certainly save some of her valuable time and be more inclined to shop online.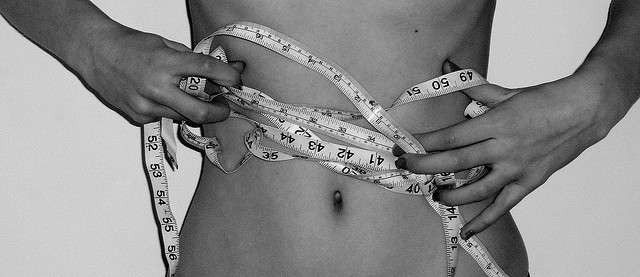 There is already a system in place for this, though by no means perfect. EN 13402 is a European Standard for clothes labelling that categorises clothing by a range of body measurements it was designed to fit. The EU is also currently carrying out discussions on textile and clothing labelling, so the time is right to push for change!
So. What I want you to do is write about this yourself! Tell the world your experiences with vanity sizing, variations in clothing sizes and your shopping frustrations. Be honest about your measurements, if you're brave enough, and tell the world how you measure up on the shops size charts!
When you've had your say, come back here and leave me a link. I want to collate them all in a list under this blog post as a record of the experiences of really "real" women, whatever their size.
I've also made a handy badge for you to add to your blog side bar to get others involved.
You can also Tweet this campaign, post the link on Facebook, and generally let everyone you know know about it!
If you're feeling even more pro-active then you can write to, or email, your MP and your Euro MP. This handy website gives you a convenient search system, plus a form to fill in that will immediately zip off your message to the person concerned. Tell them your concerns and how it affects you, and your desire to spend. Tell them you think the EU and Government should carry out a review of clothing sizing in the UK and Europe and that you think that measurement labelling should be mandatory.
Of course, maybe you think I'm talking a load of old rot? Let me know! Women are embarrassed to admit their dress size, even though the number means nothing. I've met people wearing size 10s with the same size waist as me, and people wearing size 18s with smaller hips. Lets be honest about ourselves, and our bodies, and then maybe next time we get stuck in a top in the changing rooms it won't make us want to cry.
Others Blogs on Clearer Clothes Sizing
The Girl With The Star Spangled Heart
Perditas Pursuits
Shump Diaries
Bonne Vie
Susan's Diary
Rarely Wears Lipstick
All About the Boys
Helen Highwater
Mon Polka Dot Cheri
Miss Matilda Dreams
My Orange Stilettos
What Katie Did
Sugar and Spice
Verity Vale
Little Bird Fashion
Scriblings of a Brit Girl