Now, I COULD have put these photos in Mondays post.
I COULD have done, but I like this dress, and I like the photos we took, so I decided to award them a blog post all of their own. This was Saturdays outfit for wandering the streets of Paris on really quite a warm autumnal day.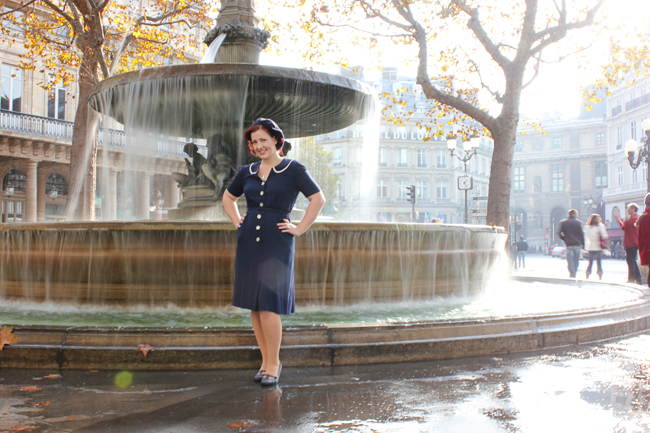 ❤ Dress - Vintage 1940s ❤ Beret - eBay ❤ Shoes - StylistPick ❤
Friday was freezing, but Saturday was so warm that I abandoned my cape and went about short-sleeved all day. I was pleased about that, as it meant the dress got a proper airing, it's such a shame to hide it under a cape.
It's not very often I buy what can be termed as "full price vintage". I hunt down eBay bargains and trawl through Charity Shops, but when I saw this in Vintage by Appointment's attic I had to have it, and had her put it by until I could afford it's over £50 price tag.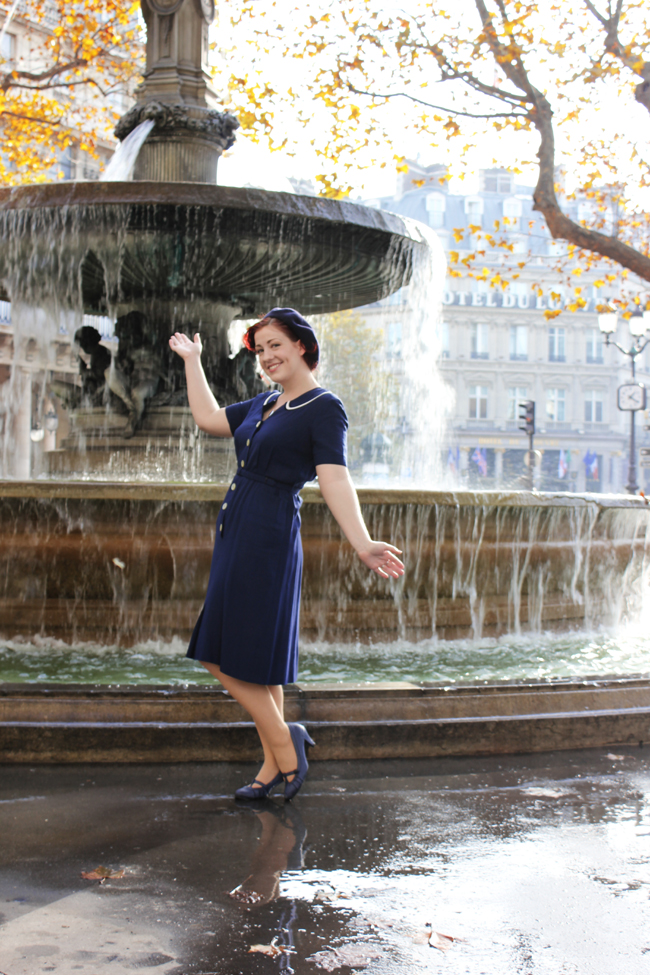 It's a 1940s dress from American department store Lord & Taylor.  Lord & Taylor still exists, though not really in its original form. In the 1940s Lord & Taylor was a very upscale department store, and, fittingly for the time of year, the first to do themed Christmas windows, rather than just filling them with goods. It was also the first of the fancy Fifth Avenue stores to appoint a woman president in 1946.
The dress has a  lovely trompe l'oeil trim at the neckline, that looks like a collar, but isn't, and 2 deep pockets at the hip. It also still has an original covered belt.
It's a shape of dress that often doesn't always suit me, but this is so beautifully and cleverly made. It has little darts at the waist, and the kick pleat at the front of the skirt gives it a slightly bell shape skirt that is far more flattering than a straight skirt.
I did worry slightly teaming quite so much "french navy" with a beret to walk around Paris in case I appeared to be in some kind of fancy dress. But in the end I decided sod it, I like it, the shoes are comfy to walk in the and the beret stops my hair getting blown about so ner! I do kind of wish I'd had the dress with the tiny Eiffel towers on it that I foolishly didn't buy at War & Peace in July though.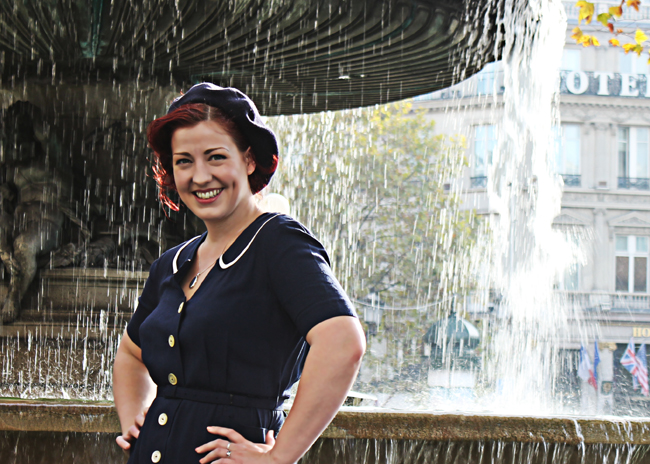 I am also wearing the "not at all red" Soap & Glory Fabulipstick in Red My Lips. It really is a brilliant, easy to wear lipstick for days when maintaining a perfect red pout is a little too much effort.
Don't forget, I bought you back a present from Paris, but sadly I can't give you all one (fnarr). If you would like some Parisian tat, namely an Eiffel Tower keyring and a Folies Bergere fridge magnet, then pop over to Mondays post.
Related