Don't you just love Summer?
You leap out of bed in the morning, add a dusting of make up, sling on a pretty summer frock and wedge heel shoes and you're out of the door looking like getting ready took you hours, not minutes.
Well tough.
Most of you reading live in the UK and unless you're planning to emigrate any time soon you better get used to the idea that for a minimum of 6 months of the year getting dressed is going to be a bit more complicated than that. When the mornings are dark and cold and miserable the last thing you need to do is spend hours deciding what to wear. Which is why so many people spend that 6 months in a winter uniform of jeans and a jumper at weekends and black trousers, black opaque tights and yet more jumpers for work. It's warm, it's easy, but it's not very exciting is it? Do you really feel good when that's all you wear?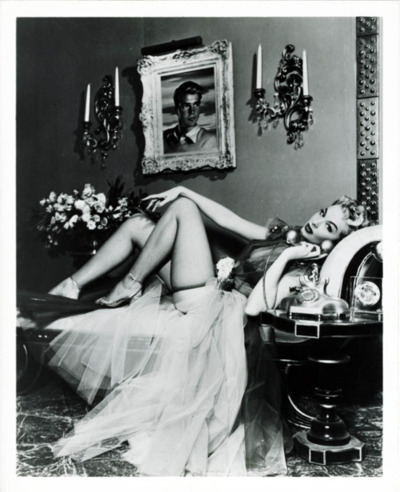 I think Lazy Girls can look good in the winter too, all you need is to plan ahead and invest in a few essentials. Take a look at the original Lazy Girls Guide to Looking Good for some more general tips.
The Basics
This doesn't mean you have to buy all your clothes in the same colours, but have an awareness of what goes together. If you own a pair of navy trousers and a black pencil skirt as basics then going out and buying a load of tops in green is foolish, as you'll probably only be able to easily wear them with the pencil skirt. Choose cream, red, grey and pale blue and you can mix and match more. If you're having trouble making your wardrobe coherent then back in 2010 I wrote a series on defining your personal style you might find useful.
Yes, sooo obvious, but it's no good having lots of amazing winter wear if none of it's ever clean. Being lazy AND stylish is all about knowing your limits. If you are too lazy (or busy!) for regular dry cleaning trips then that wool dry clean only dress is a bad idea, especially if it's in cream, or another "needs a regular clean" colour
Keep your drawers full of opaque tights or over the knee socks in a variety of colours and styles. I wear stockings regularly in autumn and winter, but so far I've been too poor to invest in some decent heavy weight ones for winter, so opaque tights have sadly been a must (I really don't find them very comfortable to wear!) Other things to make sure you have lots of to hand in a variety of colours are gloves, berets, snoods and belts. All accessories that can immediately add a little something extra to an outfit when you didn't get out your cosy bed till 20 minutes before you had to leave.
Yes, it's cold, but clever layering means you can get away with a much sleeker look and still feel toasty warm. Check out old lady shops for unattractive thermal knickers and vests.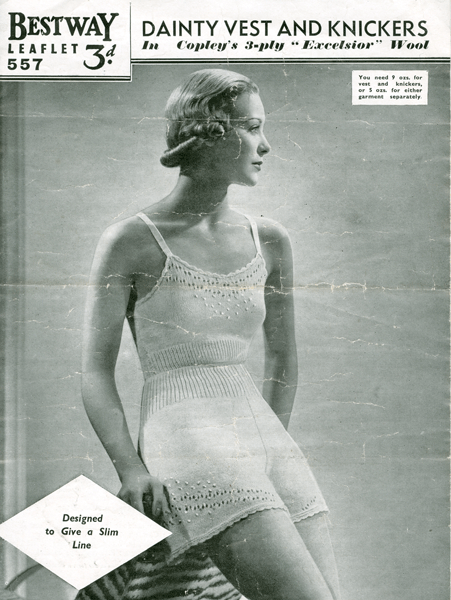 For the more advanced Lazy Girl
So, you have a variety of clean clothes that match, you have enough tights and stockings to last you till Christmas 2013 and you have your unattractive but warm thermals. But how do you get over that 7am chill that makes you want to crawl into a fleece and jeans?
This is such yawn worthy advice, and seems to be against the ethos of laziness, but the key to looking like you've made an effort is to recognise your weaknesses and take very small, lazy steps, to overcome them. If you know you have an early start and it's below freezing then lay your clothes out the night before.
When the heating is on and you're properly awake you can pick your clothes based on their actual appropriateness and attractiveness, lay them out and then just fall into them in the morning. I lay out EVERYTHING, everything from knickers and socks to putting my make up on my dressing table in the order I want to put it on with a pair of earrings next to it. That way I won't end up with VPL because I put the wrong underwear on in a hurry, and I'll look "done" because I remembered my earrings and brooch.
A bit like a longer term version of planning ahead. Have a selection of chic, warm outfits that you know you can call on at any time. Hang them together in your wardrobe. Mine are a black jersey dress and longline cardigan worn with a belt, opaque tights and a beret.  A mid calf length wool skirt worn with a polo neck and boots and a pair of high waisted trousers worn with short sleeve knit top. Even if one is dirty one of the others is bound to be clean in an emergency.
Lazy Girls Winter Essentials
Underneath
Glamour isn't about whisps of frilly lace, it's about looking and feeling good. Glamorous girls have a bottom layer that is comfortable and warm so they look cool calm and collected on the top layer.
What Katie Did CC09 Rayon Stockings – £27.50
I am definitely going to invest in a pair of these 50 denier lovelies this year. I do prefer to wear stockings to tights, but when there's snow on the ground my 20 denier retro seams aren't really cutting the mustard.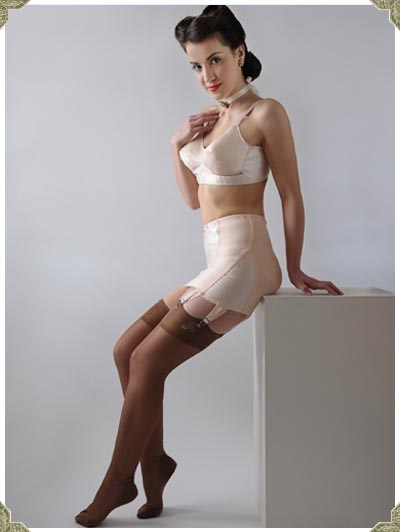 Tights
Black opaques aren't the only way to go. Look for interesting back seam detail and interesting colours that tone with the rest of your wardrobe. For a vintage look ribbed or herringbone, or even a knit style works, no one know they're not really stockings.
Pull on a pair of thermal knickers over your suspender belt to keep the tops of your legs warm, a sleeved thermal vest under your silk blouse, or even thermal leggings under your trousers when it's really cold. The link above is to British Thermals, but old lady classic Damart has some good ones too.
A petticoat will stop your skirt clinging to your thick winter tights, and will also add extra warmth. Marks & Spencer do some excellent waist slips. Under a full skirt you can wear a fuller (and warmer) petticoat for a 50s look that will not only be warm, but look like you've made a huge effort! Take a look on eBay where you can find a variety of styles from super poufy to some that will just add a little volume.
On Top
Once you've got a warm and sturdy bottom layer. You need something warm yet glamorous to put on top of it. Here are some essentials that will make winter dressing easy.
Heyday! High Waisted Trouser – £50
Buy a pair in every colour. They look smart and glamorous and you don't need to faff about with tights and stockings.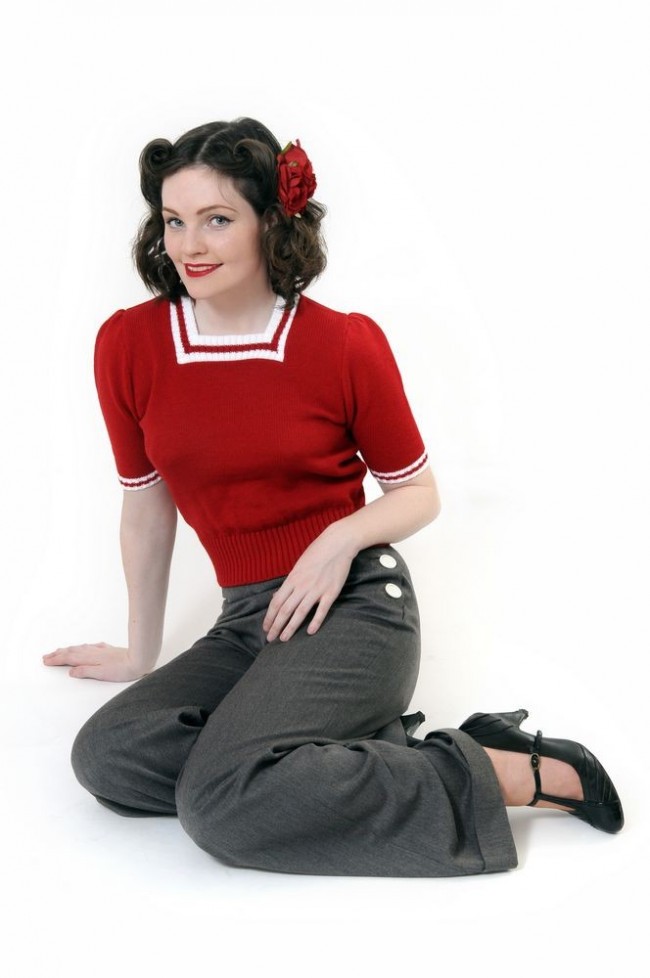 Cardigans
Layering is a handy winter tip that lets you overcome the tendency of every retail establishment, restaurant and cafe to turn their heating up to tropical in mid September. For a 30s look wear a long line cardigan with a belt over the top, Primark is actually the best place I have found for these with not too low a top a button. 40s and 50s styles can wear shorter waist length cardigans, invest in a good quality cashmere one from Jaeger or cheat and buy loads of cheap cashmere ones from Tesco. Wear them over dresses, short sleeved knitwear, basic t-shirts and button them up and wear them as a jumper.
Long Sleeved Dresses
You might have to look around a bit but they are out there. Whether vintage, repro or High Street a dress is still the laziest of all lazy dressing options. Cath Kidston has a few nice ones. If you can't find a decent long sleeved one then don't forget the magic cardigan can make short sleeves wearable, especially combined with a nice cosy vest!
On the Outside
A Coat
I've said it before and I'll say it again. The best lazy girl investment is a smart knee length coat. You can put it on over your nightie to go to the shop and people will say "Oooh, you look nice!"
Hats & Gloves
To really top it off buy a selection of berets (try Village Hats) and matching gloves (John Lewis have a good range of colours in knitted and leather gloves). It's almost funny how peoples brains can't process matching as anything other than "massive effort".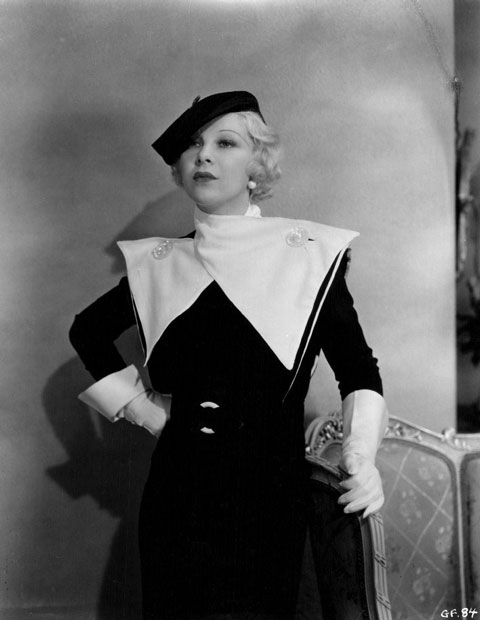 Pashminas
I find these by far the best thing to use as scarves because they're so versatile, they pack up small and can double up as evening shawl or headscarf. You can quite reliably find a range of these in Debenhams.
Remember, being a succesful lazy girl is about recognising your essential laziness and embracing it. It's about developing strategies to look and feel your glamorous best at all times without giving up that extra half hour in bed or spending the evening ironing instead of wrapped in a blanket watching Poirot re runs.
Minimum Effort, Maximum Impact.
Do you have any brilliant lazy girl tips for winter?