This blog is an edited version of one that appeared over on Retro Chick back in 2010. It's my full story, fat, thin and everywhere in between!
Starting right at the beginning, being a teenager is a pretty rotten time for most people. Like most teenagers I was convinced my size 8, 8 1/2 stone frame was fat. So, I spent most of my teens throwing away my lunch time sandwiches and counting calories. I once ate a clove of garlic out of a still life at school because I was so hungry after throwing away my lunch. Yum. Skinny AND reeking of garlic.
Fast forward a few years and in my early 20s, at university, I stabilised around the 10 stone mark. Sometimes I'd go up a bit, then down a bit, but it was all pretty stable.
Then I left college, got a job that paid me actual money to sit down all day, got married, went on a food stuffed honeymoon and before I'd even noticed it I ended up here.
In 2006 I weighed 13 1/2 stone, giving me a BM1 of 31.9, officially obese and very miserable. I don't know what my waist measured, and I didn't even know what clothes size I wore. I would order things and they were too big, or too small, and High Street shopping was a perpetual misery. I tried slim fast, I tried cereal diets and every other thing I could think of, but I pretty much stayed the same size. My hour glass shape meant that I at least still went in and out, but in a way this made it harder as most plus size clothes are made for modern thickening waists, not spreading hips and arms.
Then late in the year I got a new job. It made me hellishly miserable (another, quite long, story!) but one of my impossibly slim and blonde colleagues told me she was a member of Weight Watchers. In fact she still attended meetings. It was a bit of a revelation to me, because I'd refused to join a group. In my head Weight Watchers was for middle aged housewives who ate too many biscuits while watching Jeremy Kyle of a morning, not women in their mid 20s.
So in February 2007 I joined a meeting. 5 months later I was 2 stone lighter and decided to take humorous photos of myself like a diet ad in the trousers I used to wear to work.
I got that little gold key they give you when you reach target in the middle of 2008, when I got to 10 1/2 stone. Though I secretly wanted to lose another half stone, and I did lose another 4 lb before my Sisters wedding in February 2009.

But by the beginning of 2010 I had put about a stone back on.
I like food, and I like to eat nice food. Special occasions to me are about nice dinners, picnics in the park, and nibbles with a movie. Not carrot sticks and low fat hummus, but olives in olive oil, cheese and biscuits and cake. Anniversaries, Christmas, Valentines Day, Birthdays, each one added a few pounds and I never lost them,
Then in March I got a comment on Retro Chick on this outfit saying it made me look "heavier than I am" and I was really upset
I tried Weight Watchers online, but without the meetings it never really clicked. I tried Atkins and I tried Calorie Counting using My Fitness Pal, I toned up a little with a bit of exercise, but I seemed to fluctuate between 10 stone 10 lb ish and 11 stone 4 lb ish.
Then Christmas 2011 happened, then I went on holiday, and when I got back I got on the scales in May 2012 I was 12 stone 4 lb.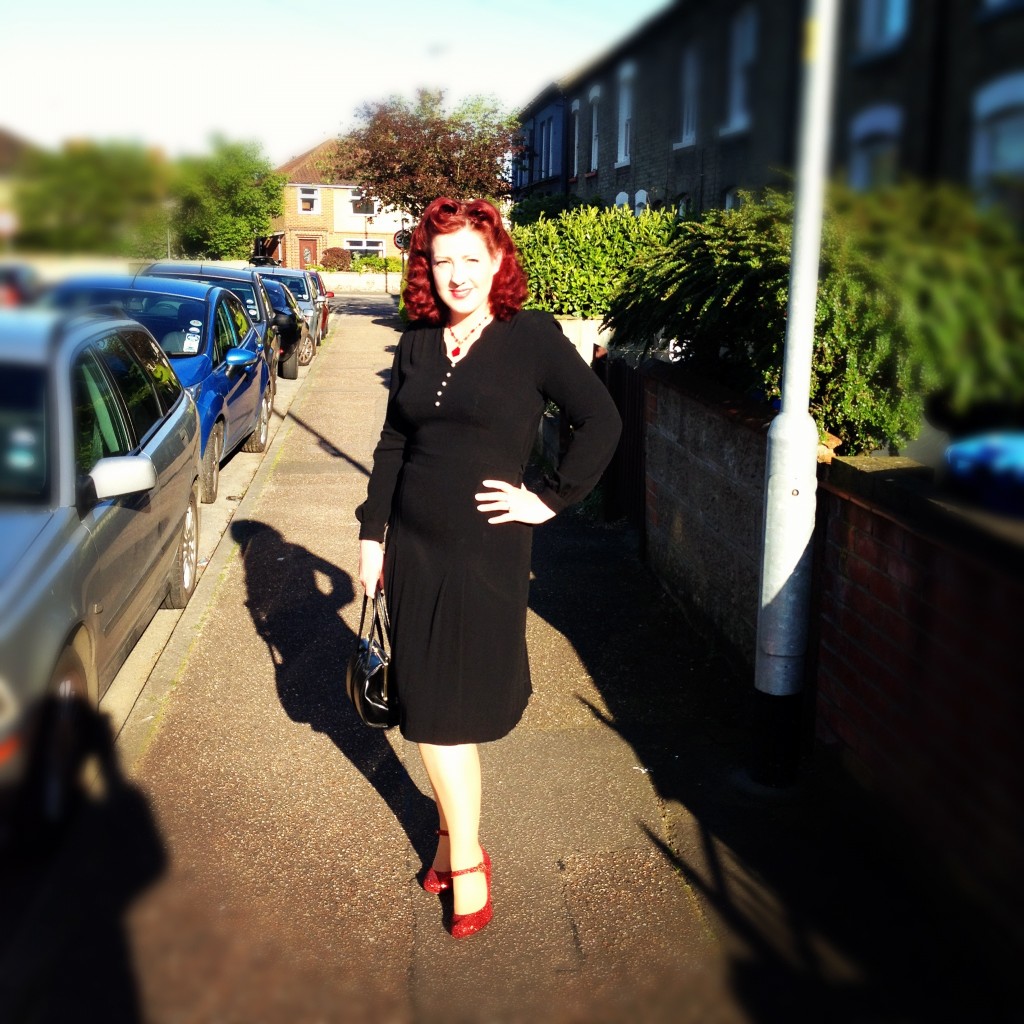 The realisation that I was now closer to my top weight that my goal weight worried me, and I immediately signed up for a 5k and determined to take it seriously and lose some weight.
I'd run a couple of Race for Life 5ks a few years back, finishing in somewhere between 35-40 minutes, but I'd never thought of myself as a runner, and I found running round the streets embarrassing.
This photo is from 2006 at about my heaviest.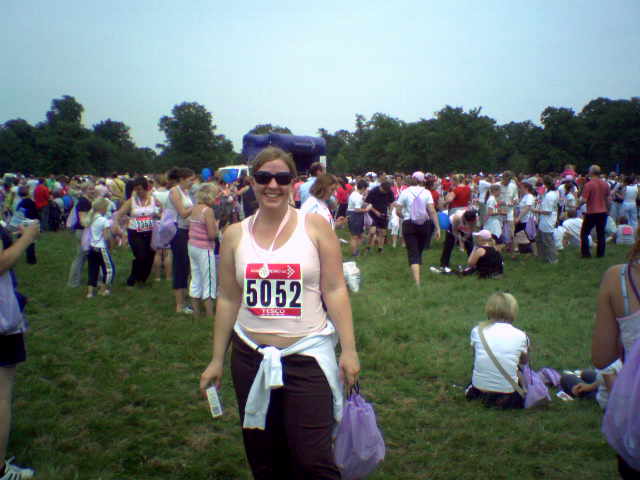 This time round something seemed to click. I went running with my husband round a local lake and started using a couch to 5k app. I'd started to think I'd never be able to up my run sections past about a minute at a time when I read about Zombies, Run! in Zest magazine and downloaded it.
That was in May 2012 and as I write this now, 5 months later in October 2012, I have lost a total of 15 lb. Not a huge amount, and the food side of things is still very difficult for me, but I've completed a 5k in under 30 minutes and a 10k in an hour and 3 minutes and I really have started to think of my relationship with food and my body in a different way.
In September 2012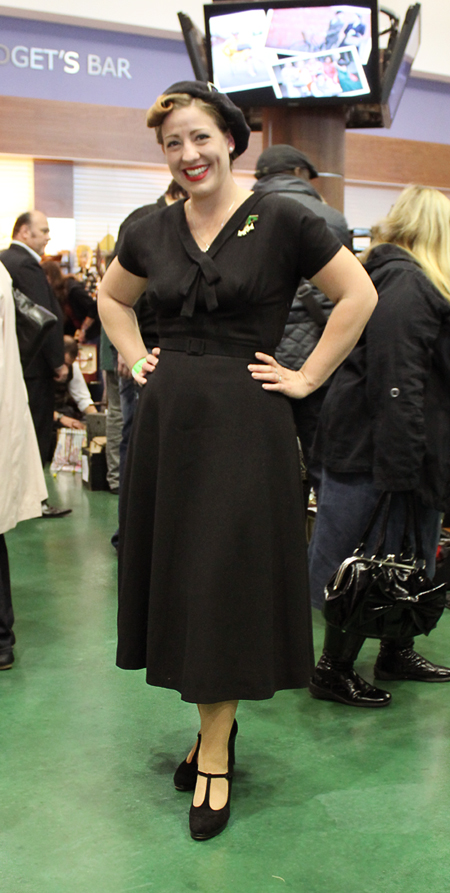 I'm more aware of drops in my blood sugar and dehydration and the need to eat regularly to keep it stable, I notice how much easier it is to run if I've eaten properly and how much better I feel when I do manage to eat sensibly and not drink so much. That's not to say I always do it. If I did I'd have probably lost more than a stone in 5 months, but I definitely have a better set of tools to get me there if I want too.
I set up this blog because I wanted somewhere to talk about running, my acheivements, ways to keep motivated and all that stuff that interests me. I also wanted somewhere to use to keep me on track, as a monthly diary so I can't hide those few pounds I put on this month. And lastly I felt that sometimes it's nice to see someone who isn't super skinny and super fit and is incredibly naturally lazy just doing it, sometimes failing, sometimes succeeding, but just getting on and trying.
My goal weight is still 10 stone, but I'm also far more interested in getting healthy, happy, fit and toned, whatever the scales say.
Everyones happy weight is different, there's no template for how we should all look, ut there's no point trying to convince yourself you're happy with how you look when you're blatantly not. You CAN make a change, even though the world makes it really hard and tiny changes can make a big difference.