I'm a veteran of, oooh, 3 and a half months of running now. So naturally that qualifies me to write about how to start running.
Actually I sort of think it does, it's all very well being a running expert and having all kinds of technical ways to run properly or training programs to get you to 30 mins solid running, but it's easy to forget how much it hurt when you started. How extending a run / walk ratio by 30 seconds seemed like a huge insurmountable block and how even getting out the door is quite hard work.
Here's some tips, based on my current experience of finally getting that bug back, and past experiences where I've given up because it was too hard, or too embarrassing.
Kit
Every where tells you that all you need is a good pair of running shoes. Unfortunately good pairs of running shoes cost lots of money.
After several past abortive attempts to get back into running I started again this May wearing a pair of running shoes that I bought 7 years ago. You do need decent shoes, but to start with just wear whatever trainers you have in the house. Especially if you're starting with large chunks of walking there's no need to spend hundreds of pounds on new shoes if you can't afford to. If you literally don't have any at all then buy a cheap pair, and save the gait analysis and investing in expensive ones for when you're sure you can stick it out. Pro Direct Running has some cheap running shoes in the sale under £40.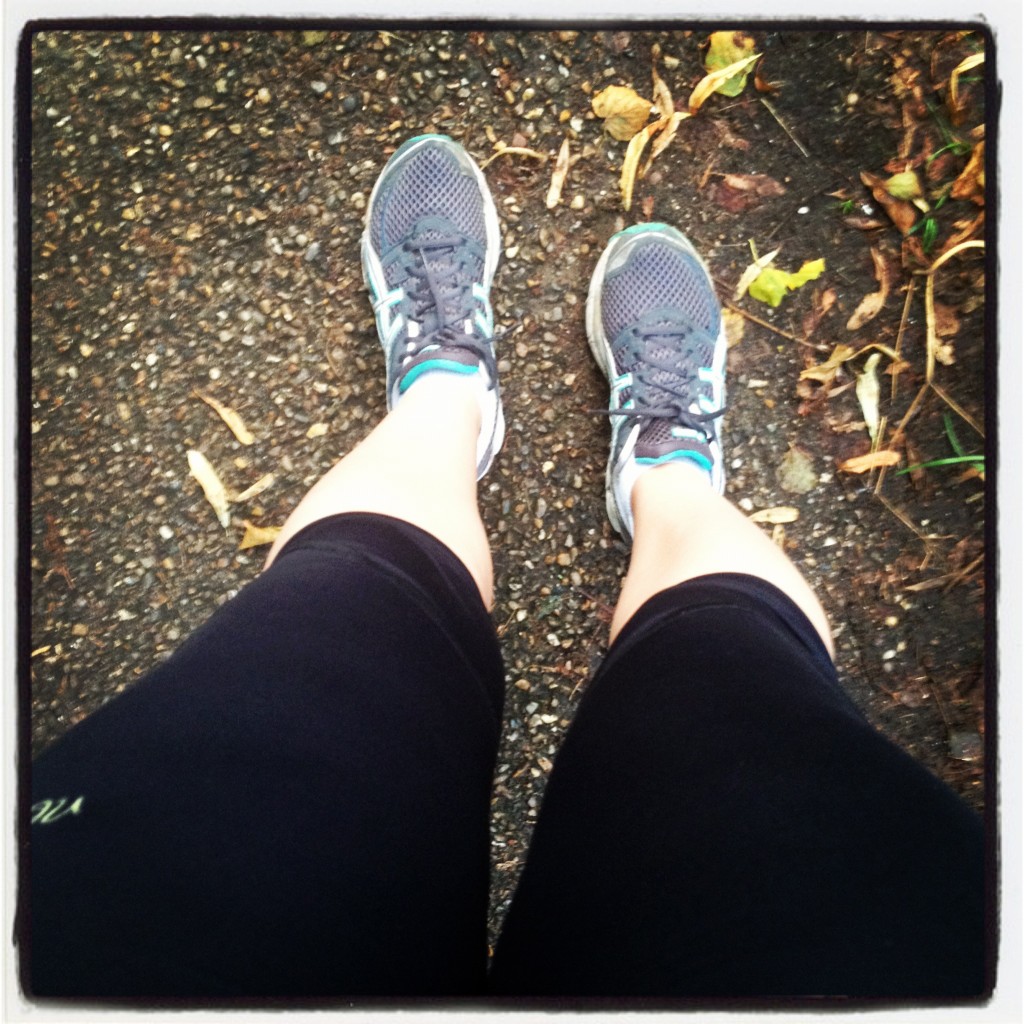 I started running in a pair of cotton jersey pyjama bottoms and a primark t shirt. As I improved and lost weight they started to fall down as I ran, so I invested in a pair of capris from No Balls in the sale. Technical fabrics ARE more comfortable to run in, but you don't need them to start with. If you want to get some half decent kit cheap then try TK Maxx or eBay.
Technology
Technology can help you start running, but you need to find the right thing for you. I started using the Run 5k iPhone app, which is walk / run program, back in 2011 and didn't make it past week 4. I tried it again this year and was terrified at the idea of upping the run sections of the session to 3 minutes. Running for that long just didn't seem possible. For me, it didn't work, but I know others who swear by it. My turning point to making running enjoyable was finding Zombies Run! I'll review it later, but what it did was enable me to run at my own pace, and keep going for as long as I wanted. With Couch to 5k I started too fast and couldn't sustain it, and the app had no guide to how fast to go. Zombies Run! distracted me with music and a great story. I also turned on Zombie Chases which encouraged me to keep my speed down so I had some energy left if those pesky Zombies turn up.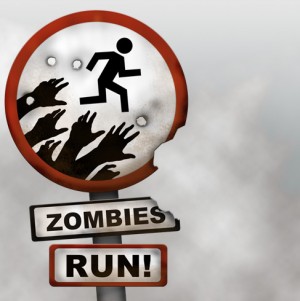 If neither of those things are for you then creating a playlist for your MP3 player with a beat range of between 160-180 might help you keep a steady pace. Or you can download a ready made track like Audio Fuel to help keep you going.
If you're going to run with an iPod there are 2 things you might need, an arm band and a pair of over ear headphones, they don't have to be expensive, just something to make sure you don't drop your phone or pull the ear phones out of your ear when running. (A note on safety. If you're running on a road using earphones can be dangerous. If you must use them then try and only use one ear, keep the volume low, and take extra care crossing areas where there is traffic)
Where to Run
When you're just starting out and can't sustain a constant run, the idea of running on busy streets is embarrassing. Teenagers, and sometimes adults who should know better WILL shout stuff at you. Sometimes it's better to walk or drive to somewhere quieter, do your run, then come home. Depending on the weather, and what time you can run, different places will be quieter and less intimidating. Housing estates are generally quieter than town centres during the day, on sunny Summer days your local park might be full of picnickers, but come Autumn you might have it all to yourself after 6pm. You'll have to have a bit of bravery, it's unlikely you'll find anywhere totally deserted, but when starting out sometimes it's worth experimenting with a few different routes and times of day to find what suits you best.
Sites like Walk, Jog, Run can help you find routes that others use near you, but if you're creating one yourself be wary of starting it right at your front door!
It's also worth checking out the parkrun site for regular Park Runs near you. Park Run is a Saturday morning 5k that is free to enter and is timed using a bar code. Even if you don't want to go along and join in the run checking out the locations near you might give you an idea of good places to run.
Don't dismiss the treadmill either. If you have access to a treadmill it can be far easier, and less intimidating to start on that until you build up your confidence. Personally I think you should try and run outside if you can, it's more challenging and research has found it has more impact on emotional well being and stress relief.
Those are the best beginners tips I can dredge up right now. The key to all of it being that it's easy to make excuses about busy roads, kit, or boredom, but no one makes you do it. If you want to have a go at running, then do it! If you don't, try something else.