How do you dress every day?
In an online conversation a couple of weeks ago someone mentioned that bloggers only show off their favourite or fancy outfits, so you don't really know how people dress every day.
So I decided to spend a week documenting my daily outfits on instagram, and then come back and blog about them.
I'll admit, you may consider yourself lucky that I had to leave the house every day this week or otherwise there might have been some pyjamas in there, I am self employed, and whilst I don't do that often, sometimes, maybe, I just do. It was also a week that was hot, hot, hot, so not all of the outfits are things I wear every week, but if I carried on this experiment for any length of time you'd certainly see a lot of repeats! Maybe I'll do it again in cooler weather.
Monday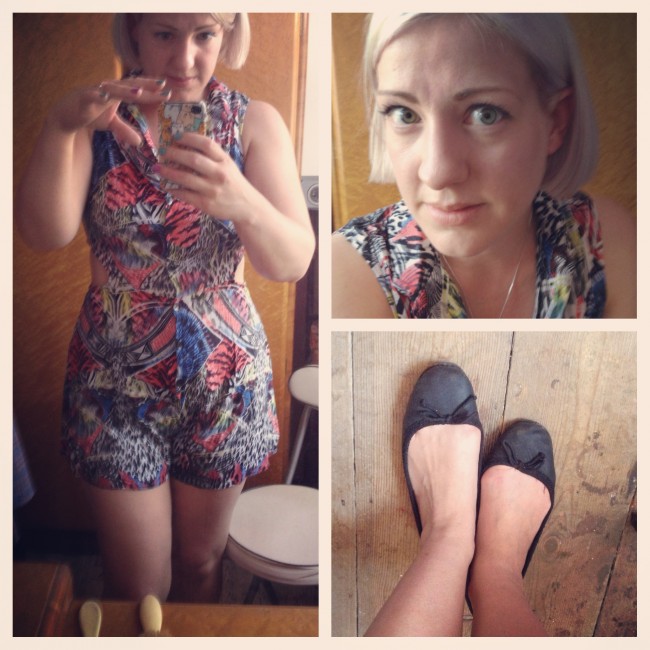 ❤ Playsuit – George at Asda last year* ❤ ballet pumps – Primark ❤
Monday I only left the house for Roller Derby training in the evening. I normally wear leggings, but it was so hot that I thought I'd drag this playsuit out of the wardrobe as it's a bit cooler.
Tuesday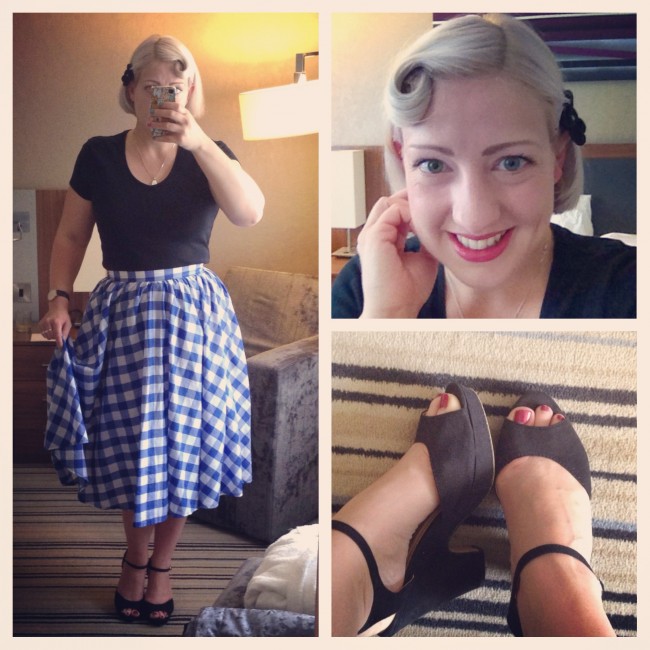 ❤ T shirt – TU at Sainsburys ❤ Skirt – Lady K Loves ❤ Shoes – F+F at Tesco ❤
❤ Hair Flower – Betsy Hatter ❤
I was in hotels for a couple of days last week, so living out of a suitcase. This is a classic summer outfit for me, T shirt or blouse and a skirt. The shoes are now sadly out of stock at Tesco, which is a shame as they're great summer every day sandals.
Wednesday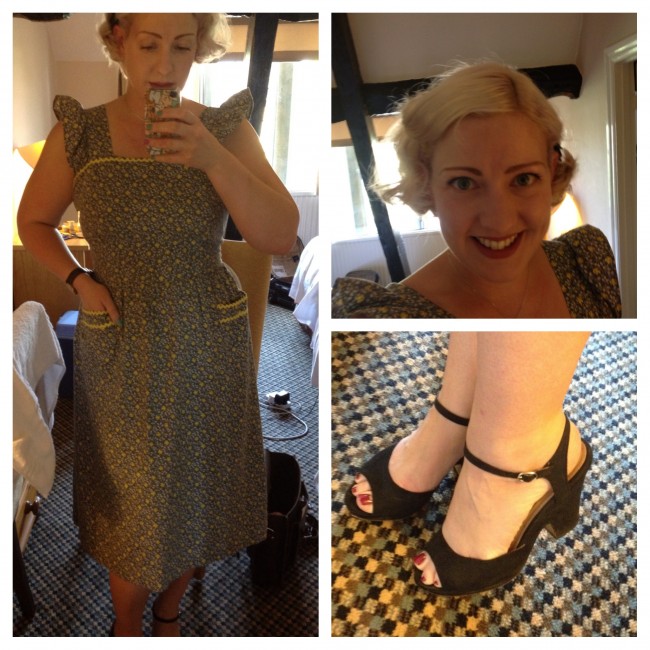 ❤ Dress – Vintage 1940s ❤ Shoes – F+F at Tesco ❤ Hair Flower – Betsy Hatter ❤
I spent the night in the hottest hotel in the world. I actually had to go and sit in an air conditioned KFC because I thought I felt queasy. This is a 1940s pinafore sun dress with frilled shoulders that is one of the coolest dresses I have for hot weather. I set my hair, not because there is any point having curls when it's so humid, they'll be long gone soon, but because the alternative to a wet set was using a hair dryer. Shudder.
Thursday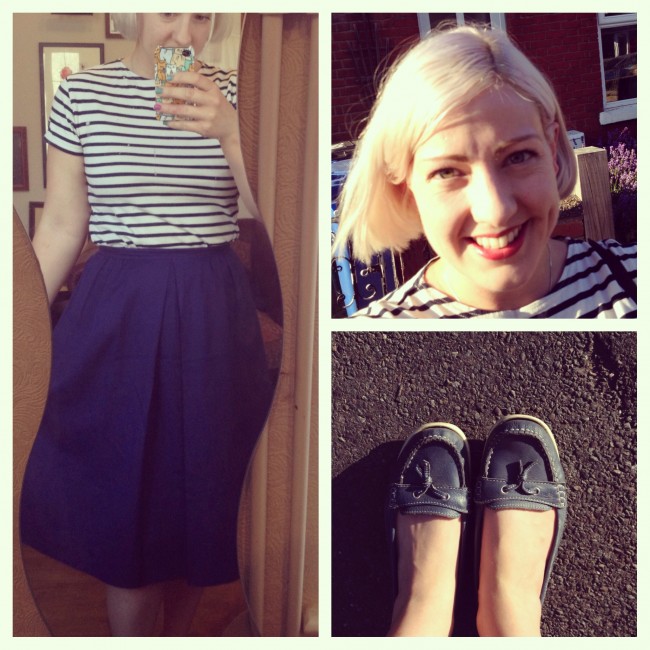 ❤ T-Shirt – bought at the gift shop at the SS Great Britain ❤
❤ Skirt – Vintage from a Charity Shop ❤ Shoes – Chatham Marine* ❤
 See, straight hair again, without washing or straighteners, stupid humidity. Today I was heading out to try out my new roller skates at an over 18s "Roller Disco" I didn't stay long, just long enough to see if I could stand up on them. Almost is the answer. This skirt is a regular in my wardrobe at the moment, I probably wear it at least one or twice a week at the moment, it cost the grand total of £1 from a charity shop back in May.
Friday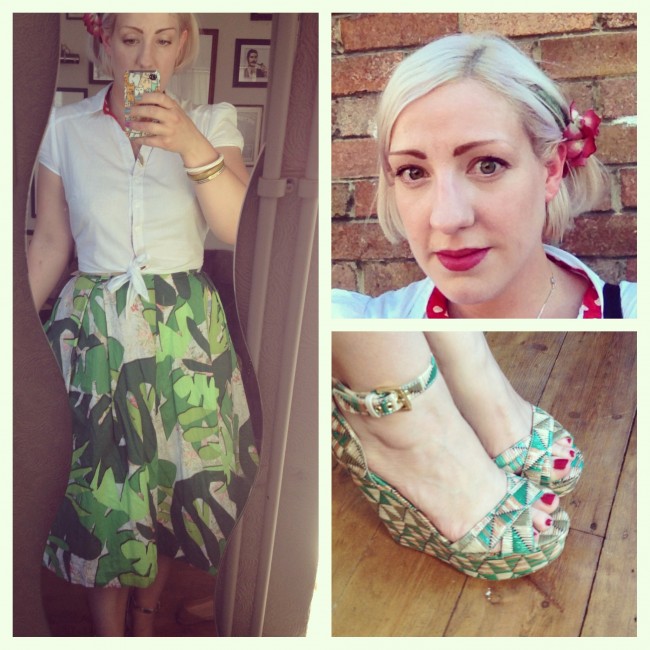 ❤ Blouse – New Look last year ❤ Skirt – Antoni & Alison at TK Maxx ❤
❤Shoes – Carvela @ TK Maxx* ❤ Bangles – Charity Shop ❤ Hair Flower – Abilu Creations* ❤
Another stonking hot day, and I ended up wearing this last minute as nothing in my wardrobe fit me. I was so hot and horribly bloaty that I couldn't get zips done up on any of the dresses I intended to wear, so I ironed a blouse 5 minutes before I had to leave the house to shoot off to an evening meeting. I was very hot and irritable, hence my starey stressy face.
Saturday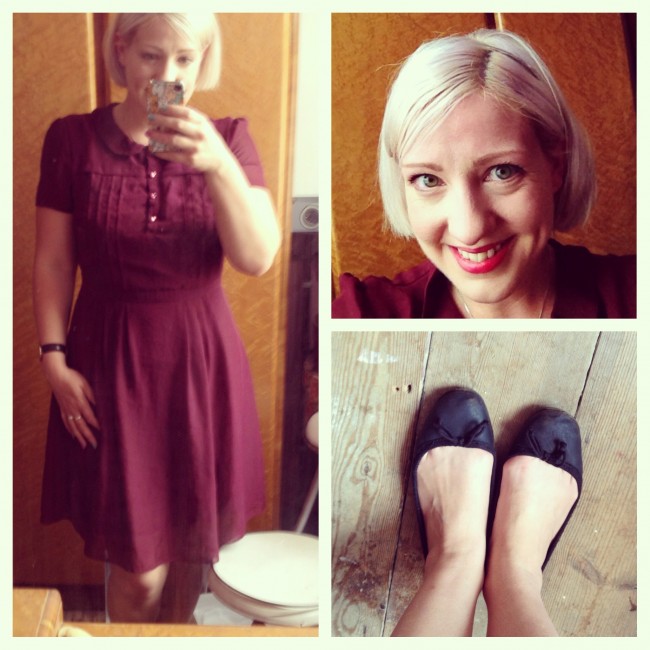 ❤ Dress – Tu at Sainsburys ❤ Silver hair band and ballet pumps – Primark ❤
Evening meeting became evening drinks and no dinner, so on Saturday I was horribly hungover, so easy dress and ballet flats it was. The sun had disappeared too, to be replaced by drizzly rain and grey skies to suit my mood.
Sunday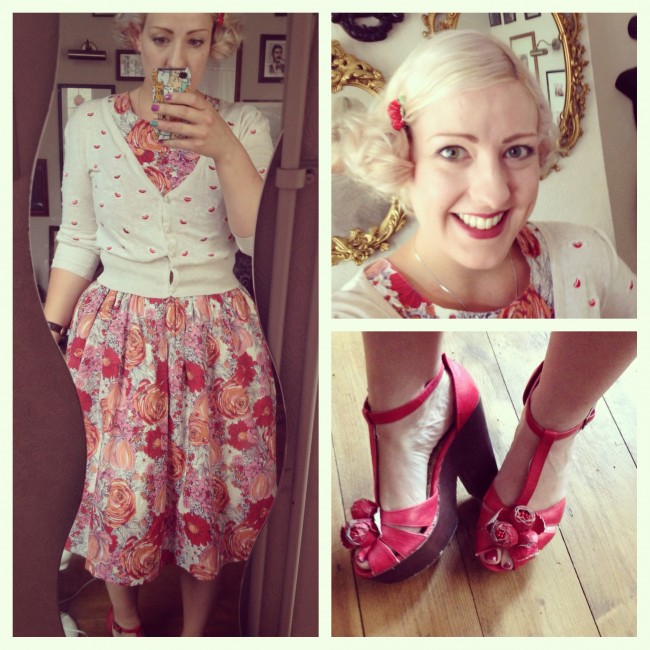 ❤ Dress – Love Ur Look*  ❤ Cardigan – TK Maxx  ❤ Shoes – Rocket Dog at TK Maxx  ❤
The iPhone snap of Mondays post outfit! I actually wore this dress again on Monday, when the sun came back out, should have take the photos then instead, although a trip to the post office is less photogenic than Yarmouth seafront!
So that was a week in my wardrobe! There's a couple of fancy outfits in there, and a few boring every day ones, and a few nicer every day ones, like most weeks I guess.
How does your weekly wardrobe normally pan out?