Burlesque requires a great deal of thought in costume construction and I am quite often at my happiest when armed with a needle, thread and a hotfix gun. However, I developed an unfortunate relationship with electric sewing machines during my school days. They would devour my carefully tacked work with great speed and regurgitate it as a knotted mess. Recently, I needed a new costume for a show but as this required the inevitable electric monster, I acquired the services of costumier Kirsteen Ross.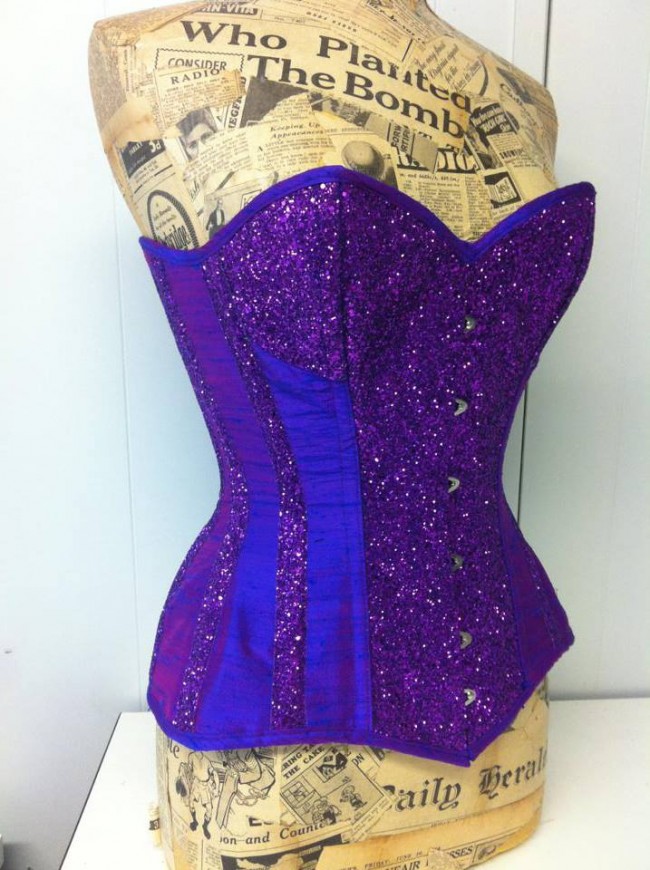 Renowned for her bespoke corsetry, Kirsteen, is the queen of  Boom! Boom! Baby!  Her sewing machine constantly behaves beautifully; it never eats her work and rudely spits it out. She has been making corsets for the best part of ten years and what originally started out as hobby has blossomed in to a thriving business. She is often in demand for theatre and television, including the BBC. When asked what a girl should consider in a corset Kirsteen suggests,"It is important to look at the quality of materials . The correct use of coutil for the inside will not stretch over time, making your corset durable and comfortable. You should also be aware of which shape works best for your body and the occasion you are wearing it for."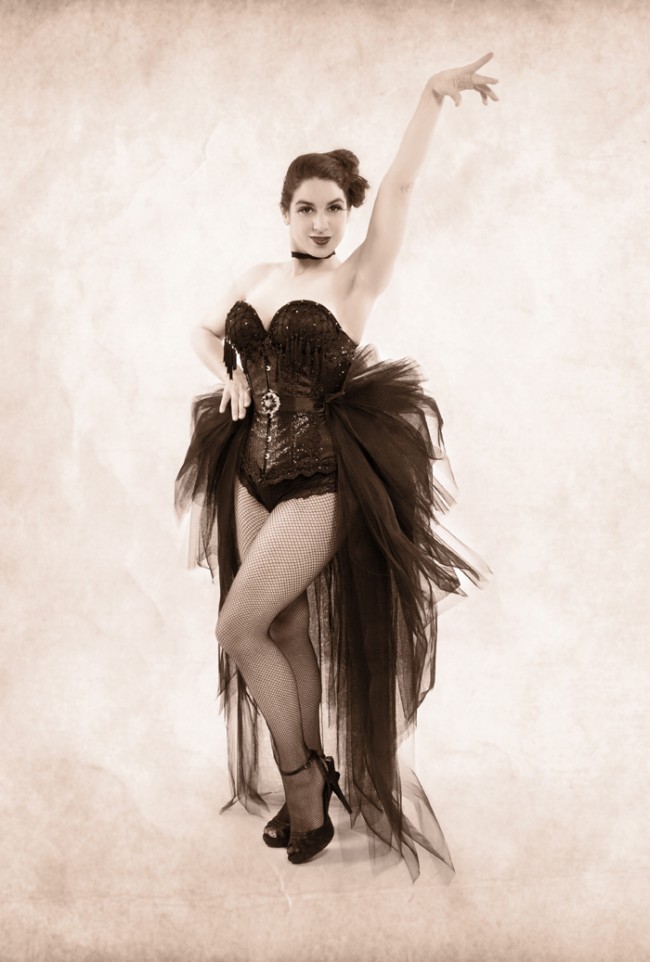 Natalya Umanska, costume by Kirsteen Ross, image by Angela Adams
Thankfully I am not the only burlesquer without a sewing machine. The titian haired teaser, Sophia St. Villier,  designs all her own costumes and works alongside an enviable list of designers to realise her creations. Most recently Julian and Marnie, from Libidex, worked on the latex equestrienne costume for her act "Tally Ho!" and she is currently working with Claire Ashley on a revamp of her infamous faery costume with beautiful shimmering wings. "Being open to a collaborative process has been very enjoyable. Having faith in these designers has resulted in costumes that are better than I could have imagined."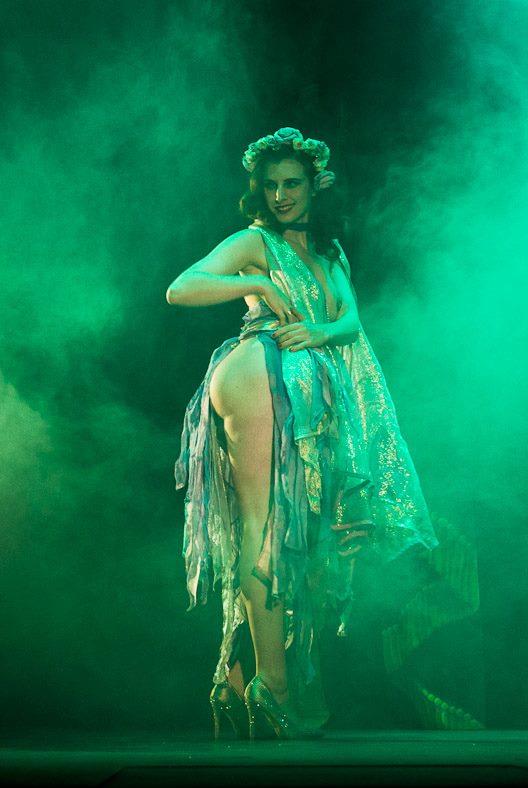 Sophia St. Villier, Faery costume. Image by Andrew Florides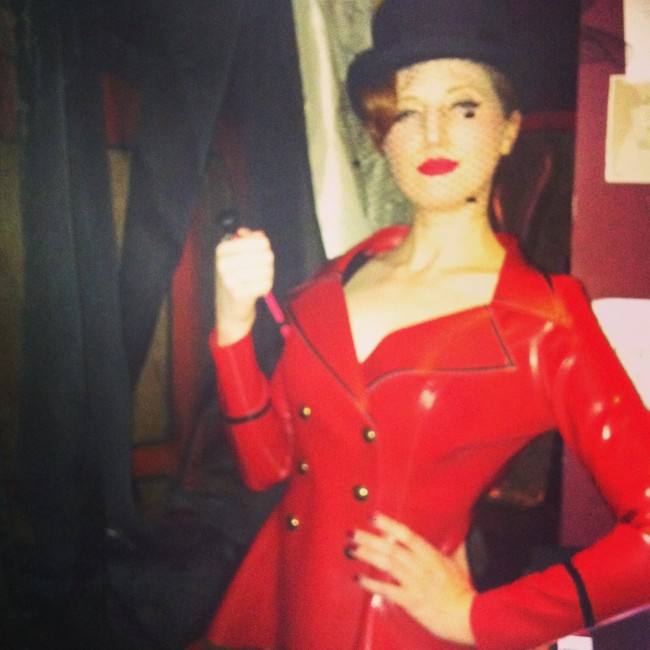 Sophia St. Villier in her new "Tally Ho!" latex number.
But, in essence, what are the really important things in burlesque costume? "The most important aspects of burlesque costuming to me," says Sophia, "are the highest of heels you can move in elegantly, a sparkling pair of pasties and g-string, and most importantly; a sexy-cheeky smile." She adds that the coiffed hair, false eyelashes and vibrant lips are also up there on the hit list.
Note to non-burlesquers- Pasties: Pronounced, Pay-stees – The bits that cover up your essentials!)
It has to be said that Sophia's own talents with a Hotfix gun are impressive and her experience of collaborating with others has served her well. She has begun producing her own custom-made pasties and I am really looking forward to receiving the pair I recently ordered. Pasties are a major part of a burlesquer's life. My favourite pair, made by Dolly D'Lash, are covered with black silk and are edged in pale green stones. It is apparent from the elegance of their construction that a great deal of thought has gone in to their design. They have a well-constructed tassel, which makes them easy to twirl evenly and have kept their shape despite being stuck on and peeled off numerous times.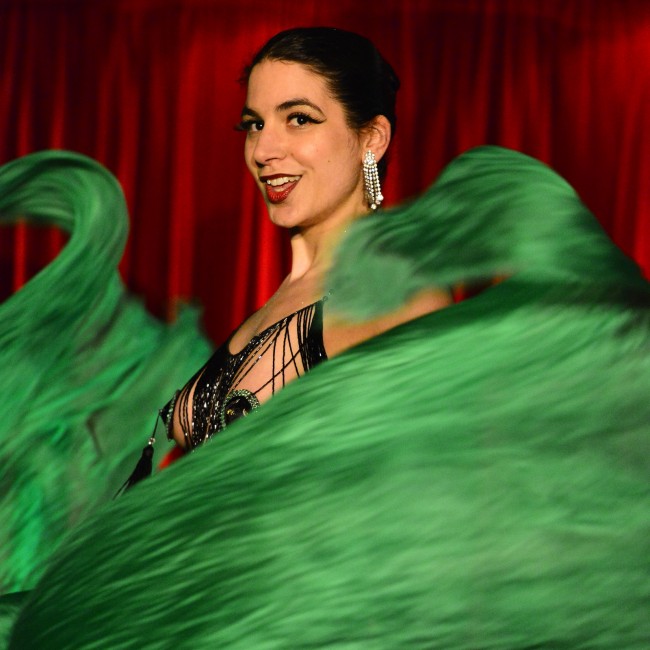 Dolly D'Lash pasties in action. Image by Paul Singer.
One of the most exciting things about the burlesque and cabaret scene is that the chance to dress up isn't solely reserved for performers. Recently, I witnessed a lady sporting a large, pale blue wig. Filled with fairy lights and covered in flowers, this masterpiece had been constructed with her own fair hands. You'd be forgiven for expecting her to strut on to the stage but, her efforts were purely to brighten up her evening out. I should add that the on/ off switch for the lights in this tour-de-force had been thoughtfully placed so we performers were not distracted during the show by the ethereal glow it emitted.
Whether it's a custom made designer item or a carefully crafted and lovingly constructed piece of DIY it is, without a doubt a fact; that costumes of all performers and audience members alike are one of the most precious and spectacular parts of our thriving cabaret scene.
Today's post is by Natalya Umanska, Artistic Director of  Le Theatre de Decadence , organiser of the rather fabulous Dr Sketchy's Anti Art School, Norwich division and a wonderful Burlesque performer who's a dab hand with a bed of nails and a sledgehammer. You heard me.
While I'm on holiday I like to take the opportunity to introduce you to some wonderful, talented, people that I am lucky enough to work with. Please do take a few minutes to visit their websites and check them out, as they wouldn't be here if I didn't think they were wonderful.