Ah, it must be Easter Sunday, because once again I'm up at stupid o'clock in the morning to run the ridiculously early starting Trowse 10k. It doesn't even start at 11am like lots of races. It starts at 9am. They don't send your number out in advance either so you can just bimble up at 8:45 and head off, oh no, you have to queue and get chips and fill in forms on the morning.Yawn!
Still, it's now 11:30am and I home, having earnt a day of chocolate and relaxation, and possibly beer.
It wasn't too promising when I woke up this morning to rain battering at the windows, but by the time we arrived at Whitlingham Snow Sports Club to register the sun was peeking through the clouds and I was feeling very grateful I bought sunglasses. I wasn't feeling optimistic. Last year I ran it in 1:01:14, this year I haven't run at all for 2 weeks as I've been resting my foot and this was due to the be longest run I'd done since the November Half Marathon. Still, whatever time you finish you get a goodie bag, right?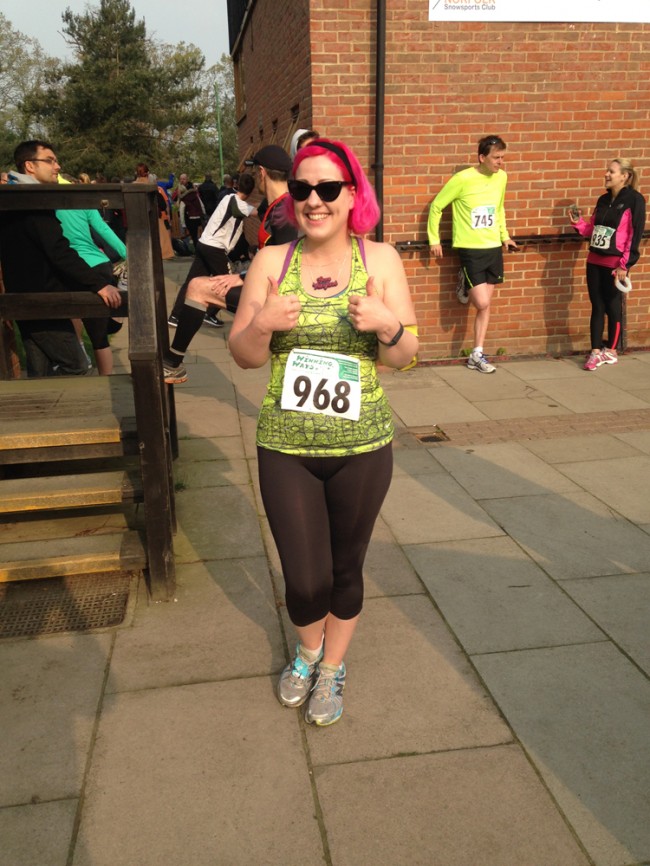 The Trowse course starts with a little jaunt by a pretty lake, where I run often, before heading off into Trowse village, up the killer hill from hell, down the killer hill from hell (yay!) and then back round to do it all again (boo!)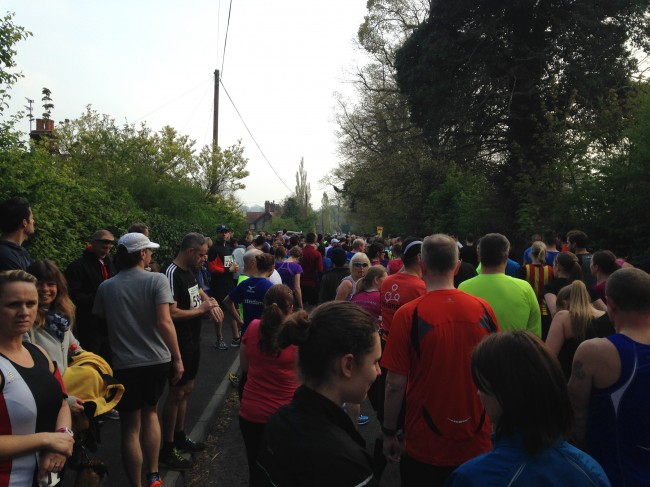 Having run last years Trowse 10k I felt like a bit of an old hand. I heard a couple of girls saying "this must be *the hill*" as we ran up an incline in the village "oh ho no" I was able to reassuringly tell them "the hill is yet to come"
Honestly, hills are hard on my poorly foot, so I walked up the worst of it both times, but I made up a bit of time on that lovely swooping downhill on the otherside, passing all knackered people who tried to run up it.
The weather certainly trumped last years, with hazy sunshine and refreshing breezes all round, so it was really rather a lovely course to run (apart from the hill)
I knew I would be slower this year, I haven't trained at all and I'm injured and slow, but actually I quite enjoy being at the back with the slow pokes anyway. People are far more willing to exchange a few encouraging words, help you up that hill, comment on your bright pink hair and generally be all community like and supportive when the only competition is to not be last. It's not like I'll ever get a podium place after all!
In the end I came across the line in around 1:04:32 according to my Nike+ I'm waiting on my chip time for the official results. That makes it my slowest 10k ever, but I got out and did it anyway, so that's a win as far as I'm concerned!
My last mile was actually my fastest, at 9:39 pace, which doesn't surprise me in the slightest as that's the mile where I started to think I might puke. Always a sign I'm going at my fastest!
Chip removed, medal, banana and goodie bag grabbed.
The goodie bag was excitingly stuffed with sugar again. A creme egg, jelly sweets, tracker bar, capri sun and an energy drink that leaked all over everything (EWWW STICKY!)
I do want to pick up a bit more speed again, but for now, I'm happy I completed another Trowse 10k!