Recently I was contacted by USA Pro and asked if I wanted to review some of their Spring Summer 2014 fit kit range.
In my never ending hunt for good quality reasonably priced yet attractive sports wear that isn't pink. I said yes.
I was sent the racer back vest in Teal and 3/4 leggings in berry and black to try out. The regular prices of the items are £24.99 for the vest and £34.99 for the leggings, so not bad mid range sportswear prices, considering I always fall in love with the stuff that costs almost £100! At the moment, however, they're even more of a bargain being reduced to £10 for the vest and £12.50 for the leggings.
First impressions were good. The fabric felt thick and good quality, the details like flat locked seams and a zippable pocket on the leggings were there, and nothing was pink! The vest came with a built in bra, but whilst it might be ok for something like yoga or pilates, I wasn't trusting my boobs to it on a run, so I have my regular run bra on under there.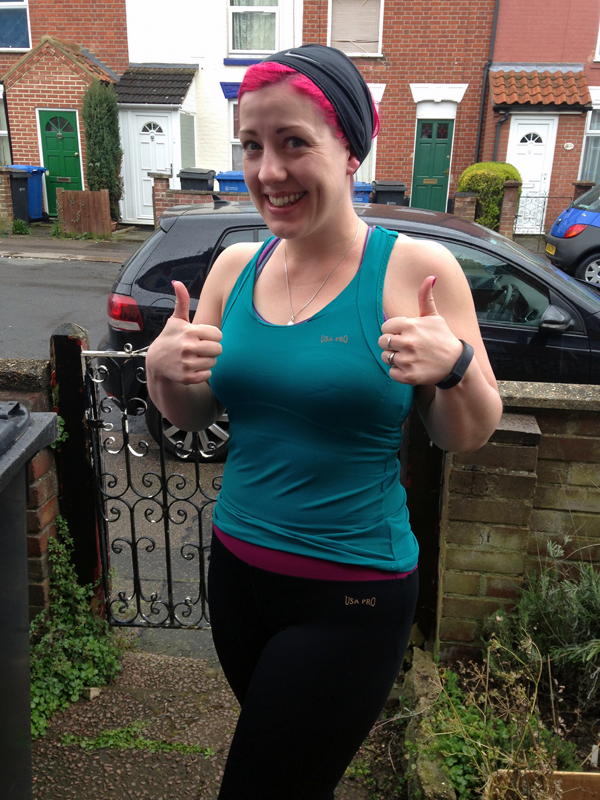 I was a bit concerned on size. I normally buy a 14 on the bottom half, and in sportswear always chose a L as I find sizes come up small, but I was told that the largest size they had was a 12, so I ordered that. As you can see, the 12 fits fine. I did wonder why they didn't do larger sizes, but on their website I can see up to an 18, so I guess it will remain a mystery! UPDATE: Apparently they only had SAMPLE sizes up to a 12! But the 12 still fits me fine, so if you're unsure between 2 sizes, I'd suggest going for the smaller!
The fabric is matte, super soft and very stretchy, probably explaining the sizing being fine! I found that when I put the leggings on they would be almost full length until I "rearranged" them into the right place. A side effect of that super stretch material! I wondered whether this meant that the fabric would shift around while I was wearing it, but I took it out for a run, and to a Roller Derby session and had no trouble with tops riding up or crotches slipping down, or with inconvenient and highly visible sweat patches on the material.
These aren't specifically marketed for running, more as gym wear, but they certainly have no performance issues!
Feature wise, all the boxes are ticked on this sports wear. It's all sweat wicking, flat locked, zip pocketed, inner bra goodness. Design wise it comes in a nice range of colours, that aren't all pink, and I like the little flash of colour at the waist band, there are even some more exciting prints in the range, like Aztec, Galactic and Storm, which is something I'd like to see more often in kit at this level. It's easy to get exciting prints if you've got £100 to spend!
Visit USA Pro to check out the rest of the range
Related