On Wednesday I did Art.
And I got a hair cut. I last had my hair cut on New Years Eve, so it was massively overdue. The end of my hair were frazzled and it looked pants unless I wore it up. Yes, that's right pants, the very worst thing your hair can look like. See.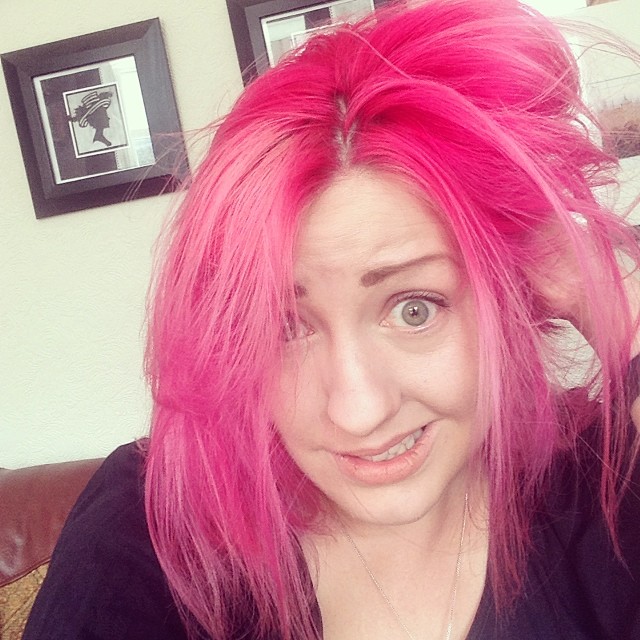 So I finally gave in and booked an appointment at Flint Hair. I actually have a couple of salons that I use for my semi regular hair cuts. I always feel faintly guilty about where I get my hair cut, like I'm somehow cheating on all the other hairdressers who are equally lovely. This time it was Flints online booking system that swayed me as I despise the telephone with a passion and have to psych myself up for 2 or 3 days before I make any phone calls.
I arrived at the salon all flustered after a catalogue of leaving the house on time disasters which I won't bore you with here, and after an hour of having a nice sit down and a chat I left with my nice swingy bob restored, only this time it's pink!
♥ Dress – Weekend Doll* ♥ Pug Necklace – Can't Remember, Sorry! ♥
♥ Shoes – Pin Up Girl ♥ Tights – Pamela Mann ♥ Belt- Vintage ♥
After my hair cut I was heading to a local pub for the Norwich Dr Sketchys Anti-Art School, so this is maybe a little more dressy than I would normally wear to the hairdressers! The dress you've seen before, only last time you saw it I was dressed as a Pumpkin so you might not recognise it. I also swear it didn't look so creased when I put it on, I blame the light! It has those little ties underneath so that you can hitch the skirt up, which is how I wore it as a pumpkin, but today I left it down as it has a lovely pleat. It came with a tie belt, but as ever I replaced it with a far more flattering solid leather belt. That's my top tip for the day. Always replace those tie belts! (Note, I've just noticed the orange dress is now on sale, bonus!)
Also in this outfit are those gorgeous leopard print Pin Up Girl shoes I bought recently and a pug necklace that I got in a goodie bag at Norwich Fashion Week, carefully kept the label for and then lost it, so as it's unsigned I don't know who it's by.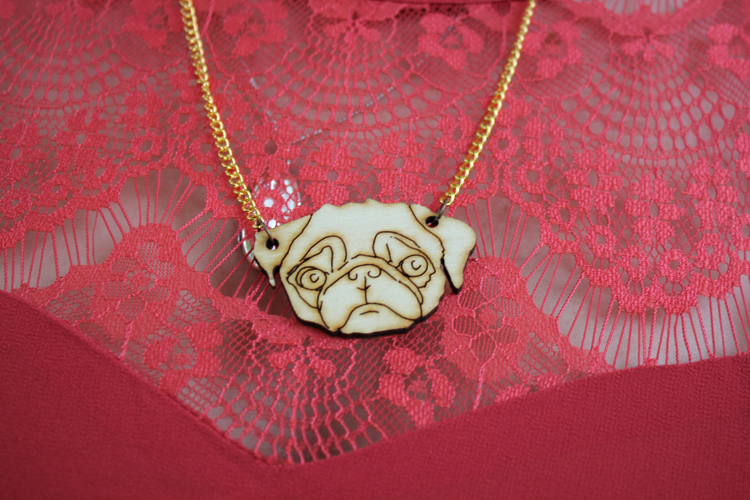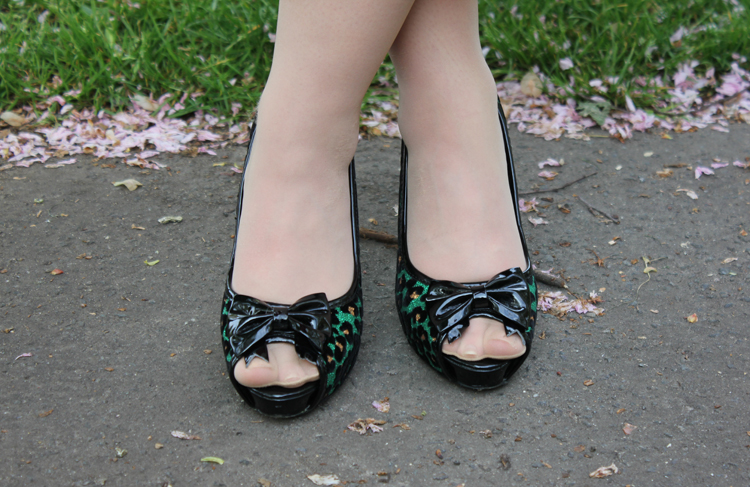 I'm also wearing those Pamela Mann LOVE HATE tights, but I didn't leave the house in them! I left the house with bare legs and a pair of flats to run into town in, but by the time I got to the hairdressers my feet hurt so much that I had to hobble to the shops to buy tights. The closest shop with tights in it was Rock Collection (where I bought those shoes!) so I popped in, and spotted the LOVE HATE tights, the duplicates of ones I laddered back in February and now can't find online.
So I bought them.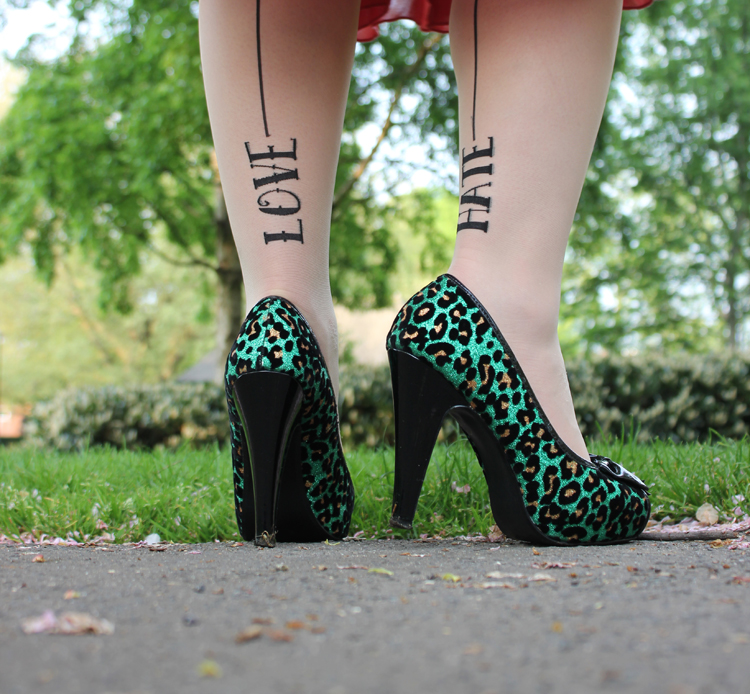 I wasn't sure if there was some kind of rule about wearing an orange dress and pink hair, but I figured that it was probably an area rarely covered by books of style rules, most of which would probably faint at the very idea of pink hair. So I did it anyway, and I quite like the clash actually.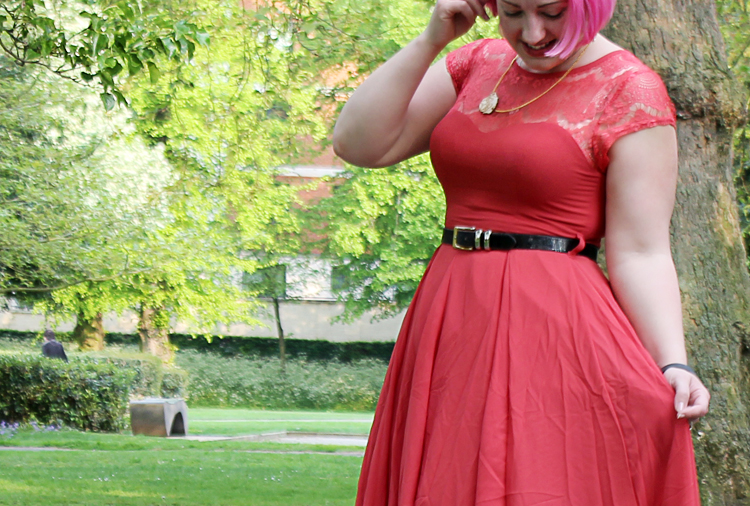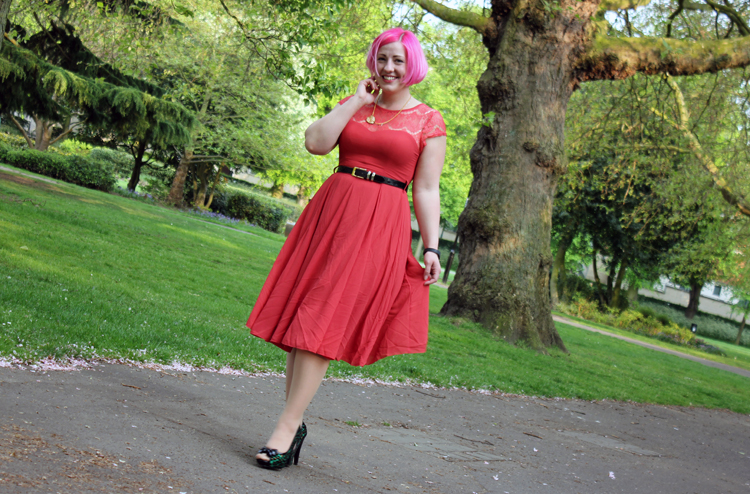 Dr Sketchys is a life drawing class where the models are often burlesque and cabaret artists. The evenings feature a bit of drawing, some performances, a few drinks, some games and absolutely no obligation to have any artistic talent whatsoever, which is a relief!
Wednesday night featured Pete Howarth sticking a drill up his nose and dislocating his limbs, not what you expect from your average life drawing class. Photography is not allowed at Dr Sketchys, so you'll have to content yourself with some of my artwork, which I'm sure gives you an excellent idea of both the level of artistic ability required to attend a Dr Sketchys, and how much fun the evening was.
Oh yeah, one last thing, while you're here, I nearly forgot (yeah right). This year I have flung my slightly battered beret in and entered the National Vintage Awards. I'm a nominee in the Best Vintage Fashion/Lifestyle Blog category. I'm not going to lie, I do like dressing up and going to award ceremonies, but I like them even better if I get to come home with a trophy, so I'd really appreciate it if you'd just pop over and vote for me! There's a little interview on the site too in which I promise to bribe you all with ice cream for votes, so that's worth bearing in mind should we ever meet, though I will require screen grabs as proof, so be prepared! The voting website is HERE!
Thanks Muchly!