But it doesn't seem to be a product that is stocked in smaller Boots stores, so when I ran out while on holiday I found myself trying to source a replacement in a local Sainsburys. I picked up the Dirty Works Pore-fect Facial Hot Cloth Cleanser to give it a try.
I've been using it for around 3 weeks now, so I thought I might as well give it a review!
THE BLURB
A cleanser with a difference! This rich, concentrated creamy cleanser gently removes daily grime, make-up and even stubborn waterproof mascara. When used with the muslin cloth it also acts as gentle polisher to lift away dead skin cells and reveal fresh radiant skin.
THE PROS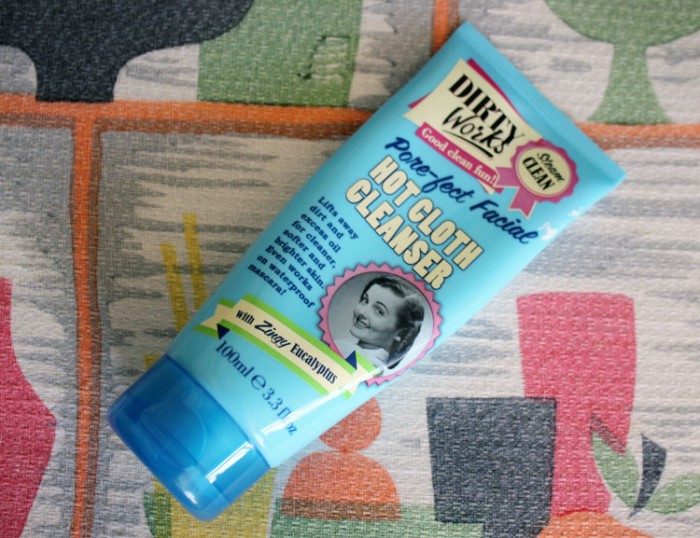 Like all the Dirty Works products the packaging has that cute retro feel. It comes in a squeezy tube, which in easy to get the product out of, and also saves space in a wash bag, important if you travel a lot like I do!
In the packaging were not one, but two muslin cloths, which were good quality. This is great as it means one can be in the wash, or one for travel and one for home. I also have a tendency to occasionally leave mine on the towel rail in hotel bathrooms, so it's good to have a spare!
Although the price is more per 100ml than the Boots No.7, it's pretty reasonable and cheaper than the equivalent Soap & Glory product and the fact that it's stocked in Sainsburys does make it convenient to pick up with your weekly shop.
The cream is very rich and massages into the face nicely as a cleanser, without feeling like it is being absorbed before you polish it off.
THE CONS
Unfortunately I actually wasn't that keen on what was inside the tube. It's supposed to have a "zingy eucalyptus" fragrance, but to me it just smelt over perfumed and far too strong. It made me feel a little queasy.
Although the cream is thick and rich, it also felt a little odd to me, almost too slick, like that heavy glycerin based hand cream you can get as a barrier cream.
I'm also not sure how good it actually is as a cleanser, it doesn't seem to do that great a job of removing my waterproof mascara, and I've had a few minor breakouts since I started using it, even though I always use it with Witch Hazel as a toner.
THE VERDICT
It's not for me, sadly, and I would probably buy a tub of Nivea or Astral next time I'm in a pinch and can't get to a bigger Boots. Just because it doesn't work for me, doesn't mean it won't work for everyone, but for me this wasn't value for money. It felt like a cheap product, but that wasn't reflected in the price.
Dirty Works products are available from Sainsburys.
Related