Ah Swimwear Season.
Magazines always call it that, so it must be true, but I guess it's only swimwear season if you've booked a holiday somewhere nice. If you're staying in the UK for your holidays then you're unlikely to be popping to the shops in a swimsuit.
Still, a decent swimsuit is something I've wanted for a long time. I do go swimming occasionally, Summer or Winter, and also you're never quite sure when someone might invite you to come and drink Champagne on their yacht and it's good to be prepared. I mean, it's yet to happen, but you never know, and wouldn't it be terrible to have to say no because you don't own any swimwear nice enough to drink Champagne on a yacht in?
Back in May Bettylicious gave me a vintage inspired swimsuit or bikini for a giveaway, but they also let me chose one for myself, which I will now be reviewing!
I chose the vintage inspired swimsuit in Navy.  I thought it was nice and versatile. Glamorous enough for drinking Champagne on yachts, should that ever turn out to be a thing I need to do, but practical enough for actual swimming.
Brace yourselves because you're about to see what the swimsuit looks like in real life, without the benefit of studio lighting, but with your neighbours peering at you out of the window and wondering what the crazy lady down the road is doing prancing around in her garden in a swimsuit with all that make up on (see also roller skating in leopard print shorts in December)
I found choosing a size a little tricky. I prefer my clothes to fit snugly, so I normally choose a size 12, but in clothing that is supposed to fit tight it's often more flattering to go up a size. According to the general Bettylicious size chart I was between a 14-16, with my bust and waist being a 14, and my hips a 16. I'm glad  that I went with my normal sizing and chose the 14, because of the style and the stretch the hips fit fine, even though they were a couple of inches bigger than the chart. More than that and it might have started to dig in at the tops of my legs, so my advice on sizing is to shop by your bust and waist, but if your hips are more than 2″ bigger than the size on the chart you might want to go up one!
I initially wanted to test the swimsuit actually swimming, but I haven't had chance to get to a pool yet. I did wear it to roller skate around a nightclub for 4 hours recently, as those of you that follow me on instagram will know!
This tested not only it's "wear-in-public-ability", which was good, but also it's "staying-in-the-right-place-and-not-falling-down-ability" which was also excellent!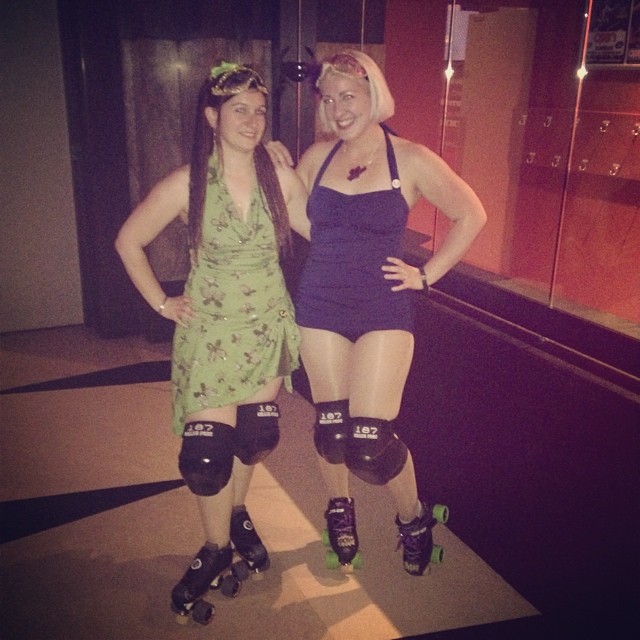 At the "bottom" end, as it were, the swimsuit cuts straight across mid thigh and has a flattering ruched skirt which is at the front only. I can happily report that all parts stayed where they were put. As a lady with an ample bottom I find that anything bikini cut has a tendency to ride up and get very uncomfortable, but this is cut generously enough to stay exactly where it's supposed to be.
At the "top" end the swimsuit comes with 2 short plastic bones, about 2″ long, on either side of the ruched bust area. This keeps the sides sturdy and prevents the back from drooping. There are cups built into the swimsuit, but they're not very supportive, so if you're super busty then it may not be enough for you. If you're in the bust range where you *could* go out without a bra but it would be uncomfortable and not give a nice line, then this swimsuit will be supportive enough for you. Bearing in mind I wear a DD or F cup, I found it absolutely fine and didn't notice any uncomfortable jiggle, even while skating around a nightclub!
The swimsuits come in an exciting array of prints, as well as block colours, including polka dots, cherries, leopard print and gingham, I'll have one of each please!
They are normally priced £75, but are currently all reduced to £69.99. This is on the pricy side, and yes, you can buy swimwear in the supermarket for £20, but these swimsuits are well made, flattering and designed to last. I'd rather have one of these that will last for years than buy a new £20 swimsuit every year that doesn't fit properly, isn't supportive and falls off when you attempt to move! I personally remember very vividly wearing a cheap string bikini top with shorts whilst sitting in the comedy tent at a festival. I felt something tickling my back, grabbed it to throw it away, and it turned out to be a loose thread from the stitching which promptly unravelled and completely detached the triangle portion of the bikini from the string around my back, with predictable results. Fortunately I had another top in my bag and with a little help from my friends I managed to protect my modesty, but it was the last time I bought cheap swimwear!
For the full range of swimwear and bikinis pop over and pay Bettylicious a visit. She also has a great clearance sale on at the moment with reductions on dresses and seperates, as well as those divine Chie Mihara shoes I reviewed before Christmas which are 40% off!