Wimbledon starts today, hurrah!
Much like the football, tennis isn't something I follow on a regular basis. I watch it occasionally when a big tournament and a player I know is on, but I don't cry when I miss it. However, when Wimbledon comes around I get all absorbed, eat a lot of strawberries and cream and generally get into the whole thing with gusto. When the sun is shining it's nice to take a bit of wardrobe inspiration from the tennis too. It's definitely been one of the more stylish sports over the years, so today I have put together some sporting looks inspired by tennis outfits through the decades that you can wear while sitting on your sofa watching Wimbledon. In fact I probably wouldn't recommend wearing any of them to play actual tennis, real sportswear is always better to do sports in, but sometimes it's fun to play dress up.
1930s
1920s and 1930s tennis outfits were a lot more demure than today, so a lovely sporty summer style if you're not over fond of showing off your knees!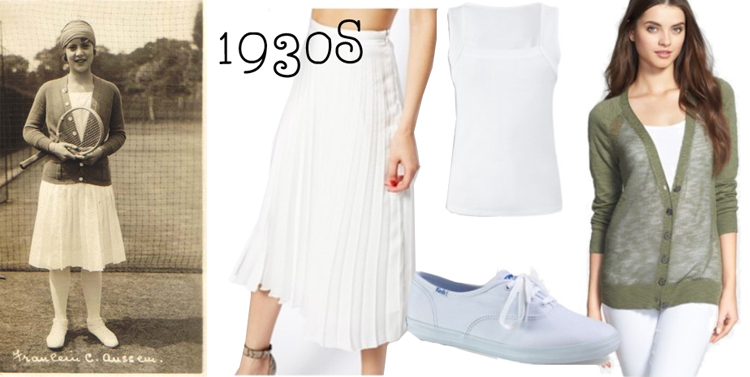 ♣ASOS Pleated Midi Skirt♣BHS Square Neck Vest♣Open Stitch V Neck Cardigan♣Keds Champion Shoes♣
1940s
If you want to borrow some inspiration from 1940s tennis outfits they're a little more structured, and a little shorter. Shirts and shorts seem to feature a lot, which is a nice fresh look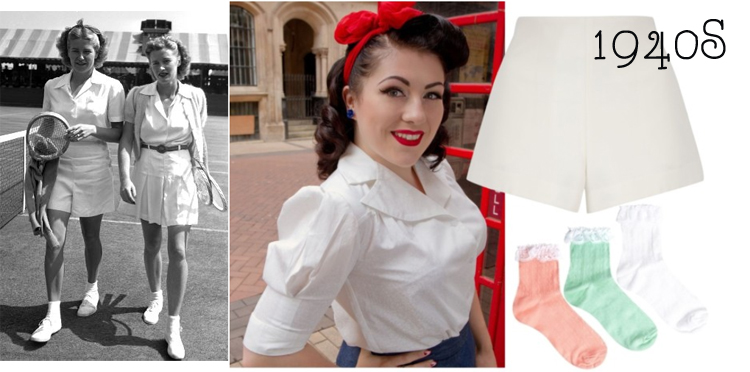 ♣ Heyday Olivia Blouse ♣ Jane Norman High Waist Shorts ♣ ASOS Frill Ankle Socks ♣
1960s
In the era of the mini skirt its no surprised tennis outfits followed suit and got event shorter. Tennis shoes also started to look a little chunkier, so a pair of Green Flash are perfect. A headband and a bit of a bouffant add to the 1960s credentials.
♣ White Mini Dress from Missguided ♣ Dunlop Green Flash ♣ Claires Hair Wrap ♣
1980s
The 1980s was a colourful decade, and tennis courts were no different, though it's worth noting that at Wimbledon players were required to dress "predominately in white". Adding a few pastels is the way to go, and maybe that ultimate 1980s accessory, a visor.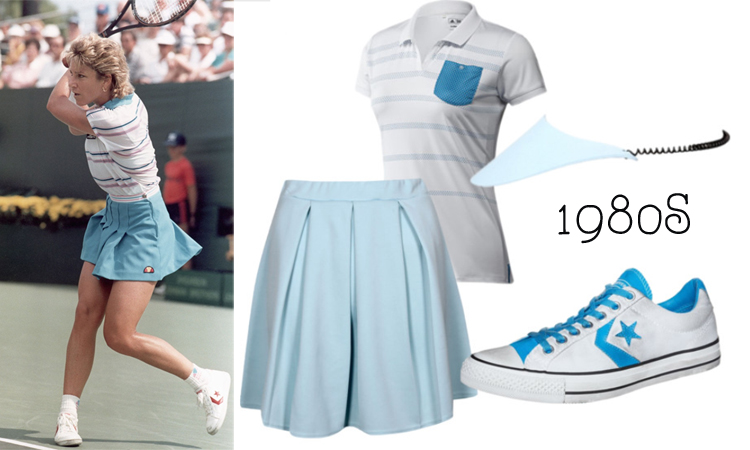 ♣ Adidas Polo Shirt ♣ Box Pleat Scuba Skirt ♣ ASOS Visor ♣ Converse Star Player ♣
Which is your favourite decade for tennis style?
Related