Back in October I posted my food diary for the week. The idea was to get an idea where my diet was falling down, and where it could be improved to help me with my fitness goals, and with my weight loss goals.
I felt I ate far too much processed food, and set myself a goal of 3 alcohol free days a week in future. So last week I kept a full record again so I can see if I've improved, and what I can still work on.
For the nosy amongst you, here's what I ate and drank last week!
Monday
Today was an odd day, I took my Roller Derby rules test in the evening and was out of the house early evening, so instead of dinner I had toast when I got home, and some biscuits to treat myself as I passed the test!
Breakfast – Homemade Funky Monkey Smoothie (My recipe for this is 200ml Unsweetened Almond Milk, 1 Banana, 1 ball frozen spinach, 1 dsp sugar and salt free peanut butter, 1 scoop Chocolate Slender Blend Protein Powder)
Lunch – Avocado, tomato and mozzarella salad, drizzled with oil and vinegar
Snack – Urban Fruit Dried Bananas
Dinner – 2 Slices Soya and Linseed bread with sugar and salt free peanut butter and sliced banana, glass of almond milk, 4 oreo cookies.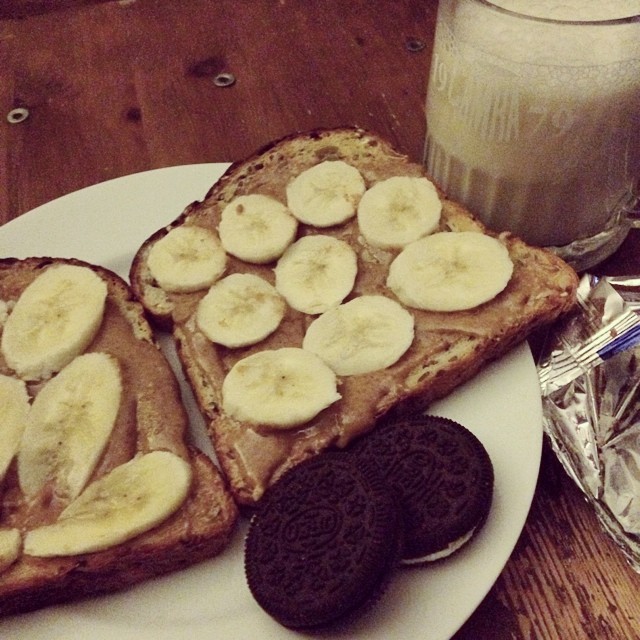 Tuesday
A regular day today, I went for a run in the afternoon. I ran 3.5 miles, and then walked another couple of miles home. I'd planned to run the lot, but for some reason my legs were killing me!
Breakfast – Funky Monkey Smoothie
Lunch – 2 large grilled flat mushrooms, spinach, 2 poached eggs with light mayonnaise mixed with mustard.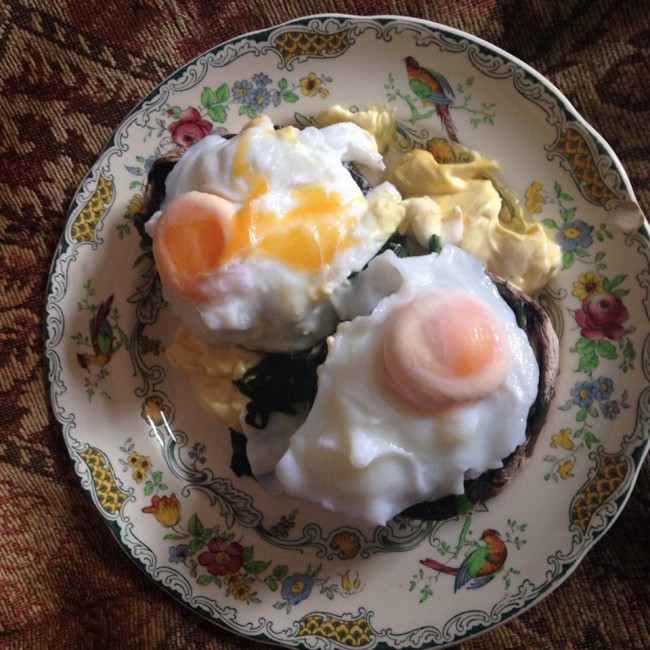 Dinner – Salad with chicken, avocado, olives and feta cheese. Dressed with Raspberry and Sweet Basil dressing and a sprinkle of Linwoods Flaxseed, Sunflower and Pumpkin seeds.
Post Run Snack – Chocolate Muscle Milk Protein Shake (these are awesome!)
Wednesday
Today I had to get up stupidly early and walk to an appointment at the Biomechanics clinic which is 2 miles away, and then walk home again. I couldn't face a proper breakfast before 7am, so took something portable along with me, the Food Doctor bars are brilliant for this. That evening my husband came home from a work trip and bought me a peanut butter Krispy Kreme doughnut. Yum!
Breakfast – Matcha Super Power Green Tea Drink (I have tried all the flavours of these, and I loved the Apple one best!) Food Doctor "…& Go" bar.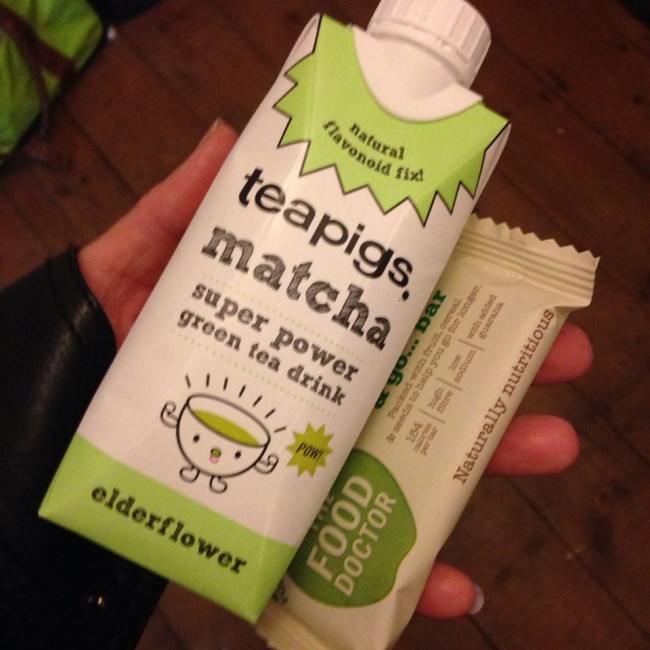 Lunch – 1 slice Soya and Linseed bread, 1/2 an avocado, grilled mushroom, topped with cheddar cheese
Dinner – Chicken breast baked with a crust of organic hulled hemp seeds (this is GOOD! More information in a future post!) Baked Sweet Potato, sweetcorn, spoonful of light mayonnaise.
Snacks – Krispy Kreme Peanut Butter doughnut, Half a bottle of white wine.
Thursday
Today is a roller derby training day. I started at 6:30pm and went straight through till 10pm for my first scrim. I wasn't expecting to stay so late till late in the day, so dinner before I went was hastily invented from the store cupboard! I was so hyped up when I got home so I stayed up and drank some celebratory bottles of beer!
Breakfast – Smoothie made with unsweetened almond milk, 1/2 a mango, frozen spinach, plus a load of powders I've been sent, I got a little carried away and added Maca Powder, Hemp Protein Powder, Wheatgrass and Banana powder!
Lunch – Bulgar Wheat and Cous Cous pot with a chopped up pepperami and mayonnaise
Dinner – Wholewheat pasta, pesto, chopped up pepperami
During Roller Derby – 1 peanut, hemp and spirulina protein ball (recipe coming soon!), 1 Gu Vanilla Bean Energy Gel
Post Roller Derby – 4 small bottles of Kronenbourg, 2 peanut, hemp and spirulina protein balls.
Friday
Oh dear, today started ok, though lunch was the same as last nights dinner as I needed to go shopping. It all went a bit off track around midnight when we decided we were hungry post pub and ordered a huge pizza, Cheese on toast would probably have done. This is why they warn you about the booze……
Breakfast – Smoothie made with Almond milk, banana, wheatgrass powder, maca powder and hemp protein powder.
Lunch – Wholewheat pasta with pesto and a chopped up pepperami
Dinner – Garlic chicken and mushroom pie with mash, gravy and peas from Flaming Galah's pie shop with a pint. I'd been looking forward to this all week!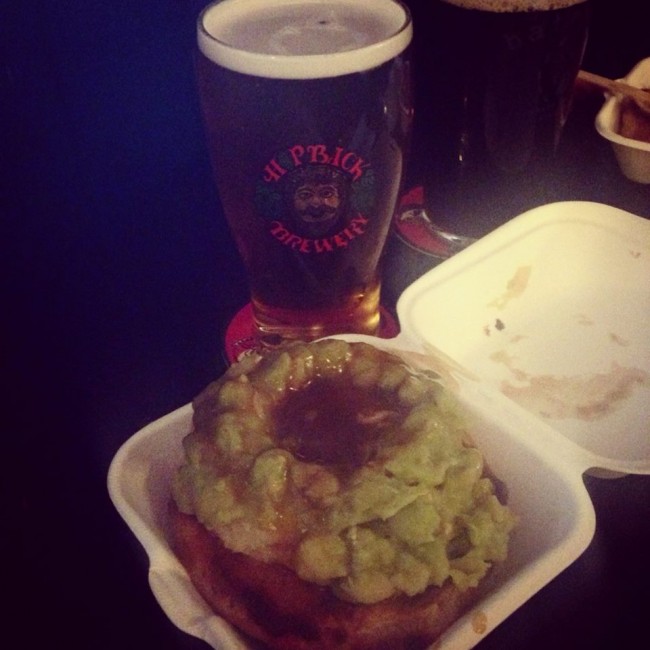 "Snacks" – Much beer, then a dominos pizza and twisted doughballs at midnight. Ooops.
Saturday
Another Roller Derby day. I skated 1-5pm. It didn't go particularly well towards the end if I'm honest, I was exhausted and started to get weird foot pains from getting used to my new orthotics, which have thankfully started to ease off now!
Breakfast – Oat so simple porridge sachet with hemp protein powder and Urban Fruit dried cherries
Pre Derby – Maxitone Chocolate Protein Shake, Food Doctor "…& Go" bar
At Derby – 3 Peanut, hemp and spirulina protein balls, 1 chocolate chip muffin
Dinner – Saucy Fish Co Salmon Fillet with Chilli, Lime & Ginger, new potatos with herbs and butter, asparagus.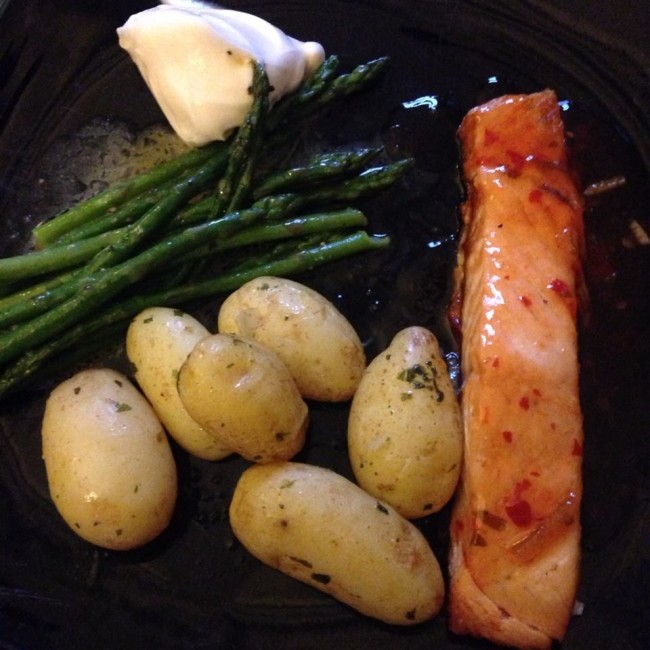 Drinks – 6 glasses of cava
Sunday
Today was long run day. I'm still struggling to build up my endurance after being ill earlier this year, but I did 5 miles in the end, and it was pretty nasty and humid!
Breakfast – Funky Monkey Smoothie
Lunch – Mussels in a garlic and white wine sauce, chunk of cheese topped bread
Pre Run – Jelly Belly Sports Beans
Post Run – Maxi Muscle Vanilla Protein Shake
Dinner – Mushroom and Spinach crepe, Rocket Salad with with feta cheese and raspberry and sweet basil dressing
Snacks – Chunk of bread and butter, 3 small bottles of beer.
So, what's changed since October? In October I came in at 2000 calories a day, 40% Carbs, 40% Fat and 20% Protein. Last week I came in at just over 1500 net calories a day (MFP adjusts for exercise and syncs with my fitbit)  but still around 40% Carbs and Fat and 20% protein.
I only had 2 alcohol free days last week, so I obviously still need to work on that! Sunday was meant to be alcohol free, but I fancied a beer in the evening.
I think there's less processed food, and more vegetables in my diet now, and I've started having smoothies for breakfast, which I like. My meals were all planned out up until Thursday lunch time, Friday night was intended as a "treat" night, but there were a couple of meals that were then unplanned and not great.
I also notice that this week the sweet treats were a thing I need to watch. I actually don't buy these things for myself, but seem to have little resistance when other people buy them. The Oreos and the Krispy Kreme doughnut were from my Husband, and someone else took the chocolate chip muffins into Roller Derby, this happens far too often, I thought we were athletes?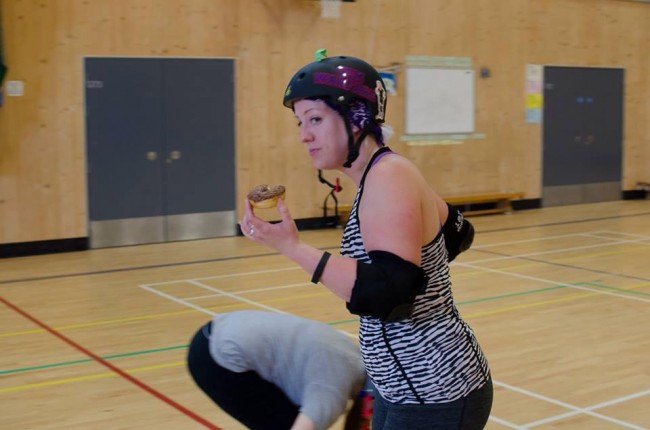 I think there's been a definite improvement in my diet, I'm more organised with eating around my workouts these days, though I do tend to rely on pre packaged protein drinks rather than a chicken breast or something, which is probably preferable, but less portable.
So things to work on for next time are the unplanned snacks, especially post pub, and to keep an eye on those alcohol free days!