The very best time to buy Summer clothes is in Autumn and Winter.
It's true, they all go on sale and you can grab them for next to nothing. All Summer long I had my eye on an ah-mayzing novelty print 50s style frock at Boden. But it was £89, and at no point did budget or occasion warrant its purchase.
Then last week it went on sale, with, wonder of wonders, my size still left. So I bought it immediately! It was the Nancy Dress in Blue Riviera, inspired by a vintage print from Boden Creative Director, Justine's 1940s laundry bag. I snapped one up for a measley £18, in the meantime the price seems to have changed to about £26, but that's still an incredible bargain and the dress, now it has arrived, is gorgeous and a perfect fit with a lovely pleated skirt and nipped waist.
♥ Headscarf & Brooch – Vintage ♥ Dress – Boden Sale ♥ Cardigan & Belt – H&M ♥
♥ Tights – Can't remember! ♥ Shoes – Office ♥
It's far too gorgeous to put away till next Summer, so as the beach print is actually quite muted I decided to pick out the more autumnal tones with accessories and wear it in Autumn anyway. I added a headscarf with sandy beige and blue tones an orange cardigan, brown leather belt and my little wooden 1930s leaping deer brooch that I have 2 of because of my compulsive need to purchase duplicate vintage items whenever I spot them.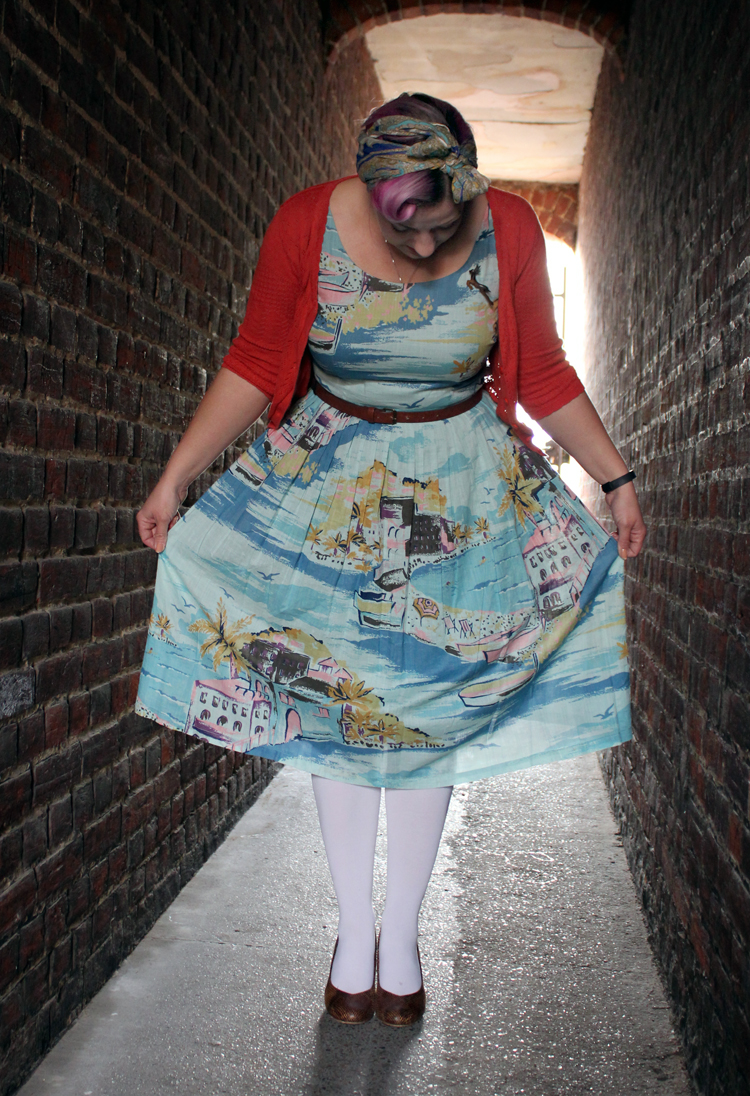 My top tip for making lightweight frocks work in colder weather is white tights. I wore them loads last winter, they make a nice contrast to bold shoes are warmer than nude sheer tights and lift an outfit with a bit of brightness. Just don't stand in a muddy puddle and splash it all up your legs, not that I've ever done that, obviously.
This is the L version of the dress, rather than the R version. It has an extra 3″ in length over the R version. While I've been wearing a few shorter dresses recently I think I prefer a dress like this in a more authentic longer length which I think will look much better without tights in the Summer. No one needs to see my knees!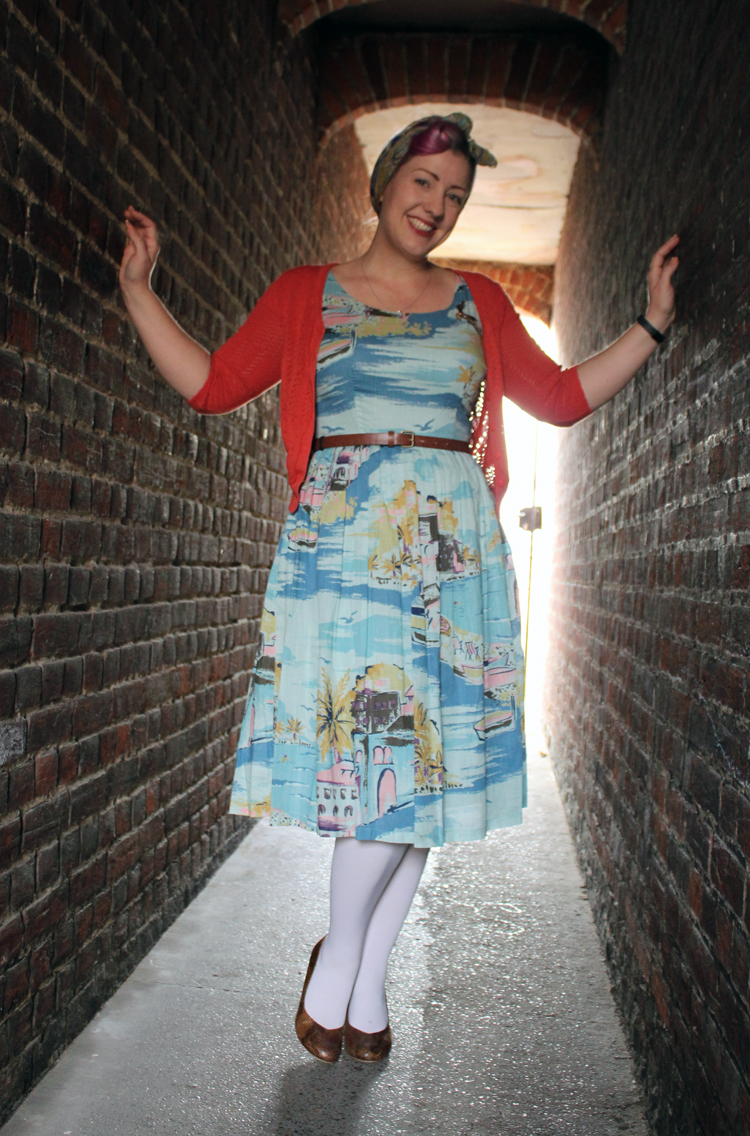 So this is what I shall wear today to go out and eat Fish & Chips in the pub. It's almost like eating Fish & Chips at the beach only warmer. Next Summer I forsee it making a return appearance without the cardigan, and maybe then I'll take it for fish and chips on the beach.
I feel like it should be worn for Summer with clog style sandals, but I don't have any of those, so maybe I'll have to try and buy some over the winter in the sale…..