Todays post all started with an email back in September from sportswear brand Legacy, suggesting I get involved in their campaign for Autumn to set 4 goals to keep motivated and maintain a healthy body and mind.
They've even sent me some of their range to help me get motivated. I went for the leggings, even though I prefer capris, as I wanted a bright colour and a vest. The leggings are super soft and comfortable, though they are sized fairly small and I could hear seams cracking as I squeezed into them! The vest is soft and loose fitting, which I thought would be horribly unflattering, but actually looks ok and means that it doesn't ride up while you exercise.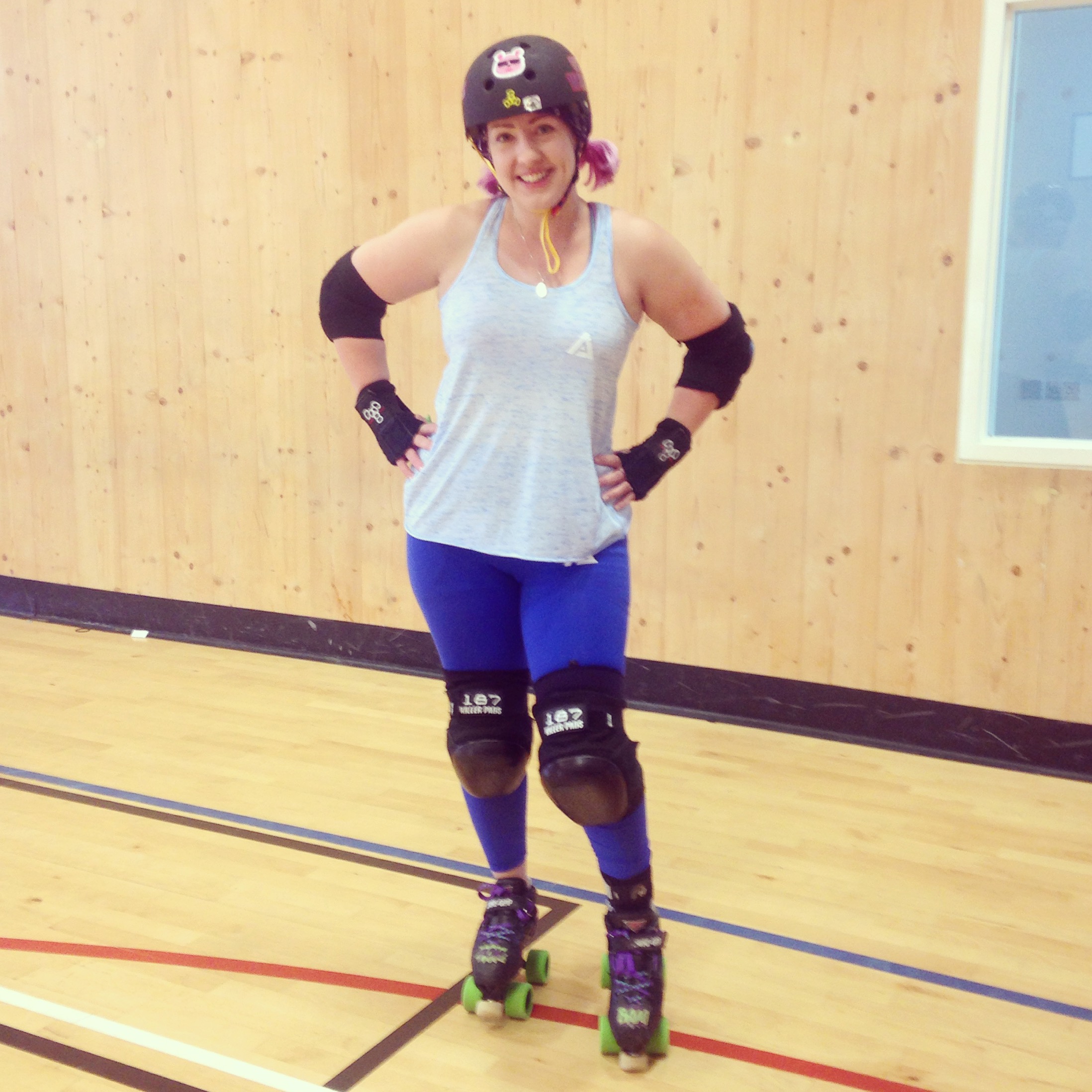 Honestly, I sort of need a kick start. This year has been a TOTAL fail fitness wise. After finishing last year on the high of completing a 10k finally in under a hour and my first Half Marathon in a not unrespectable time I started 2014 with a horrible cold, which turned into a chest infection and made it's effects felt well into February when I was on inhaler medication. Then in March and April I started trying to pick my running and exercise up again, and to make up lost time I overdid it horribly and ended up exhausted and running my slowest 10k ever in April.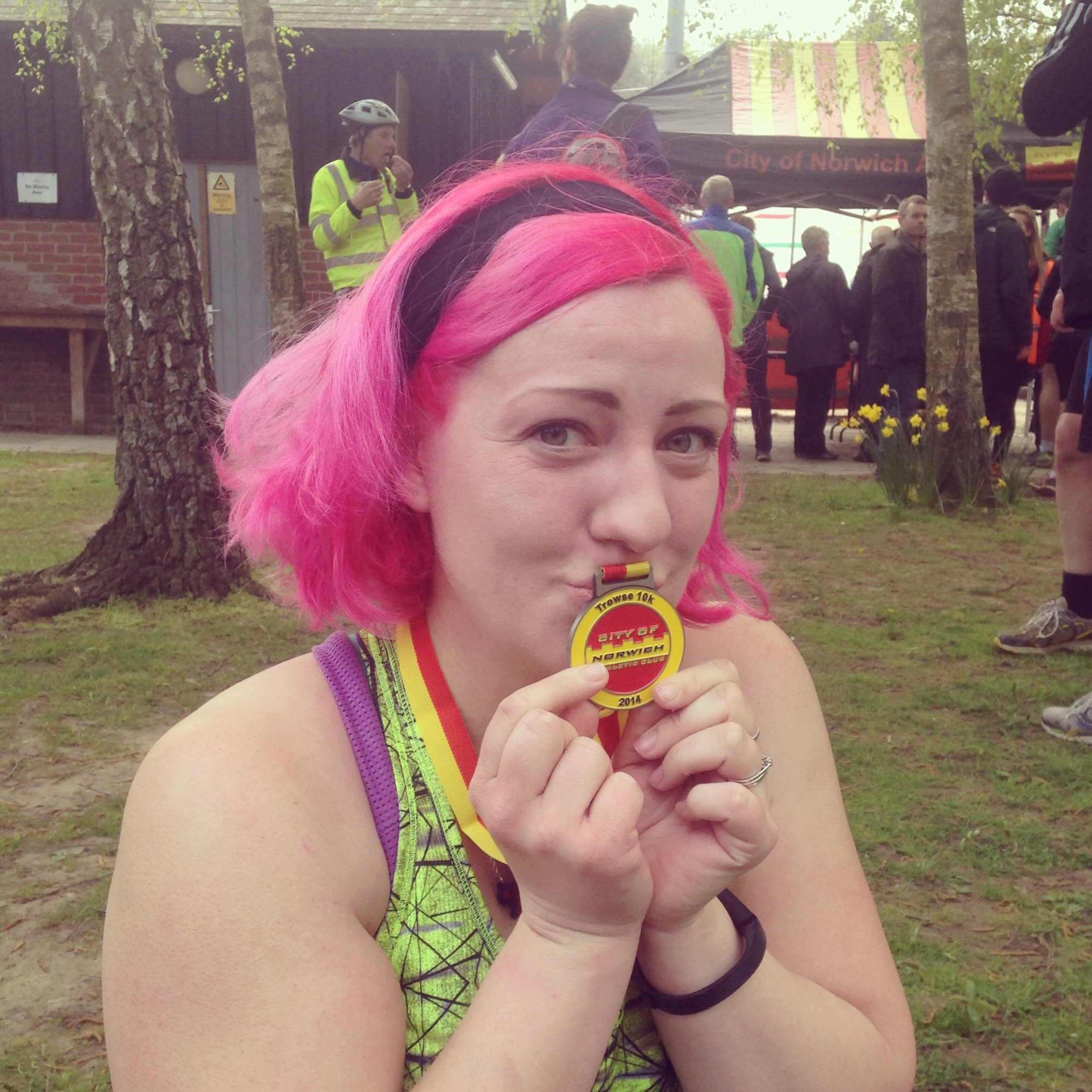 I managed to scrape through my Roller Derby Minimum Skills in May and started to pick up the pace a little with my running, introducing some interval training to try and pick up some of the speed I'd lost over the previous 6 months.
Then I sprained my ankle at the very beginning of July. This took me off all intense exercise for 6 weeks, and then a gradual build back up was in order. From mid September I was back at Roller Derby training proper and am now trying to increase my mileage and speed again, without over doing it, but Autumn and Winter aren't exactly the most motivational times of the year for a fitness drive!
A year ago I was running a 5k in 9 minute miles, now I would struggle with 10 minute miles and last weeks 10k was at 11 minute miles and still left my legs aching like I'd never run a mile in my life! At the moment I feel unfit, about a stone heavier than I was a year ago and pretty depressed and demotivated and hugely lacking in confidence in my fitness. My ankle is still very stiff at times and aches after intense exercise.
So, I'm taking up the #leaveyourlegacy challenge and setting myself some goals to complete before the end of November to get me kick started back to fitness and heading into Christmas a lot happier than I am now.
Complete the Norwich Half Marathon
A heady goal as it is under 6 weeks away and I can barely run a 10k. But I aim just to complete it. In fact, I plan to run/walk the whole thing as I think aiming to run it like I did last year would be foolish and lead to injury. In fact, I'm making finishing in under 2 hours 45 minutes my goal, which is over 12 minute miles. I may revise this down depending on how training goes. Finishing the year with a half marathon medal will at least mean I start 2015 feeling a little positive! My sub goals are to increase my long run distance by a mile each week, meaning this weekend I'm aiming for 7 miles in under an hour and 20 minutes.
Keep a Food Diary
Going back to completing a food diary daily on My Fitness Pal is the first step to watching what I eat and losing some of the weight I have gained. I want to make it clear that losing weight has never been my only goal, but at the moment I am clearly overweight and it's affecting not only whether I can wear the clothes in my wardrobe but my ability to participate in the activities I want to. I don't intend to set weight loss goals right now as it's incredibly demoralising not to hit them and I don't need that. Instead I am aiming to hit my (realistic and adjusted daily for activity levels) calorie goal of 1500 calories 5 days out of 7 and make what I eat as healthy and unprocessed as possible.
Improve my speed skating
This is hard to set a goal for as we don't get to practice often at practice, and I really hate it. With my current level of fitness I find it an incredible struggle. It's funny, when I started and didn't really have the skills I was fit and never really struggled much with speed skating. I tripped over my own toe stops twice on one attempt and still managed 191/2 laps against my goal of 20 just a couple of months after I started, and really felt I was ok with speed, but by this year it had started to become my nemesis and in May I just scraped past my 27 in 5 while others were sailing through with 29 or 30 laps. Ideally I would like to practice a 5 minute speed skate now, and have improved on it by the end of November. But it may be that by then all I've had chance to do is assess my current ability and see where I stand. I know this goal isn't very specific, but it's something I want to work on. I will add into this goal adding speedwork back into my running to improve my fitness and some leg strengthening work into my cross training.
Cross Train twice a Week
I run twice a week, I go to Roller Derby practice twice a week. I want to make sure that each week I am also doing 2 sessions of cross training. Ideally one yoga session and one strength training session with our fitness sponsors Style Health & Fitness. In here I will some upper body goals as well. I'd like to be able to 10 full press ups again by the end of November, and manage at least 1 unassisted chin up!
Do you have any Autumn Fitness Goals?
Related