Last week was my Wedding Anniversary.
I say "my", it was of course "our" as without Mr Chick there would have been no wedding, but that looked weird when I wrote it as an opening line as normally this blog is about ME ME ME, of course.
Well, each year Mr Chick and I take it in turns to pick something to do for our wedding anniversary. In 2012, for instance, I picked Hintlesham Hall, and in 2013 Mr Chick whisked us off to Salisbury. That meant this year was my turn to pick somewhere glamorous and exciting, however, being a little financially challenged at the moment, meant it was looking increasingly likely that we would be spending our anniversary eating Tesco Value beans from vintage china while watching Netflix. But then the blogging gods smiled on me and I got an email from the fancy looking Ox Pasture Hall asking me if I wanted to stay for a night and have dinner.
Therefore I now look like the best wife in the world for whisking us off to glamorous, er, Scarborough.
On the way across to Scarborough (Before people start looking at the map and plotting the route from Norwich to Scarborough, we started in Preston, long and uninteresting story.) we virtually went through Harrogate, so we stopped off to visit somewhere I'd wanted to go for a while, Betty's Tea Room. Aforementioned low bank balance meant we only had a scone and a hot drink. To be more accurate a Mocha and the Worlds Best Coffee accompanied by a Fat Rascal and a Rarebit scone, which still cost £15, but was gorgeous, and served in beautiful surroundings of a tea room that was founded in 1919 and is still owned by the same family.
All of our faffing about in Harrogate meant that by the time we got across to Scarborough it was starting to get dark (at 4:30!, bring back Summer!) and when we arrived at Ox Pasture Hall it looked all pretty and cosy with twinkling lights in the windows.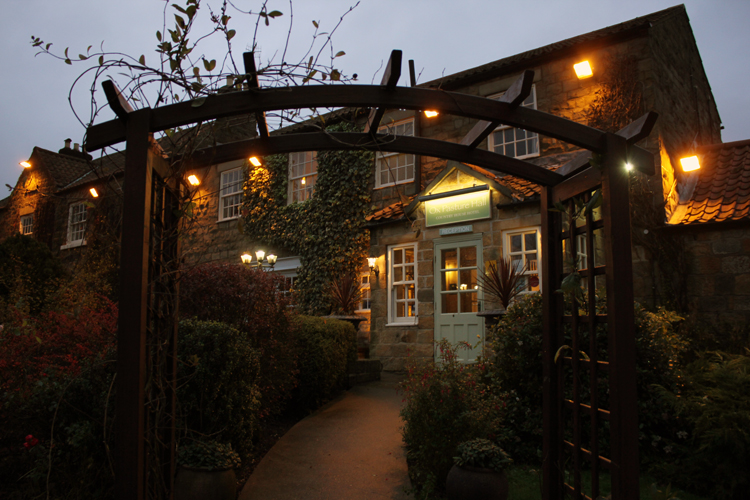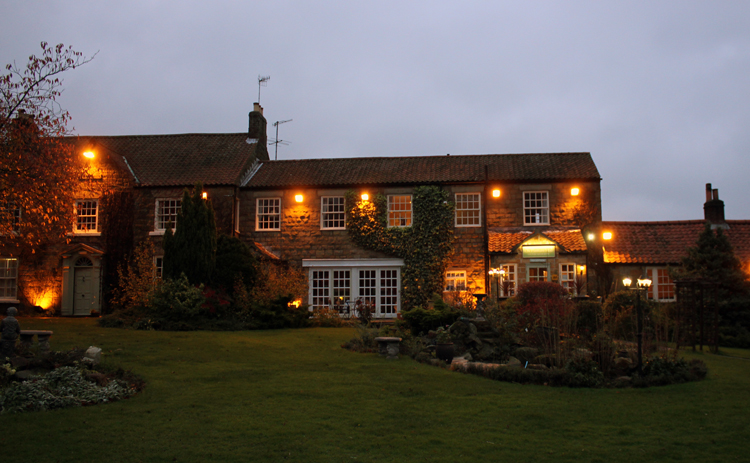 A lovely lady checked us in, and showed us to our room, which was a good job as we'd never have found it alone. The place is like a maze of oldy worldy corridors and courtyards. I think our room was in a new wing, and was one of their suites. I personally thought the decor was nice, but a little bit characterless, but Mr Chick loved it and therefore I felt like BEST WIFE EVER.
The room had a huge super comfy bed and a separate room with sofa and a big screen TV in both rooms.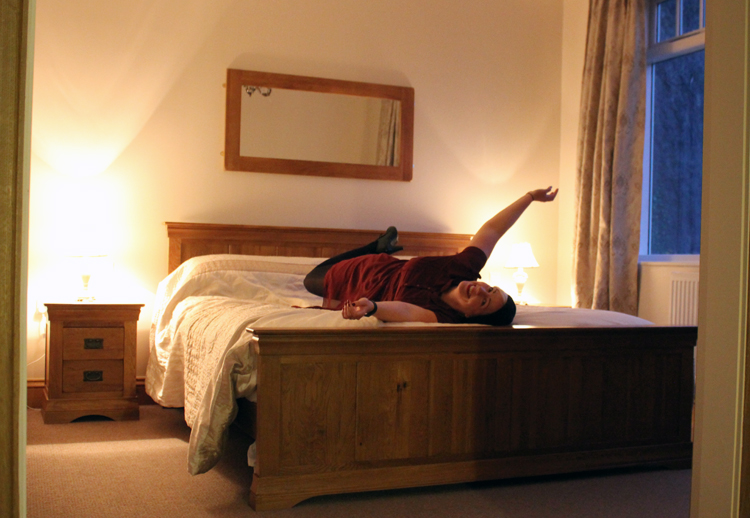 After I'd subjected the mattress to a sophisticated test of it's comfiness we decided to go straight back to the bar for a quick drink, stopping only on the way to pose for outfit photos by a fountain as I was wearing more awesome tights, the Pretty Polly ones I wrote about back in September in fact. I'm trying out a new pose since I realised I always stand the same. What do you think? Is it a keeper?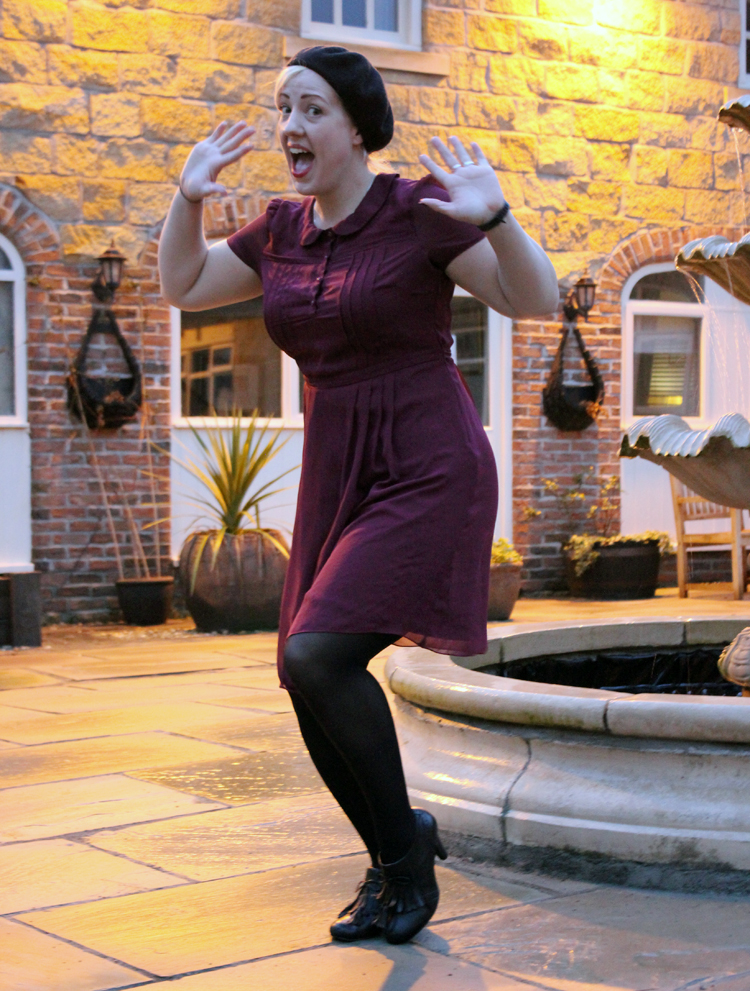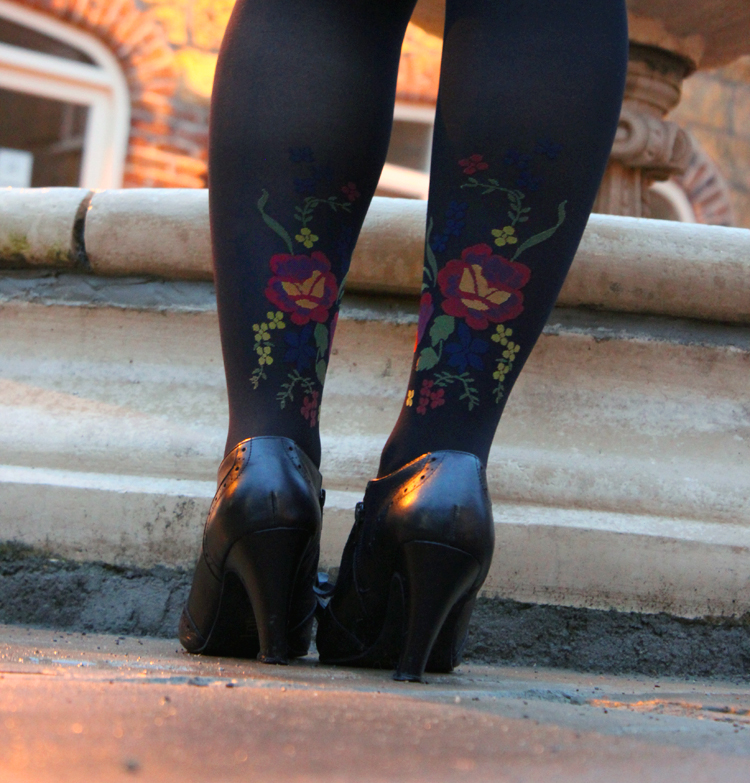 ♥ Dress – Tu at Sainsburys (ages ago!) ♥ Tights – Pretty Polly @UK Tights* ♥
♥ Shoes – Barratts* ♥ Beret – eBay ♥
The bar was small and cosy, with stone walls and a fireplace, though sadly the fire in it wasn't real, just glowing coals, at least I think they were, I didn't go over and open the door to the burner and touch them to check! After a quick drink and a bit of an explore we went back to the room to freshen up from our long trip before dinner.
The room has the BEST bathroom I have ever been in. A huge deep bath, with the taps in the middle (nudge, nudge, wink wink etc), one of those big rain shower head thingys and 2 sinks, which I can only assume is one for washing your face in and one to use to chill down the bottle of Sainsburys Cava you bought with you because it is your anniversary after all.
They also had bathrobes, I love a hotel with bathrobes, though I'm not entirely sure who these ones are aimed at. I know I'm short, but I'm not *that* short.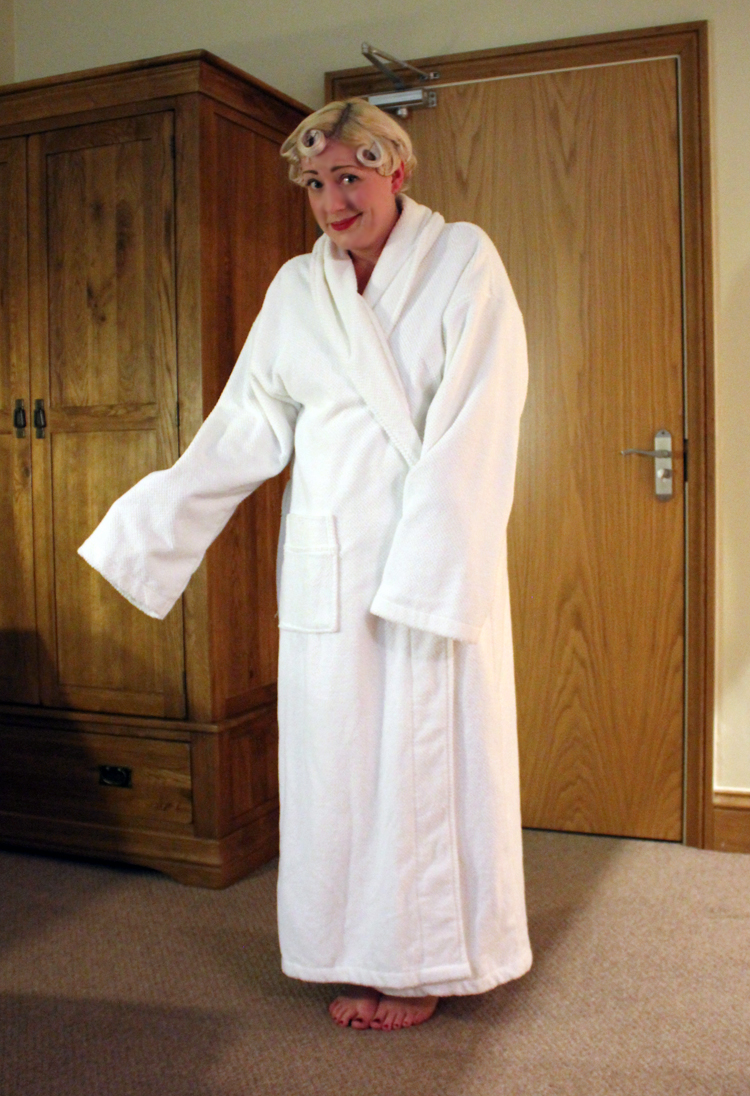 I do love staying over in a hotel and eating in the hotel restaurant. It might be fun to go out and explore, but sometimes it just feels really indulgent, it's like staying in for the night, but also going out. Or something.
I spent a bit of time getting glammed up, and then headed out across the multiple courtyards to dinner. I wore a vintage 70s dress that was a £2.99 charity shop bargain, and a pair of peep toe shoes from ASOS that I bought back in April and have only worn twice as they are very definitely sitting down shoes. The necklace is 1930s and was a gift from Mr Chick.
As you can see, I returned to the tried and tested "I'm a little teapot" pose.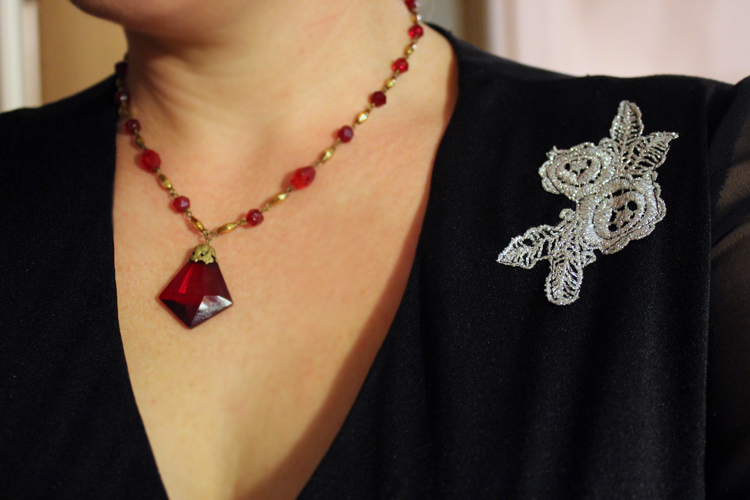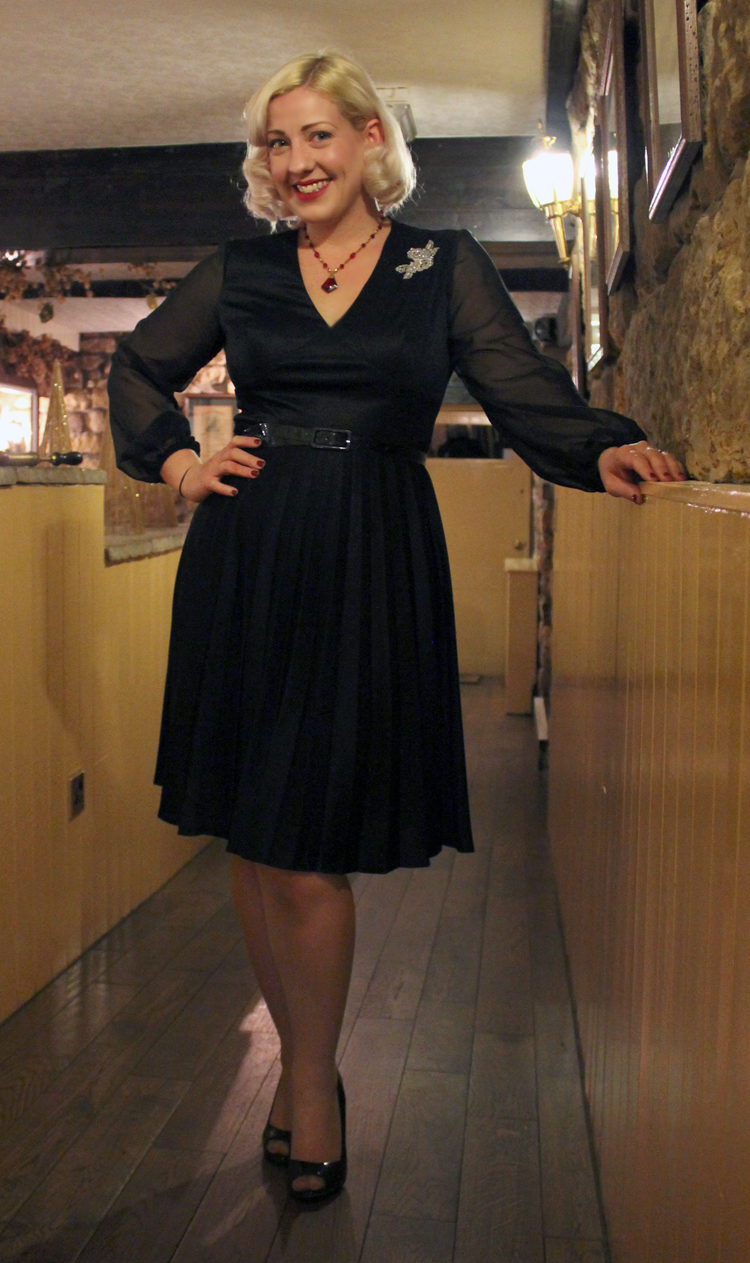 ♥ Dress & Belt – Vintage 70s ♥ Shoes – ASOS ♥ Necklace – Vintage 30s ♥
Now, I can safely say, that picturesque courtyards, big deep baths and cosy bars are all well and good, but where Ox Pasture Hall is pretty darn amazing is in the food.
The restaurant was a little quiet, so our drunken ramblings slightly tipsy conversations probably irritated the hell out of everyone else, but the staff were lovely and attentive, the restaurant smart without being intimidating and making you (me) feel like a dirty commoner wearing a dress from a Charity Shop and the food was gorgeous!
We got a glass of Prosecco and an amuse bouche which was an espresso cup of soup (lets not get too fancy!) and then we drank more wine and tucked into 3 courses of yumminess, including a tasting platter of puddings, which is very helpful if you can't make up your mind and want to eat them all!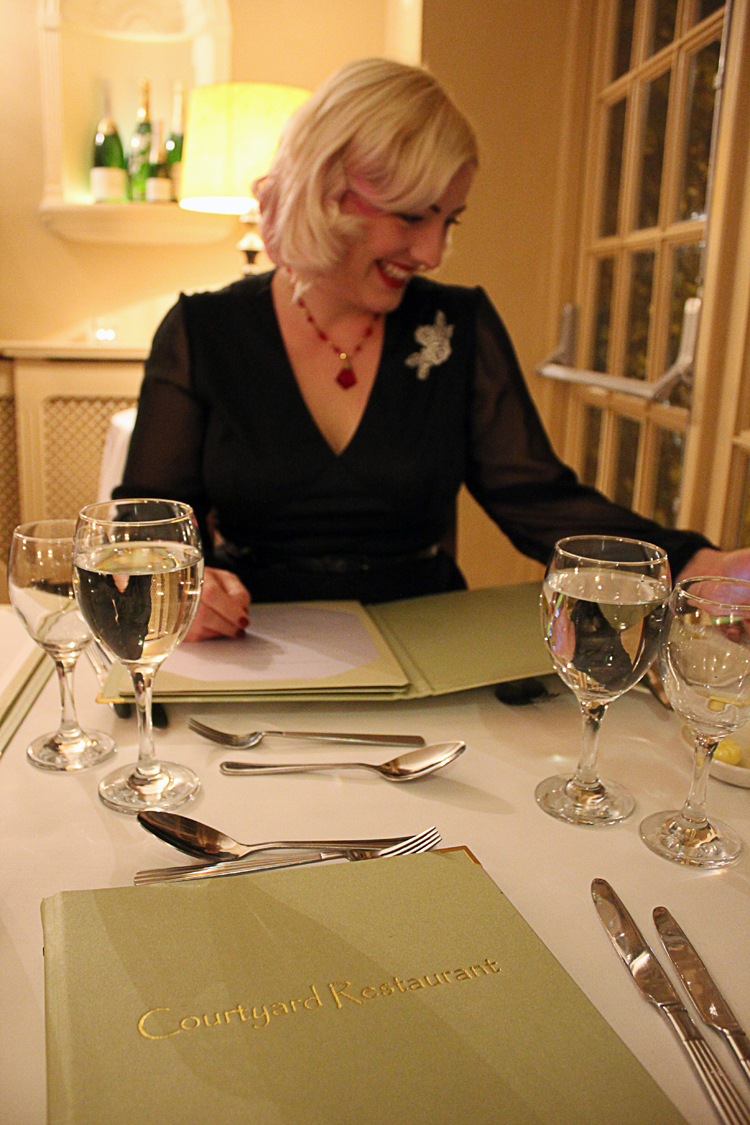 Slightly tipsy and stuffed with food we then decided to stagger back to our room to watch TV and lounge on the sofa.
I can always tell the next day when too much wine has been consumed, not by the pain in my head, but by the blurriness of the photos on my camera. Including one of my abandoned shoes. To a hotel restaurant and back is LITERALLY the extent of the distance I can wear these, but they were still worth it!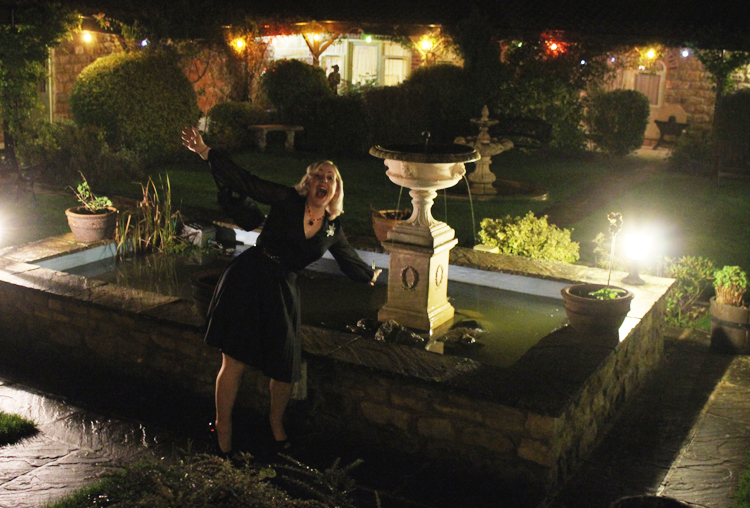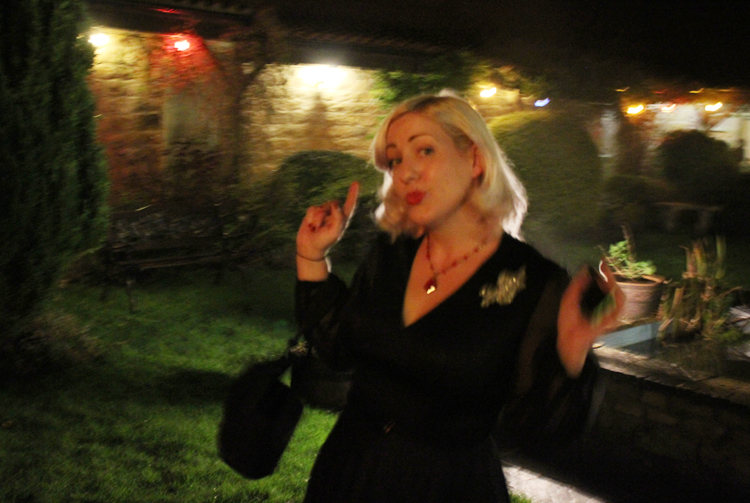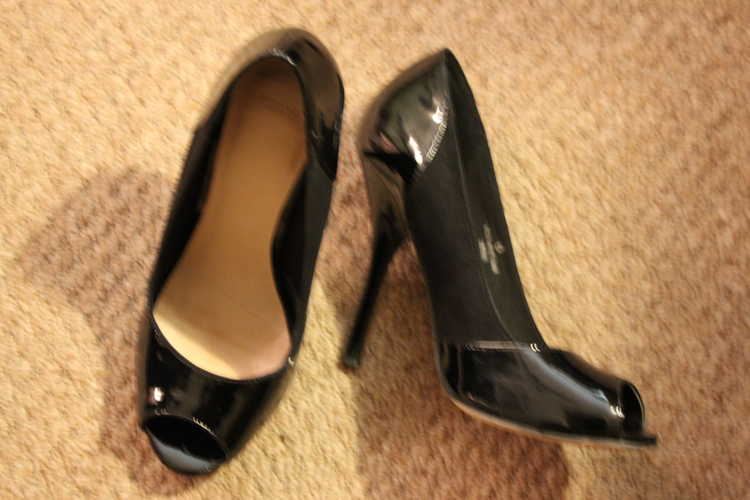 The room was a little warm overnight, as, like many hotels these days, the windows didn't open (why? I promise not to jump out!?), but we still awoke next day feeling far fresher than we deserved, enjoyed a full Yorkshire breakfast (Like a full English, but in Yorkshire) and then decided to go and explore the grounds.
Still persevering with that new pose.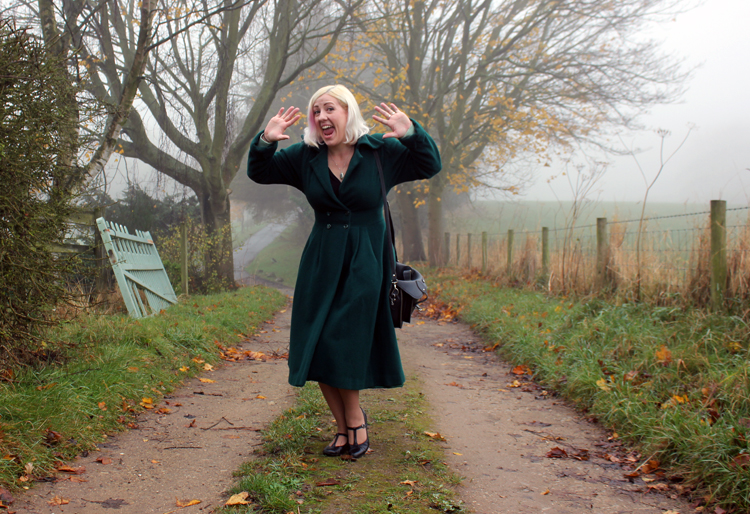 When Ox Pasture Hall originally emailed me they asked if I would talk about the fact that the hotel does weddings, and I said I wouldn't really have much call to talk about weddings, as I wasn't planning one myself. However, as we were walking across one of the courtyards Mr Chick suddenly declared "Wouldn't this be a lovely place for a wedding", so apparently I do. They have a function suite, which I never saw, but the grounds really would be lovely, with lots of little nooks and crannies to wander off and sit down in with a glass of wine on lovely warm summer days. So yeah, there you go. If you're "up North" and planning a wedding take a peek at Ox Pasture Hall Wedding Facilities, it's lovely.
All the pictures on the website are of the gardens looking all Summery and lush, but I thought they were even lovelier off season in November. It was really misty while we explored, but it was beautiful and I could kind of imagine myself as some kind of Victorian romantic heroine taking a walk on the Yorkshire moors.
And that was it! All that remains is a 5 hour drive back to Norwich, during which we planned an imaginary "North" holiday next year, during which we would spend more time in Harrogate and eat some of the poached eggs we kept seeing people ordering at Bettys, spend some time in York, which we didn't see much of last time we visited as we got food poisoning, poke around in tiny pretty villages, check back into Ox Pasture Hall for a night of luxury and actually make it to Scarborough proper to go to the seaside.