In today's spot I was hoping to post a lovely outfit post.
I have some new things I'm just dying to wear, but unfortunately I have done something to my back and me standing like a little old lady do not beautiful outfit posts make. Last Friday I was bending down to get wax strips off the bottom shelf in Boots (not for me, to torture boys with, long story) and when I tried to stand up something spasmed and I ended up bent double in Boots. I hobbled home, and spent 2 days barely able to move, bent over like an old lady. On Monday I had a sports massage, which helped straighten me up a bit so I'm a lot more mobile, but I'm still very stiff and achey. To top it off, Mr Chick has also been very ill since Saturday and I've been attempting to nurse him back to health while also not catching whatever it is he has.
I also can't spend too much time sat at my laptop before I start to seize up, so today, instead, I thought I would share with you one of my new favourite products that I use for EVERYTHING. Coconut Oil.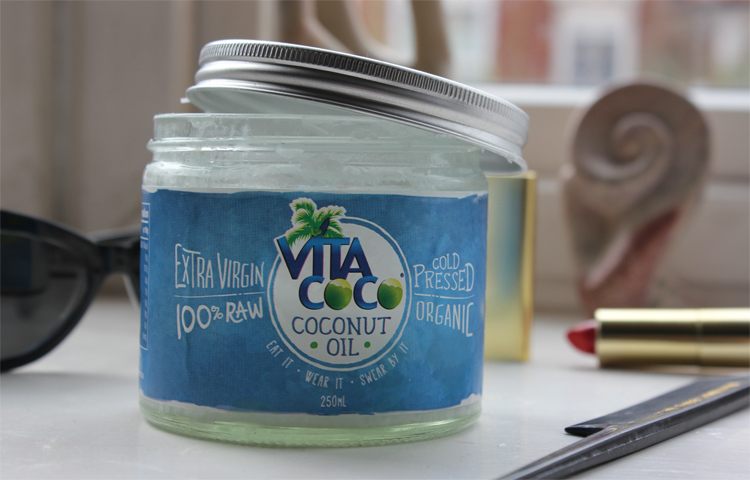 This particular jar was sent to me by VitaCoCo, but I've used other brands in the past. At first I thought it seemed kind of expensive for oil, more expensive than Olive Oil certainly, but the fact that it's a solid oil rather than liquid actually makes it really handy to use for a whole range of things that AREN'T cooking!
Moisturiser
Coconut Oil makes an AWESOME moisturiser. I use it as a hand cream mostly, it's excellent for cuticles, but in the winter when I turn into a scaly dragon I've also been known to use it on my face.
You can also use it as a body moisturiser, and being coconut it smells gloriously tropical. A jar actually works out cheaper than a big tub of body cream.
Lip Balm
Ok, this ones kind of just another version of "moisturiser" but it makes a good lip balm!
Bath Oil
I love using it like this. Just add a big handful of Coconut Oil to your bath when you run it and then relax in a bath that smells like a tropical paradise and emerge with beautiful soft, moisturised skin.
Shaving Oil
Yep, you can use to shave your legs with! I find if I use it in the bath I have enough oil on my legs to use it as a shaving oil, but you could also grab a handful.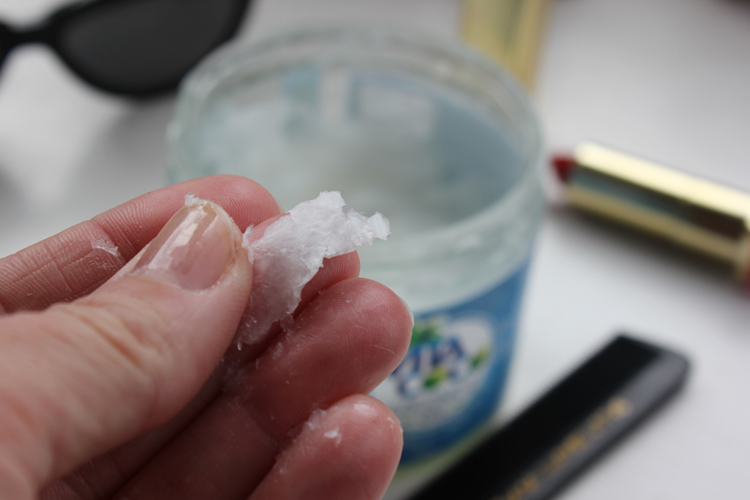 Multi Purpose Hair Product
You can use it as an intensive moisturiser by massaging it into your hair and leaving it for a while before you wash it, or it works similar to a pomade to calm down frizz if you rub a little between your fingers and rub it into the ends of your hair.
Massage Oil
I've been using it over the last few days to massage my back a little and it makes a lovely massage oil. It's not messy as it starts off solid and only starts to melt with the heat of your hands and has a subtle coconutty scent.
Make Up Remover
You can use Coconut Oil to remove make up and leave you with silky smooth skin in much the same way as you use cold cream or any other cleansing oil. Massage it into your skin, and then use a face cloth rinsed under hot water to remove it. I find my skin feels super soft after doing this, so it's great to use in the winter when you need a bit more TLC!
I've also heard that Coconut Oil is nice in Coffee, I haven't tried that yet, though I might have a cup of coffee with my lunch……..