Well, I know this one is technically a day late, but yesterday was a long, long day and I figured it wouldn't hurt to combine 2 days into one!
After being sensible Gem on Saturday and resting my back a little, I headed off to London to spend the night in advance of taking part in the Nike #WeRunLondon Womens 10k on the Sunday. We stayed near Stratford station, and I am hereby officially declaring Westfield in Stratford as one of my most hated places on Earth. I swear I have a panic attack just walking through the doors. So much noise, so many people, so huge and easy to get lost in and so full of insanely expensive restaurants that make you wait half an hour for a table and then rush you out as soon as possible after your expensive and unrelaxing meal so they can fit someone else in. After I'd worked myself up into a state I did enjoy a nice relaxing glass of wine in the bar of the Holiday Inn watching the sun go down over London and the lights start to twinkle.
I was running as part of Team VitaCoCo and dutifully got myself up and dressed super early on Sunday to head round to Victoria Park near Hackney Wick and meet the rest of my crew!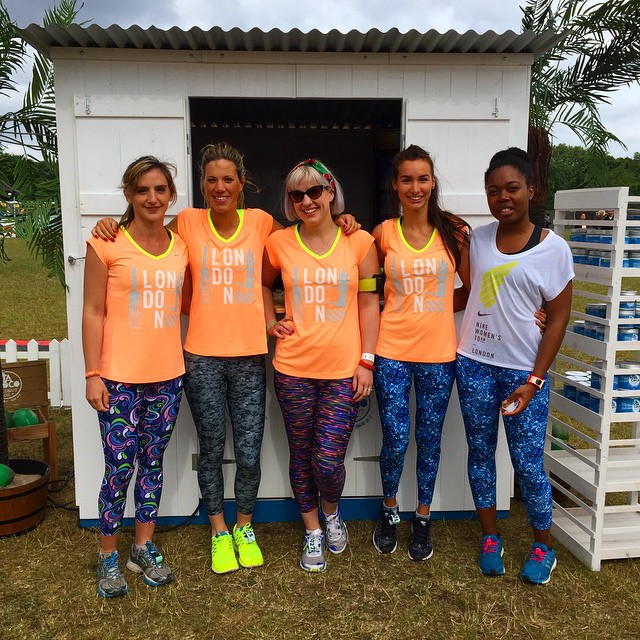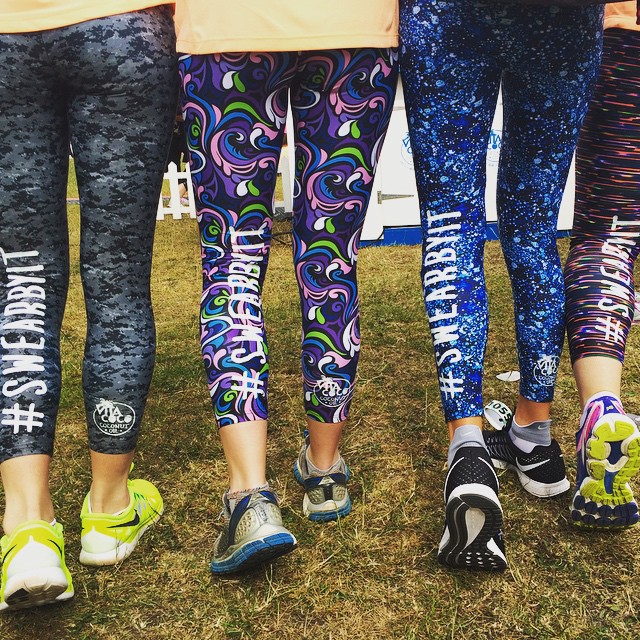 The VitaCoCo stand had some delicious protein balls made with Coconut Oil, I have snagged the recipe and will be giving them a try soon!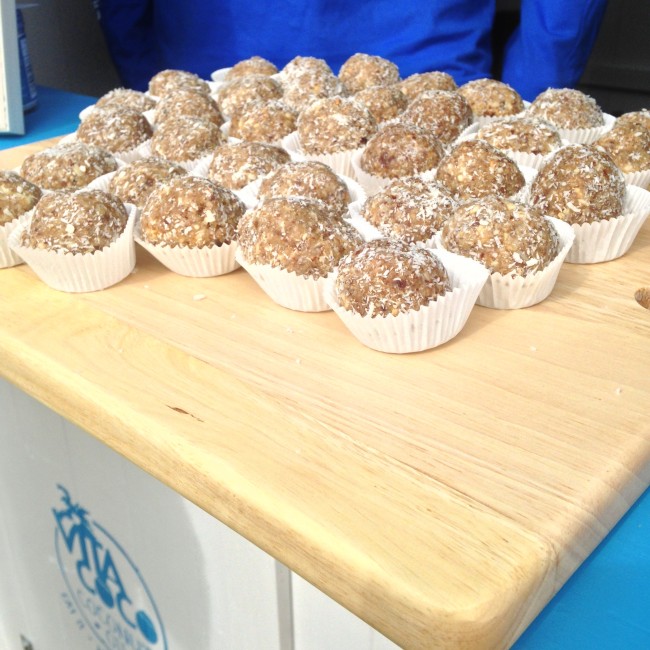 The Race was one of the best organised I've ever been to, although I had an hour and a half to hang around before the race started there was plenty to do, though they could have done with an extra coffee stall as the queue was super long!
We were funnelled into our colour coded start pens at 10:30. I was in green, which was for a sub 1 hour 10k, thought the chances of me making that when I couldn't walk up stairs on Friday were pretty slim. I hovered around near the back of the pen, trying to stay out of the way of speedy looking people while an organised warm up took place. I didn't take part in the organised warm up as my back was still held together with Rock Tape, Ibruprofen and hope, so I didn't want to hurl myself around too energetically before the race! The warm up took some time, so it was closer to 11am before the obligatory shuffle across the start line took place.
I can safely say this was one of the most enjoyable races I have ever run. If you were PB chasing you could easily have got one as the course was flat and wide, so I had no problems weaving around slower runners or getting caught up. Yesterday, due to circumstances outside my control obviously, I was out to finish as well as I could and have fun, no PB chasing for me, and the race was absolutely awesome, as well as water stations from Smart Water there were people handing out orange wedges on the course, which were really refreshing as the sun came out from behind the clouds.
There were also steel bands, string quartets, cheer leaders, confetti cannons and inspirational messages on signs along the side of the course as you went round, which made it one of the most inspirational and least boring runs I have ever done. I wish all races could have roadside entertainment!
Running with 10,000 women all wearing matching peach running tops was also a pretty amazing feeling, like we were all in it together. Though apparently it made it kind of hard for spectators to pick out their friends!
My running experience was only slightly marred by the fact that my snazzy leggings were of the kind with a smooth waistband, no extra elastic, which made them super comfy, but meant I had to hike them back up at every 3 or 4 steps to avoid ending up running with my leggings round my knees.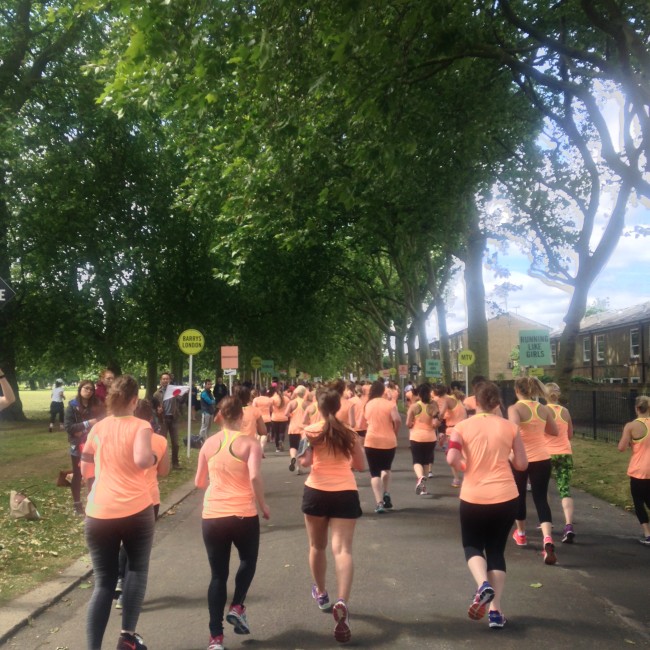 I finished in an "Ok considering I could hardly walk at all on Friday" 1 hour 4 minutes and 37 seconds, which also includes the toilet break I took half way round. The first time I've ever done that during a race and probably down to that huge bottle of Smart Water I foolishly took at the first water station!
The finishers packs were pretty kick ass too. As well as the obligatory water and banana there was goodie bag which contained a sample of VitaCoCo coconut oil which was handy for soothing my dry skin, a Birchbox with a facial spritz and deoderant spray in it, which was handy to freshen up before heading to the bar for my free glass of Frexienet to celebrate!
The finishers medal was also a rather cute "finishers necklace".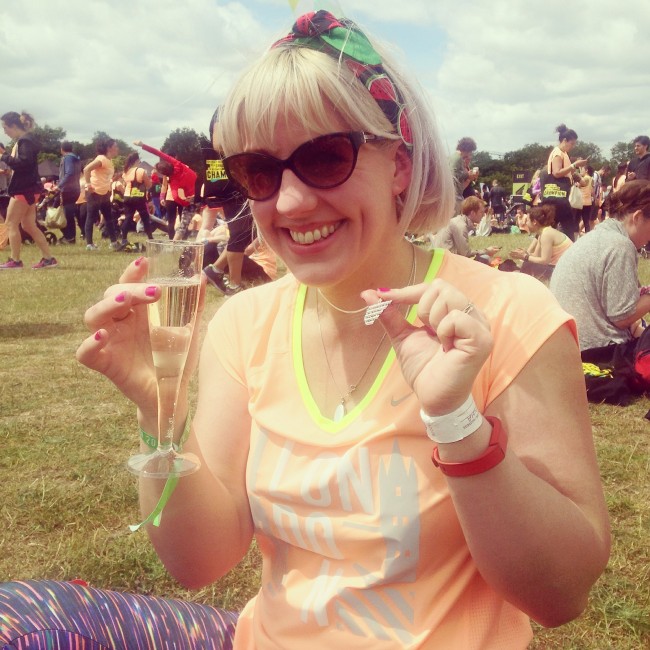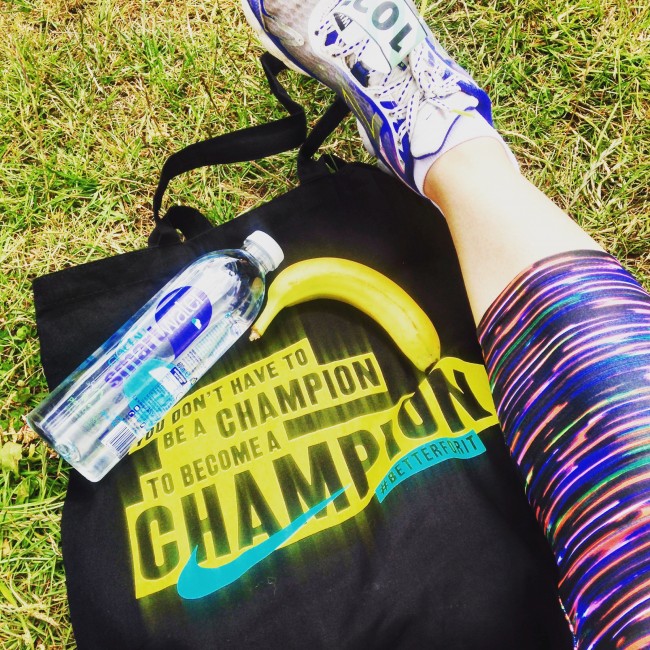 So then it was off for a couple of beers at the bar and steak and chips from one of the numerous food vendors to reward myself for the effort before getting the train back home again.
I had an amazing day, and I really enjoyed running for team VitaCoCo. I've been using their Coconut Water to hydrate during and after workouts for ages, and I love adding Coconut Oil to a nice hot bath post run! I can't wait to try and make these Protein Balls either, they were delicious yesterday!
Today, I woke up pretty exhausted and todays exercise is confined to 20 minutes of nice back friendly Yoga and a short walk into town for a meeting, but considering yesterdays Fitbit looked like this at the end of the day, I think I've earnt a bit of a rest!