Regular readers will have noticed a possibly blissful lack of my ramblings last week.
The reason for this was that I went on holiday and was in no way organised enough this year to arrange some scheduled posts to make the blog feel lively while I was away.
We started the holiday with a couple of days camping in a cabin in our patch of woodland, which I have talked about before, then we moved onto West Sussex for a couple of nights in a holiday let that I was REALLY excited about!
A mild obsession with Poirot, the 1930s and the golden age of rail travel prompted me to write about some places you could holiday on a train all the way back in 2011. Since then I've got to travel on the Orient Express, and taken a holiday in a vintage train carriage, which has only served to make me more obsessed. Then a few weeks ago one of the places I wrote about all the way back in 2011 got in touch with me and told me they had a few days availability and would I like to try it out.
Um, let me think. YES PLEASE!
The Tulip in Selsey is a single storey holiday let with its own private beach in West Sussex. It sleeps up to 10 and has large spacious light and airy rooms with contemporary decor, but gorgeous bits of vintage paraphernalia dotted around.
The BEST thing about the cottage though (apart from the private beach, but more on that in a bit!) is that the centrepiece of it is an old first class train carriage. The carriage was built in 1897 in the US and shipped to England where she was part of the Folkestone train until 1914, and then used occasionally until being finally withdrawn from service in 1930. Many prestigious guests were carried in the Tulip (says the blurb on the wall!), but after being taken out of service she was sold at auction and moved to Selsey seafront where she became more and more dilapidated. The interior, however, was never touched. So apart from a few living changes and the removal of seats she is just as she was when she was built.
My biggest disappointment was that there is only a single bed on the train, so I couldn't really sleep there without relegating Mr Chick to a room on his own, but it also contains a toilet, sitting room and dining room all of which I did use. It's way more fun watching Mock the Week on a flat screen TV in a Victorian 1st class train carriage than it is in my boring old front room, and eating breakfast in a train carriage with windows overlooking the sea is a pretty amazing treat!
I also loved how the train is built into the property, so from the big living space along the back one of the walls was actually an exterior train wall and the doors in and out at either end still looked like a train.
The details of the interior were delicious, including those amazing luggage racks, elaborate carved  hinges and handles (do you carve metal? I can't think of the word?) and wood panelled walls (they're definitely carved!)
After the fact that it was a train, my next favourite thing was the balcony that runs along the front of the house. It had an amazing view of the sea and the tide going in and out whilst being protected from the sea breezes, which in the UK are often more like "sea force nine gales". I sat there for hours every day, just doing not a lot, admiring the view.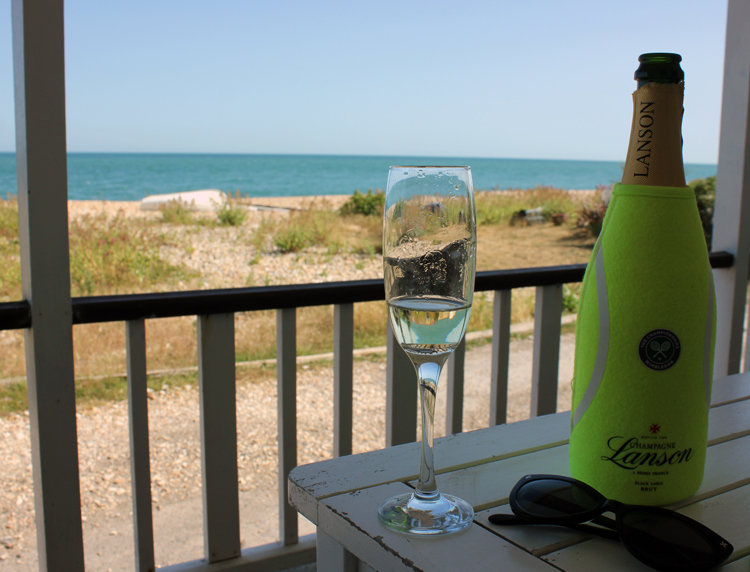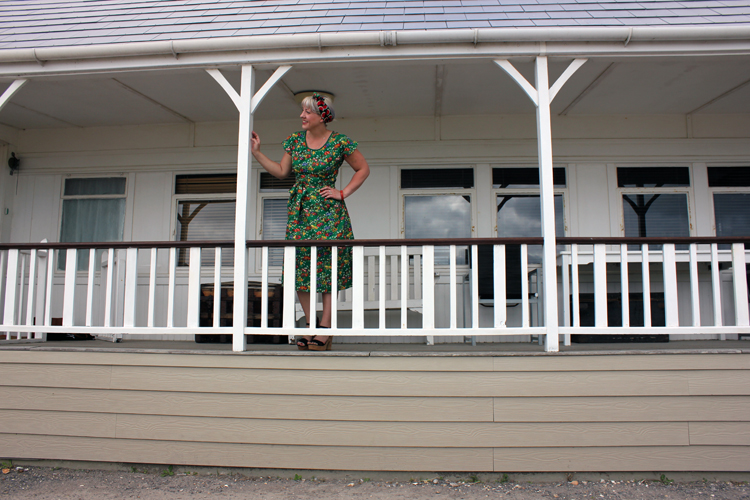 We only had 2 nights at the Tulip, but we managed to squish a lot in, and if you're looking for a holiday spot in the UK this one has my wholehearted recommendation!
The night we arrived we had dinner on the balcony and then went for a walk on the beach as the sun went down, in my pyjamas, because it was OUR beach, and therefore technically I was just wearing pyjamas at home, right?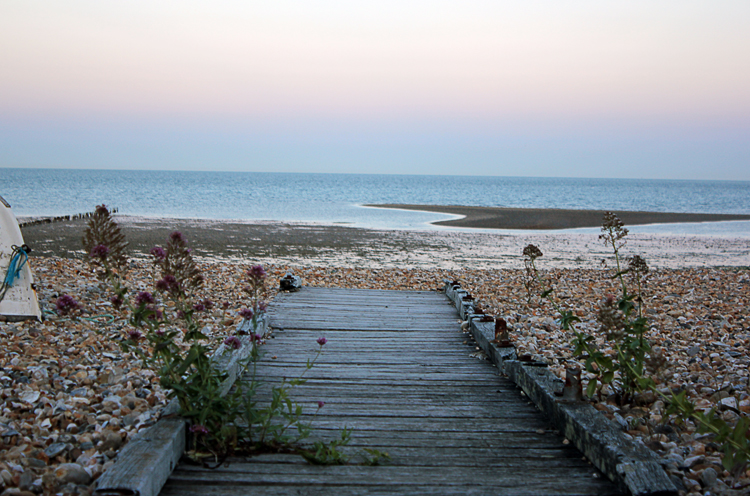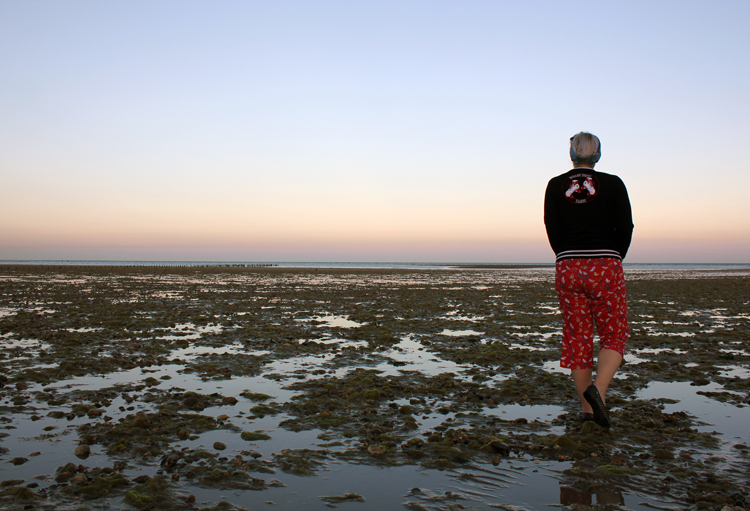 The next day we drove into Bognor Regis for supplies and for a quick seaside wander. I have to say Bognor wasn't as excitingly full of sea-side tat as I'd hoped, though there was a fortune-teller opposite the pier. If you're an OAP, there are loads of discounts at the cafes though!
I will say that the Fish and Chip Shop on Bognor Pier does pretty awesome Fish & Chips, twice cooked chips, which meant they were divinely fluffy on the inside and crispy on the outside.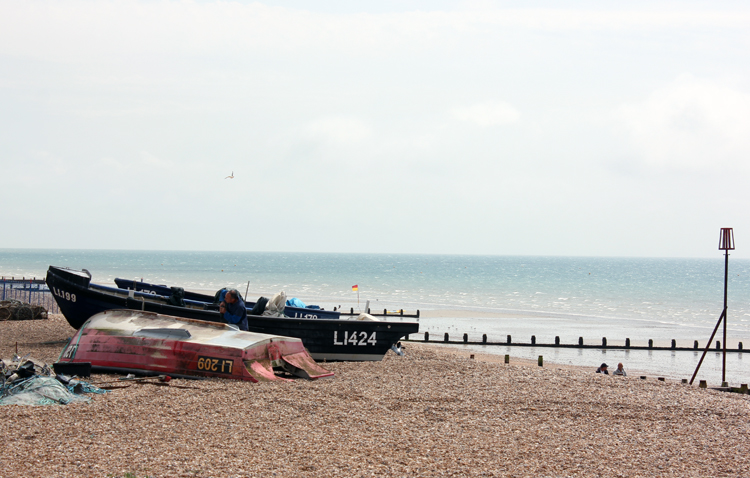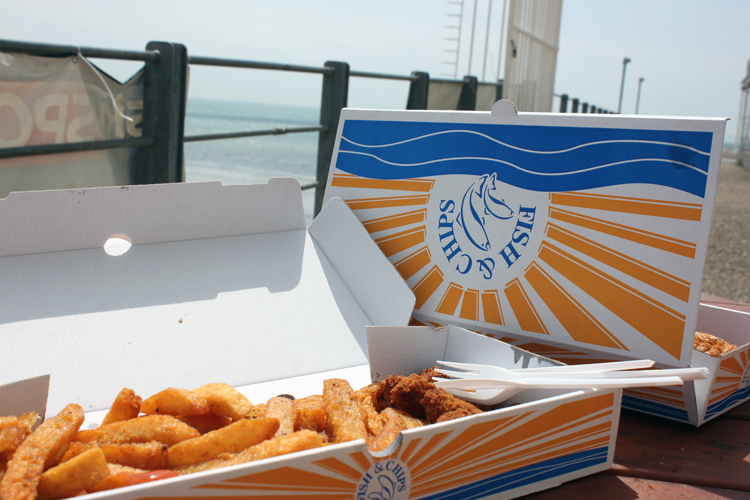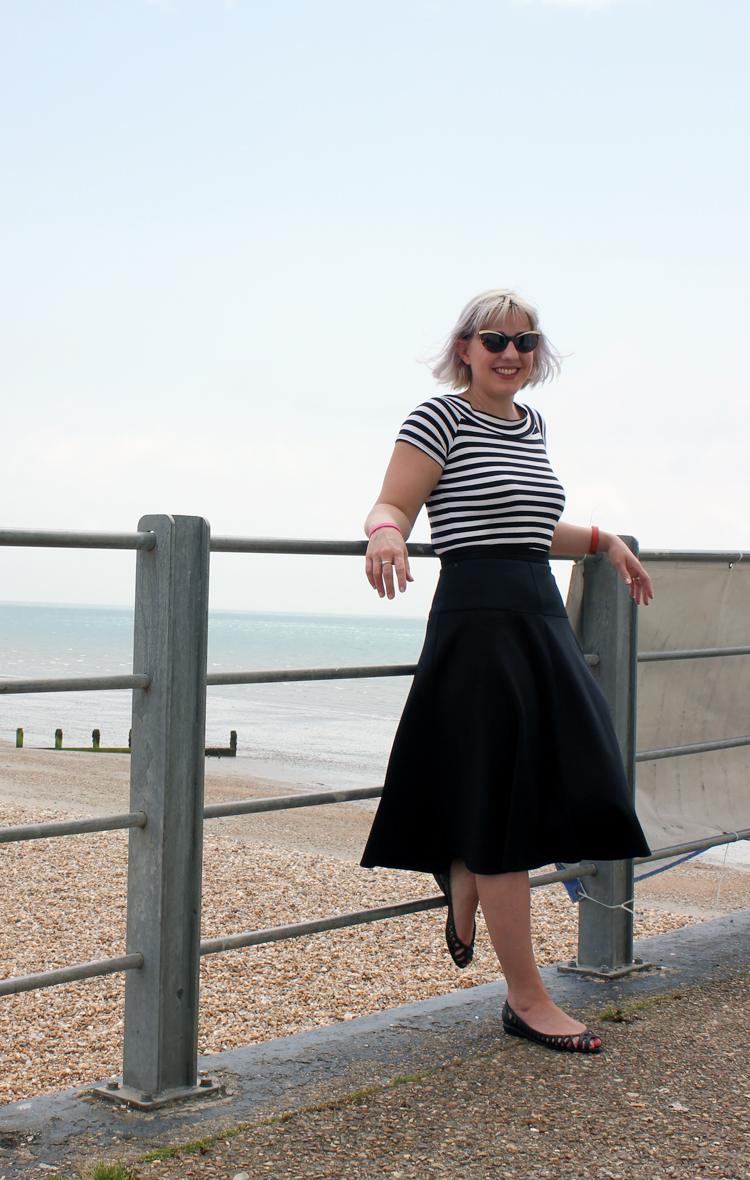 In the afternoon we went for a run along on the beach, which was lovely in one direction, then we walked home once we discovered that "sea breeze" was impossible to run into. I thought I was suspiciously fast on the way out.
We then, rather optimistically a sensible person might say, decided that we should have a barbeque on the beach for our last night. We hunkered down by sea defences to fend off a bit of the wind and spent 20 minutes desperately trying to get a lighter to stay lit and set fire to the coals of our portable BBQ before we finally succeeded in doing what mankind has been doing with sticks for millennia and making fire to cook on.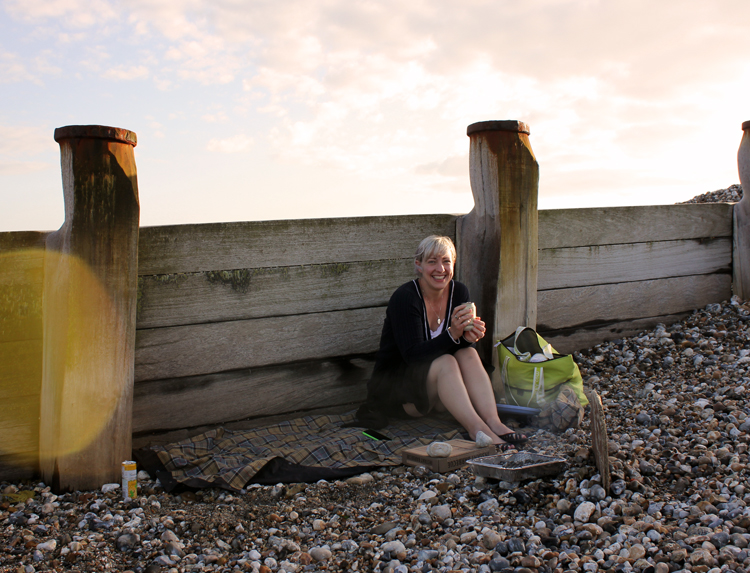 We cooked not only the biggest, juiciest, tastiest burgers, but also some prawns, which I have never done before. This was pretty much the culmination of a lifelong ambition. I have now cooked prawns on a "barbie" on the beach, like I'm some kind of Australian surfer dude. I think that is now all my barbeque related ambitions fulfilled.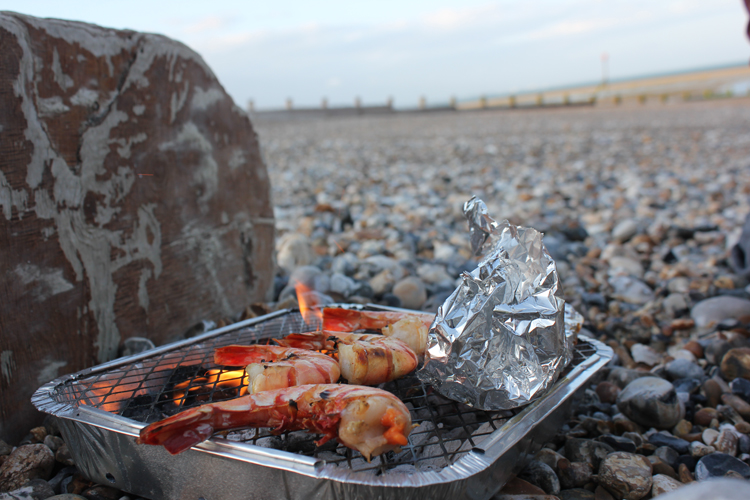 After the burgers were eaten and the coals were starting to die down we lit a firelog that was provided at the cottage and settled in to watch the seagulls soaring overhead and the tide gradually going out as the sun sank lower. It was peaceful, I was relaxed, I was warm from the dying coals and the firelog.
Then a gust of wind caught the tin foil BBQ and showered me in hot coals.
It also showered my Barbour picnic rug, which fortunately made it through with just 2 small holes (it's lived in), melted the inside of my jelly shoes, burnt right through the strap of my DSLR and caused me to lose an entire can of Honey Whisky & Lemonade that I had only just opened as it glugged into the pebbles while Mr Chick & I danced around like morons trying to save our belongings and my singed feet.
We sat back down, but to be honest it wasn't quite as relaxing after that, so we rolled the remains of the firelog into the sea and headed back to the balcony to eat buns from the village bakery.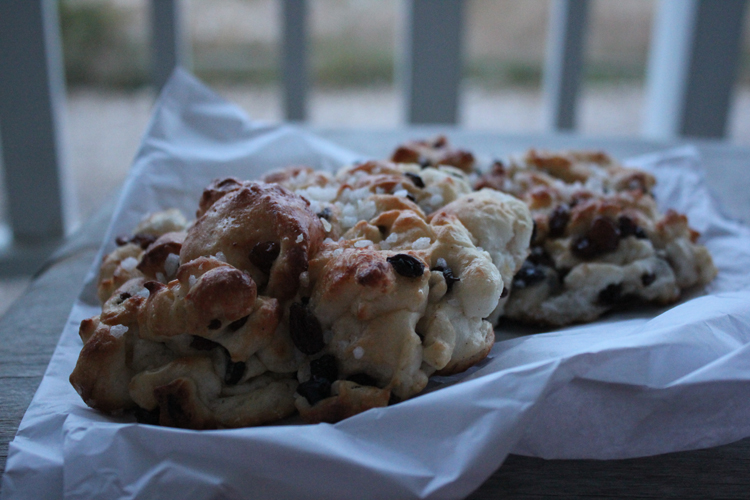 And so ended 2 days of blissful seaside relaxation, with me trying not to cry about the fact that my every day life doesn't contain more champagne, sea views and train carriages made into living accommodation.
My new ambition is now to attempt to visit ALL the places from that 2011 post. In the future I shall be attempting to take all my holidays on trains.
The Tulip at Selsey sleeps up to 10 and costs from £1495 a week in the low season. If there are just a couple of you and you want a more affordable option then they do special offers on late availability midweek breaks at the end of July for just £695.
Visit the website for more details!
Related