It feels a bit weird calling this "Local Love" seeing as we all know Jamie's Italian is a chain.
Despite being part of a chain each place will always have it's own personality and staff, and this post is solely about Jamie's Italian in Norwich. I can say that with some authority as I actually recently went to a Jamie's in Westfield Stratford where I felt significantly less happy and relaxed when I left, but then I hate Westfield Stratford with an irrational passion, so that's not really a surprise.
Any way, enough burbling, I was asked if I would like to review the Norwich Jamie's Italian and thought it was a nice opportunity to treat Mr Chick to dinner out at the end of our holiday, so I said yes.
The restaurant is at the end of the Royal Arcade, which is a beautiful Art Noveau shopping arcade, all marble and wooden frontages, which means the building is already gorgeous with curved windows at the entrance and decorative tiles above.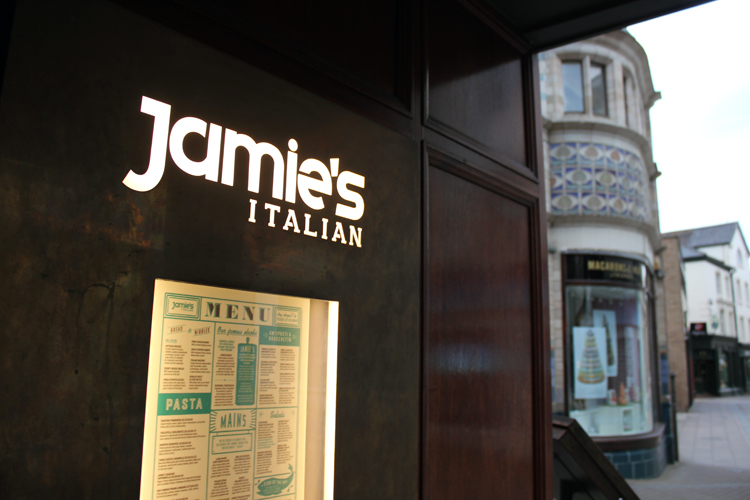 Before we go inside though, lets start with the important stuff, what did I wear? Because I was going out for a nice dinner and cocktails and I actually made an effort, I put my hair in a beehive while I was watching the tennis and everything.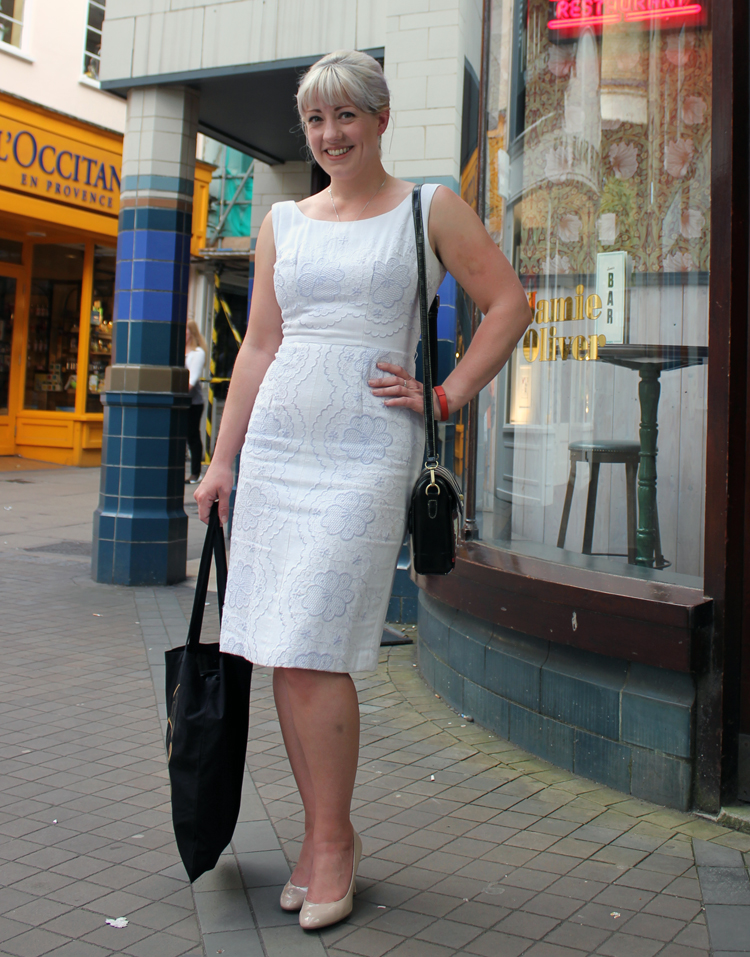 ♥ Wiggle Dress – 50s Vintage ♥ Shoes – Nine West ♥
♥ Handbag – Vendula *♥ Tote Bag – Defo Totes *♥
♥ Bruises c/o Roller Derby ♥
This also gives me a chance to crowbar the awesome tote bag I'm carrying in as well. I've been trying to find a way to do it for ages because I love it! It's made by a Roller Derby friend of mine who has started a company called Defo Totes. This print is inspired by her adorable French Bulldog Dax, but the plan is to introduce new prints by local artists in the future. The bags are all printed with environmentally friendly inks and are Fair Trade as well. I wish my evenings out were light weight enough for a tiny handbag, but quite apart from the fact that I often walk over a mile into town so need to carry flat shoes, I often also have my DSLR camera with me and other stuff it's handy to have a funky tote bag with me to fling it into and I much prefer one that doesn't have advertising slogans all over it!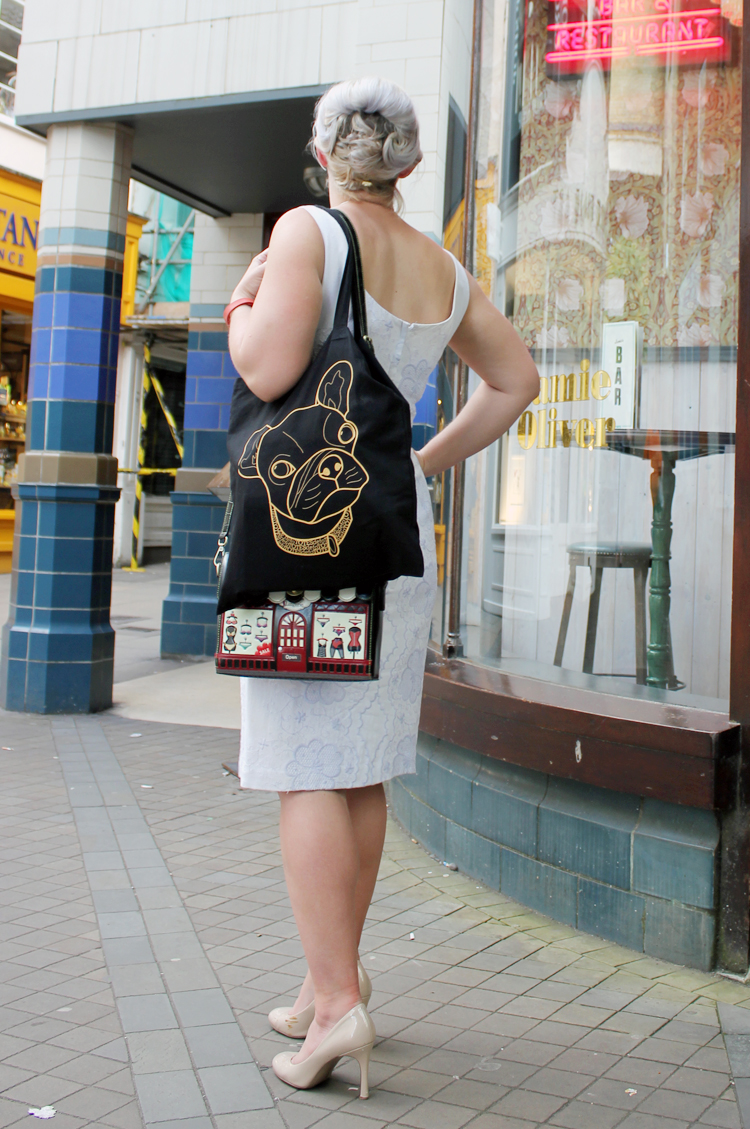 Jamie's Italian in Norwich is pretty gorgeous inside. Downstairs is a glamorous curved marble topped bar where I had cocktails during Norwich Cocktail Week last year and a charcuterie counter with a few tables. There are also a LOT of opportunities to shop and buy Jamie Oliver branded books, pasta, tea towels and chopping boards which I found a little off putting. Up until then I was busy indulging myself in a pleasant fantasy that the warm weather we were having meant I was really in Italy and I'd just stepped into a dark little restaurant on a side street in Rome, and then I rounded a corner to be faced with racks of Jamie's face staring at me from a wire rack, but at least I know where I can get a cookery book if I need one!
Upstairs houses the main dining room, which has a large central area which is busy and bustling. Around the sides of the floor are some quieter, more intimate tables, which is where we were seated on comfy velvet chairs with some rather sexy wallpaper and light fittings to admire.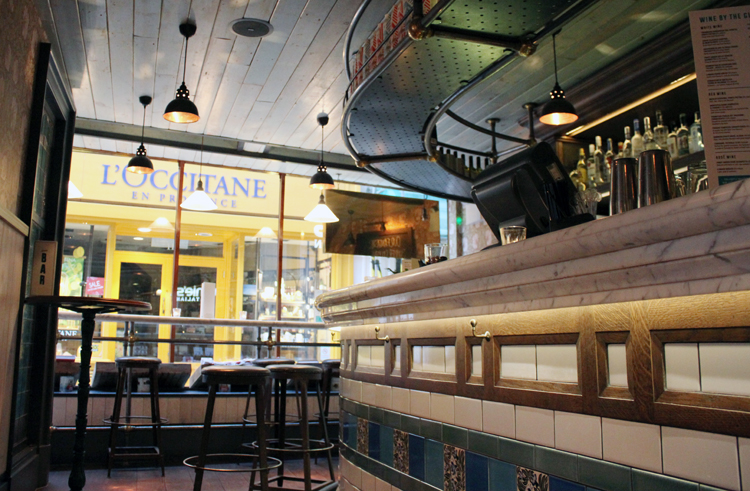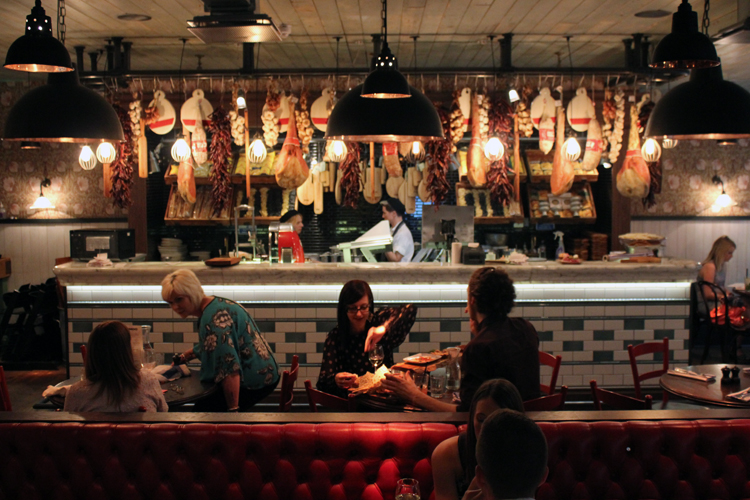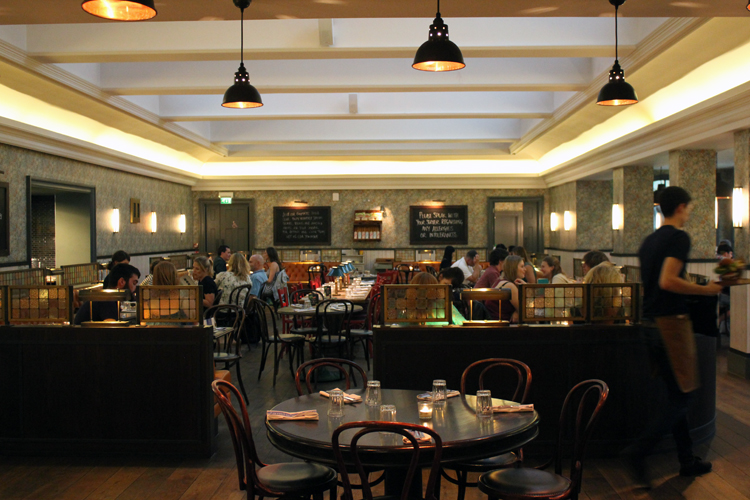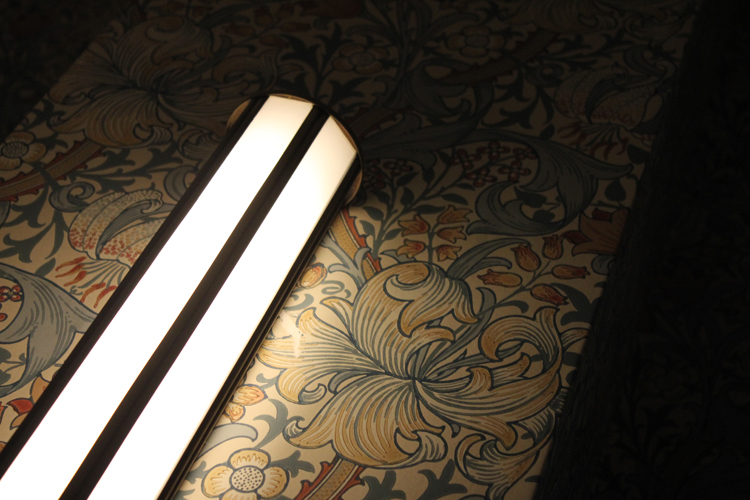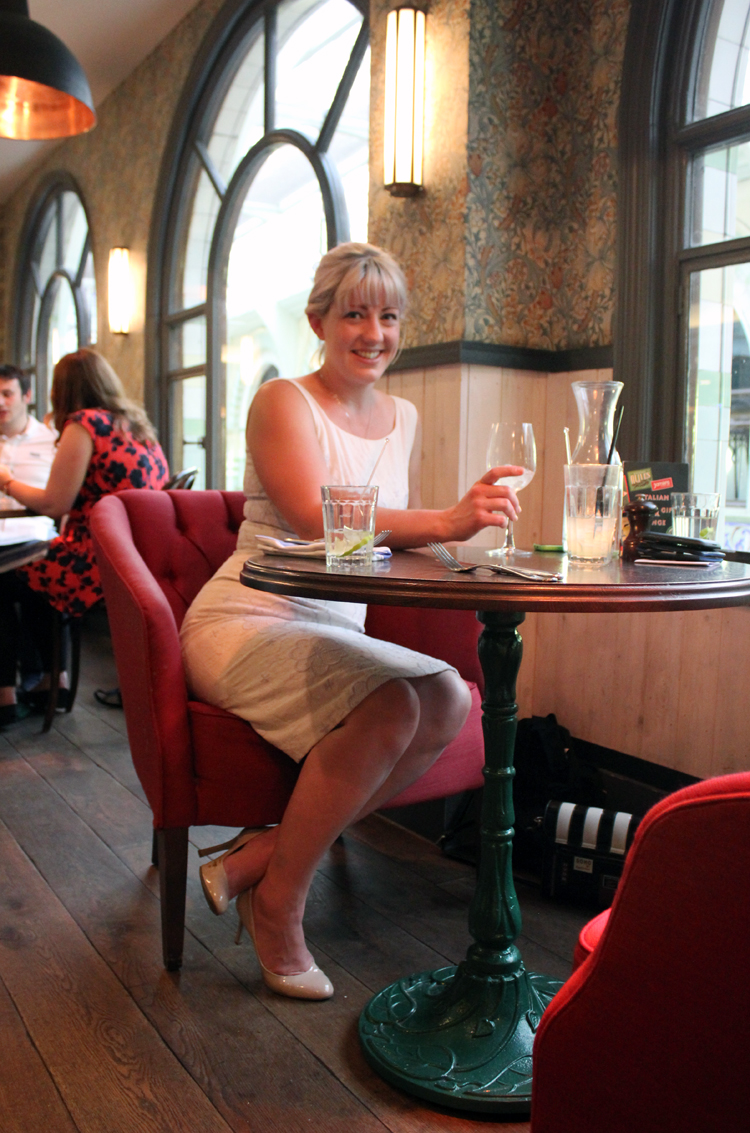 We had a lovely friendly waitress, and we didn't feel rushed to leave at all, our food came at respectable intervals and we were in the restaurant for about an hour. I can't stand it when restaurants have barely let you finish your last bite of your starter before they're handing over your main course and you're out on the street again after 20 minutes £75 poorer, but then neither do I like sitting around looking at empty plates for 20 minutes, I'm pretty darn picky really I guess!
I had mushroom risotto to start and Mr Chick had Crab Arancini, followed by Frito Misto (fish!) and Turkey Milanese with funky chips, polenta chips and green beans on the side. It wasn't cheap, but, and I am impressed by this as if there's one thing I can do it's EAT, the portions were big enough that we couldn't manage all the sides. My top tip, one portion of chips is enough for 2 people!
The desserts looked equally delicious, but there was just no space left inside that wiggle dress for more food, so we ordered espresso and I had a Limoncello and attempted to look all sophisticated like I was Sophia Loren or something and failed miserably.
Jamie's Norwich is definitely a lovely place for dinner in stunning surroundings, and they're on board for Norwich Cocktail Week 2015, as an added bonus! Being handy for the central Norwich shops means it's also a great place to stop off for lunch as well if you want something a bit nicer than a sandwich from Boots!
Big thanks to Jamie's for having us and letting me treat my husband to dinner out! Details and bookings on their website.