I have a confession to make, I'm a huge hoarder.
If there's one thing I spend the most time cursing myself for it's my inability to get rid of things. I can't just take photos in my house because every available surface is always covered in STUFF. I have more slightly chipped 30s china than can possibly be healthy, every drawer is stuffed with pens "acquired" from hotels, old post cards, lanyards, keycards and ticket stubs that I can't possibly get rid of because otherwise I'd obviously NEVER remember that event. Shelves and tables are full of books I've never read, but might do one day, tiny models of minions I got out of Kinder Eggs, fluffy toy lambs I got at Easter, sticks of rock, bits of ribbon, packets of sliver stars, union jack flags I bought for the Jubilee and sweets that came out of goodie bags (note, this list is just things I can currently see from my chair, you better hope I don't move rooms to finish this post or we could be here a while)
I feel incredibly envious when I read other blogs and they appear to have just snapped a casual outfit mirror selfie in their immaculate yet quirky homes where everything has its place because I have to spend 20 minutes tidying up before I can take photos anywhere in my house.
Still, sometimes my inability to get rid of things pays off. This morning I woke up and was, as usual, scrolling through my phone with a cup of coffee, when a photo on instagram suddenly gave me the random urge to cut the legs off a pair of old jeans and make denim shorts.
I'm pretty sure that the last time I wore jeans was on a holiday in 2012, when I bought a pair specially because I knew I was going to go on some healthful country walks and they might be practical. The last time I wore denim shorts was sometime around the turn of the century. But every now and again I have these desperate urges to try something different, and you have to just go with it, so I started pulling stuff out of the boxes of "clothes I never wear, but haven't got rid of" in the bottom of my wardrobe, and this is what I found.
The Denim Shorts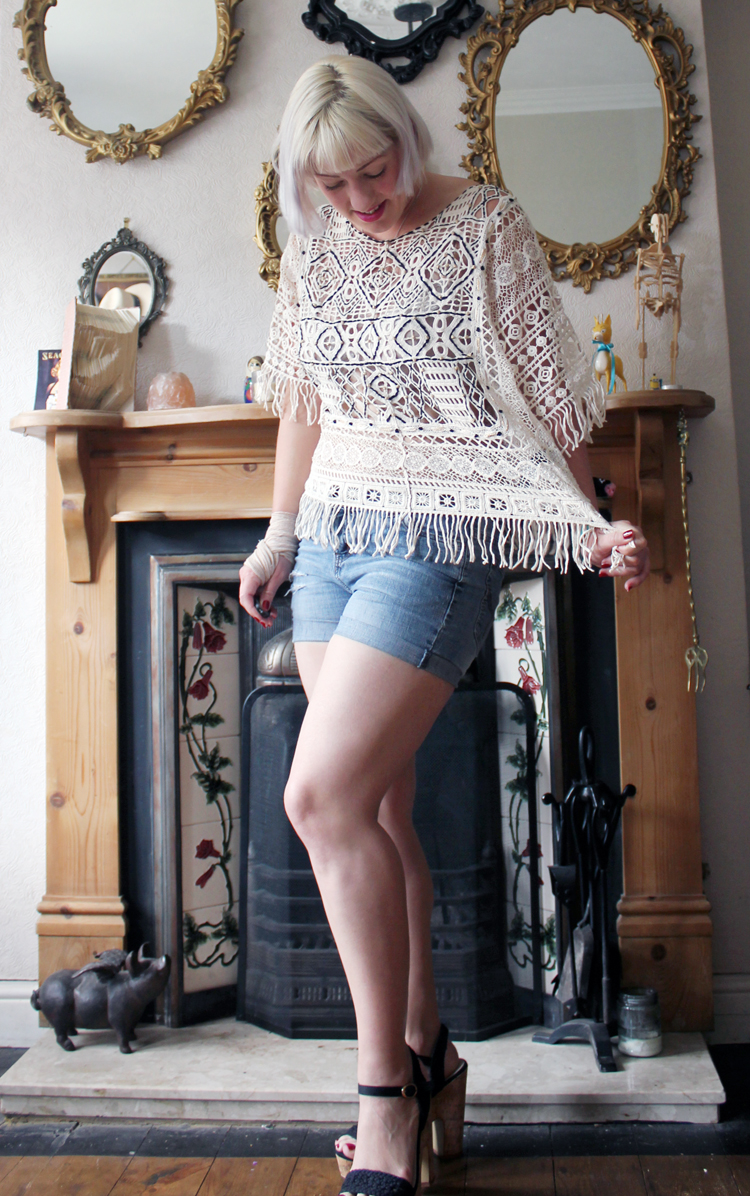 These were not denim shorts 3 hours ago, they were a pair of Primark jeans I must have bought around 10 years ago. They had several holes in them, a couple at the front that look stylishly distressed, and one on the back of the leg that just left a nice slot for thigh fat to squeeze through. Yum. Why did I keep them? Who knows, but chopping off and rolling up the legs means I now have a pair of denim shorts. Am I any more likely to wear them as denim shorts than as jeans? Only time will tell.
The top I am wearing them with has a not at all fascinating story all of its own. A week or so ago I got an email from Somersby Cider that said "Hey, your festival outfit designed by Lily Allens stylist is ready!". To which I replied "What Festival outfit designed by Lily Allens stylist" and they said "You know, that Festival outfit Lily Allens stylist put together for you, send us your address" so I sent them my address and went back and investigated my emails.
Back in March I got an email from Somersby Cider offering to send me a personalised ice block, I didn't reply, because I wasn't sure I needed a personalised ice block really, then I got an email asking for an address to deliver my personalised ice block. When I told them I was in Norwich they said they were very sorry, but they couldn't send a personalised ice block that far, so instead they sent me some photos and a video of my personalised ice block, and suggested that closer to the Festival season I might be interested in perhaps being involved in a campaign with Lily Allens stylist. That was the last I heard until now. So, that very long and involved story means that the Topshop top I am wearing above was apparently personally picked for me by Richard Sloane (Lily Allens stylist, in case you hadn't guessed) for me to wear to a festival to which I am not going as I last went to a festival sometime in the 90s.
Still, it goes nicely with my new denim shorts and they did also send me some cranberry and apple ciders, which were very tasty.
The Pink Silk Dress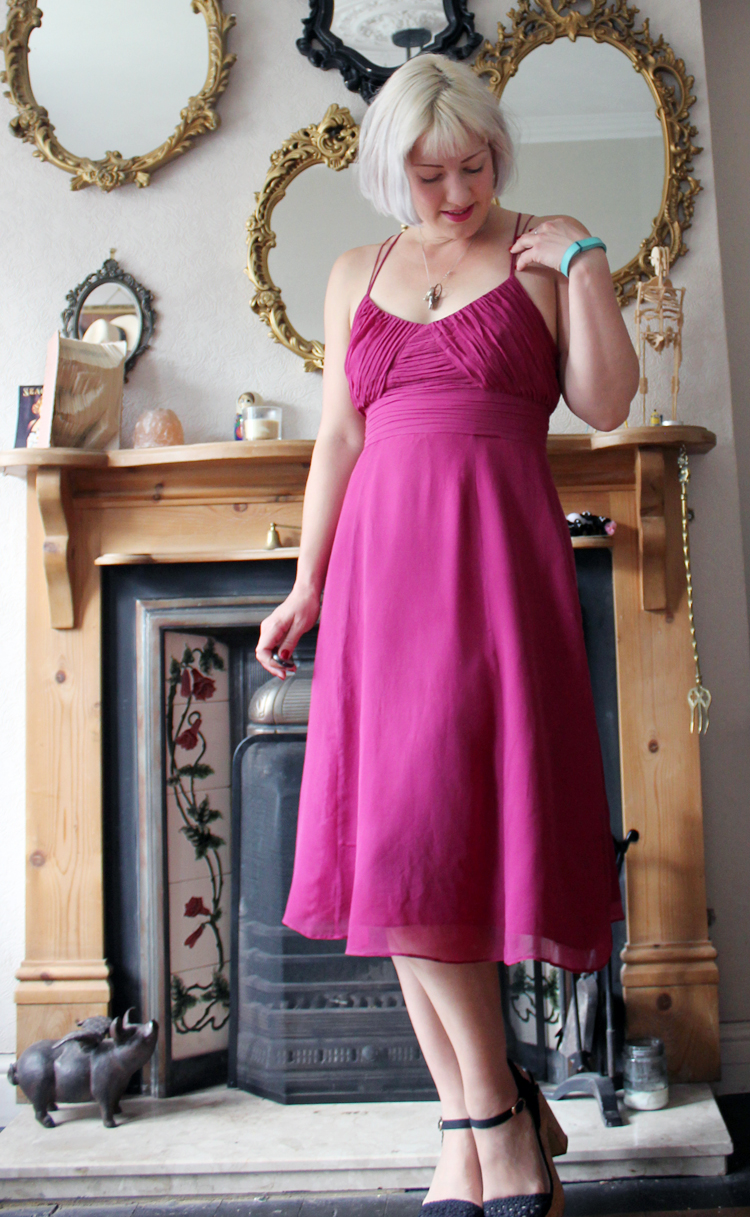 This is just the weirdest find in the bottom of my wardrobe.
Circa 2007 this was absolutely my favourite dress in the whole wide world. It came from Oasis in the sale and I wore it a lot, I felt all elegant and grown up in it and it has the most gorgeous strappy back and pleated bodice.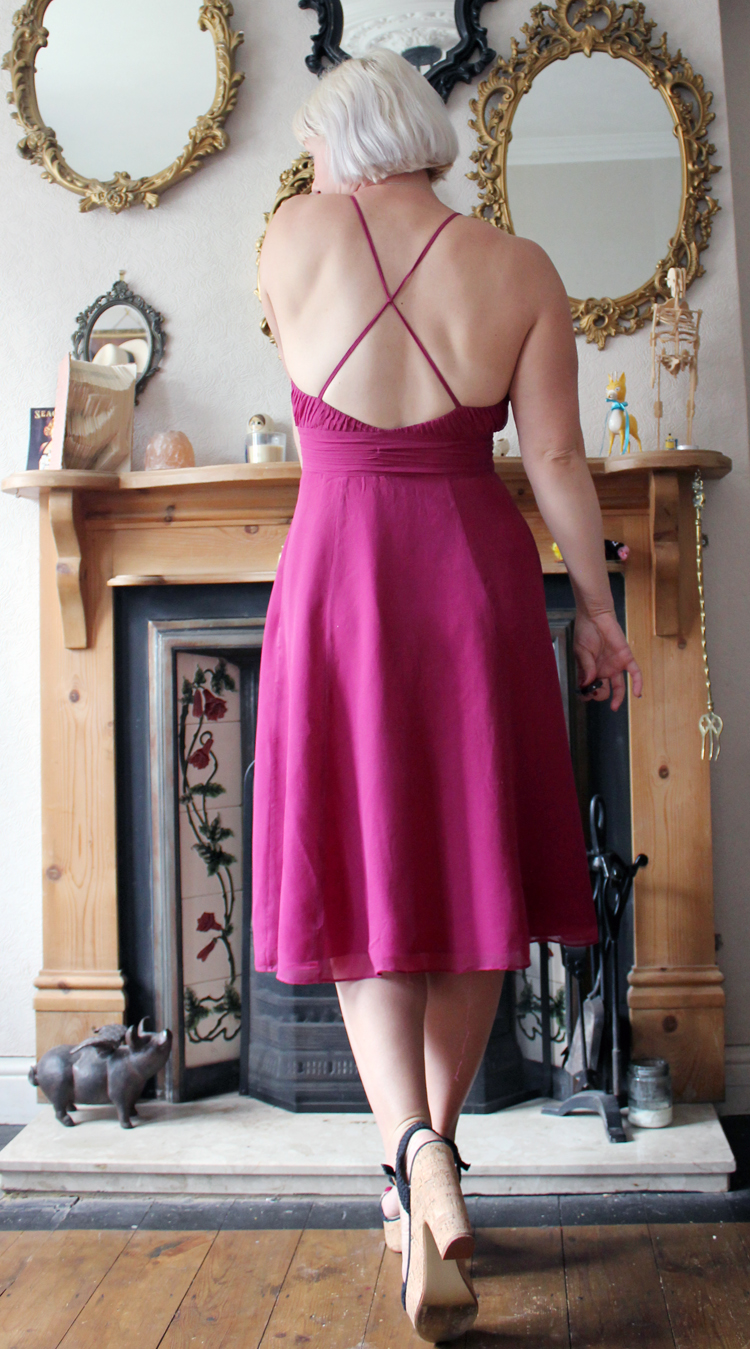 Then I accidentally put it through the washing machine, even though it's dry clean only, and I completely ruined it and shrunk it.
At least I thought I did.
For 8 years it has been screwed up in the bottom of my wardrobe, I kept nearly throwing it out, because it was ruined, but couldn't quite bring myself to do it. Then this morning, as I moved it aside I decided to try it on. I don't know why. But it fit, it wasn't shrunk at all. I can't even remember now why I thought it WAS shrunk, maybe just because it looked so screwed up when it came out of the washing machine. Anyway, all it needed was ironing. The pleats on the bodice aren't as crisp as they used to be, and maybe a more patient person could fix that, but I'm just pleased to have one of my old favourites back in my wardrobe!
The Weird Blue Tunic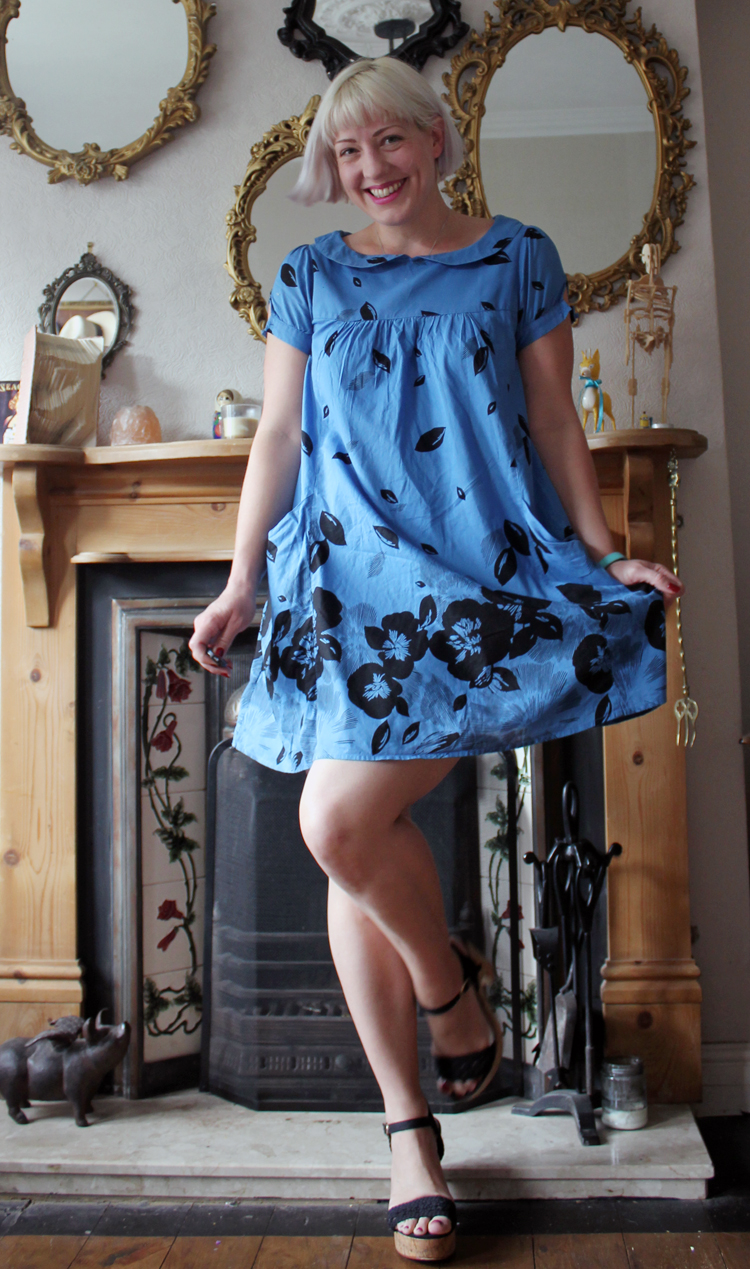 I bought this from a Charity Shop, probably about 6 years ago. It's a Warehouse tunic dress thing with pockets on the front and I've never been able to work out whether I like it or not! I think I haven't got rid of it because it feels so *useful*, it has pockets! I love a dress with pockets! I wore it a few times with leggings while camping, but I'm not a leggings for daywear kind of a gal and I don't really have the guts to wear something so short with bare legs, so what is it useful for? I still can't bring myself to get rid of it though, because POCKETS!
The 1960s Knit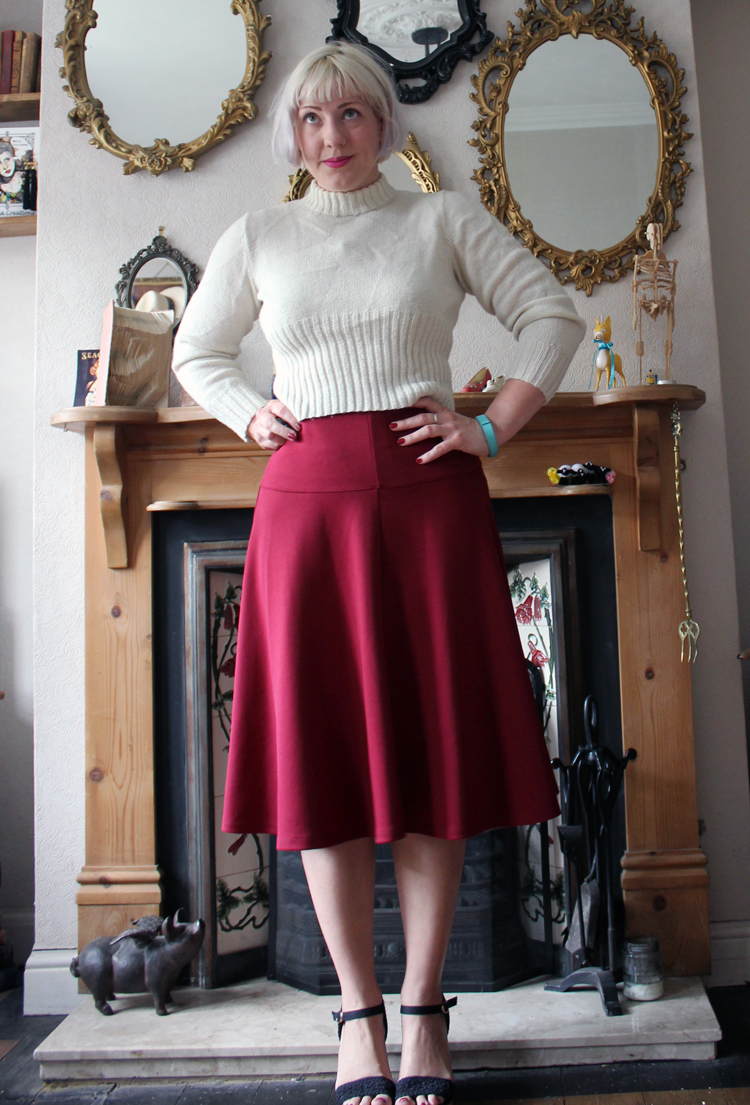 This is without a doubt the oldest thing I found kicking around in the bottom of my wardrobe. It was hand knitted for me by my Nana in around 1996 from an original 1960s knitting pattern and when I was 17 I used to wear it in winter with a brown double breasted pea coat, suede knee high boots and red lipstick.
I think it dropped out of regular rotation around 10 years ago because I gained a lot of weight and it no longer fitted. Now it fits again I can see it maybe rejoining the jumper drawer for Winter this year.
I might not have any free surfaces in my house to put down a cup on, but this morning I went shopping in my own wardrobe and came out with at least 4 new additions, so maybe being a hoarder pays off sometimes!