Honestly this week has been quite tough, mostly for no reason what so ever.
If I look back over my last couple of diary entries on here I can see 4 Roller Derby games, a trip to Newcastle, a trip to London, several late nights and a 10k race, all on top of my regular training and work. I've been working really hard on trying to improve this blog this year as I feel I let it slide a bit last year, but am feeling a bit like I take 2 steps forward and 3 steps back. There's also been a lot of admin and promotion for my Roller Derby League.
At the start of this week I was feeling burnt out and unmotivated. I could barely get myself to do the minimum work required to keep going, let alone all the other stuff I have in my notebook as weekly goals and I was really struggling.
Sometimes you just have to roll with those feelings and hope they pass.
This week I….
Slept a lot
For about 3 days at the start of this week I think I was in bed before 9pm every night and slept for about 12 hours. I kept thinking I was going to wake up feeling better, but it wasn't till Thursday that I think I finally woke up feeling a little perkier.
I also ate a lot of chocolate and almost an entire tub of peanut butter, because I am an appalling comfort eater and have no control when I'm tired.
Drank a lot of Coffee
Ok, not much more coffee than I normally do really, but I took more photos of it! On Wednesday afternoon I dragged myself to the gym, even though I wasn't really feeling enthusiastic about it and would rather have had a nice nap.
I was actually really glad I went, and felt much brighter afterwards. One of the ways I persuaded myself out of the house was by promising myself a Starbucks afterwards. And, because I am a mug, I bought a Grande instead of a Tall just because I knew the design on their Spring cups was different and I wanted the Bluebird.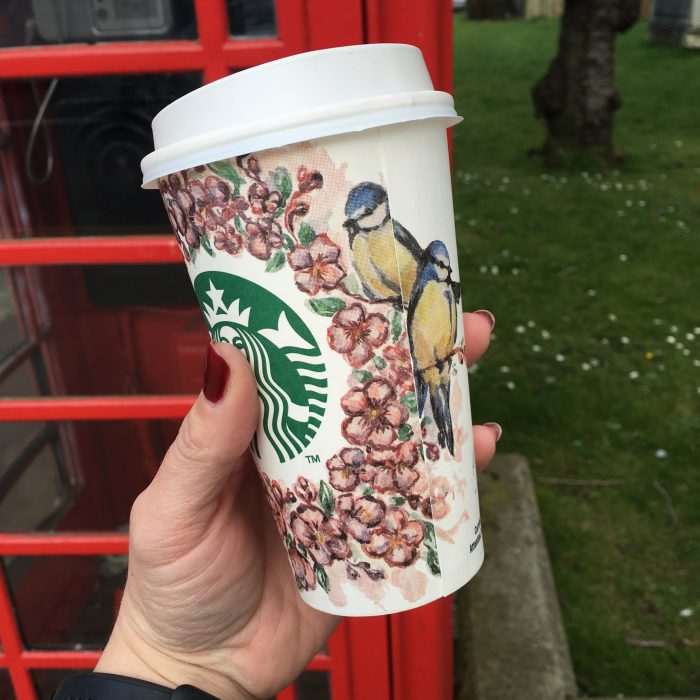 Then on Thursday, feeling considerably brighter and perkier, I popped out in the sunshine for a lunch time coffee at Costa while buying party decorations. Which was when I took Fridays outfit photos!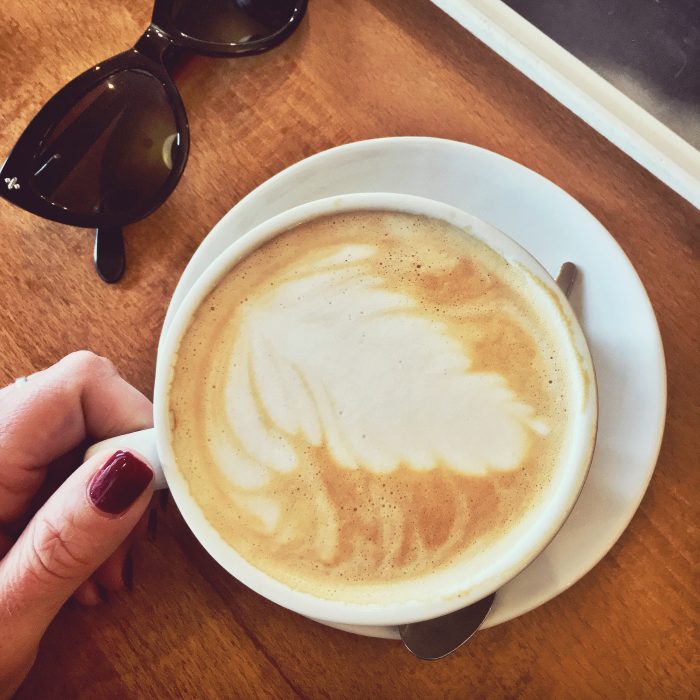 Went to a Party
Well, sort of. It was actually Roller Derby training, but when it's your team mates birthday you have to blow up a load of balloons and have the entire team coming to training dressed as her.
A whole load of Kelly Kapowskis.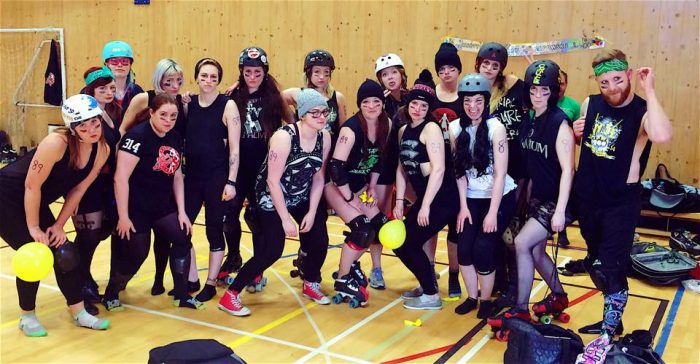 I was secretly hoping that we'd play party games all night, but no such luck. It was still a tough training session, but one that was full of some really useful stuff that I am glad I now know and plan to perfect so I can kick ass.
Drank All the Wine
Like ALL THE WINE. Normally I have practice on a Saturday so I try and restrain myself a little on a Friday night, because there's nothing more hideous than trying to stay upright on skates, hit people and do lots of sweaty exercise that also involves concentrating hard when you've got the kind of hangover that makes you sweat pure alcohol and wish you'd never been born.
This Saturday however there was a game, and it was game in which I was not playing. All I had to do on Saturday was help with the bout set up and organisation, greet the vendors and sell raffle tickets. EASY!
So on Friday night we bought a load of fizzy wine. And then we made Prosecco Passion cocktails and stayed up till late binge watching the Walking Dead.
It was fun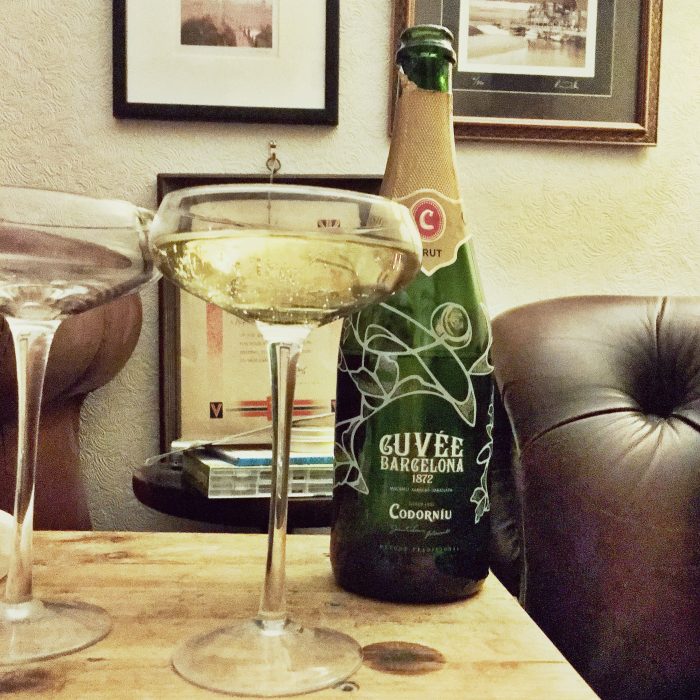 Had a Hangover
Yeah. I'm really stupid. I might not have practice, but I forgot that bout days can be REALLY long, and kinda hard work. When my alarm went off at 7am I really regretted having the kind of evening where you mix wine and gin together and think that's a normal drink.
So, Saturday was long, and I was tired and bleary eyed and I had lots to do.
I was thirsty as hell all day, but I did get to be a spectator at both games of the day.  I watched our B team the Black Shucks do a stonking win against Preston Roller Girls B team, and then I watched our Co-Ed team Mustard City Rollers lose to Portsmouth Scurvy Wenches in a super hard game against an experienced and hugely talented team. I was tear squeezingly proud of them both, and also very pleased that I got to have ice cream and put my feet up while they were playing.
We also presented last seasons trophies to our sponsors Zaks American Diner so they can display them in a trophy cabinet in one of their restaurants.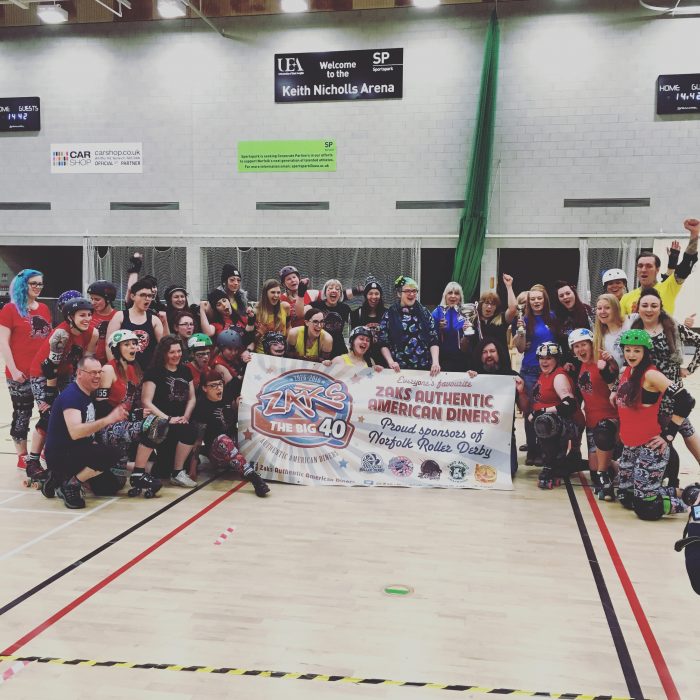 Now I have to make an excuse to go and eat burgers so I can see them. It's a hard life.
So, this week finished a lot brighter than it started, thankfully! Hopefully I can retain my perkiness and positivity into next week and be super motivated and get back to working hard and being organised and disciplined (sort of!)
How was your week?