I'm afraid I got a little ahead of myself.
Hanging on the back of my bedroom door right now are 3 gorgeous Summer dresses. One is a Boden dress I bought in the sale back at the beginning of the year, 1 is this orange striped dress and the other is a divine 40s repro sun dress in green stripes, sent to me by Emmy Designs.
Having spent Wednesday basking in blazing sunshine I rather optimistically imagined myself wearing one to pop out for a coffee on Thursday lunch time. Oh how lovely it would be to be able to skip around in a simple sun dress and sandals again.
I forgot I lived in England, however, and awoke yesterday morning to persistent drizzle. A quick change of outfit plans was in order and I wore another of my sale purchases from earlier this year, a two tone striped body con dress (just checked, it's still on sale for £8.50 and available in all sizes, bargain!) with a leather jacket to keep out the chill.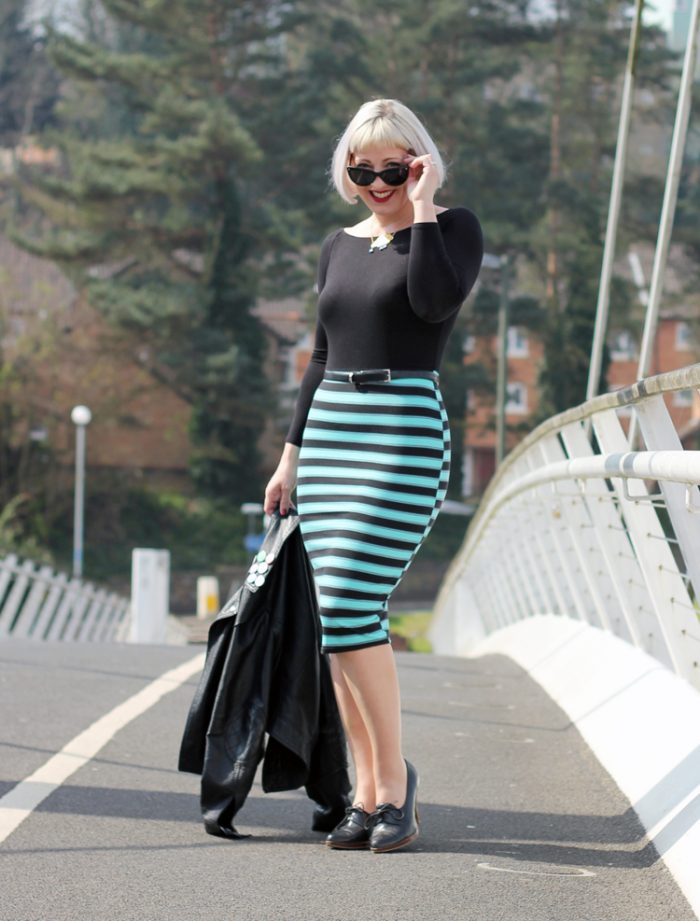 It's at this point I am sure you have noticed that not only am I not wearing my jacket, but in fact I have sunglasses on and the weather appears to be of the sunny and springlike variety rather than the persistent drizzle I promised.
You are correct, I commend you on your observational skills. That is what happens when you live in England. You dress for torrential downpours and reach your destination to find glorious sunshine and have to drag a coat around with you.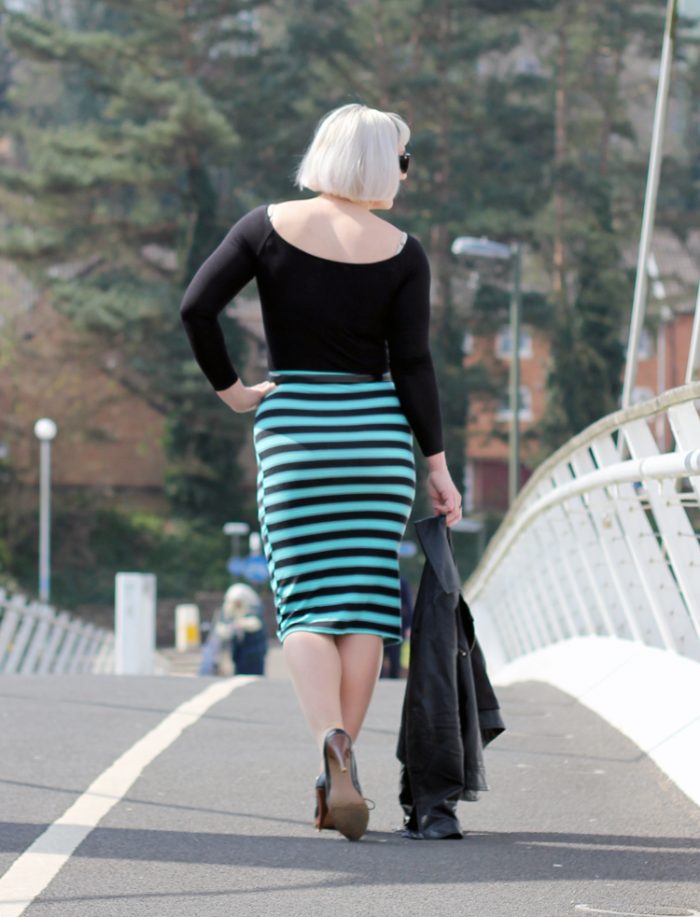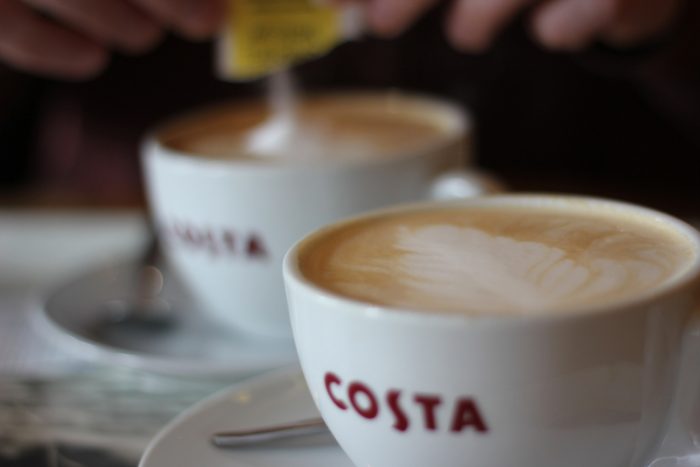 Still, I'm not complaining, because I had a lovely coffee break in the sunshine.
Actually I AM complaining, because I could have worn one of my Summer dresses, but there is still plenty of Summer to come to make the most of those I'm sure.
I teamed my body con dress with my Eclectic Eccentricity You Cannot be Cirrus necklace, which was rather apt, as within an hour of getting back home again it was not only raining, but also thundering and generally being all nasty again.
I also got the dubious pleasure of an audience while these photos were being taken as there is building work going on next to the bridge. Thankfully they restrained themself to shouting "Bravo" as we left. Sometimes you have to be brave to be a Fashion Blogger and just take the damn photos even while people are looking at you like you're nuts.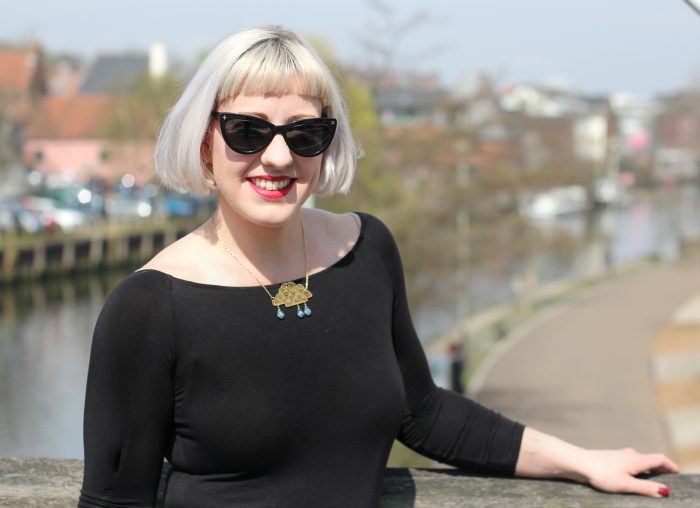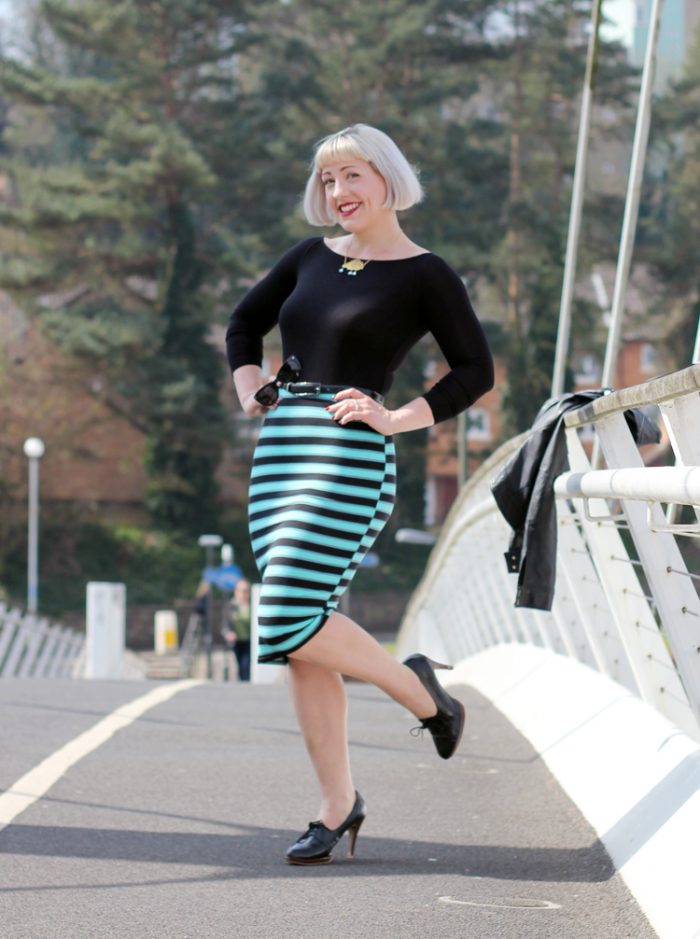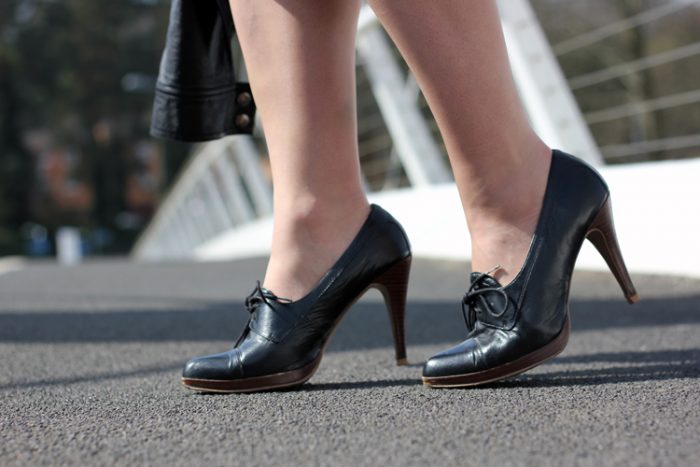 The dress is lot longer than the two tone striped body con dress that I bought at the same time, but not quite as good quality. The fabric is a lot thinner, but at £8.50 it's almost half the price of that dress, so I'm not complaining. It's a perfectly nice dress, you just might want some shapewear under it as it will show lumps and bumps more, though I wasn't wearing shapewear in these photos and it doesn't look *too* bad, so what the hell do I know?
Wishing you all a lovely weekend!
♥ Body Con Dress – ASOS Sale ♥ Shoes – New Look (veeery old!) ♥ Belt – Vintage ♥
♥ Necklace – Eclectic Eccentricity* ♥ Sunglasses – Derek Cardigan*♥