Imagine today is a Friday, because then I could call this a Friday Frock Love.
#GlamorousJuly starts on Friday, so I'm already planning to post my month of challenges to make me a more glamorous human being. I could wait till next week, but these are gorgeous frocks and I want to share. So Wednesday Frock Love it is. Sorry about the lack of alliteration.
Horrockses is a brand name that will already be familiar to most vintage fashion lovers. They were hugely popular in the 40s and 50s, making those printed cotton full-skirted frocks that are now massively popular with vintage collectors.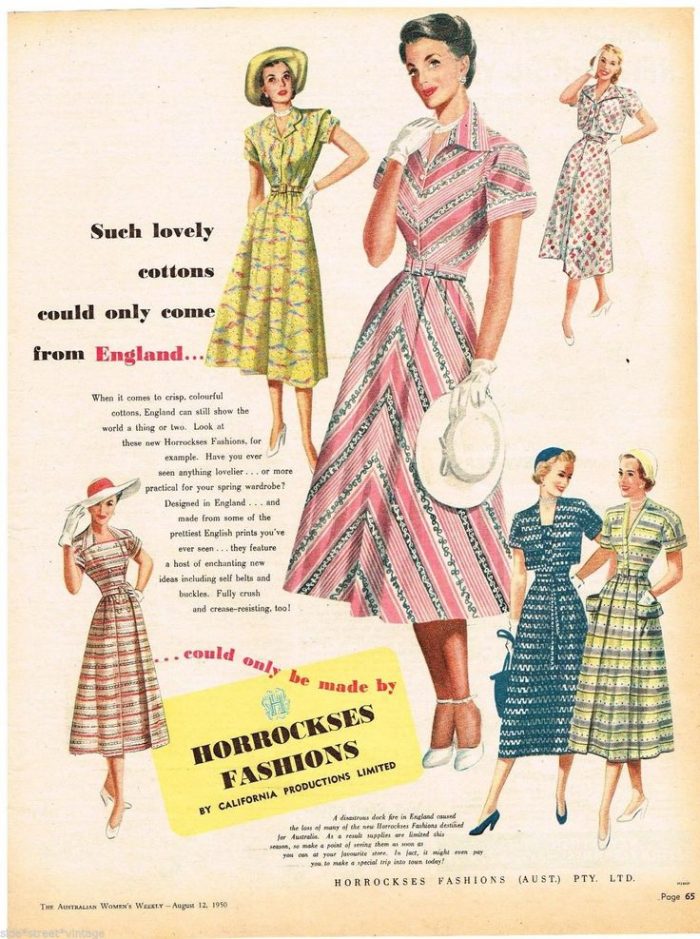 I was browsing ASOS (as I frequently do!) and spotted a new collection of beautiful printed vintage inspired dresses. The brand name was Horrockses, and it seems the brand has finally relaunched!
I already shared one of these over on All the Dresses, but I thought it was worth a bit of a more detailed look at the new collection.
The dresses cost around the £125 mark, so expensive, but not totally out of reach for a special dress. I haven't seen them in person, so I can't comment on the quality for the price, but the prints are gorgeous, so I hope they live up to their promise!
The collection appears to be 7 dresses and 3 co-ord sets, 2 with skirts and tops and a third with a pair of mid length culottes.
My Top Three
I couldn't pick a single favourite, but these 3 have particularly stolen my heart.
L-R Gabriella Prom Dress – It's that frill neckline that does it for me. I imagine this is the kind of dress I will wear with a broad-brimmed sun hat and big sunglasses while sipping wine in a street café in Rome.
Gingham Floral Midi Dress with Off the Shoulder Neckline – I love a bit of Gingham in a Summer dress, and with the bold red floral trim and the off the shoulder style this is just gorgeous.
Lucille Midi Dress – I have seen an original Horrockses dress with a very similar print to this oranges and lemons designs. This looks so sharp, and is perfect if you prefer a dress with sleeves.
The Dresses
L-R Floral Halter Midi Dress – I love how the poppy print on this graduates from the bodice to the skirt.
Iris Pansy Prom Dress – Another with sleeves dress. Gorgeous for fans of pink! This has a pansy print, which is unusual, but I wouldn't be able to wear it near my Dad as he thinks pansies look cross all the time.
Pineapple Print Mini Prom Dress – If this was midi length it would totally be on my favourites. As it is, although I don't mind showing off my legs occasionally (especially if I've just read silly articles that say I shouldn't) I always find I get more wear out of midi length dresses.
Monica Prom Dress – This has a more abstract print on a pale yellow background and a scoop neckline with a double strap detail at the back.
The Co-Ords
L-R Lily Co-Ord – Sadly this pretty pink floral swing top and skirt seems to be out of stock now.
Inky Spot Crop Top and Midi Skirt – I quite like the style of this. With the dramatic bow at the back and the high-waisted skirt it has the look of a prom dress when worn together, but could be split apart and worn with other things.
Zig Zag Bandeau and Culottes – I'm not sure about culottes. I had some in the 80s that looked cool but were really uncomfortable to wear, so maybe that's put me off! These look gorgeous on the model though.
Which is your favourite from the reborn Horrockses collection?