Over the last four weeks I've trialled some grown up skin care.
Looking after my skin is one thing I've learnt a lot about as I've got older. I was never one to fall asleep with my make up on, I read far too many Women's magazines for that, but it did take me some time to work out what worked for my skin AND my budget.
In my early 20s I invested in the full Clinique skin care set. I loved it, but it wasn't really budget friendly. Then for years I used packets of face wipes that weren't really great for my skin, but were cheap. In my late 20s I discovered vintage and gave cold cream and a hot flannel, followed by Witch Hazel a go. It was amazing for my skin and has evolved into what I now use. A cream cleanser with a muslin cloth, witch hazel toner and a separate night and day cream. It's a lot more grown up than a face wipe, but not exactly high-tech!
Last month I was approached by Bravura London who make some very grown up and high-tech skin care products and asked if I would trial a chemical exfoliator. As I get older I've noticed that my skin can get very dull and flakey, especially in the winter. In the past I've tried to remedy that with exfoliators, but it's always made it worse. I was promised that a chemical exfoliator, used regularly, would not only ditch the flakiness, but also plump up my skin, get rid of blackheads (with which I have always been cursed on my nose and chin), and pay off my mortgage (I might have made that last one up).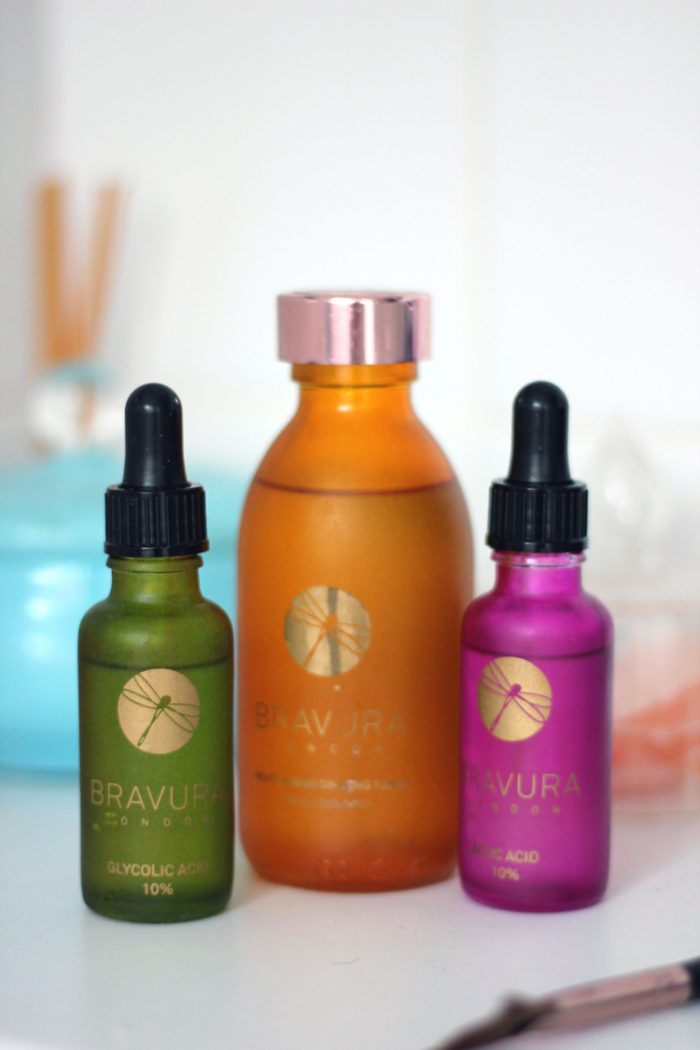 I obligingly answered lots of questions about my skin type, any skin conditions and allergies and then sat back and waited to see what would arrive.
A box popped through my door in mid December containing the Pre Peel Revitalising Ginseng Toner, Lactic Acid with Rose, and Glycolic Acid with Lavender.
The toner is to lower your skins PH before using the exfoliators, otherwise you have to wait for 30 mins after cleansing and what a faff THAT would be. Lactic Acid is good for dry/dull and aging skin, increasing cell turnover and helping the skin retain moisture. The Glycolic Acid is slightly stronger than the Lactic and is supposed to reduce breakouts and encourage your skin to produce more collagen making it "elastic and line free".
I read the instructions carefully and tried not to be terrified by all the dire warnings of what might happen to me if I didn't do EXACTLY WHAT I WAS TOLD! I even did a patch test and waited 48 hours before I used it. I've been dying my hair since I was 14 and that's the first time I've ever done a patch test. Despite the terrifying warnings I didn't feel any tingling when I put it on my skin. My skin is obviously tough as old boots.
I used the products every other day, alternating first Lactic, then Glycolic, so using each product once or twice a week. You decant a small pipette full into a glass and then use a brush to "paint" it over your face. You then leave it for 5-15 minutes before rinsing off and moisturising.
I'll be honest, I was sceptical. I'm pretty sure we've all used far too many over-priced products that have promised to make us look amazing and then been disappointed to find out we still look like us at the end of it.
These were different, for 2 reasons. One, they're not actually over-priced. The toner is very expensive, especially when one of the main ingredients is Witch Hazel, which I already buy for £3. It does, however, smell absolutely gorgeous and come in a pretty bottle, so I'll let it off. The chemical exfoliators themselves are actually very reasonably priced. They're under £10 each. Considering the cream cleanser I use costs about that, I think that's a pretty good price. I also think they will last aaaagges as you use only a small pipette for each application, a little goes a long way!
The second reason is that despite my scepticism I actually did notice a difference in my skin. I could see that my face looked fresher, I had fewer flaky patches and there were fewer blackheads around my chin and nose. I'm not going to claim that 4 weeks use has left me looking 10 years younger, but I can definitely see a difference. Normally at this time of year I am trying to stop foundation and powder clogging on my flaky forehead, at the moment I am not.
I did attempt to take before and after photos, but honestly the difference probably isn't pronounced enough after 4 weeks to show up in photos. Unless I attempt to take macro close-ups of my blackheads, which a) I didn't do before, so it's too late now and b) gross.
A quick round-up for you.
Pros
Left my skin feeling clean and smooth
Reduced black heads and made my skin appear fresher
Reasonably priced
Smells gorgeous
Lovely glass packaging that I wanted to leave out on my bathroom counter
Cons
Remembering to use it every other day and to alternate the products is hard. I've never had to keep a notebook in the bathroom before.
It needs to be left on for around 10 minutes, this means devoting some time to your skin care, you can't just wash your face before bed and go to sleep.
Overall I felt my leap into the world of grown up skin care was a success. With the toner I felt I was probably paying for the delicious smell and glamorous glass bottle, but frankly there's nothing wrong with that occasionally! The chemical exfoliators were simple to use, as long as you have the time and organisational skills, and made a genuine difference to my skin.
All the products mentioned in this post can be found at Bravura London. Bravura provided me with the products for free to review, but all opinions are my own.