Do you remember bodies?
Not like, actual bodies, we all have those. I'm talking a bodysuit. Those things like swimsuits with poppers at the crotch that we all wore in the 90s.
I have some disturbing memories of bodysuits. I remember not being able to get the poppers done up in the bathroom, and I remember the fact that I have a long body meaning that with some of them I got to spend all day pulling them out of my butt and feeling like I was slowly being chopped in half.
On one memorable occasion I went to the cinema (I think it was to watch Lethal Weapon 3, fact fans) and failed to remember to sweep the back part of my bodysuit out of the way when I went to the toilet, which meant I then had to try and wash and dry it in a sink in the cinema, without taking it off, which led to some super fun gymnastics that I don't think I'm up to at 37.
With that in mind you will understand why I have, until now, eyed the return of the bodysuit with some suspicion.
Then, a few weeks back, I was in the pub and a friend of mine was wearing one. I liked how it made a nice clean line where her top tucked into her skirt. I started to consider the idea that I might, you know, actually try one again after 25 years.
So I did.
I even went for shoulder ruffles.
I thought the ruffles were going to be far too flouncy for me, but I don't think they look flouncy at all and I think it's the smooth lines of the body that stop the flounce. The ruffles also cover my upper arms, which aren't my favourite bit of my body (My shoulders are, in case you were wondering. Double win for the off-shoulder bodysuit)
I'm glad I took a chance and tried it.
But, is it comfortable?
Well, it's not as comfortable as just tucking in a top. You definitely know those plastic poppers are there and I wouldn't want to go for a long walk wearing it. However, I think it looks great and I think I'll be getting a lot of wear out of it this Summer. Hopefully that traumatic experience in the toilets of the Stag theatre in Sevenoaks at age 13 will save me from doing that ever again.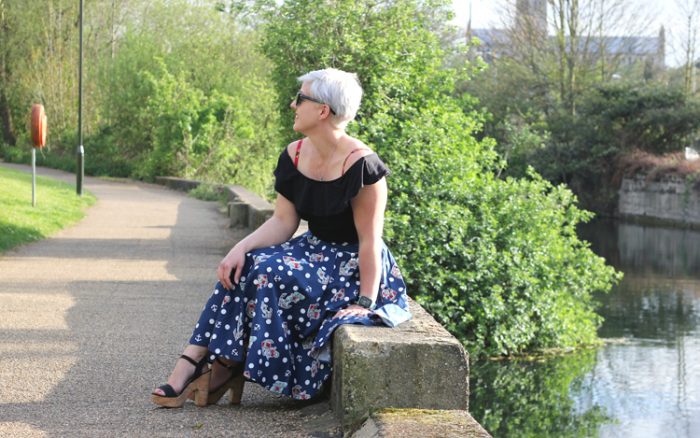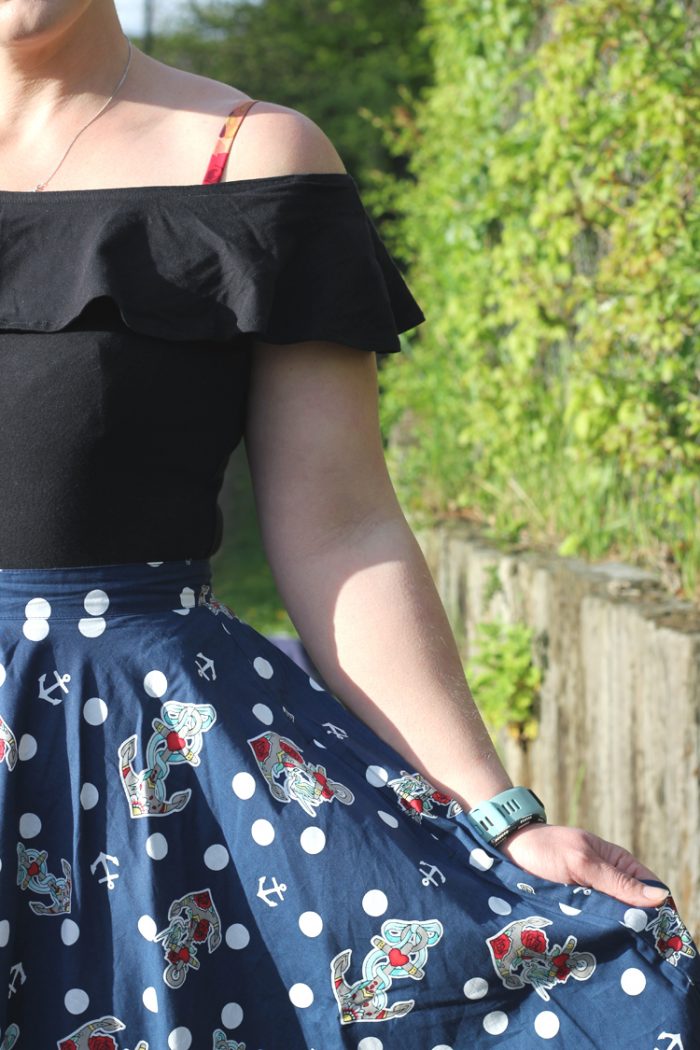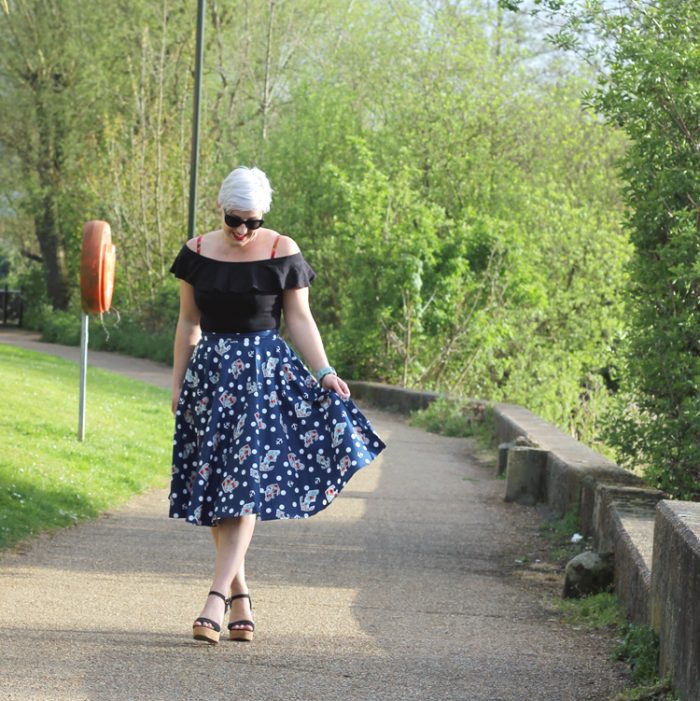 Speaking of Summer, I'm afraid that despite how lovely it looks in these photos it is not here yet.
I was emboldened by the 22 degree weekend we had a couple of weeks ago into believing that sunshine meant warm.
I even went and stood in our (sheltered) garden to check how warm it was.
The sunshine says June, but once you're out of the shelter the bracing winds seem to be hanging around from January. At least I did remember to take a jacket, but my legs were cold.  I hardly ever get cold legs. I can go out in bare legs in a snow storm, but that wind was bitingly cold!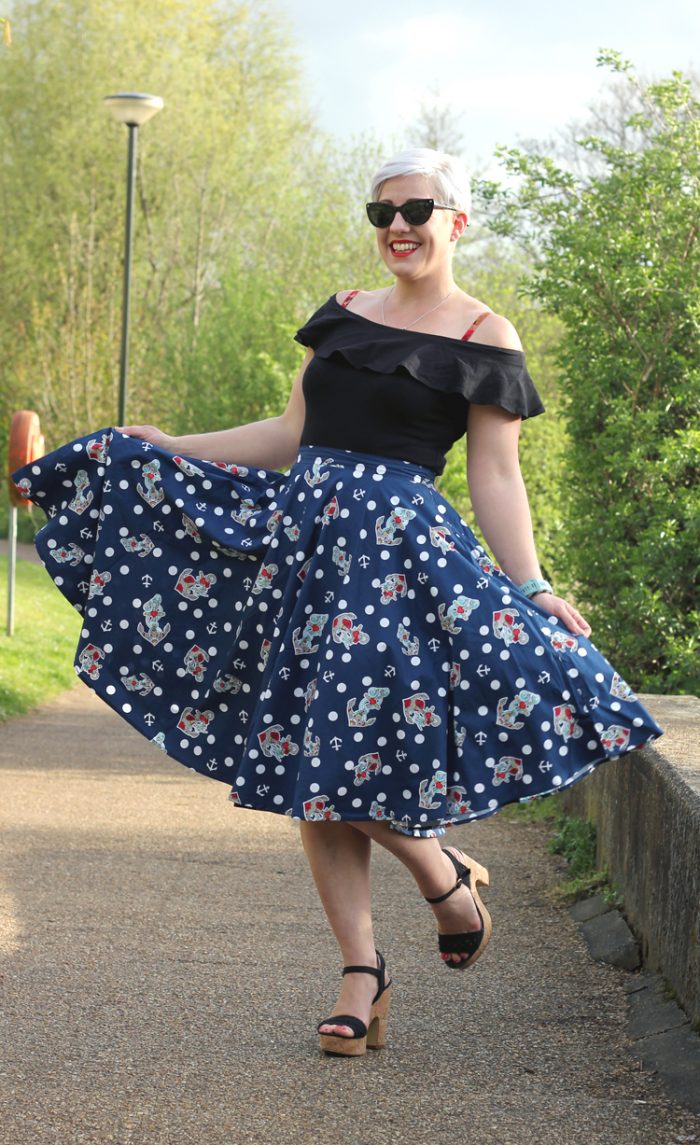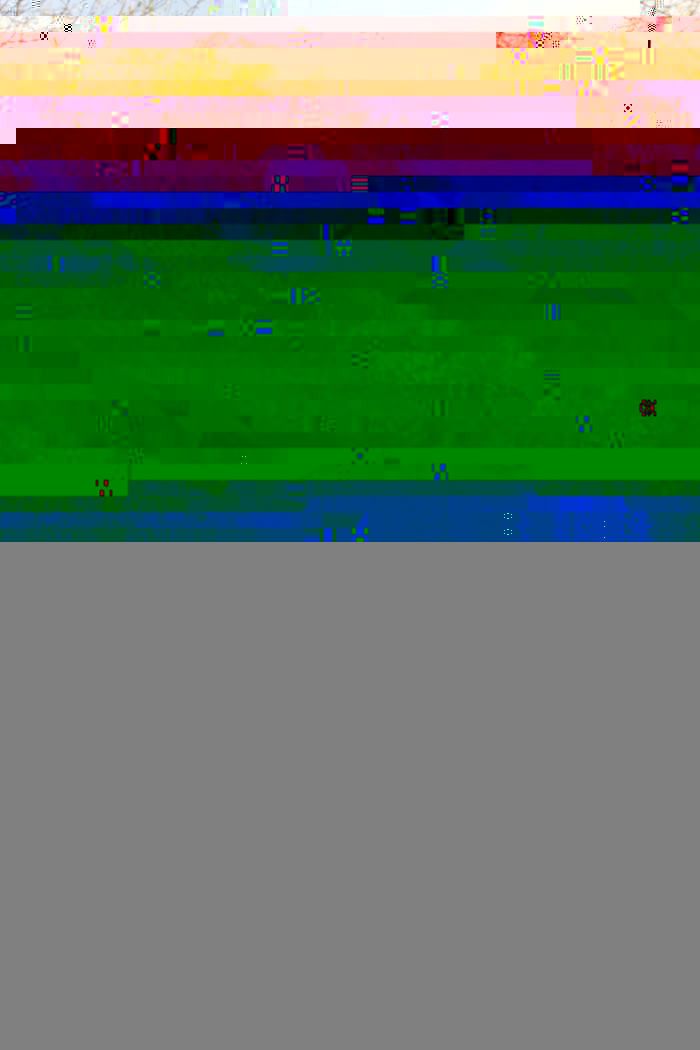 This whole outfit was a bit of an adventure for me because I picked it out courtesy of the Simply Be Holiday Shop.
Thanks to that email I discovered several things. First up, is my foray back into the world of the Body. Secondly I learned that Simply Be stocks my size. I had always assumed that as a site focusing on plus-size styles it would start around a size 16, but actually it starts from a 12. A whole new world of shopping just opened up to me. Thirdly I learned that Simply Be stocks one of my favourite brands for novelty prints, Hell Bunny, so lets just take a moment to drool over that anchor print skirt.
Drool.
♥ Ruffle Bodysuit & Hell Bunny Skirt c/o Simply Be ♥