I have a confession to make. I don't really like flat shoes.
I wear them a lot, because I don't drive, and I live in a City and I walk everywhere. But I don't really like them. When I take outfit photos in them I feel short and dumpy, which is why I often stand on tip toes. I have short legs and I feel like I look totally out of proportion.
I like sky high, stupid heels. I like spindly high heels and block heels and I like hugely absurd wedges. But I also know that they're not really practical all the time, and I'm so sick of carrying extra shoes with me every time I go out.
So, those practical gold heels I bought the other day were like a bit of a revelation.
Hey people! There's a middle ground! Enough of a heel to give me a bit of height, but comfortable enough that I can walk to the pub in them, even if they're not exactly hiking boots.
So, since then I've been keeping my eyes open for some sensible party shoes that are still fabulous. Shoes that come in just as crazy a selection of prints and glitters as the absurd high heels. Here are five of my favourites.
Manage to have a slightly rock chick look, whilst also being very sensible. It's the patent leather and the ankle strap combined with the tortoiseshell heel. I think these are my favourites.
Having said that, of course, you can't go wrong with a bit of leopard print on your party shoes.
They're sparkly, and they're rose gold. They have sensible heels, but they are definitely party shoes!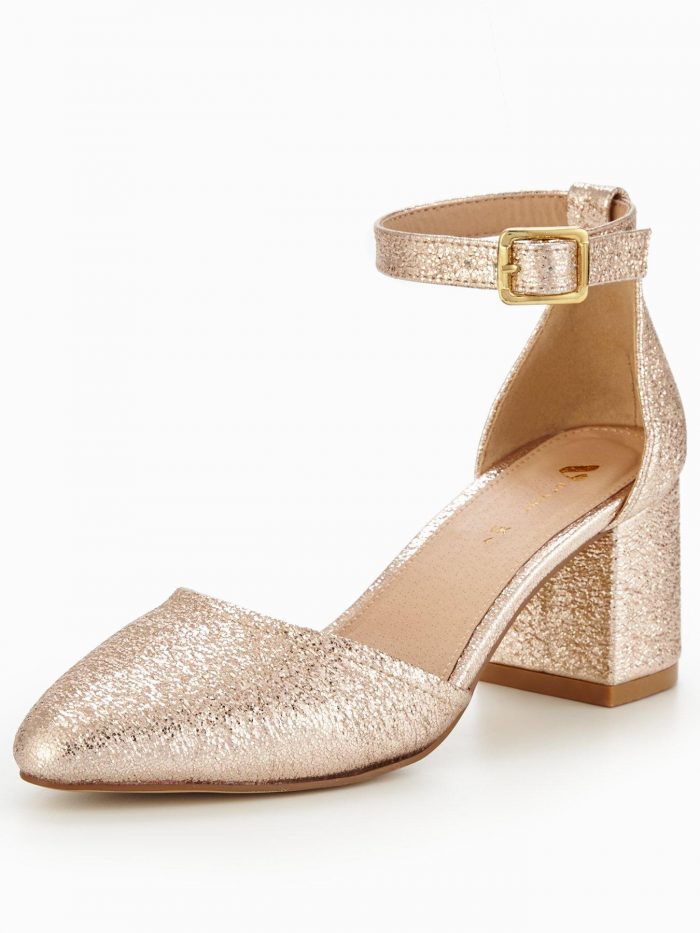 Apparently this colour is Champagne. I think it looks like gold personally. However, they are so shiny I think I could use them to do my lipstick in, so I don't really care about the technicalities of colour.
Finally, this last pair is from a slightly higher price range, though they are in the sale. I love the punched holes and the ankle lacing. They'd be perfect for Summer nights.