Sometimes you just really need a change of scenery.
And if that scenery could be majestic pine forests, with a mysterious history, and right on your doorstep, then all the better.
Things around here have been stressful lately and there came a point where we just couldn't stand being in the house, and constantly working, any more. Seeing as our budget won't exactly allow a trip to the Bahamas (or even Dorset) we dragged the tent out of the attic and had a look around for somewhere fun to go camping in our immediate vicinity.
In the end we stumbled upon Forest Camping, which appealed not just because it actually had spaces for 2 nights in the first week of the Summer holidays, but also because it was slap bang in the middle of Rendlesham Forest.
Rendlesham Forest is the home of what is known as Britain's Roswell Incident. Over 2 nights in late December 1980 mysterious lights were reported in Rendlesham Forest. The lights were first spotted by a guard patrol at RAF Woodbridge, which was at the time used by the USAF. When they went into the forest to investigate what they thought may be a downed air craft, the servicemen reported seeing a metallic glowing object that moved away from them through the trees.
The strange sightings were repeated on the following night, and there were reports of animals in a nearby field going crazy. In the morning an investigation of the area showed broken tree branches and mysterious triangular depressions in the ground.
The reports have been explained away as glimpses of the Orford Lighthouse through the trees, a meteor shower and animal activity. But, whatever the men did, or did not, see on those nights in 1980, I am certainly not one to turn down the opportunity for a UFO themed mini break.
Recently the Forestry Commission have installed a UFO trail through the woods that follows the events of that night, ending in a UFO sculpture at the landing site, and we couldn't wait to go and explore for ourselves.
Forest Camping
The campsite itself was really lovely. It was just £20 a night for a pitch without electric hook up. The "tent field" was quiet and surrounded by tall pine trees. There were no defined pitches and you could just pick a spot for yourself. We opted not to camp under the pine trees as having me wake up screaming every time a pine needle dropped on the tent was not conducive to a relaxing break, so we pitched our tent in a quiet corner on the other side of the field.
The site has a small, well stocked shop (though it doesn't sell cake, I was most disappointed when the cake cravings hit), a laundry room, shower block and a small information kiosk with a pay phone and a selection of leaflets. My only complaint was that the shower and toilet block was located in the main camper van field, which made it a looong walk in the dark in the middle of the night for those of us in the tent field.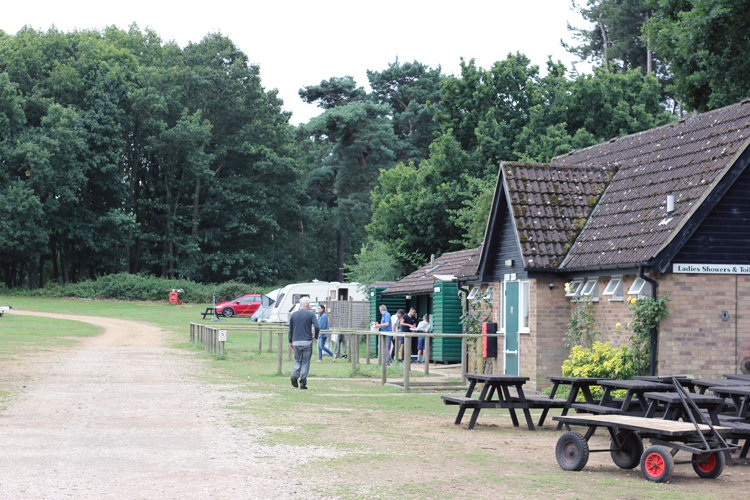 The site also has coin operated showers. 50p for 5 minutes. But the pay boxes are located outside the shower cubicles, meaning there is an exciting race to leap back into the cubicle, disrobe and make the most of your 5 minutes of water.
We set up our tent, decorated it with glow in the dark alien balloons and tiny wooden UFOs (made by Mr LLL) and settled in to spend our first night drinking Cava and watching Galaxy Quest, in a space themed kind of a way.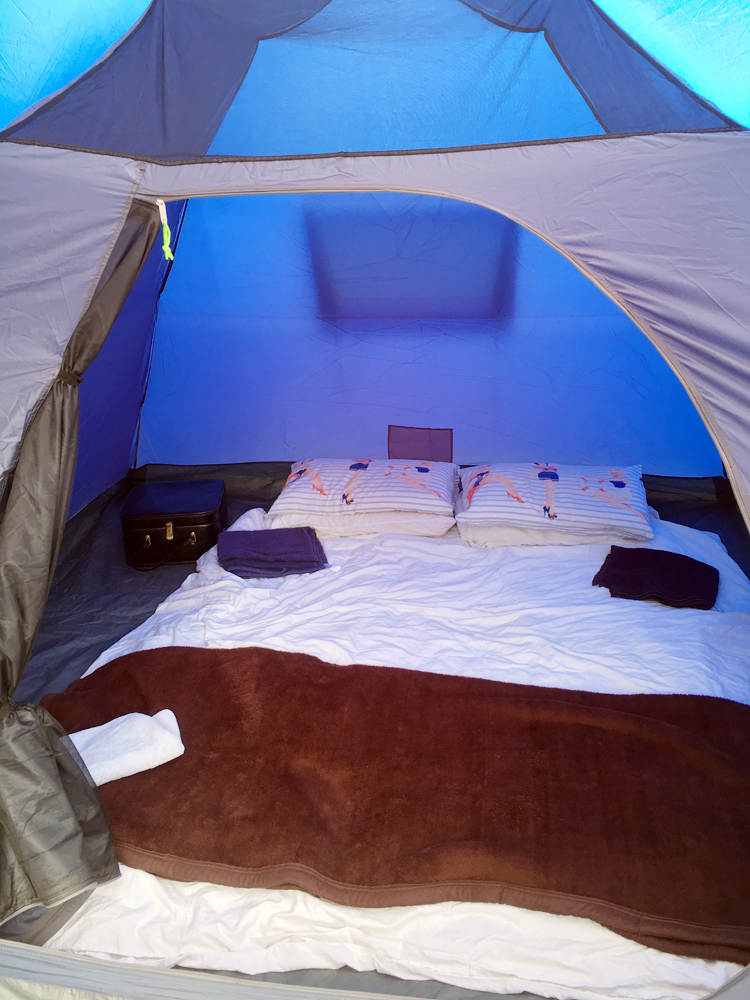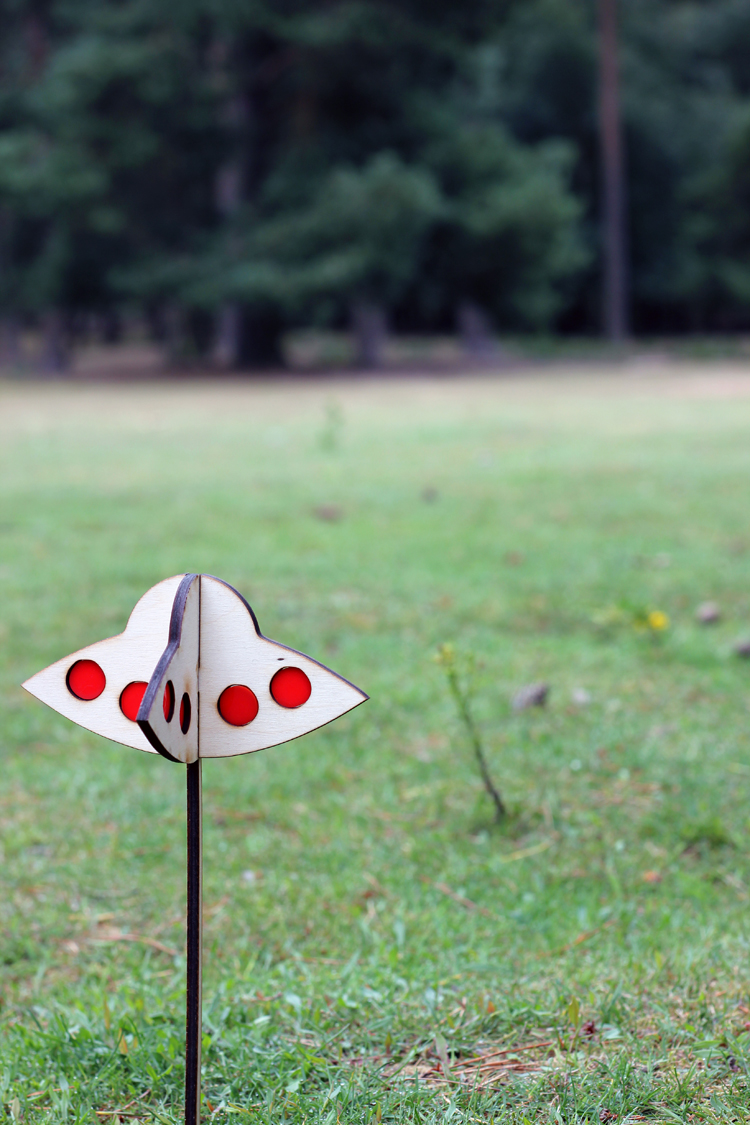 The UFO Trail
The following morning we emerged from our tent, and headed off to walk the UFO trail.
The trail starts at the Forest Office, just across from the tent field, and actually finished, conveniently, right back at our tent.
The weather was slightly drizzly, interspersed with blazing sunshine and tropical temperatures, as is standard for a British Summer. Appropriately dressed in a summer vest, sunglasses and a waterproof jacket we headed off down the trail.
Pine Forests are a bit of a weird beast. They're much quieter than your traditional olde English forest, and the trail was a wide path with sandy soil, cushioned by pine needles. Personally I thought it was way more fun than tripping over tree roots and falling down rabbit holes and the sandy paths were perfect for drawing pictures of UFOs on with the end of an umbrella.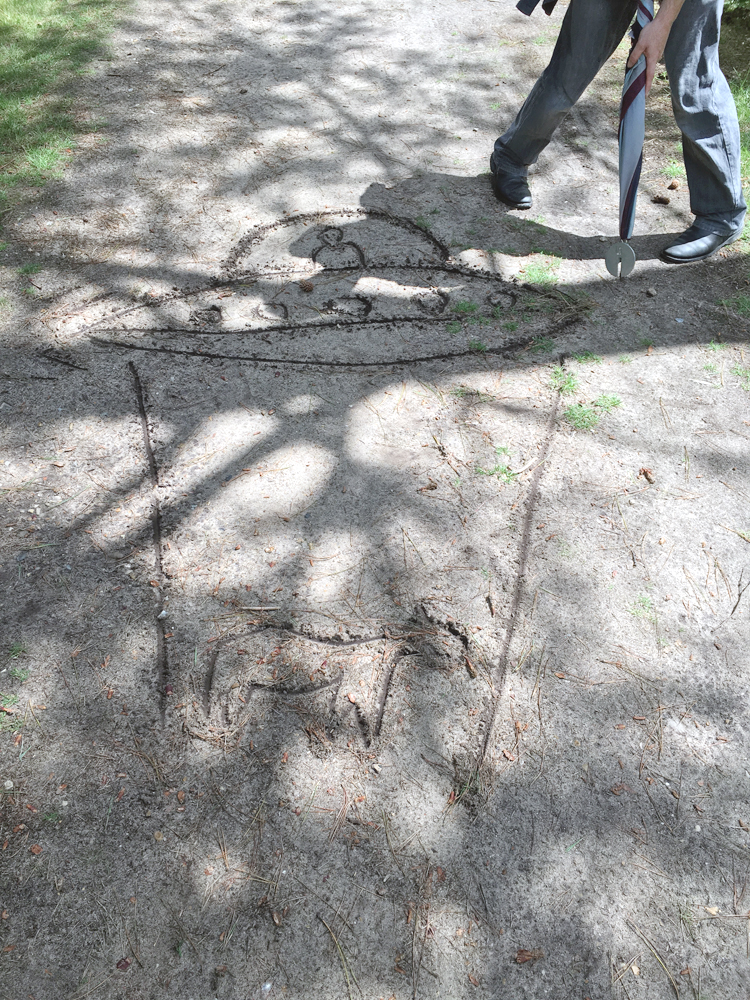 You can pick up a leaflet with a map of the UFO trail with some mocked up photos and details of the original sightings. The trail is, however, clearly signposted all the way round, with great information boards at key points in the forest, so it's a great walk even without a handy map.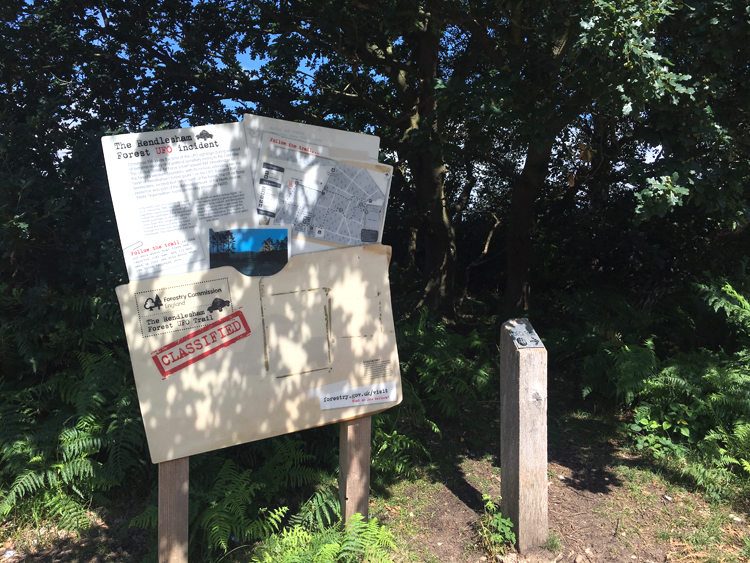 After a bit of a woodland walk we came upon point 1 on the trail, the old gates of RAF Woodbridge.
The base is no longer in use and is a bit overgrown. This makes it feel satisfyingly mysterious, like if you snuck in you'd find a long abandoned bunker containing secret documents and alien debris secretly collected from the landing site.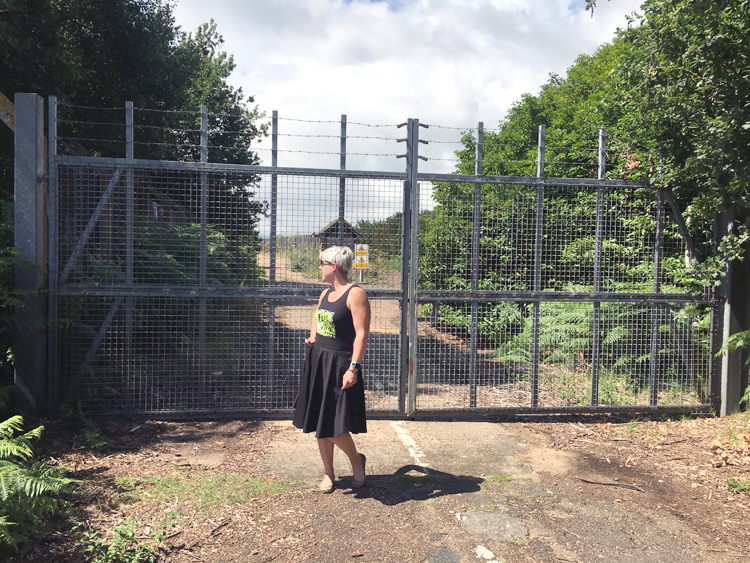 We didn't sneak in, and even if we had, I'm pretty sure there's no such bunker (or is there?). Frankly most of the Rendlesham story I've read confirms my long held belief that most government agencies are far too disorganised to arrange a cover-up of anything. Especially one that would withstand nearly 40 years of scrutiny.
The centre point of the trail is the Forest clearing that was the spot where broken branches and the triangular indentations were found. All of the significant points on the trail have information boards with details of the incident, but this one is pretty darn cool as it also contains a sculpture based on reports of the alleged craft.
We settled down for a picnic in the clearing of space raiders, flying saucers and blue WKD (it's totally what Aliens drink, m'kay?).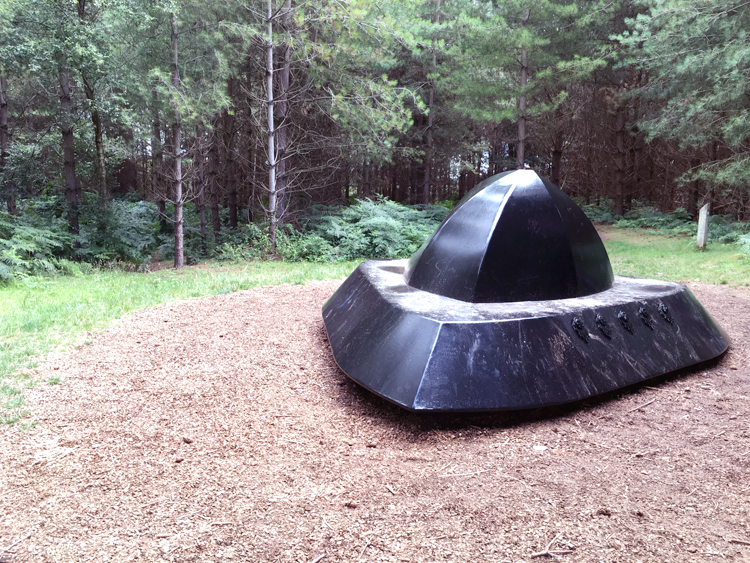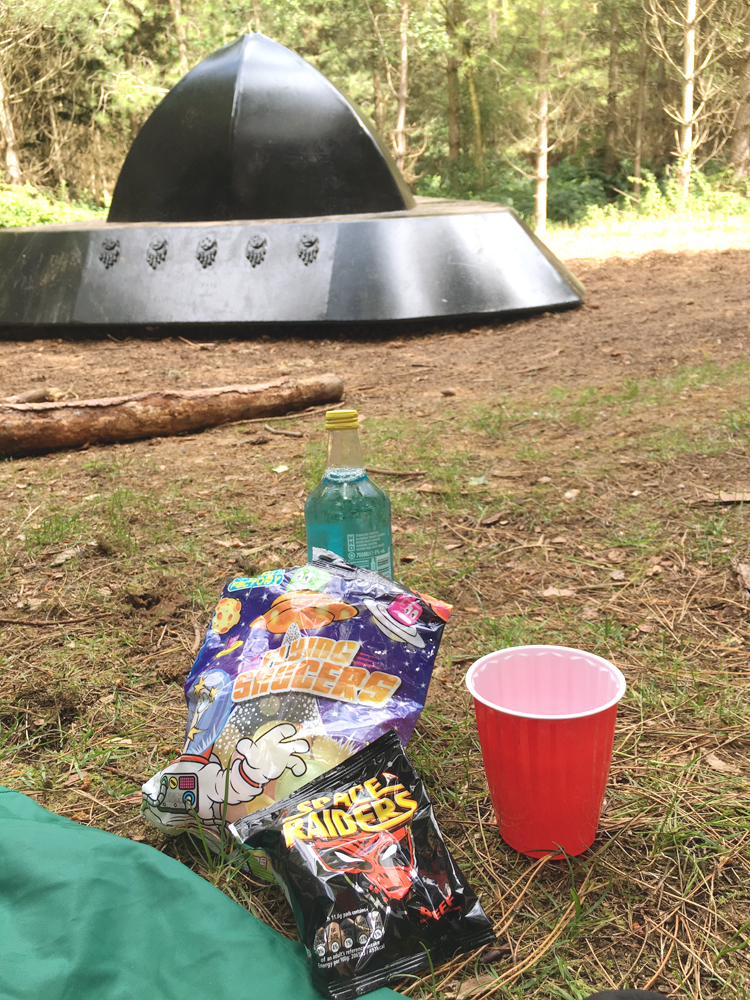 We then finished the trail whilst discussing the existence of Aliens and what the service men might have actually seen. My vote was for an experimental aircraft or early drone or, y'know something. We also discussed whether we should go out at night so we could imagine how it would have looked back then. Though that idea was eventually vetoed on the basis that I am far too much of a wuss to be exploring forests at 2am and the adventure would likely end with me hugging my knees and slowly rocking backwards and forwards.
As we strolled through the sun dappled forest the skies slowly started to cloud over.
The path emerged into the tent field directly opposite our tent. As we wandered back over and began planning our afternoon, spots of rain began to fall from the sky. Spots of rain that rapidly became the kind of deluge that sends people squealing and screaming for cover. Which we did.
I left my handbag outside, but thankfully we spotted it and rescued it before it entirely filled with water. Then we spent a jolly 20 minutes watching a man who'd just arrived putting his tent up in the deluge.
I'm sorry to report, that this being a British Summer, the rain then continued for a full 12 hours. Our impeccable timing means that at least we got to finish the trail in sunshine, and we spent the rest of our mini break watching Worlds End (more aliens!) on the laptop, reading comics and drinking beer while occasionally poking the roof of the tent to release pools of water.
I am feeling refreshed by my short break, though I can't say I'm glad to be back at my desk!
If you fancy a proper break I whole-heartedly recommend Forest Camping. There's no Wi-Fi on site and the nearest pub is 2 miles walk along unlit roads, so its definitely one for when you want a total escape from the world.
Useful Links: