Today's outfit was a bit of an experiment.
Honestly, I'm not entirely sure it worked, but lets run with it.
I love my full, flouncy, 50s skirts, and I pretty much always wear them with fitted tops. It suits my shape as I have a small waist, but wide shoulders and hips.
However, I keep seeing people wearing them with looser fitting tops. Shirts bloused over, or sassy camisoles, and I thought, "Hey, I wonder if I can pull that off?".
They look so casual, rather than super dressed up. I'm always jealous of people who can manage to look super casual while wearing a ballgown, as I seem to have an ability to make a pair of jeans look like I made ALL THE EFFORT.
So, to cut a long story slightly less long. I gave it a try.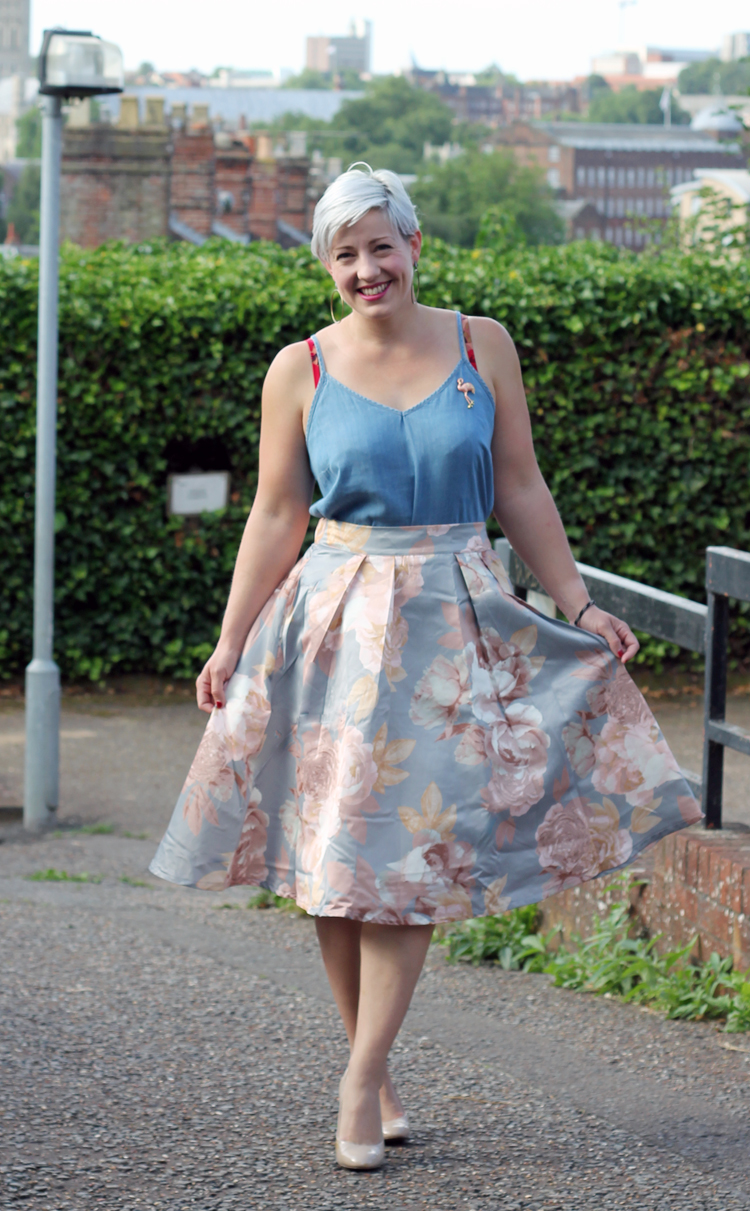 I got the opportunity when JD Williams asked me if I wanted to pick out an outfit from their site. It's not normally a site I look at a lot, but they had this gorgeous floral prom skirt (with pockets) and the colours go so beautifully with this chambray camisole.
I felt quite sassy when I put it on. Like I was totally pulling off that oh so casual, hey, I just happen to be wearing a satin prom skirt, no biggie, kinda look.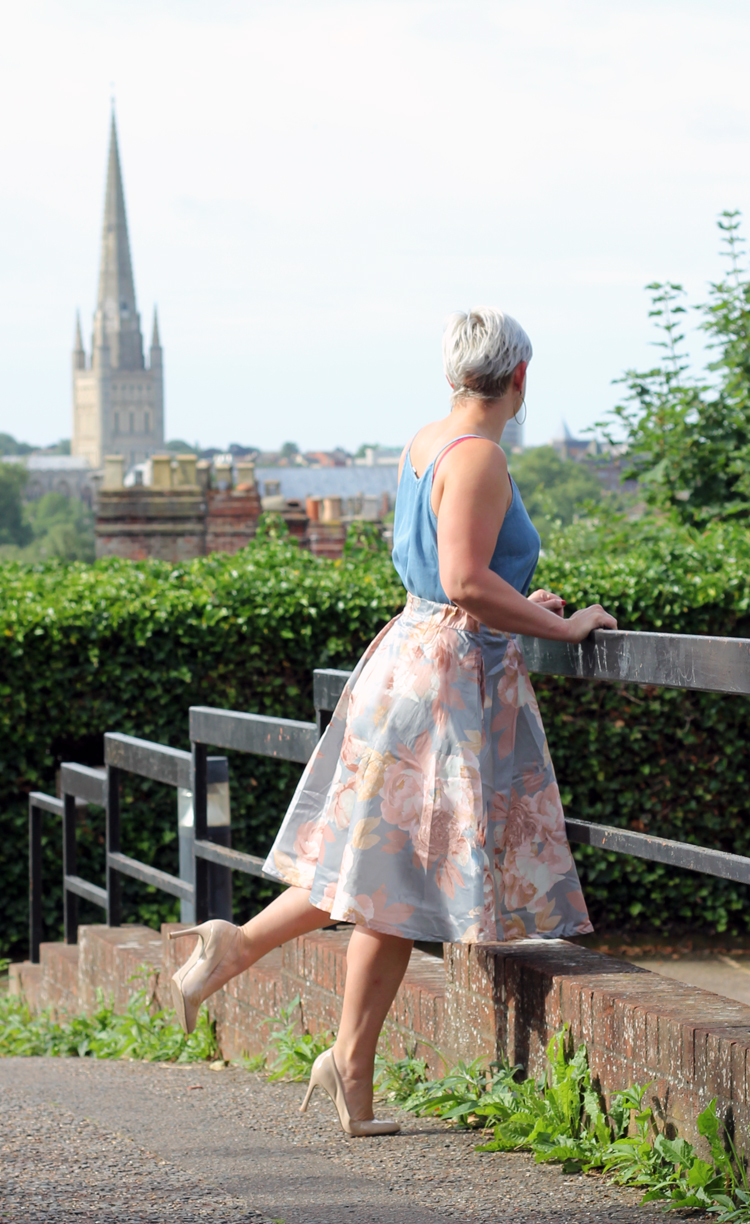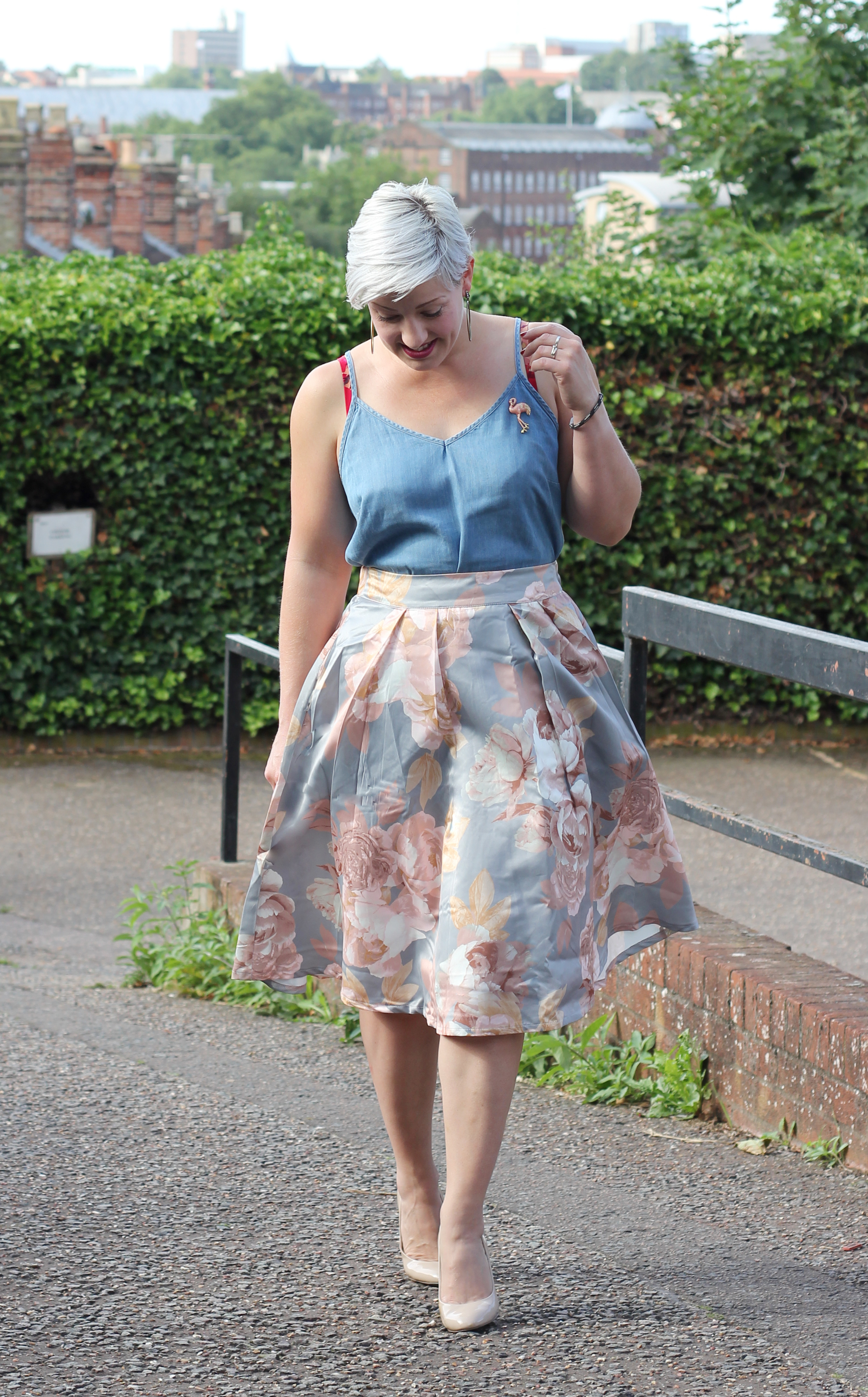 Looking at the pictures, though, I'm not 100% sold on it. My waist kind of disappears, making my torso look quite wide, and from the side the camisole just hanging down from my boobs means I look like I've got my boobs tucked into my waistband (I haven't, just for the record).
I'm not sure whether that's just because I'm not used to the look on me, or if it really isn't my style. I like to revisit things I don't think suit me every now and again, because you never know, I might find a whole new style thing that I love. Like big earrings with short hair that I'm now a bit obsessed with.
The camisole is REALLY comfortable and cute. It's soft and drapes beautifully. I just need to find a good way to wear it. All suggestions welcome!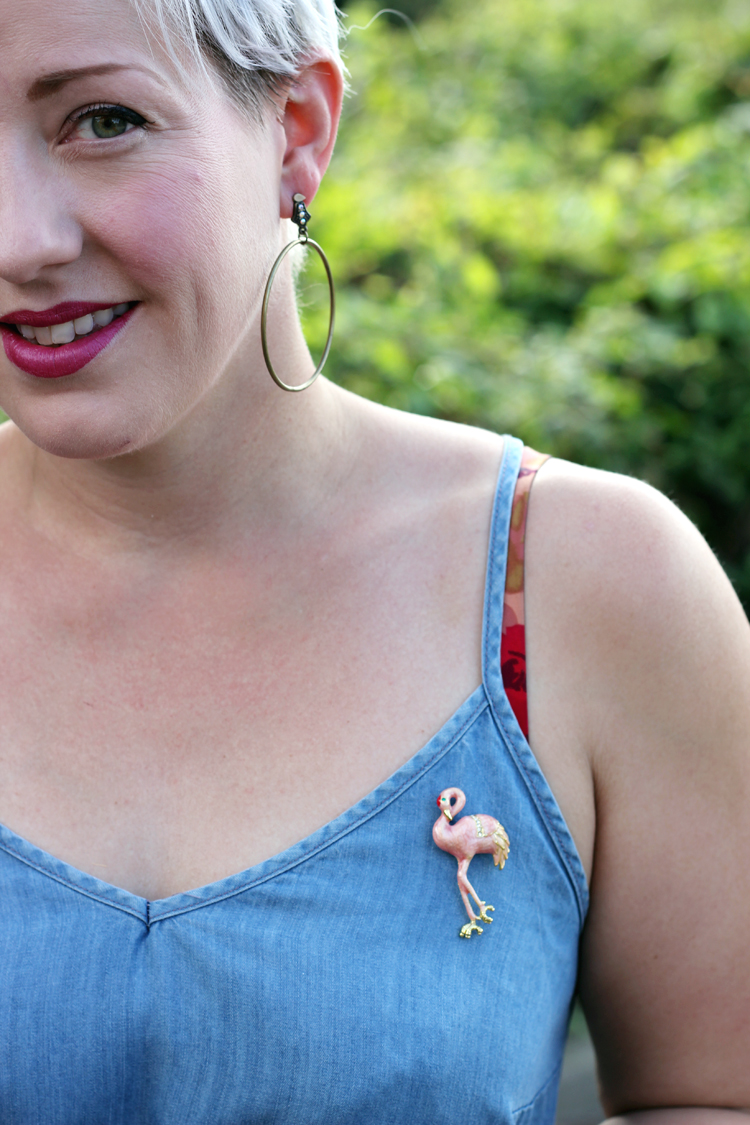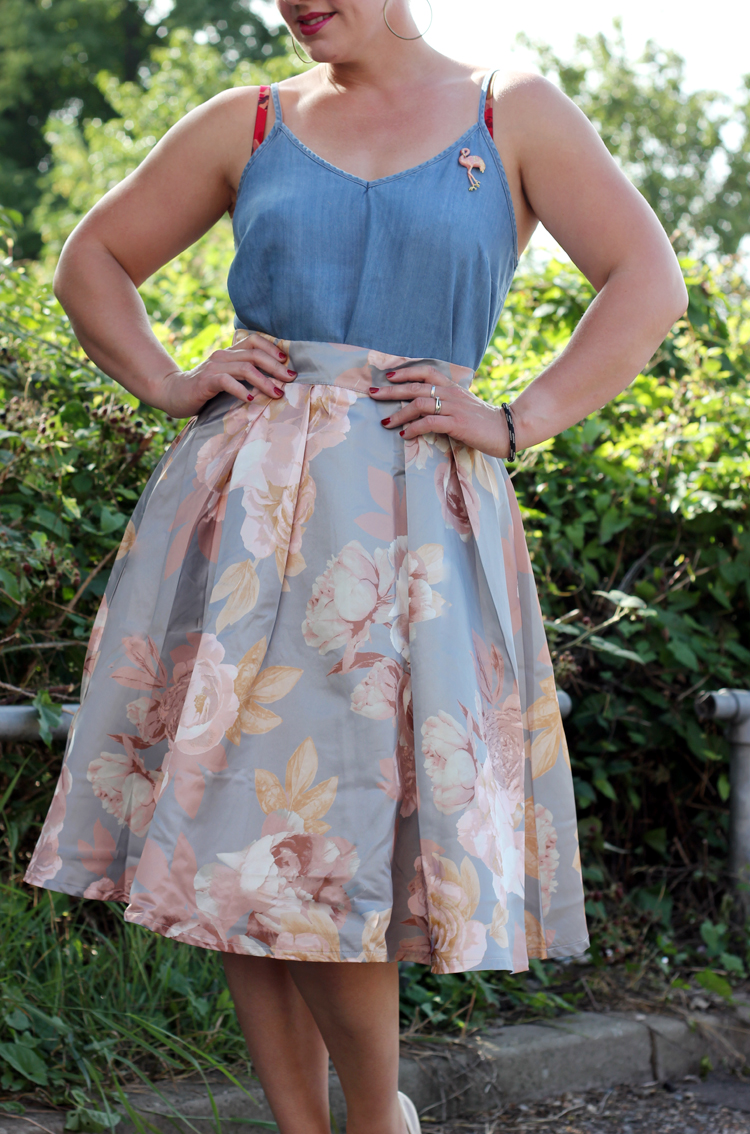 What I do love about this outfit is the colours. I'm not normally a huge fan of pink, but I love the combination of the pale pink flowers teamed with the silver grey skirt and chambray denim camisole. Plus I think my Flamingo brooch looks awesome with it.
So, er, yeah. I'm a bit 50/50 on this one right now. Maybe I'll keep wearing it till I get used to it. Or maybe I'll just wear all the individual bits separately. That skirt with a fitted bardot top, and the camisole with capri pants.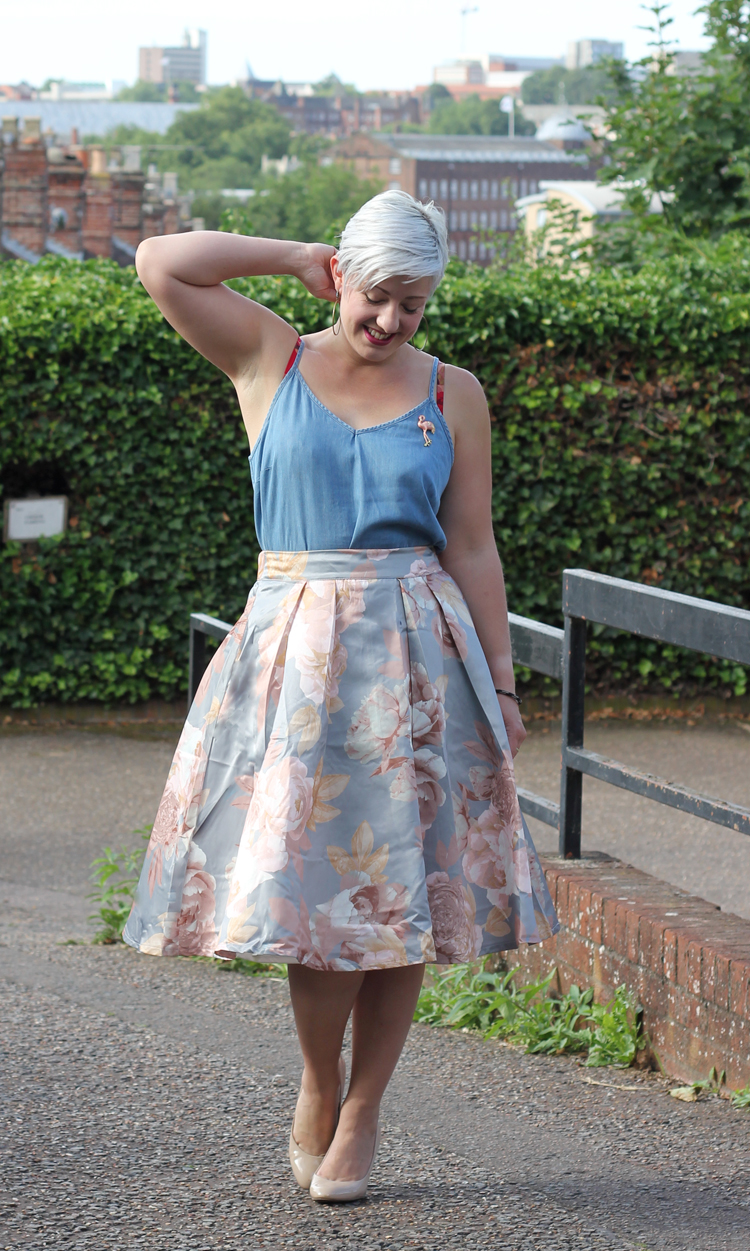 ♥ Camisole & Skirt c/o JD Williams ♥ Shoes – Nine West ♥
♥ Brooch – Vintage ♥ Earrings – Can't remember ♥