The festive season is well and truly underway, and normally at this time of year I'm pretty much mainlining mulled wine and mince pies by now.
This year, however, there were a few festive interludes early on, but then Mr LLL Etsy shop went a bit crazy, and since then it's been all cardboard boxes and wrapping and packing and dragging heavy bags to the Post Office.
So, having thought about it, but do no more than ponder it, this morning I impulsively decided to revive the 12 Days of Christmas Outfits series I did in 2015. I figured wearing a Christmas outfit every day would bring a bit more festivity into my life, and also face me with a bit of a challenge not to repeat any outfits from 2015 (though I can't guarantee that some of the individual pieces won't turn up again!).
I grabbed my camera and took a couple of photos in front of the fireplace, which have sadly turned out to be possibly the worst outfit photos ever taken. Frankly I'm not wearing anywhere near enough make up and my eyes have all but disappeared, plus my focus seems to be a bit off. But I've committed to this now and I don't have time to retake them, so we're just going to have to live with it.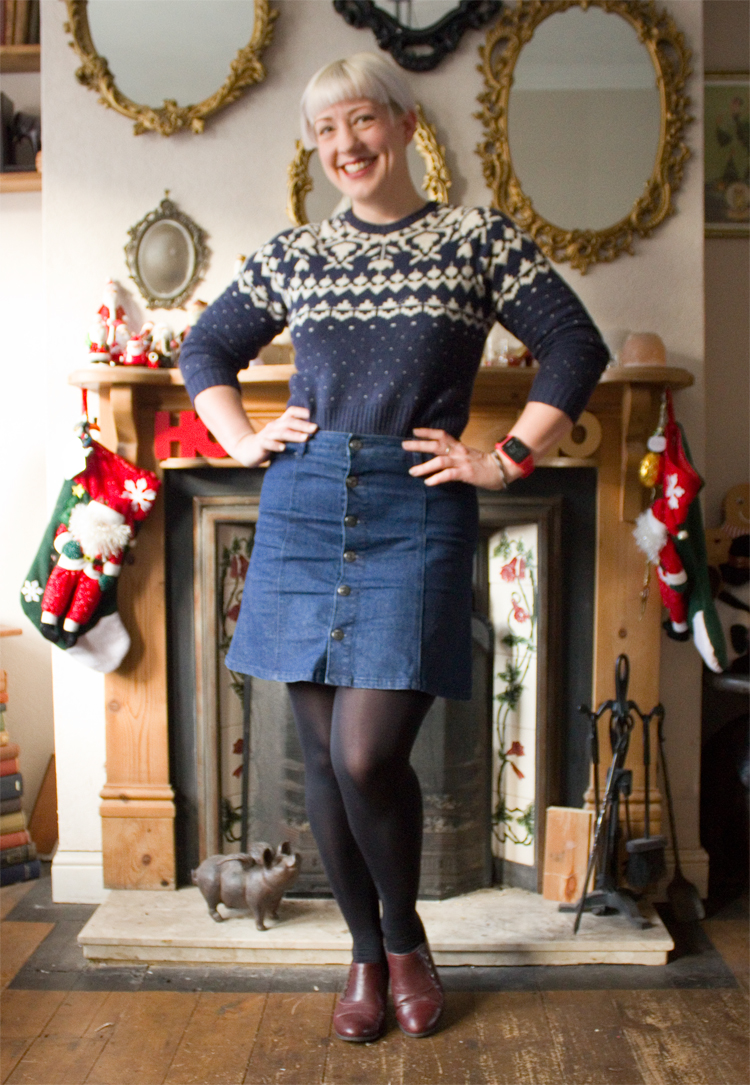 We're going for subtly festive today, and we'll build up to some full on baubles for earrings looks later on I think.
Today's Christmas jumper came from Joanie clothing last year and it is just SO WARM I love it.
The skirt is also from Joanie Clothing this year, and I've been wearing it a lot as a casual everyday outfit recently. I had a similar skirt in the 90s, and I'll be honest, when I got this I thought I was going to seriously regret revisiting my youth. Turns out I was wrong and it's awesome and I can still wear denim mini skirts, so ner.
Fingers crossed I can see this festive outfit marathon through. The outfit I have planned for tomorrow is far less subtle, but equally warm!
See you then!
♠ Jumper and Denim Skirt c/o Joanie Clothing ♠ Isle Shoes – Moshulu* ♠